This spicy rub recipe for tri-tip and other cuts of beef is super easy to prepare. Rub the meat and throw it on the grill for a super spicy grilled tri-tip.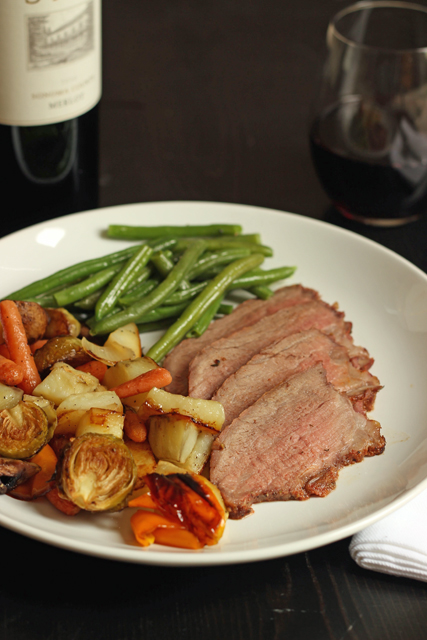 The first time I had tri-tip I didn't understand what it was. The year was 1990. I was a senior in high school and on a road trip with the baseball team. I was a stat girl. I was probably distracted by the boys.
Fast forward four years and I was married and living on the Central Coast where tri-tip flowed abundantly. We could buy a large roast for about $1.99/pound. We ate a lot of tri-tip in those days. It was a cheap alternative to steak and we loved it!
It wasn't until 2003 Kansas City when I searched high and low for a roast and came up empty that I realized how much I had taken my beloved cut of beef for granted. It is a California cut that butchers in most other parts of the country traditional carved into steaks or made into ground beef. Sad!
Within the next five years Food Network and everybody started telling the world about our tri-tip. (I wish they'd kept it a secret!) By the time we moved home to California, the cut's popularity and a beef shortage jacked the price up to $4.99 — on a good day. I've seen it as high as $8 and $10 a pound. Ouch!
Still, though I would never spend that much on anything else but fish, I will pay the (sale) price for my dear tri-tip.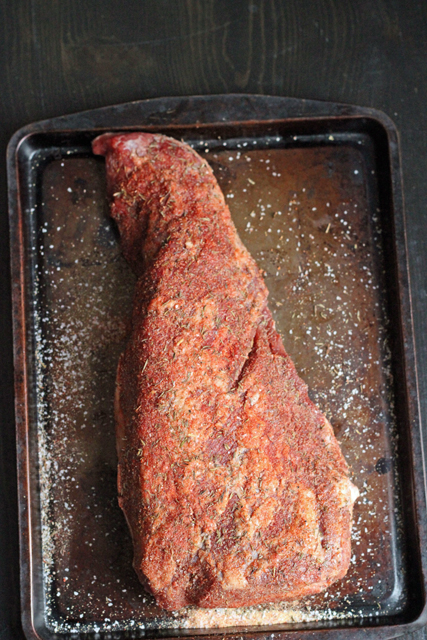 Over the years, we've moved toward a simple seasoning that is out of this world. I think that's what's so appealing about tri-tip. It's a simple cut of meat that packs a big punch. If you can't find the cut in your neck of the woods or it's not a good price, remember that this spice rub goes great on any cut of beef. Drizzle the meat with olive oil and then rub it well with the seasoning.
And an easy trick for slicing? Place a cutting board inside a sheet pan so that the pan will catch the drips!
I'm hoping I can find a good price this week so we can have it on Easter with my parents. Pictured, you see it served with Jessika's Roasted Vegetables and Easy Garlic Green Beans. It's also super yummy with Tastiest Scalloped Potatoes. Since my parents are going on Whole 60, we'll probably serve it as you see it, with a side of Sautéed Mushrooms.
If there are leftovers, which I doubt. We'll be making these Tri-Tip Sandwiches.
Tools I use to make this recipe:
Spicy Grilled Tri-tip
This spicy rub recipe for tri-tip and other cuts of beef is super easy to prepare. Rub the meat and throw it on the grill for a super supper.
Keyword:
grilled steak, tri-tip steak
Ingredients
1

whole tri-tip roast

about 2 pounds

1

tablespoon

olive oil

1

tablespoon

kosher salt

1

teaspoon

freshly ground black pepper

1

teaspoon

garlic powder

1

teaspoon

paprika

1/2

teaspoon

dried thyme
Instructions
About twenty minutes before cooking the roast, remove it from the refrigerator to take off some of the chill. There's debate about the trimming the fat. Some folks like to keep the fat cap. Trim it or not, or buy it already trimmed.

Heat a gas or charcoal grill.

Place the roast on a sheet pan. Rub the olive oil all over.

In a small bowl, combine the salt, pepper, garlic powder, paprika, and thyme. Rub the spice mixture all over the roast.

Cook the roast on the hot grill until it reaches an internal temperature of 145°. This should be at least 20 minutes, but may be longer.

Remove the roast from the grill and tent it with foil. Allow it to rest for 10 to 20 minutes before slicing it.
Recipe Notes
Store leftovers covered in the fridge for up to 4 days.
Nutrition Facts
Spicy Grilled Tri-tip
Amount Per Serving
Calories 36
Calories from Fat 36
% Daily Value*
Fat 4g6%
Sodium 1745mg76%
Potassium 20mg1%
Carbohydrates 1g0%
Protein 1g2%
Vitamin A 246IU5%
Iron 1mg6%
* Percent Daily Values are based on a 2000 calorie diet.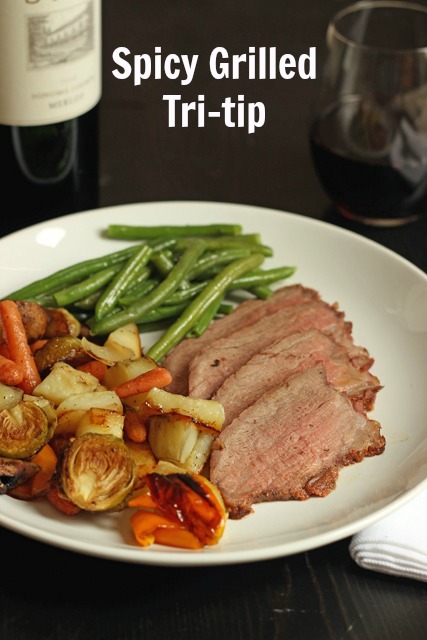 Are you looking for more good cheap eats?