Enjoy a quick and delicious Tortellini Pasta Salad full of fresh veggies and a vibrant dressing. It's perfect as a packable lunch, a fast main dish, or an easy side.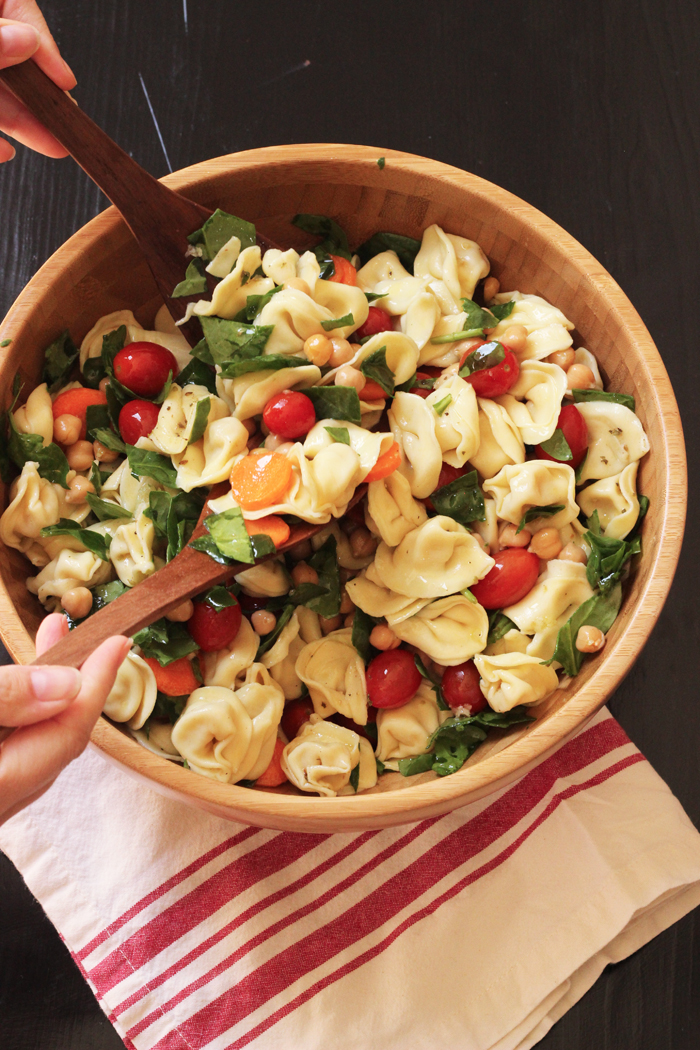 Believe it or not, Leap Day, February 29th, has also been known as Bachelor's Day. Somewhere along the line, this date that appears only once every four years on the calendar also became associated with an occasion when women could propose to men, not the other way around. Back in history somewhere a man could be fined (money, a gown, or up to 12 pairs of gloves) for refusing a marriage proposal on this date.
It could all be legend. But, hey, why not? Since women get the upper hand on February 29th, how about some chick food to celebrate the occasion? Make what YOU want for dinner tonight.
I define chick food basically as "stuff my husband wouldn't necessarily choose." Except for my love of rare steak, I could easily be a flexitarian. The men in my life? Well, they're most satisfied if the meal's got just a little bit of meat in it.
My favorite "chick food" is light on the meat, heavy on the cheese, carbs, and rich flavor. Here are some of my favorite "chick foods":
Cheese plate – Slice a baguette or bust out some crackers to accompany a spread of cheeses and fruit. Try to vary the cheese selections based on richness and texture. Apples, grapes, berries, and clementines make nice accompaniments.
Fruit platter – The contents of your fruit plate are going to vary, depending on the season. February doesn't lend itself to tasty melons or berries. However, apples, oranges, pineapple, and pomegranates make a lovely combination in the cooler months when it's harder to find good quality, affordable soft fruits. A layered fruit salad made with seasonal fruit works, too.
Soup and Salad – I could probably live on soup and salad. Some of my favorite soups are those that are creamy, cheesy, and/or blended, like Cheese Soup, Broccoli Cauliflower, or Roasted Vegetable.
Pasta Salad – Pasta is hearty and filling, but adding a ton of vegetables and a tasty dressing gives it a woman's touch. This Tortellini Pasta Salad is one that I could eat over and over. The garbanzo beans add protein as does the cheese filling. Grape tomatoes add color and tend to be the one type of tomato that can hold its own over the winter. Toss in some sliced carrots and chopped fresh spinach for good measure and you're good to go!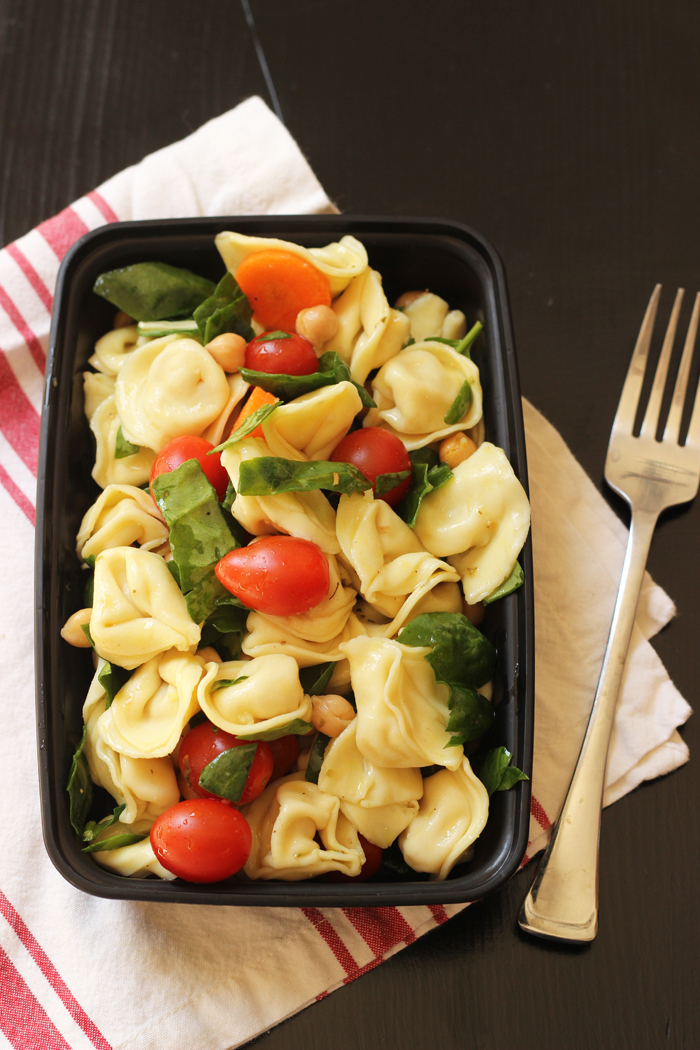 How to make this good and cheap:
Here are some of the strategies you can use to make this recipe more economical:
Stock up on ingredients when they are on sale. Tortellini are the high ticket item here. Buy them when you find them on sale. I prefer fresh tortellini; the dry variety just doesn't taste as good.
Make your own dressings. I'm sure you've got plenty of pasta salad recipes that call for bottled dressing. Those bottles are either way too expensive or full of junk. Make your own and save money.
How I make this recipe easy:
This Tortellini Salad recipe really couldn't be easier than it is, but having the right kitchen tools can really make your time in the kitchen more enjoyable. Over time, I've honed my collection so that they are perfect for my needs.
Here are the tools that I use for this recipe:
Tortellini Pasta Salad
Enjoy a quick and delicious Tortellini Pasta Salad full of fresh veggies and a vibrant dressing. It's perfect as a packable lunch, a fast main dish, or an easy side.
Ingredients
20

oz

fresh cheese tortellini

1

16-ounce can

garbanzo beans

rinsed and drained

1

6-ounce bag

baby spinach

1

10-ounce box

grape tomatoes

1

carrots

peeled and thinly sliced

1/3

cup

red wine vinegar

1/2

lemon

juiced

1/2

tsp

dried oregano

1

clove

garlic

minced

1/3

cup

olive oil
Instructions
Cook the tortellini according to package directions. Rinse and drain.

In a large mixing bowl, combine the tortellini, garbanzo beans, spinach, tomatoes, and carrots.

In a small bowl, whisk together the vinegar, lemon juice, oregano, and garlic. Season to taste with salt and pepper. Whisk in the olive oil.

Pour the dressing over the salad and toss gently to combine. Adjust seasonings.

Serve chilled or at room temperature.
Notes
Promptly store leftovers in an airtight container in the refrigerator, for up to 4 days.
Nutritional values are approximate and based on 1/8 the recipe.
Nutrition
Calories:
367
kcal
|
Carbohydrates:
42
g
|
Protein:
15
g
|
Fat:
16
g
|
Saturated Fat:
3
g
|
Cholesterol:
27
mg
|
Sodium:
490
mg
|
Potassium:
309
mg
|
Fiber:
6
g
|
Sugar:
3
g
|
Vitamin A:
3571
IU
|
Vitamin C:
12
mg
|
Calcium:
149
mg
|
Iron:
3
mg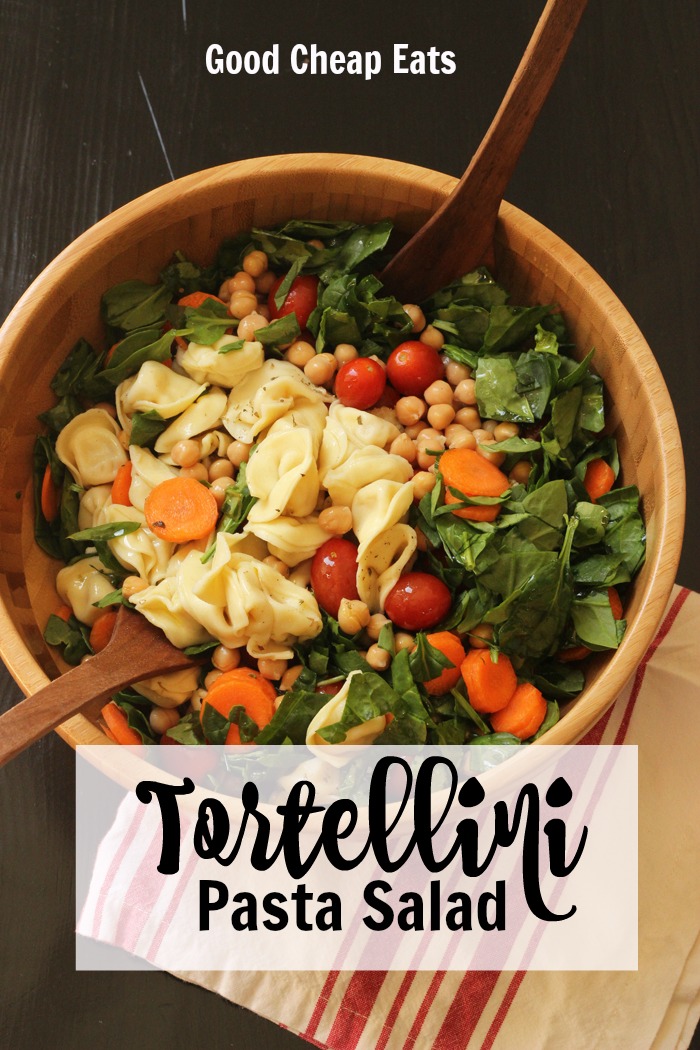 Updated March 18, 2017.