Looking for freezer cooking plans? After you download this plan, check out these other free printable plans.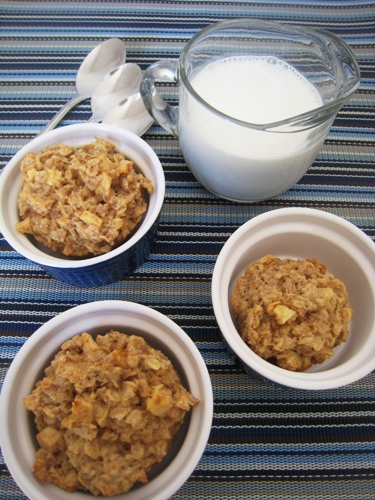 I realized sometime last week that April is a month of survival for me. There's a lot going on in our household this month, so I devised a plan to make the month's meals a little bit easier.
I schemed easy lunches the kids can help make.
I filled the freezer with ready-to-eat breakfasts.
Saturday night we invited the neighborhood boys over for pizza and a viewing of The Hobbit. I knew better than to try to feed the masses homemade pizza; Costco did the cooking. Once the movie started, I got cooking!
It was so exhilarating to be able to post this picture to instagram later that night: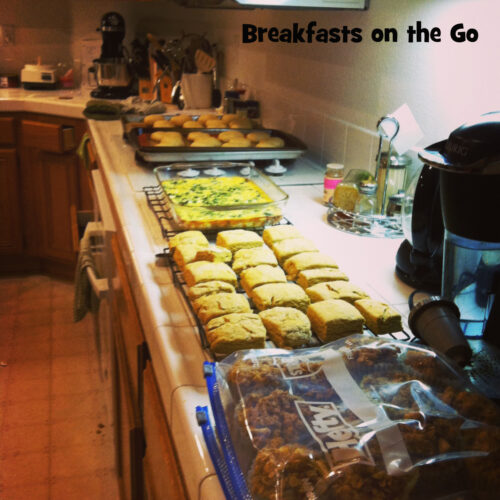 Not only did I plan out several week's worth of baked goods to add to our Breakfast Bar, but I did so in a way that was cheaper and healthier than if I had bought all these items at the store. Yay for freezer cooking.
Here's what this month's cooking plan entails:
Cinnamon Apple Oat Cakes, 2 batches
Eggs Florentine Casserole (baked, cut into portions, wrapped and frozen), page 275, 1 batch
Herbed Pork Sausage Patties, page 173, 2 batches
Breakfast Sliders, page 280, 2 batches
Spiced Whole Grain Waffles, page 262, 1 batch
Pumpkin Spice Scones, 1 batch
Honey Multi-Grain Rolls, page 317, 2 batches
Coconut Mango Banana Smoothie, 4 batches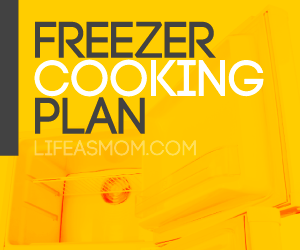 Each month since the book's release, I've shared a free printable cooking plan. It's the gift that keeps on giving. These plans will help you add variety to your freezer and put the recipes in the book to good use.
In case you missed the downloads, you can find them here:
Protein-Style Dinners – a menu plan filled with paleo and Whole30-friendly recipes
Cold Weather and Company Dinners – get cozy at home with your folks or invite people in, this cooking plan has you covered
Cozy Winter Breakfasts – stick-to-your ribs oat dishes, granola, fruit-filled energy bars, and a variety of baking mixes
Holiday Baking – a plethora of cookies and quick breads as well as a Pretzel Berry Cheesecake
Busy Nights – lots of casseroles and one-dish dinners to make supper times easy on busy nights
Our house smelled so good that night! I'm thrilled that breakfasts will come together a little easier in the coming weeks. I plan to serve a variety of choices each morning from the above as well as fresh fruit, homemade juices, yogurt, and eggs.
If you've not yet started to make your own homemade convenience foods, I can't encourage you enough to give freezer cooking a try.
Have YOU done any freezer cooking lately?