Wondering if a waffle maker is the right purchase for you? Here's why I love mine.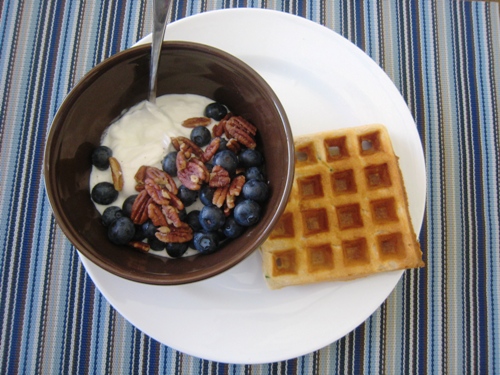 Ok, I confess, a waffle maker is a unitasker. Sure, you can bake cookies in it or make hash browns. I've never tried either, but I've heard it from good sources. But, honestly, I'm okay with the fact that my waffle iron only makes waffles.
My kids love waffles for breakfast, but I think they'd gladly accept them any time of day. When I lived in France, I bought waffles from a cart, answering an emphatic OUI! when the vendor asked if I'd like whipped cream, chocolate, powdered sugar. As a matter of fact, my kids would love that kind of dessert, so I'll have to keep that in mind.
Use of a Waffle Maker
Waffles come together pretty easily at our house. I have several go-to recipes, several of them are in my cookbook. One of the tricks to enjoying waffles whenever we want is to do one of two things:
Prepare several bags of waffle mix. Just place the dry ingredients in a ziptop bag and store it in the freezer. Be sure to mark it with the directions for adding the wet ingredients.
Bake up a lot of waffles. Cool, wrap, and freeze to serve at a later date. (There are rarely leftovers when we make waffles, but when there are, there is at least one or two lucky, happy children who pop those into the toaster for quick breakfasts or snacks.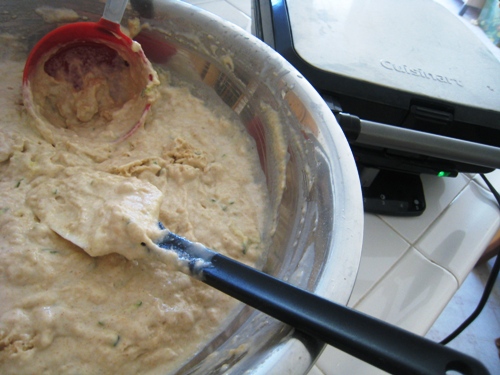 Using a waffle maker is pretty straightforward. Just heat the machine, mix your batter (don't overmix!), pour some batter in, close it up, and go.
Some of my favorite recipes include:
Care and storage
I've owned several machines over time. I've found that the best method for care and storage is to wipe it with a damp cloth after use and then store it with a few paper towels sandwiched inside it. The paper towels seem to absorb any moisture or grease that you have missed.
Purchasing a machine
I think we've gone through three or four waffle makers in the last 19 years of marriage. The first was a stellar Cuisinart purchase from Costco (similar to this). I think it made one Belgian-style waffle. We were newlyweds. It seemed the perfect purchase for lazy weekend breakfasts.
And it was. Waffles with whipped cream and berries fresh from the Farmers market? Stellar.
That waffler fizzled after about ten years of service. It stopped baking on one side, producing half-baked, frizzled waffles.
The next two purchases were cheapos from Target. One went the way of the dump after I left it outside in the rain. True story. I had burned the last waffle – as I am apt to do – and took it (and the stink) outside. I forgot about it until after about a week of rain. I figured it had done its time.
The second cheapo wasn't worth the $7 I spent. I think I got ripped off. I was so confident it would work just fine, I threw the box away before I tried it out. I ended up throwing it away because it couldn't cook worth a darn. I mean, really couldn't cook worth a darn.
I waited a couple years before buying a replacement. I was running the unitasker argument through my mind. Images of waffles with whipped cream and berries fresh from the Farmers market won that debate.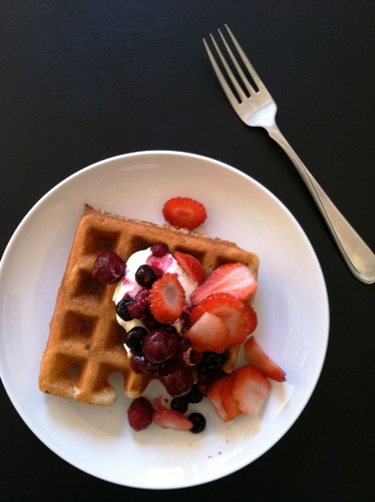 I browsed the selection of waffle makers on Amazon and settled on another Cuisinart. I love this machine. LOVE. I bought it on Amazon. LOVE this machine. Not only does it make four huge waffles at a time, but it also has a really good light/dark timer to let you know when your waffle is the doneness you prefer. I like #2, the kid who eats burnt toast likes #4, so adjust accordingly.
What's your experience with a waffle maker?
Love it or hate it? Do tell.
Disclosure: This post does include Amazon affiliate links. If you make a purchase through those links, I am paid a small amount in way of advertising fees.