I love browsing in chi-chi food boutiques. I don't like the prices they charge. So, instead, I've chosen to make my own delicious gifts to give to friends and family. I've shared the muffin kit with you. Today's gift of good taste is one the boys and I experimented with just this morning. We took our standard granola recipe and doctored it up with some fresh orange zest and dried cranberries. Delish!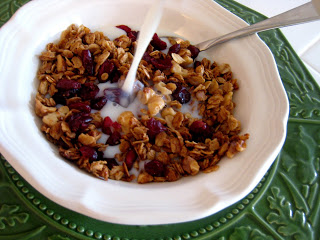 Cranberry-Orange Granola

5 cups rolled oats
1/2 teaspoon salt
1 Tablespoon cinnamon
1 cup brown sugar
1/4 cup water
1/2 cup canola oil
1/2 cup powdered nonfat milk
zest of one orange
1 teaspoon vanilla
1 cup chopped nuts
1 cup dried cranberries

Preheat oven to 300°. In saucepot combine salt, cinnamon, brown sugar, water, oil, powdered milk, orange zest, and vanilla. Heat until well blended. Pour over oats and nuts in large mixing bowl, stirring to combine. Spread on large greased cookie sheet. Bake for 40-45 minutes, stirring every 10-15 minutes. Cool.

For longest storage, store the cooled granola in an airtight container in the freezer.

I've noticed that dried fruit gets a little hard when it's mixed into the granola. So, I'd recommend packaging it separately. Like this:

The dried cranberries are in a snack size bag, resting atop the granola in a larger treat bag. Tie with a bow and you have a great gift!