Looking for a delicious gluten-free dessert? These Gluten free Chocolate Chip Cookie Bars are perfect for lunch boxes, after school snacks, and evening dessert.
My sister eats gluten-free, as does one of my best friends. I'd heard of their struggles to find baked goods that were, well, good, but I didn't really understand until I started to test the gluten-free waters myself.
The Trader Joe's bread that Jamie said was "divine"? Well, it wasn't. (No offense, Jamie. I love you.)
Over the past month of checking out the gluten-free lifestyle*, I've done things that I never thought I would do, like buy frozen pizza and waffles. The pizza was not bad; it needed more sauce. The waffles, on the other hand, wow. Not sure what to say about that.
Except that I can see how my friends eating gluten-free have struggled, if in a small way.
That said, there have been some delightful discoveries, marked "gluten-free" at Trader Joe's. Like this. And this.
For lack of a better word, some of the products I'm encountering are just "fake food". They've got lots of ingredients that aren't even in my vocabulary, let alone in my pantry.
Eating gluten-free naturally, that is, focusing on foods that are fine for everyone (like oats, rice, vegetables, meat, fish) is more my style. But, a girl wants to have a cookie every once in awhile. Am I right?
I wanted to know that I could bake — and enjoy Christmas cookies in a few months — if I stuck it out with this gluten-free thing.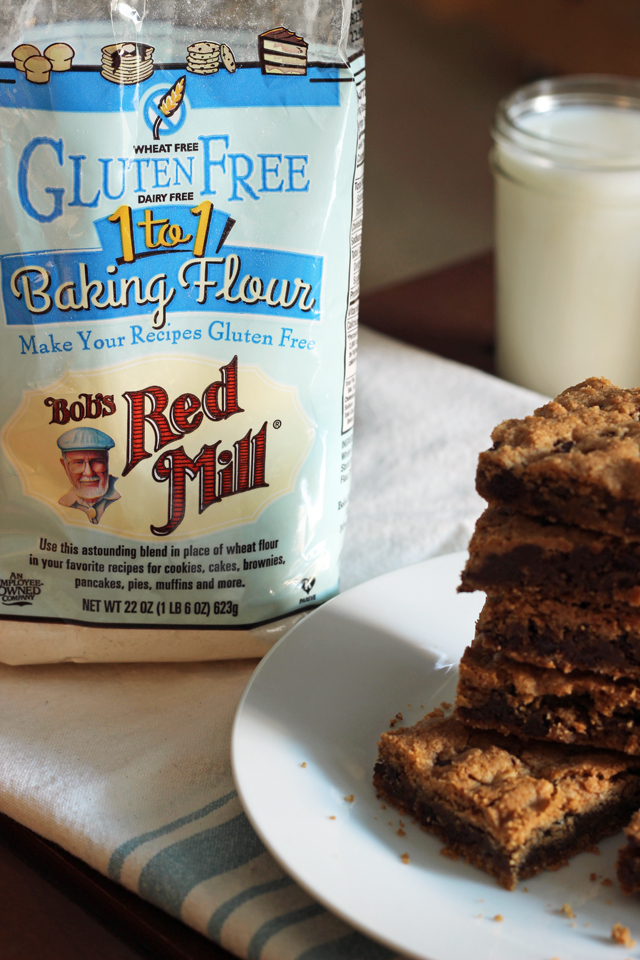 So, I picked up a bag of Bob's Red Mill's Gluten Free 1 to 1 Baking Flour. (It's about $4 at Walmart and Sprouts.) I did so for several reasons:
I trust Bob. This blend is not full of a bunch of weird stuff like the commercial products I was buying; it's got just the basic flours needed for baking gluten-free. (This is NOT a sponsored post, I just like Bob.)
Lynn said it was the best she's had so far.
A girl needs a cookie every once in awhile.
Well, I can say, we've got a winner folks. These bars, based on Jessika's Amazing Chocolate Chip Cookies, were delicious. In fact, the whole family gobbled them down before my very eyes. Even FishPapa, who claims not to like sweets, enjoyed them.
Lesson 1 of gluten-free eating: Hide the safe food from your family so that you can have a cookie when you want one.
Yep, next time, we'll work on the gluten version that the rest of the family can eat.
Now, please note that these cookies are sweet. Gluten-free blends taste sweeter because they are higher on the glycemic index (if I've quoted Lynn correctly.) So be warned. These are dessert, not dinner.
Gluten-free Chocolate Chip Cookie Bars
Looking for a delicious gluten-free dessert? These Gluten-free Chocolate Chip Cookies Bars are perfect for lunch boxes, after school snacks, and evening dessert.
Ingredients
1/2

cup

butter

softened

3/4

cup

granulated sugar

3/4

cup

brown sugar

1

egg

1

tsp

vanilla extract

2

cup

gluten-free baking blend flour

1

tsp

baking soda

1

tsp

salt

1

cup

mini chocolate chips
Instructions
Preheat the oven to 350 degrees. Line a 9x13-inch baking dish with parchment paper.

In a large mixing bowl, cream together the butter and sugar with an electric mixer. Scrape down the sides and add the egg and vanilla. Blend well.

Add the baking blend flour, baking soda, salt, and chocolate chips. The batter will be sticky.

Spread the batter into the prepared pan and bake for 20 minutes or until golden brown.

Allow to cool in the pan for ten minutes before moving the parchment paper lined cookie to a cooling rack. Slice while warm for best effect. The bars will firm up as they cool.

Store the cooled cookies in an airtight container at room temperature, for up to 3 days, or in the freezer for up to two months.
Notes
Nutritional values are approximate and are based on the recipe cut into 15 bars. Use within 4 days.
Nutrition
Calories:
200
kcal
|
Carbohydrates:
29
g
|
Protein:
1
g
|
Fat:
9
g
|
Saturated Fat:
6
g
|
Cholesterol:
29
mg
|
Sodium:
298
mg
|
Potassium:
19
mg
|
Fiber:
1
g
|
Sugar:
28
g
|
Vitamin A:
232
IU
|
Vitamin C:
1
mg
|
Calcium:
27
mg
|
Iron:
1
mg