Ready for a quick and easy supper? This Chicken Tikka Masala is so simple to make, and it's packed with flavor from the tomato and Indian spices.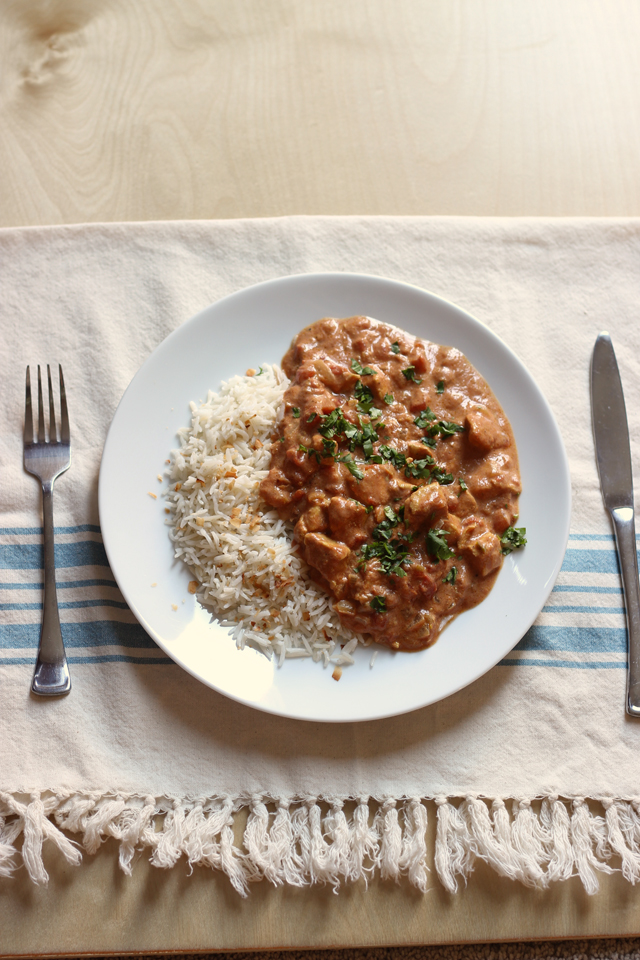 I don't have a good story to go with this recipe, other than one day a couple years ago, FishChick7 and I were on our way home from the children's hospital and we stopped for lunch. She wanted a burrito; I didn't.
Lucky for me there was a Mexican food place and an Indian take-out place in the same shopping center. She got her burrito, and I tried something new: Chicken Tikka Masala.
It was basically the only thing on the menu besides Dahl and Tandoori Chicken that I recognized. It was love at first bite.
Later I quizzed my friend Prerna long-distance via Facebook, as to what she put in hers. After a few tries in the kitchen, I was thrilled to send her a picture and receive two thumbs up in response.
This is a dish that the whole family loves and one that is really adaptable. We serve it over rice, but I imagine it would be just as good over cauliflower rice or spaghetti squash if you're going grain-free. You can also make it with or without the cream. We like it both ways. If you want to make it fully dairy-free, you can use more oil and omit the butter or ghee. With those adaptations, it would work for the whole 30.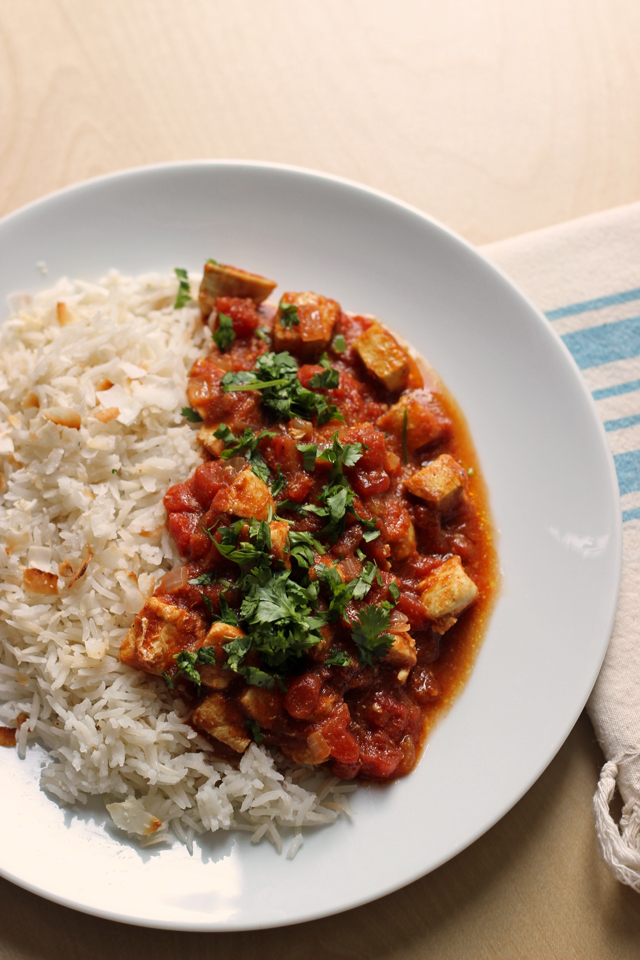 This is what it looks like without the cream. Because I forgot to add the cream before I took the picture!
This recipe is one of the 200+ featured in my new cookbook, Good Cheap Eats Dinner in 30 Minutes or Less. Yes, you can make this in a half hour. What's more is that there is a really good recipe for Coconut Rice alongside it in the book. Oh yum! This is definitely going on the meal plan soon.
There are also a few other Indian-style recipes in the book, including a Curried Chicken Naan Pizza and a Kachumber Salad. These are so yummy! (If I do say so myself. And I do.) I hope you'll get a chance to check out the cookbook. Your local library may have it, but if they don't you can always request that they order it.
Chicken Tikka Masala
Ready for a quick and easy supper? This Chicken Tikka Masala is so simple to make, and it's packed with flavor from the tomato and Indian spices.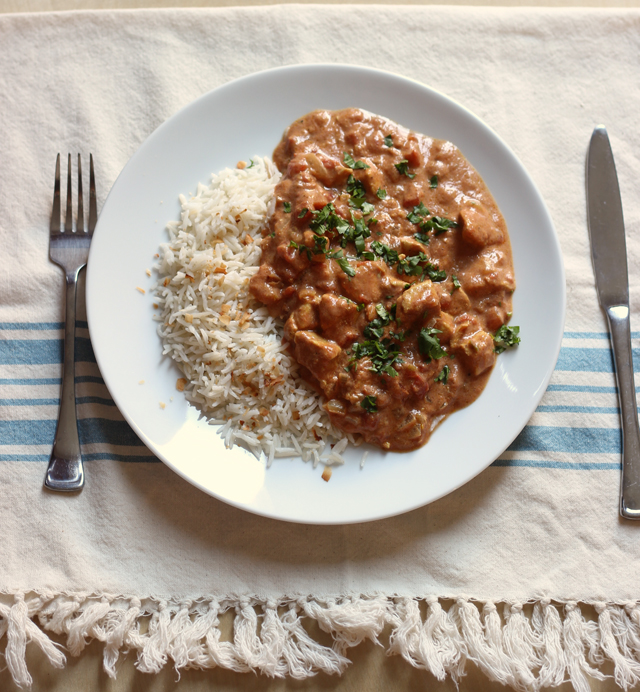 Preparation Time:5 minutes
Cook time:22 minutes
Total time:27 minutes
4 servings
Ingredients:
2 tablespoons oil

2 tablespoons butter or ghee (see notes about dairy free option)

1 pound boneless, skinless chicken, chopped into bite-sized pieces

1/2 onion, chopped (about 1 cup)

1 teaspoon minced garlic

1 teaspoon chopped fresh ginger

1 serrano chile, cored and finely chopped; add more if you like it very spicy

15-ounce can petite diced tomatoes, drained

8-ounce can tomato sauce

2 teaspoons garam masala

1 teaspoon curry powder

1/2 cup heavy cream, optional

chopped fresh cilantro for garnish
Instructions:

In a large nonstick frying pan over medium heat, heat the oil and butter together until butter is melted. Add the chicken, onion, garlic, ginger, and chile. Saute, about 7 minutes until the chicken is mostly cooked and the onion has gone clear.
Stir in the tomatoes, tomato sauce, garam masala, and curry powder. Reduce the heat and simmer for 10 minutes. Stir in the cream, if using, and heat for another five minutes or so. Garnish with the cilantro and serve.
Remember: If you're making this for the Whole 30, you'll need to use ghee instead of butter, and omit the cream.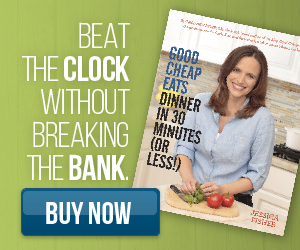 Looking for more bright ideas to get dinner on the table? My latest cookbook is here! And it's designed just for you to make dinner quickly, easily, and affordably.
You can beat the clock without breaking the bank.
And you'll eat well too.