Pesto Shrimp Linguine Salad is super easy and quick to assemble. It's packed with flavor thanks to pesto, sundried tomatoes, and black olives.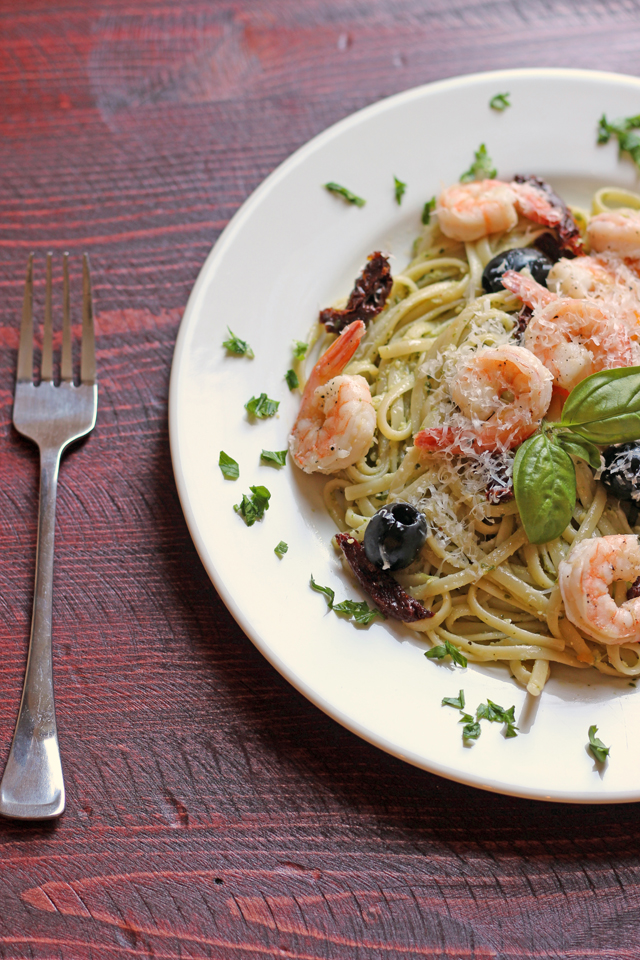 Years ago (like 20+) I worked as a waitress and barista at a pricey Santa Barbara restaurant and bakery. One of the perks of the job was to get a free meal with each shift. And since a single meal could easily be $20, it was a pretty nice perk!
Usually the chef got to decide on your meal and would give you whatever he needed to use up, but if you were lucky you got to choose. I loved their Chicken Caesar Salad, I mean, it was the 90s, you know. And I loved the fried ravioli and learned to like fish after tasting Norbert's salmon.
One of the things I would often choose when I worked at the cafe was the pesto and shrimp pasta. Yum-O.
Pesto and shrimp are common pairings and you'll often find them combined with other really flavorful elements. The result is that you get a dish packed with flavor. This quick pasta salad is one of those dishes. Add a simple green salad and you've got a tremendous meal worthy of a fancy restaurant at a fraction of the check price.
And you can make it in 30 minutes!
This Pesto Shrimp Linguine Salad is delicious served warm, cold, or room temperature, so you don't have to worry about making it in advance and chilling all the ingredients. Feel free to swap in grilled shrimp, roasted peppers, fresh tomatoes, Kalamata olives, or even goat cheese. Whatever in that vein you have on hand will be delicious.
Leftovers, if there are any, will be the envy of the folks standing around the water cooler.
Looking for more bright ideas to get dinner on the table quickly and easily? My latest cookbook is here! And it's designed just for you to make dinner quickly, easily, and affordably. You can beat the clock without breaking the bank.

And you'll eat well too.
Pesto Shrimp Linguine Salad
Pesto Shrimp Linguine Salad is super easy and quick to assemble. It's packed with flavor thanks to pesto, sundried tomatoes, and black olives.



Preparation Time:10 minutes
Cook time:25 minutes
Total time:35 minutes
8 to 12 servings
Ingredients:
1 pound linguine

1 tablespoon olive oil

1 pound peeled medium shrimp, thawed if frozen

fine sea salt and freshly ground black pepper

¾ cup prepared pesto or you can use this Rustic Basil Sauce

1 large red bell pepper, cored and julienned

½ cup julienned sun-dried tomatoes, drained if using jarred

½ cup pitted black olives

optional garnishes: shredded Parmesan cheese and chopped fresh parsley

INGREDIENT
Instructions:

Cook the linguine according to package directions. Drain and rinse well with cool water. Set aside. (You can do this part in advance if you want to serve the salad cold.)
Heat the oil to shimmering in a non-stick skillet. Add the shrimp and season to taste with salt and pepper. Saute the shrimp, stirring, for about 10 minutes or until the shrimp is pink and cooked through. Be careful not to overcook it or it will be tough.
Transfer the cooled pasta into a large salad bowl and add the pesto or basil sauce. Toss well, distributing the sauce throughout. Adjust seasoning with salt and pepper.
Divide the pasta among four plates and top with equal amounts of shrimp, pepper strips, tomatoes, and olives. Top with cheese and parsley, if using.
Salad may be served warm, cold, or at room temperature.