Stovetop Rice comes together quickly and easily without a lot of hassle. It's the perfect base for any number of meals and a super simple side dish.
When time is limited, it's helpful if you've got some quick and easy recipes in your back pocket. Bonus points if it's a meal you can make without having to coordinate too many ingredients or prep steps.
Noodles are always a good one, especially if you can cook pasta in the instant pot. A Snacky Dinner or sandwich bar is also a simple go-to. Rice bowls come together in a flash.
Knowing how to make stovetop rice is, therefore, an essential skill.
One of the things about rice, is that folks really struggle to make it good.
Easy Stovetop Rice
In my childhood kitchen, there was only one rice: white long grain. Today, you've got basmati, jasmine, long grain, and short grain — all in both white and brown varieties — as well as the iconic Minute Rice.
And there are loads of ways to cook it, including baking rice or cooking rice in the instant pot.
Today's recipe is for good old fashioned, white stovetop rice, just like my mom used to make!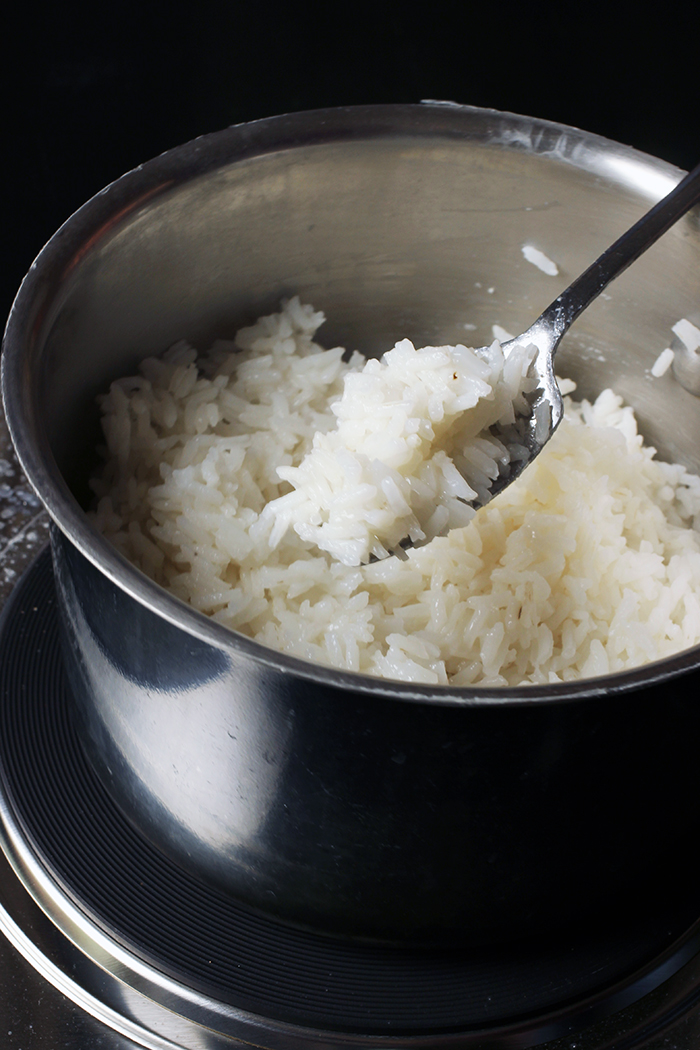 How do I cook rice on the stove top?
Cooking rice on the stove is just a matter of bringing the water to a boil, stirring in the rice, reducing the heat to a simmer, covering the pot, and allowing the rice to cook and the water to be absorbed.
What is the ratio of water to rice?
Use twice as much water as regular long grain white rice. For instance, boil 2 cups of water and add 1 cup of rice.
How long does rice take on the stove?
Twenty minutes once the lid is on the pot is all it takes to cook great stovetop rice.
Can I cook brown rice on the stovetop?
Yes! Proceed in the same way, except extend the cooking time to 45 minutes.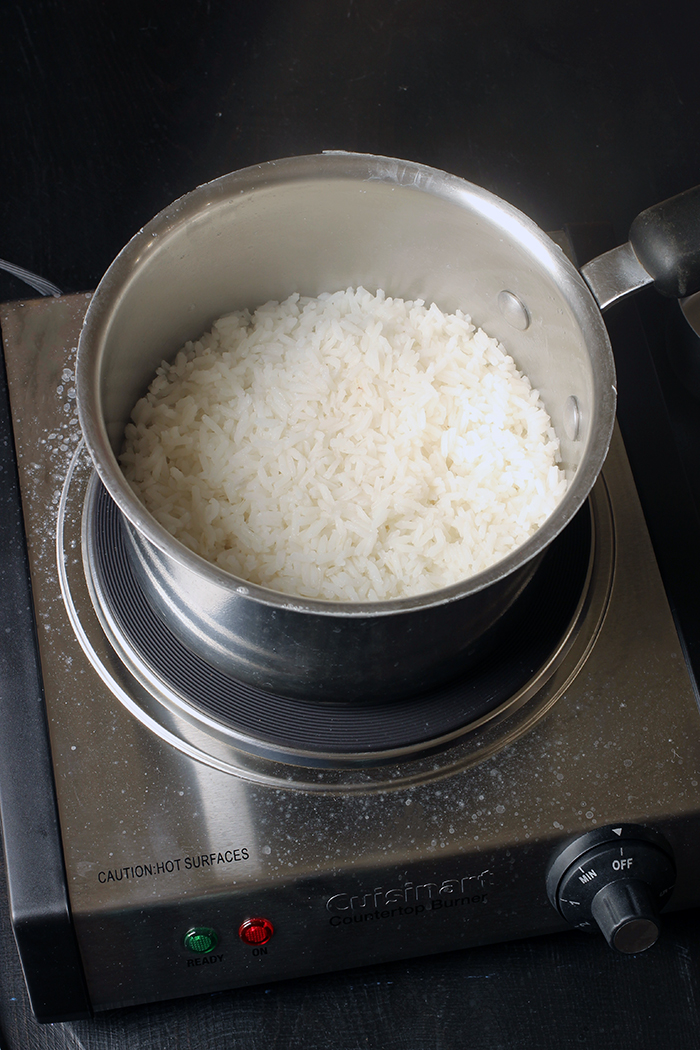 How to make rice inexpensively
Rice is generally speaking a pretty frugal food. It's a pantry staple in cultures the world over, making it abundant and affordable.
However there are some things you can do to make rice even more inexpensively and stretch your grocery dollar:
Buy rice in bulk. Whether you buy a ginormous bag from ALDI or Costco or fill up a bag yourself from the bulk bins at your local health food store, buying rice in bulk will generally get you the lowest unit cost. Not always, but often. Be sure to compare prices before you buy.
Store your rice well. Moisture, bugs, and rodents can all eat away at your rice supply. For reals! Store your rice in an airtight container in a cool, dry place. It's best to store grains at or below 40 degrees F.
Shop the sales. Even though bulk rice is cheapest, you may not want a 50-pound bag of a specialty rice. One can only eat so much risotto. Check your grocery sales and clearance specials to see when you might find good prices on rices.
Check your specialty food store. Asian, Indian, and Mexican markets all sell rice affordably. They might also supply special kinds that your standard grocery store might not carry.
Tools I use to make great stovetop rice:
These are tools I use to make my rice-making easier:

If you prepare this recipe, be sure to share a picture on social media and hashtag it
#GOODCHEAPEATS
. I can't wait to see what you cook up!
Easy Stovetop Rice
Stovetop Rice comes together quickly and easily without a lot of hassle. It's the perfect base for any number of meals and a super simple side dish.
Ingredients
2

cups

water

1

cup

long grain white rice
Instructions
In a medium saucepan with a lid, bring the water to a boil. Add the rice quickly. Cover and reduce the heat to low.

Allow the rice to cook for 20 minutes, covered. Do not open the pot or stir the rice.

At the end of the cook time, the rice will be tender and all the water will be absorbed. Fluff with a fork prior to serving.
Notes
Promptly store leftovers in an airtight container in the refrigerator, for up to 4 days.
Nutritional values are approximate and based on ¼ the recipe.
Nutrition
Calories:
169
kcal
|
Carbohydrates:
37
g
|
Protein:
3
g
|
Fat:
1
g
|
Saturated Fat:
1
g
|
Sodium:
9
mg
|
Potassium:
53
mg
|
Fiber:
1
g
|
Sugar:
1
g
|
Calcium:
17
mg
|
Iron:
1
mg