Bake up individual cherry crumbles for a delicious dessert any time of year. (Psst, but particularly fun at Valentine's Day.)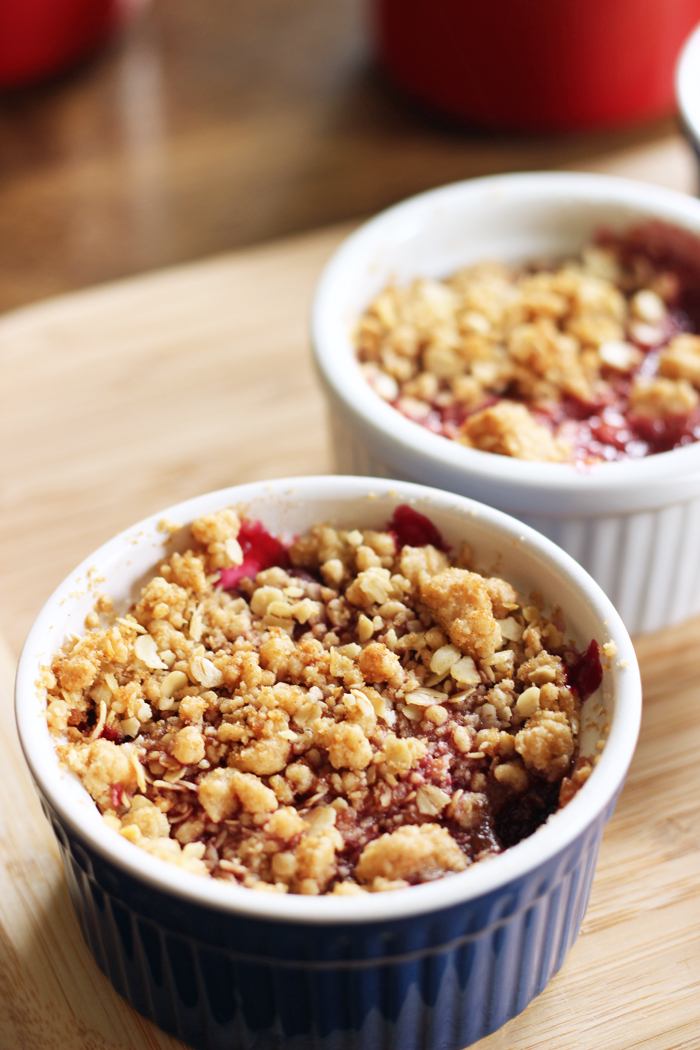 I think February just cries for cherries. If it's not the Valentines Day red, then it's George Washington's birthday that rallies the cry for cherries. Not to mention the winter blues.
While I am not living in the Polar Vortex, I'm experiencing it vicariously through the rest of you, and man, I bet we can all do with something hot, sweet, and rife with the flavors of summer to enjoy these days.
May I suggest Personal Cherry Crumbles?
At Costco this week I found a bag of TART organic cherries in the frozen section. I think the clouds might have parted to the sounds of angels singing. It is practically impossible to find tart cherries in my neck of the woods. I was thrilled to grab the bag and may need to go back for more!
I baked up our favorite version of Cherry Crumble this weekend. And I did it in a so-cute, pleases-all-the-kids, kind of way: in personal ramekins.
Baking dessert in personal sizes is so much fun! Plus, it saves a dish to wash. Double win.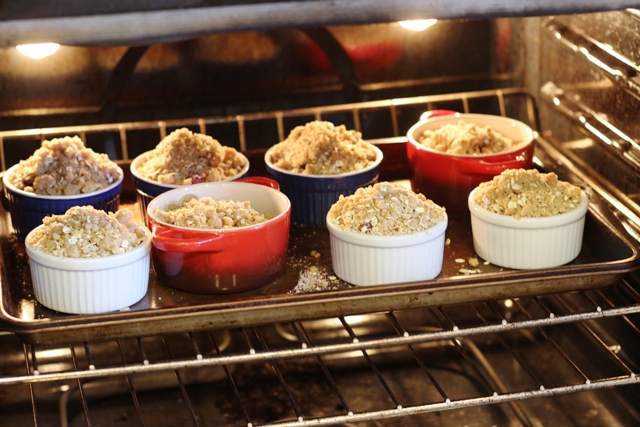 I tossed the cherries with sugar, cornstarch, and spices and spooned it into 8 small baking dishes. Then I whizzed up a streusel top made of butter, whole wheat pastry flour, brown sugar, cinnamon, and rolled oats. Don't worry about piling it high; it all sinks a bit, leaving room for ice cream or whipped cream if you have it.
We didn't. And we didn't care. Ooh. I think it's time to make it again.
This dessert is perfect for Valentine's Day, President's Day, George Washington's birthday, or your mom's uncle's cousin's anniversary. Basically, if the day ends in Y, you're good to go.
Tools to help you make this recipe:
Personal Cherry Crumbles
This recipe for cherry crumble is extra fun to make and serve since each person gets his own! The recipes is full of whole grain and tart cherries.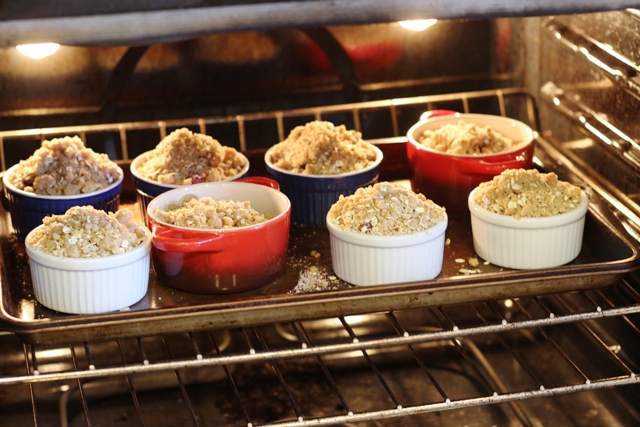 Preparation Time:15 minutes
Cook time:25 minutes
Total time:40 minutes
serves 8
Ingredients:
4 cups tart frozen cherries (no need to thaw)

1 cup sugar

1/4 cup cornstarch

1 tablespoon lemon juice

1/2 teaspoon ground cinnamon

1/4 teaspoon ground nutmeg

1 cup whole wheat pastry flour (you can also use all-purpose)

1/2 cup butter (1 stick), cut in cubes

1/2 cup quick oats

1/4 cup brown sugar
Instructions:

Preheat the oven to 375°. Grease eight 5- to 6-ounce ramekins with non-stick cooking spray. Place the dishes on a rimmed baking sheet to catch the drips.
In a large mixing bowl, combine the cherries, sugar, cornstarch, lemon juice, nutmeg and 1/4 teaspoon cinnamon. Divide this mixture, including any dry ingredients that sink to the bottom evenly between the prepared baking dishes.
In a food processor fitted with a metal blade, pulse together the butter and flour until coarse crumbs form and cling together in clumps.
Stir in the oats, sugar, and remaining 1/4 teaspoon cinnamon. Divide this mixture among the 8 ramekins.
Bake for 20 to 25 minutes until the topping is crisp and lightly browned and the filling bubbles. Cool on a rack.
Have you got a favorite dessert for days ending in Y?