Oslo Kringle is a delicious Norwegian dessert, with the flavor and texture of a cream puff, but with a simpler preparation and fjords of almond icing.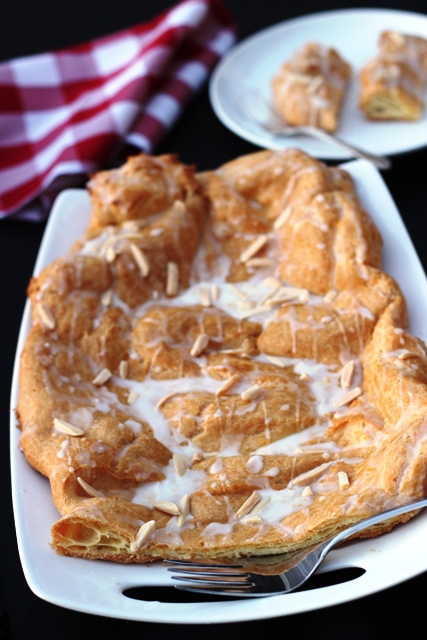 My Gramma John was full-blooded Norwegian. Though she was born in Minnesota, both her parents emigrated from Norway in the early 20th century. She grew up speaking Norwegian, making lefse, and eating lutefisk. My dad, her youngest son among 8 children, grew up with this heritage.
My Aunt Cass, my mother's sister, spent a year in Norway during college. Despite her very Polish heritage, she embraced the Norsk culture, language, and food. She is quick to teach me and my four siblings about our father's ancestors and give gifts from Norway.
So, it should come as no surprise that when Heritage Day rolled around at school and I or one of my siblings was called on giving a presentation, we leaned on the Norwegians. My great uncle had gifted my dad a hand-carved Viking ship that we took to show off along with the ribbons and lace items supplied by Aunt Cass; my mom baked an Oslo Klinger.
At least that's what she called it. My sisters and I have googled it till we're blue in the face, but we could not find Oslo Klinger anywhere in Norwegian lore. Or Google as the case may be.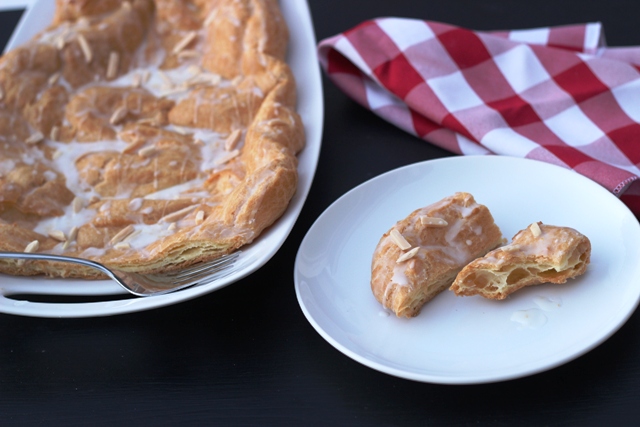 One sister suggested my mom must have just made it up when she was pressed for time one day and one of her progeny needed a baked good for Heritage Day. I sent out a family group text early one morning to find out more.
All three of us knew how to recreate it: cream puff dough, sugar icing, and almonds. We knew that much.
In her defense, Mom said that a woman from church had given her the recipe and it was she who called it Oslo Klinger and said it was Norwegian. Maybe she made it up….
But, no! I asked the Facebook peeps and they solved the mystery! There is, indeed, a dessert called Oslo Kringle. So the letters got a little mixed up. The mystery is solved and our Norwegian heritage claims remain justified.
I did a little research on Oslo Kringle. Apparently, there are many different variety of kringle. Some are made like a filled danish. Others in an O shape. Still others with a pie crust bottom. But, I found some versions similar to ours, meaning we weren't too crazy for perpetuating this tradition.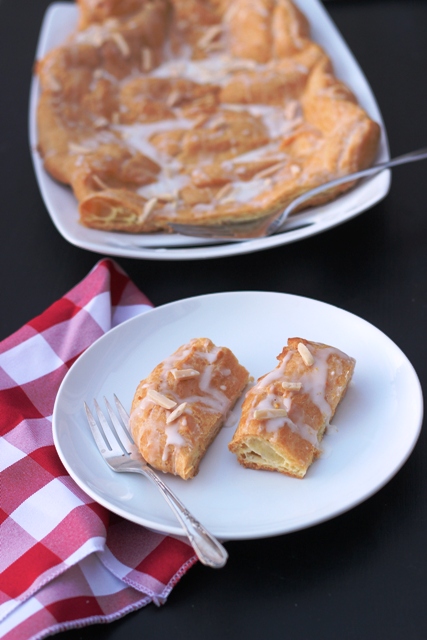 When I bit into this last weekend, it was like taking a bite out of childhood. It tasted just like when Mom made it. The pasty puffs up in weird little hills and valleys. The icing creates little fjords of flavor. The almonds add a nice little crunch.
It's the kind of dessert that doesn't last long. The flavors are kind of addicting and there's no stopping until the plate is empty.
Please note that beating in the eggs takes a little muscle. Apparently, my Norwegian ancestors were a bit stronger than I am. I had to have my teenage son take turns. I've heard that you can transfer the hot mixture to a stand mixer and beat in the eggs that way. I didn't want to wash another bowl. I am reconsidering that idea for next time.
Bon Appetit! I hope you enjoy this as much as my family and I do. Yum!
Oslo Kringle
Oslo Kringle is a delicious Norwegian dessert, with the flavor and texture of a cream puff, but with a simpler preparation and fjords of almond icing.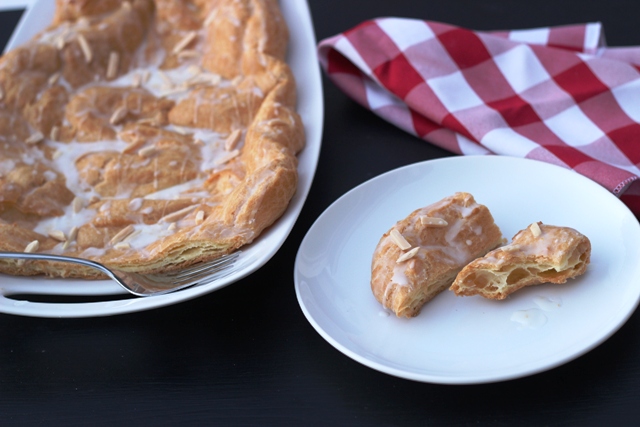 Preparation Time:10 minutes
Cook time:40 minutes
Total time:50 minutes
12 servings
Ingredients:
1 cup hot water

1/2 cup butter

1 cup unbleached, all-purpose flour

1/2 teaspoon salt

4 eggs

1 cup powdered sugar

2 tablespoons milk

1 teaspoon almond extract

1 teaspoon lemon zest

2 tablespoons toasted, slivered almonds
Instructions:

Preheat the oven to 425°. Line a baking sheet with parchment or a silicone baking mat.
In a medium saucepan, bring the water and butter to a boil.
Add the flour and salt. Cook over medium, stirring, until the mixture leaves the sides of the pan and forms a ball around the spoon.
Remove the pan from heat and beat in the eggs one at a time. (Get your teenage son to help you. I did.)
Spread the batter in a large rectangle on the prepared pan. Bake for 30 minutes.
Turn off the oven. Prick holes in the pastry and allow to rest in the hot oven for 20 minutes more to dry out the insides of the pastry.
Cool the pastry on a rack.
In a small bowl combine the powdered sugar, milk, almond extract, and lemon zest.
Place the pastry on a serving platter. Drizzle the icing over the top of the pastry. Sprinkle the almonds over all.
I consider our family to be rather quirky and eclectic in our food traditions. Here are other dishes I grew up with:
Have you got a favorite family food tradition?