Oslo Kringle is a delectable Norwegian dessert, with the flavor and texture of a cream puff, but with a simpler preparation and "fjords" of delicious, almond icing on top. This Kringle recipe will be the hit of your dessert table!
Make the evening a complete Scandinavian affair by serving Instant Pot Split Pea Soup and Burning Love Mashed Potatoes for dinner with Sourdough Rye Bread and a cheese platter on the side. Serve this Kringle recipe alongside a Winter Fruit Tray for a deliciously festive spread.
Jump to:
I come from solid, Norwegian farm stock, the Borges of Bergen. When Heritage Day rolled around at school, and I or one of my siblings was called on to give a presentation, we leaned on Grampa Sigurd and his ancestors.
We toted to school a small, hand-carved wooden Viking ship from Uncle Jim along with the ribbons and lace Aunt Cass brought back from the homeland. For her part, my mom baked this Oslo Kringle recipe.
Whenever I bite into this dessert, it is like taking a bite out of my childhood. Dare I call it a Proustian moment?
The kringle pasty puffs up in weird little hills and valleys. The icing creates little fjords of flavor. The almonds add a nice little crunch. And I am transported back to elementary school as Rosedell Elementary.
Why Make This
It's way better than what you'll buy at the store. Wondering if this Kringle recipe is anything like the Kringle pastry you can buy at Trader Joe's? The answer is sort of. The flavors are very similar, but TJ's version has an almond paste filling, similar to a bear claw, while this Kringle has almonds and almond flavoring as a topping. My kids devoured both types of kringle in one afternoon, declared them both good, but stated that they liked the crunchy texture of the almond topping of this our Kringle best.
It's super simple to make. Don't let the idea of pate à choux intimidate you. This Kringle recipe comes together quickly, especially if you have a stand mixer.
This Kringle recipe is addictingly good. Beware! Oslo Kringle is the kind of dessert that doesn't last long. The flavors are kind of addicting and there's no stopping until the plate is empty.
Ingredients
Here's what you'll need to make this Oslo Kringle Recipe: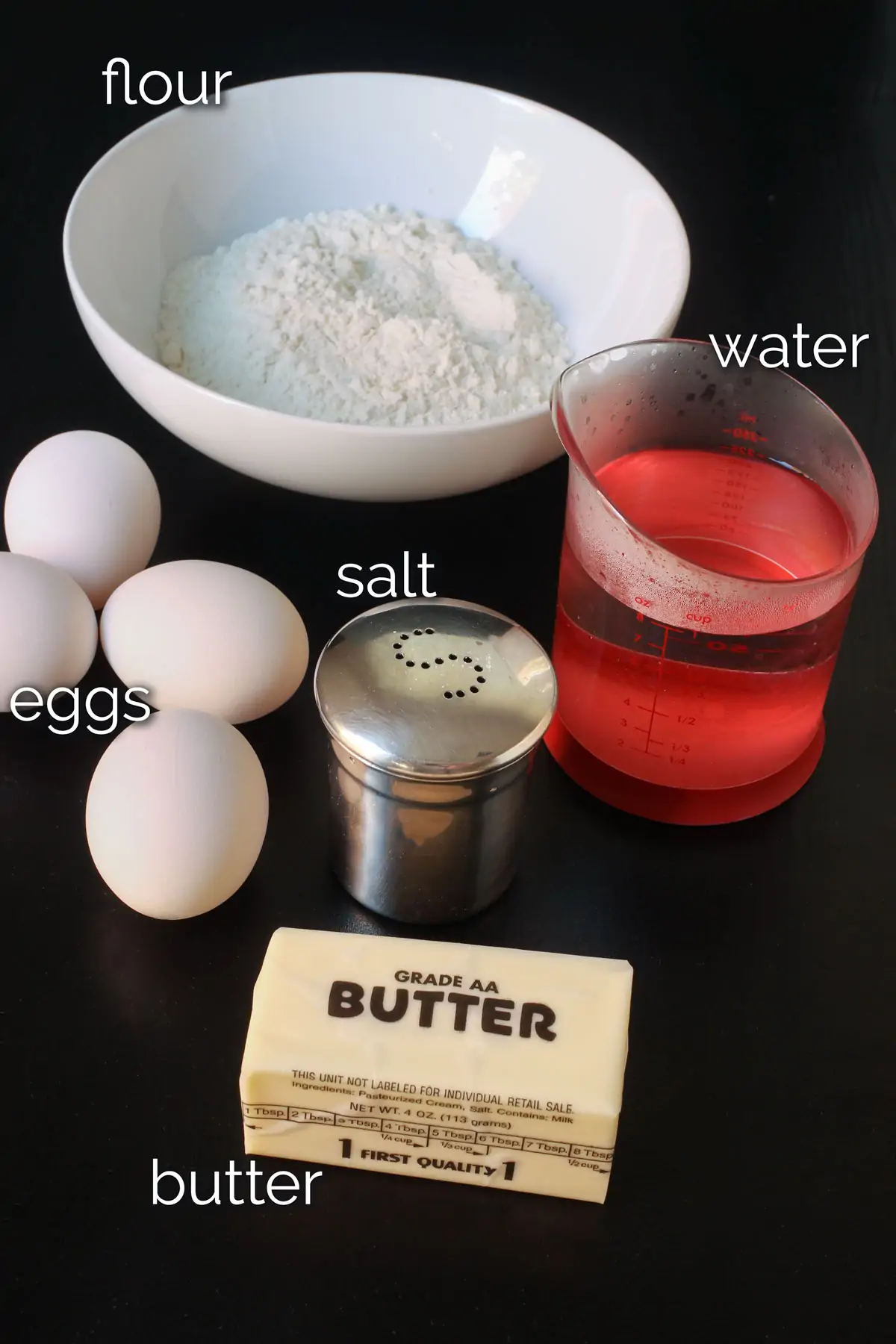 butter – The buttery rich dough of this Kringle recipe is one of its signature flavors. While you could probably use other types of butter, I recommend the real deal.
unbleached, all-purpose flour – I have made this dough with whole wheat flour but it's not very exciting. Stick with white flour for best results.
salt – Don't omit the salt in your Kringle recipe. Salt adds texture and flavor to baked goods.
eggs – The batter of Kringle is very much like a cream puff which is a very egg-heavy pastry. Don't skimp on the eggs or try to bake this without them.
powdered sugar – A necessity for the icing in this Kringle recipe, you can use commercial or make your own powdered sugar.
milk – You only need a bit of milk for the icing. You can use water or cream as substitutes. One will be richer than the other, but both tasty.
almond extract – Almond is a must for this Kringle recipe. Don't skip it.
lemon zest – You can use bottled or fresh lemon zest, just be sure to use it. The flavor is important here.
slivered almonds – Slivered almonds that you toast yourself are ideal for this Kringle recipe, but you can also use sliced almonds if need be.
Step-by-Step Instructions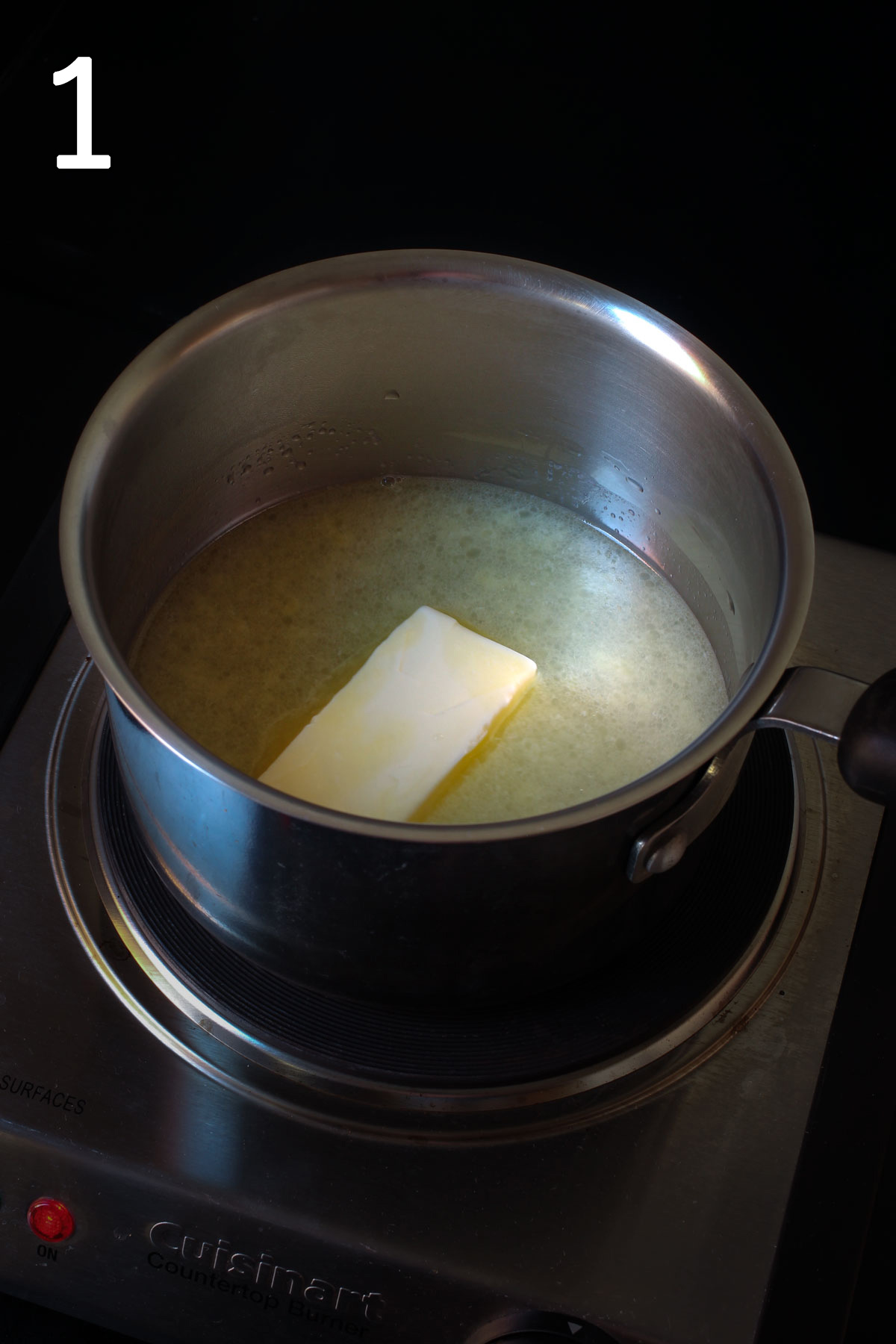 As I mentioned before, this Oslo Kringle recipe starts with a pate a choux, or cream puff pastry. It's simple enough to do, but there are some tricks for best results.
1. Melt the butter in a saucepan over medium heat. Add the water and bring the mixture to a boil. Add the flour and salt. Cook, stirring, until mixture leaves the sides of the bowl and forms a ball around your spoon.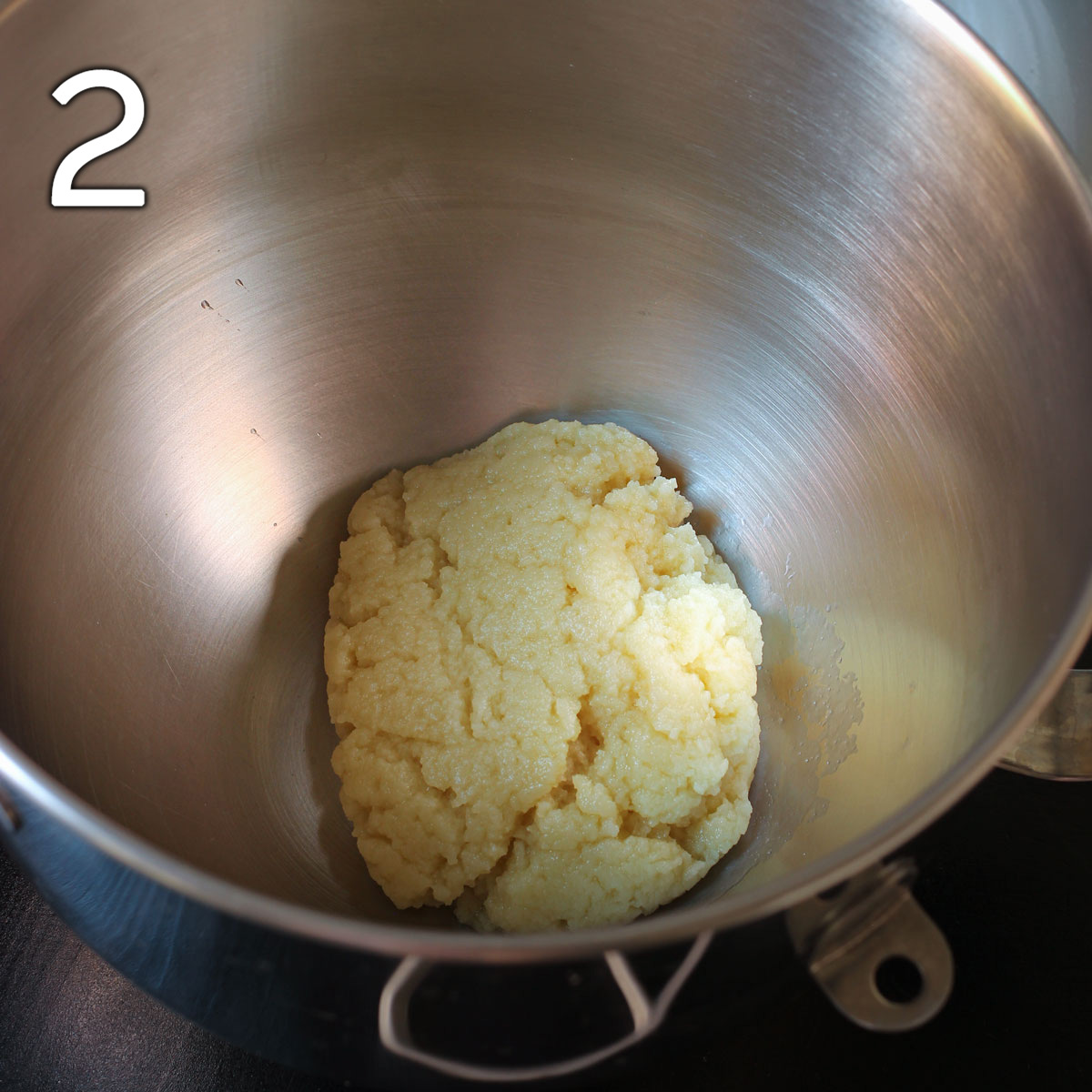 2. At this point, it's helpful to have a stand mixer. Transfer the hot dough to the bowl of your mixer and allow it to cool slightly. Attach the paddle attachment and run it on low until the side of the bowl has cooled to just warm.
Please note that you do not have to have a mixer to make this Kringle recipe. However, beating in the eggs takes a little muscle. Apparently, my Norwegian ancestors were a bit stronger than I am. I have my teenage son take turns stirring if I don't use the mixer.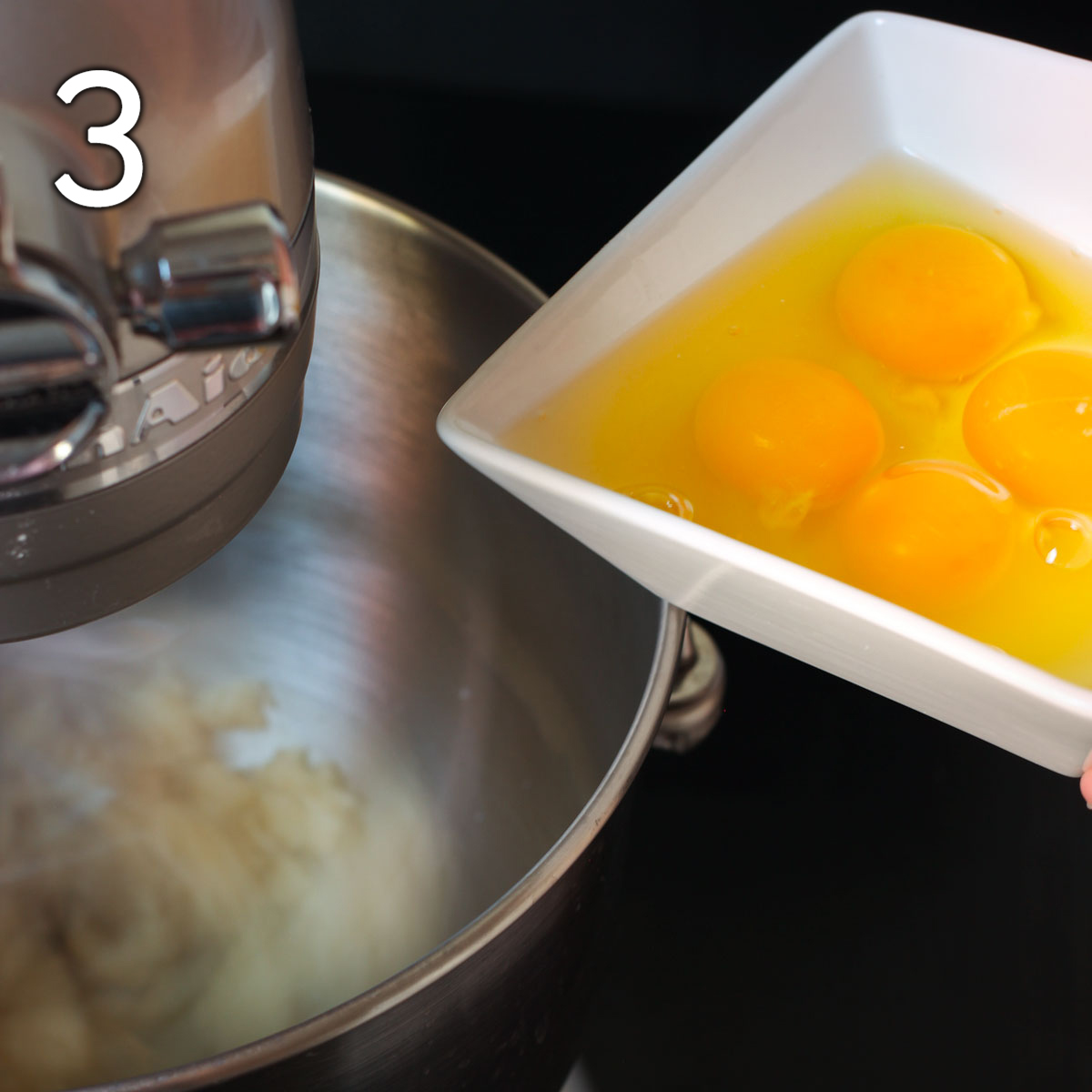 3. Add the eggs one at a time, beating well to combine. The mixture will look really weird after a while and you'll think you did something wrong. If it looks like scrambled eggs, don't worry. Keep beating until the mixture looks smooth and creamy.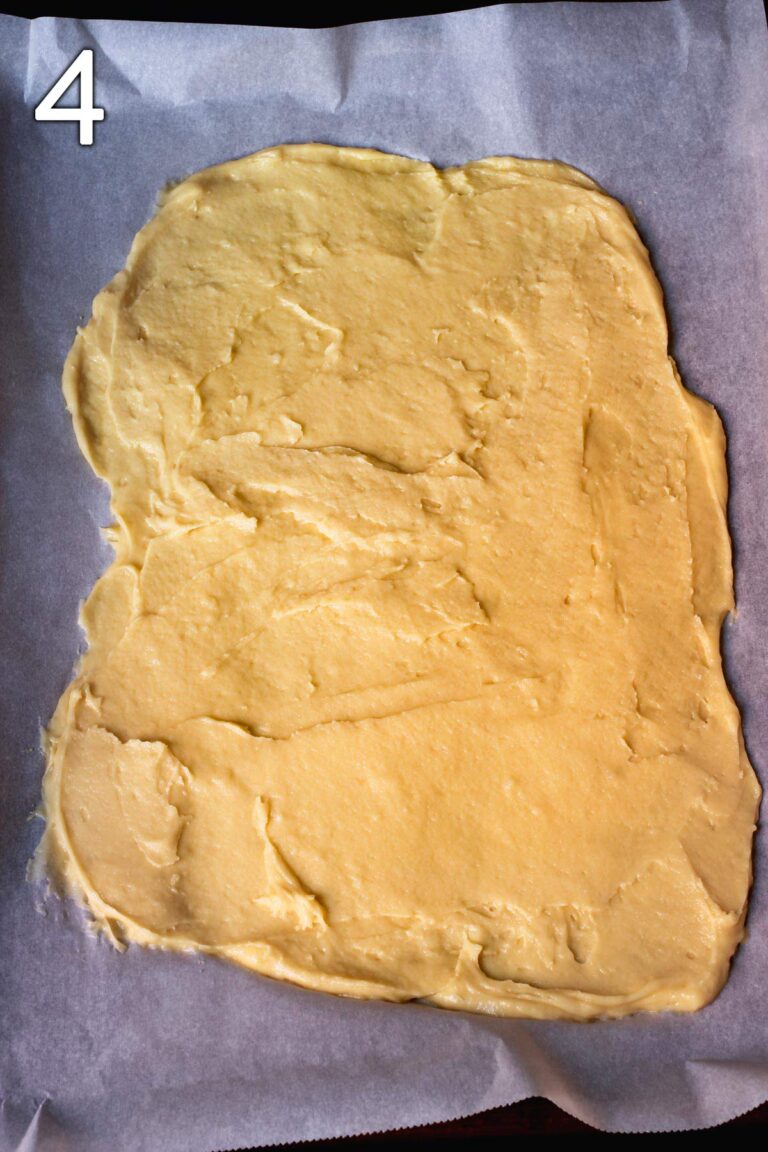 4. Spread the batter on a baking sheet lined with parchment or a silat mat. Bake for 20 to 25 minutes at 425 degrees. The batter will puff and turn golden and crispy.
Turn off the oven. Remove the pan from the oven and prick holes in the pastry. Return the pan to the warm oven to dry out the insides of the pastry.
Cool the pastry on a rack. While it's cooling, prepare the glaze.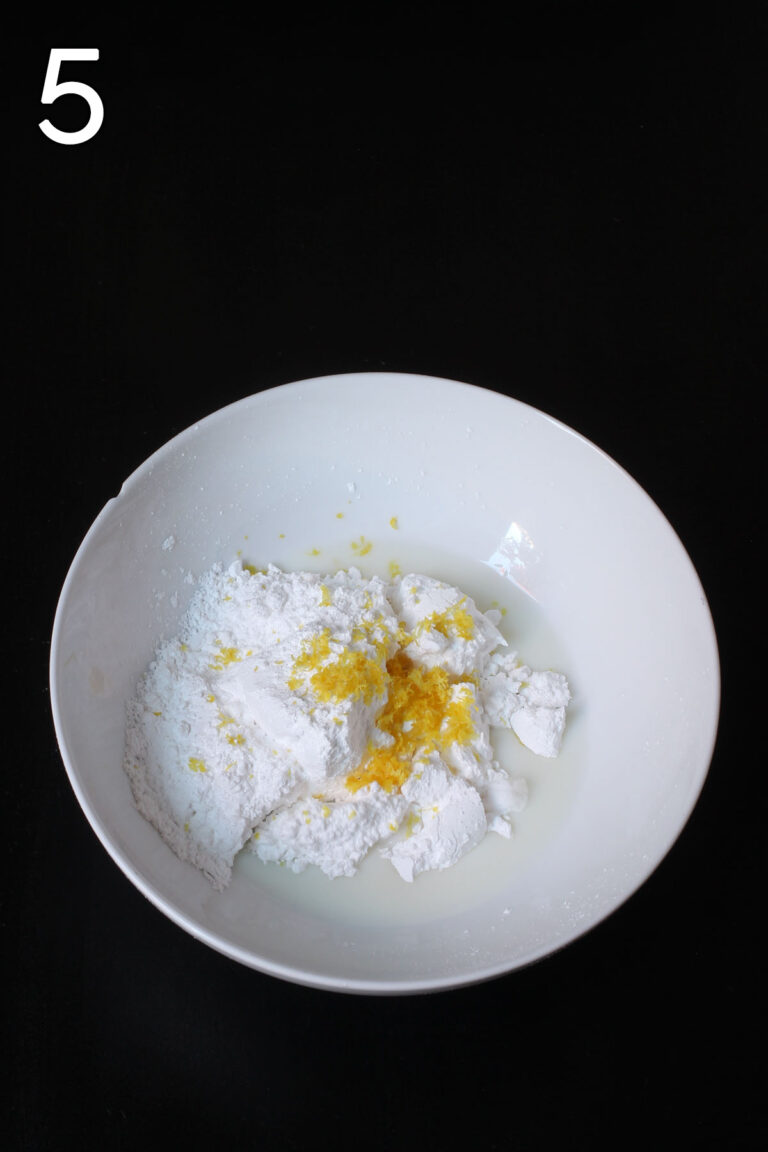 5. Combine powdered sugar, lemon zest, milk, and almond extract. Stir well with a wooden spoon until smooth. Drizzle the glaze over the pastry and sprinkle on the slivered almonds.
FAQs & Recipe Costs
What is a Kringle pastry?
Despite the variations that abound, a kringle pastry includes a butter-rich dough, a sugar glaze, and almonds. After that it's up to the variation if it will be a cream puff dough, a laminated dough, or something else, with or without a filling.
What is a traditional kringle?
There's debate about traditional kringle. There many variety of Kringle as well as names. They all tend to have in common a puff pastry of some kind as well as heavy almond flavoring. I did a little research on Oslo Kringle. Some are made like a filled danish. Others in an O shape. Still others with a pie crust bottom.
What is a Wisconsin kringle?
Wisconsin kringle, sold at Trader Joe's nationwide, is an oval pastry, filled with almond paste and topped with glaze and almonds.
Is kringle German?
German Kringle refers to an alternate name for Santa Claus. In Danish, kringle means pretzel, the original shape of some traditional kringle pastries. There are also Norwegian variations of kringle pastry as well.
Costs
Knowing how much it costs you to prepare a recipe can help you decide if it's the type of recipe to make regularly or one you might want to save for special occasions. Let's crunch some numbers and see how this recipe pencils out.
butter – $0.75
flour – $0.17
salt – $0.01
eggs – $0.60
powdered sugar – $0.12
milk – $0.04
almond extract – $0.23
lemon zest – $0.10
slivered almonds – $0.28
While your costs may vary depending on where and how you shop, you can expect to pay about $2.30 for a full batch of this Oslo Kringle recipe, about 10 cents/serving.
How to make this good and cheap:
You know I don't typically want to make something if I can't make it good as well as cheap. Here are some of the strategies you can use to make this recipe more economical: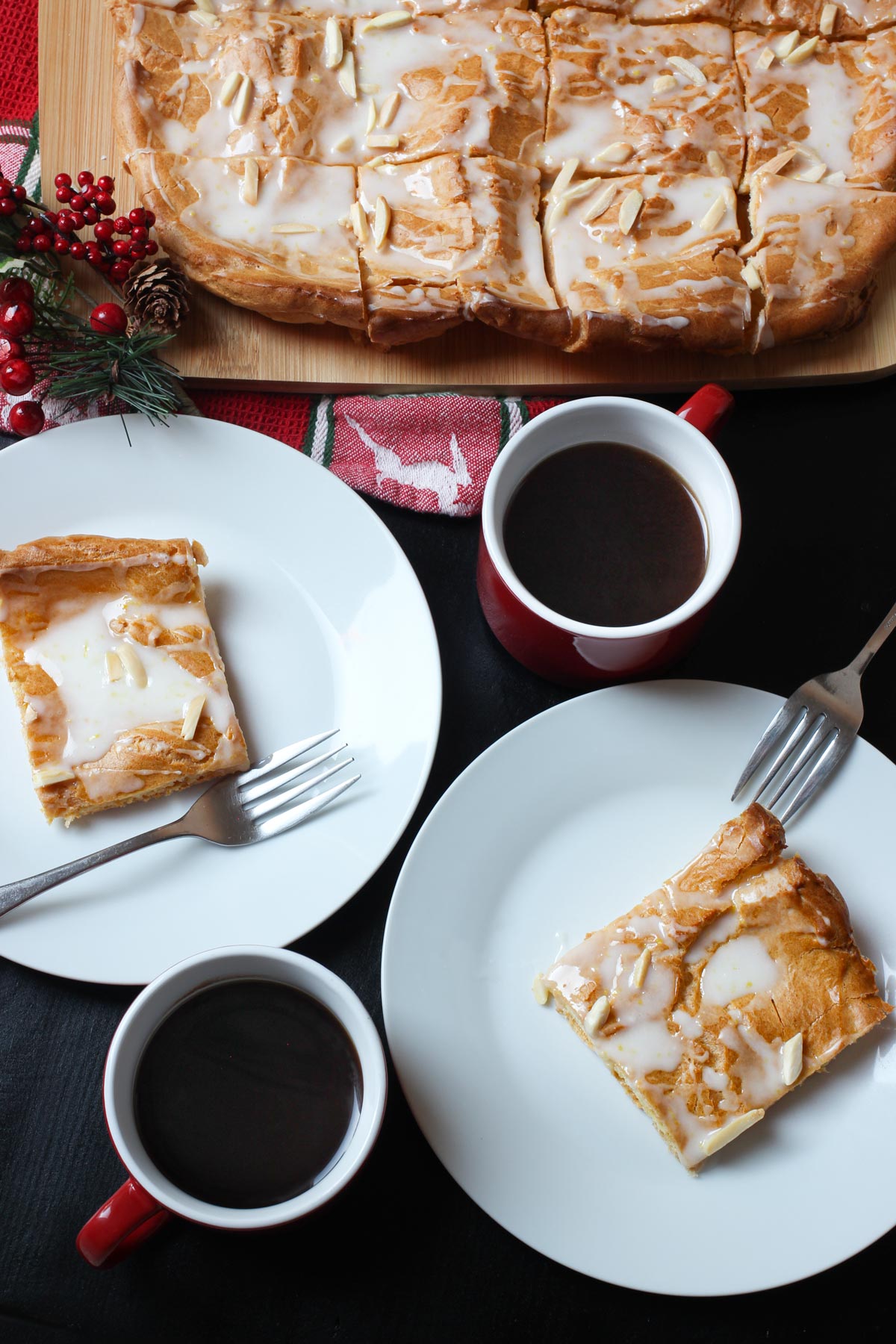 Recommended Desserts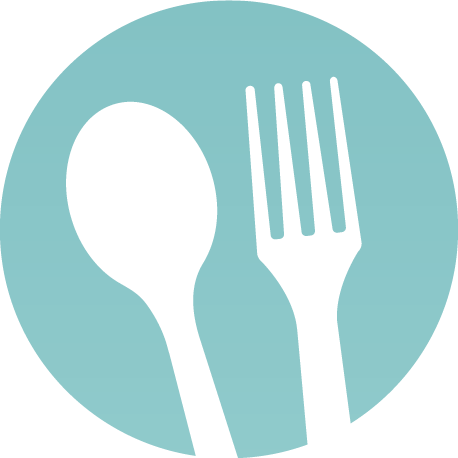 Tell us what you think!
We love to hear your experiences with Good Cheap Eats. Click the STARS on the recipe card or leave a STARRED comment to let us know what you think of the recipe.
Oslo Kringle
Oslo Kringle is a delicious Norwegian dessert, with the flavor and texture of a cream puff, but with a simpler preparation and fjords of almond icing.
Ingredients
1

cup

water

hot

½

cup

butter

1

cup

unbleached, all-purpose flour

½

teaspoon

salt

4

egg

1

cup

powdered sugar

2

tablespoon

milk

1

teaspoon

almond extract

1

teaspoon

lemon zest

2

tablespoon

slivered almonds

toasted
Instructions
Preheat the oven to 425°. Line a baking sheet with parchment or a silicone baking mat.

In a medium saucepan, bring the water and butter to a boil.

1 cup water,

½ cup butter

Add the flour and salt. Cook over medium, stirring, until the mixture leaves the sides of the pan and forms a ball around the spoon.

1 cup unbleached, all-purpose flour,

½ teaspoon salt

Remove the pan from heat and beat in the eggs one at a time. You can do this in the pan by hand or transfer the mixture to the bowl of a stand mixer. Allow the mixture to cool slightly before adding the eggs.

Spread the batter in a large rectangle on the prepared pan. Bake for 20 to 25 minutes or until golden.

Turn off the oven. Prick holes in the pastry with a sharp knife or fork and allow to rest in the hot oven for 20 minutes more to dry out the insides of the pastry.

Cool the pastry on a rack.

In a small bowl combine the powdered sugar, milk, almond extract, and lemon zest.

1 cup powdered sugar,

2 tablespoon milk,

1 teaspoon almond extract,

1 teaspoon lemon zest

Place the pastry on a serving platter. Drizzle the icing over the top of the pastry. Sprinkle the almonds over all.

2 tablespoon slivered almonds
Notes
Store the kringle, covered, at room temperature for up to 3 days. Freeze for longer storage.
While almond and lemon flavoring is traditional, feel free to adjust the taste based on the extracts you use. Some tasty options include: vanilla, butter rum, orange, and cherry.
Nutrition
Calories:
177
kcal
|
Carbohydrates:
18
g
|
Protein:
4
g
|
Fat:
10
g
|
Saturated Fat:
5
g
|
Cholesterol:
75
mg
|
Sodium:
187
mg
|
Potassium:
46
mg
|
Fiber:
1
g
|
Sugar:
10
g
|
Vitamin A:
316
IU
|
Vitamin C:
1
mg
|
Calcium:
19
mg
|
Iron:
1
mg
Tried this Recipe? Tell us what you think!
Your reviews help us develop better recipes and give newcomers the confidence to try your favorites. Scroll down to leave a starred comment.
This post was originally published on December 6, 2013. It has been updated for content and clarity.