Make some cookies! Try one of these 8 great cookie recipes that your family will love to see on your holiday tray this year.
Pictured: Baby Cakes
Cookies have been on my mind lately. Have you ever seen the movie Stranger than Fiction? It's one of those movies that proves to you Will Ferrell isn't the huge cad he appears to be in the 99.5% of the movies he makes. We watched it as a family and were really taken with the beauty and mystery of the story.
Basically, he's an IRS agent who lives a pretty boring life. He doesn't know it, but his life is being narrated — and therefore directed by the lovely Emma Thompson. What she writes in her book, he has to do.
He falls in love with a baker while auditing her. She offers him a cookie.
He doesn't like cookies.
She's appalled. He's clearly never had one of her cookies. And they're really good cookies.
If you can, watch the movie — we borrowed it from the library — it's totally worth it. And then…
Try one (or more!) of these great cookie recipes!
Cookies don't have to be a complicated affair. My guess is that you can mix up a batch of dough in about ten minutes. Take another twenty to bake. Then enjoy a glass of milk, like Harold Crick, with a still-warm-from-the-oven cookie.
If you're really on the ball, take a few simple steps to make cookies a little more convenient so that you can enjoy them whenever you like!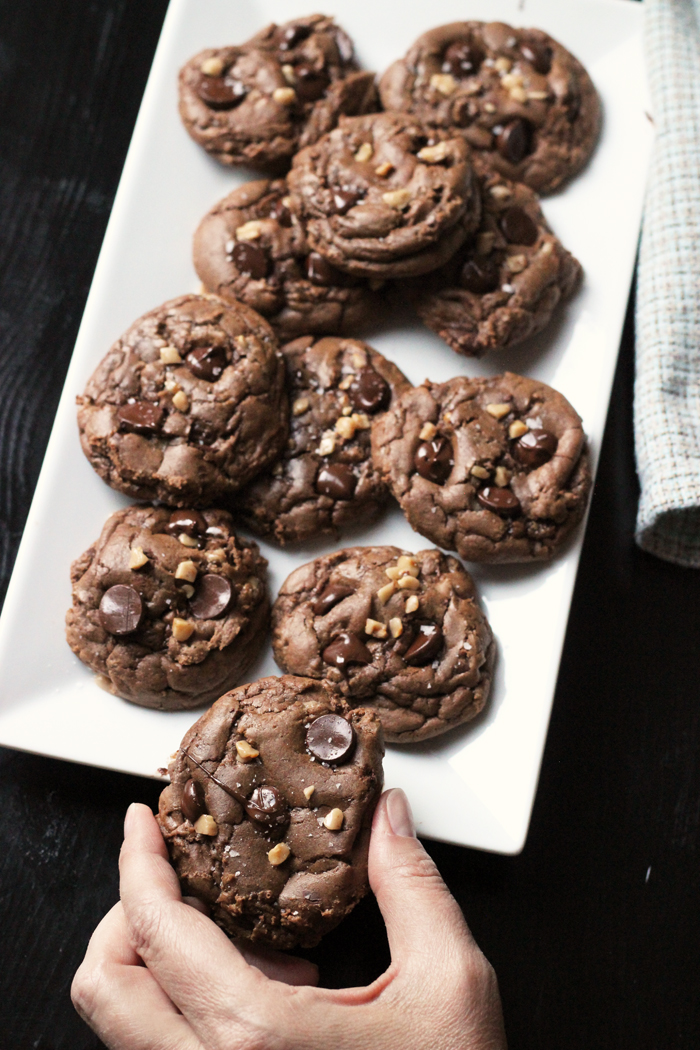 8 Great Cookie Recipes for Your Holiday Tray
For Chocolate Lovers:
These are one of my favorites in the world. They have the rich chewiness of brownies in cookie form.

This is my family's very favorite cookie that we make in abundance at Christmas time. If I want to send my children and husband over the moon with glee, I just need to make these cookies.

My Gramma John won blue ribbons at the county fair every year with this cookie recipe. One bite and you'll know why.
For Fruit, Oat, or Ginger Lovers:
I love the traditional thumbprint cookies with nuts in the dough, but since my developed a nut allergy, I created this recipe that features oats instead. They add a little extra texture and a slight nuttiness that helps replace the nuts. You can fill them with your favorite jam, but I love cassis.

My mom has a favorite gingerbread recipe. It has never ever worked for me as cut-outs, so I finally gave up. Now, I take the same dough and make crinkles. These are delicious and old fashioned and simple.

Cranberry Christmas Cookies, featured in the children's book, Cranberry Christmas, are amazingly, surprisingly good. Tart and sweet, they're packed with flavor.

Pepitas, also known as pumpkin seeds can be used as a nut substitute in a number of recipes, including these delicious, caramel-scented cookie bars.

Bake up a batch of lemony, light, and fluffy clouds of meringue. These Lemon Meringue Cookies are a fun addition to your cookie plate.