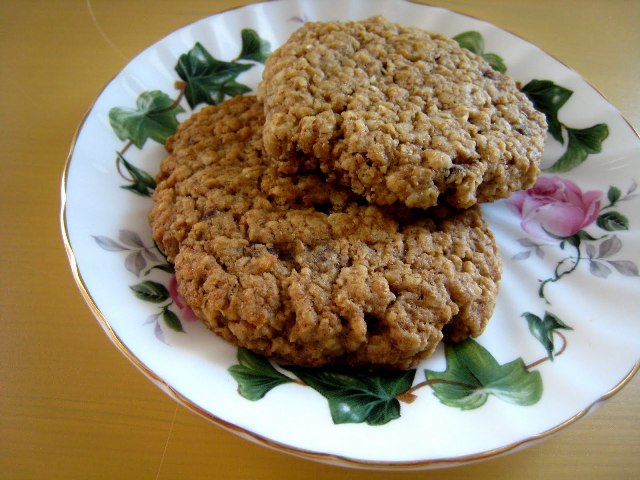 About a month ago, I found this recipe in a vintage cookbook. It's a delicious oatmeal cookie that contains no eggs! Great for when you run out or when dealing with an egg allergy. The whole family loves them. My brother even told his co-workers about them. Now, that's high praise.
I did some tweaks, of course, substituting butter for lard. Talk about vintage! They are fairly sweet, so I reduced the amount of sugar, too. You choose how you like them best. Feel free to stir in chocolate chips and dried fruit if you so desire. They're good either way.

Recipe: Farm-Style Oatmeal Cookies
Ingredients
1 1/2 to 2 cups packed brown sugar
1 cup butter
1/2 cup buttermilk
1 teaspoon vanilla
3 1/2 cups quick cooking oats
1/2 cup old-fashioned oats
1 3/4 cups unbleached flour
1 teaspoon baking soda
3/4 teaspoon salt
Optional stir-ins, up to 2 cups: chocolate chips, dried cranberries or raisins, chopped nuts
Instructions
Heat oven to 375°. In large mixing bowl combine sugar, butter, buttermilk, and vanilla. Stir in remaining ingredients.
With wet hands, shape dough into 2-inch balls. Dough will be sticky. Place about 3 inches apart on ungreased baking sheet. Flatten each cookie with the bottom of a glass dipped in water.
Bake until set and lightly browned, about 10 minutes. Remove to cookie sheet and cool.
Yield: about 2 dozen
For another version of these cookies, try my Cranberry Blueberry Oatmeal Cookies.