Enjoy melt-in-your-mouth deliciousness with these Chocolate Minty Melts, mint chocolate crinkle cookies topped with chocolate kisses that melt into little knobs of chocolate.
Are you looking for a cookie that's simple, deliciously addictive, and a little bit different than what's typically on the Christmas cookie plate? Then it's time you baked up a batch of Chocolate Minty Melts, our family's favorite mint chocolate crinkle cookies that get a little kiss of chocolate for garnish.
Not only are the easy to make, but they freeze beautifully, making them the perfect addition to your holiday celebrations.
These cookies are actually a result of a happy accident. I was baking up our Christmas Cookies and decided to experiment. In mixing up this recipe for Chocolate Mint Snow Top Cookies, mint chocolate crinkle cookies, I decided to tweak it some more. I took the basic dough, thickened it with a tad more flour, simplified it with cocoa, and then put a mint chocolate Hershey kiss in the center.
I assumed that the kiss would hold its shape when I baked it. Obviously, I don't regularly bake with Hershey's kisses, because they did not. The first batch had half melted kisses in the center. Kind of like lopsided party hats.
I quickly googled "peanut butter blossoms" and Facebooked my woes only to discover that you're supposed to put the kiss on after baking. Well, that still resulted in half-melted kisses in the center anyway.
Since I don't like to look at ugly cookies, I played around some more. I poked the little kiss tip into the pool of melted chocolate and found that I liked the look better. I got out my offset spatula and set out to smoothing the tops of all the kisses. Crisis averted and a new cookie discovered. Par-tay!
Now to be clear, if you can't find the Mint Chocolate Kisses, similar to what was available in 2010 and you use regular kisses, the chocolate may seize and refuse to spread into a beautiful little button of chocolate. For best results, add the kisses as soon as you pull the cookies from the oven. They will melt in just a minute, allowing you to spread the chocolate into a purty li'l button.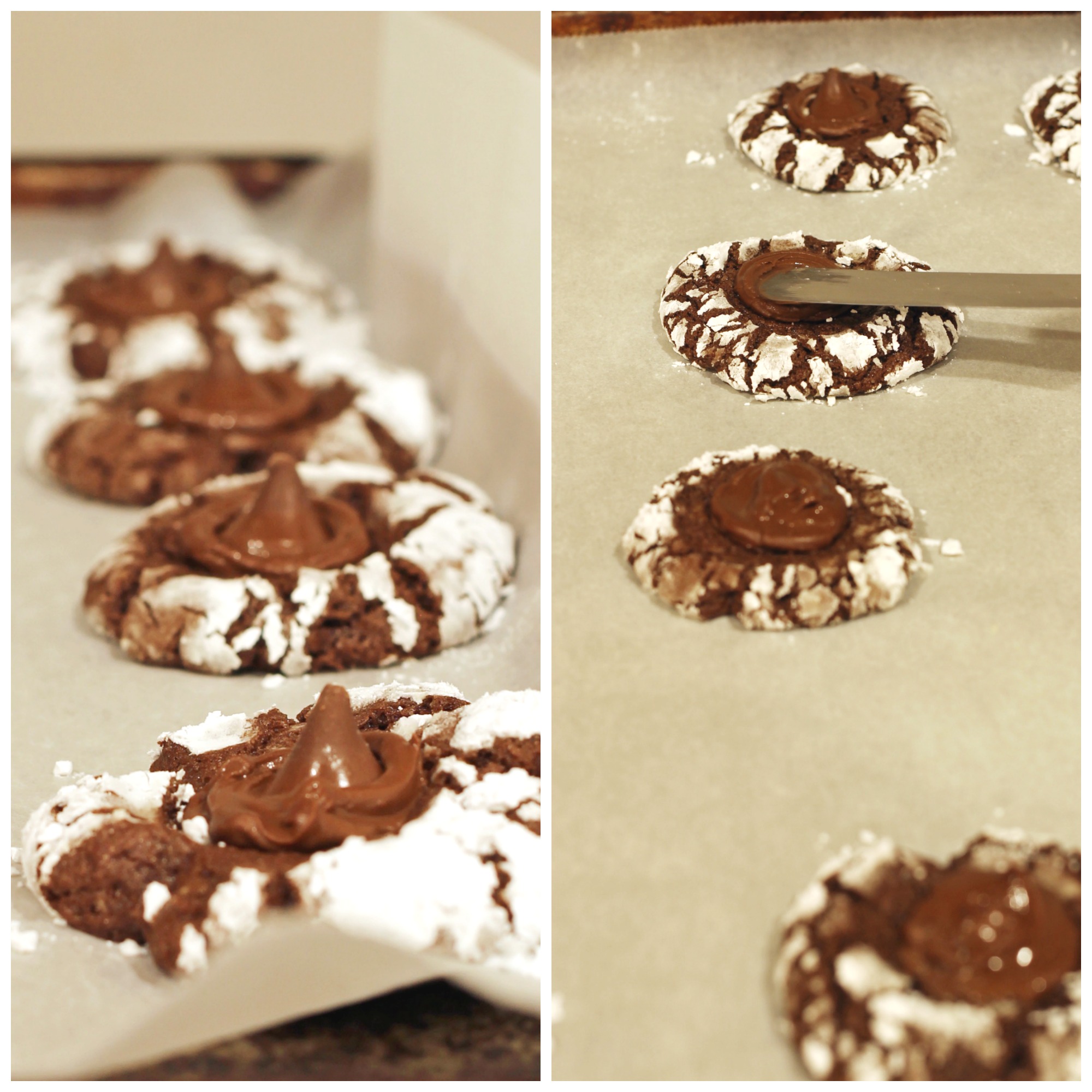 How do you make chocolate crinkle cookies?
Also known as chocolate crackle cookies or chocolate earthquake cookies, these gems are made from a chocolate cookie dough rolled in powdered sugar before baking. The rising and expansion of the cookie in the oven causes the cookie to bust out of its sugar coating, leaving little crinkles or cracks in the white powdered sugar exterior.
Can I freeze chocolate crinkle cookies?
Absolutely! In fact, we think that the taste best cold from the freezer. Since these Chocolate Minty Melts have little knobs of chocolate in the center, I recommend letting them soften just a tad so you don't break a tooth.
To freeze, layer the baked and cooled cookies in an airtight container, separating the layers with parchment or waxed paper.
How long do chocolate crinkle cookies last?
Stored in an airtight container, these cookies will last about 4 days at room temperature and several months in the freezer.
Do I have to use mint chocolate kisses?
No. If you can't find the mint variety, you can use regular chocolate kisses. The end result will just be a tad less minty.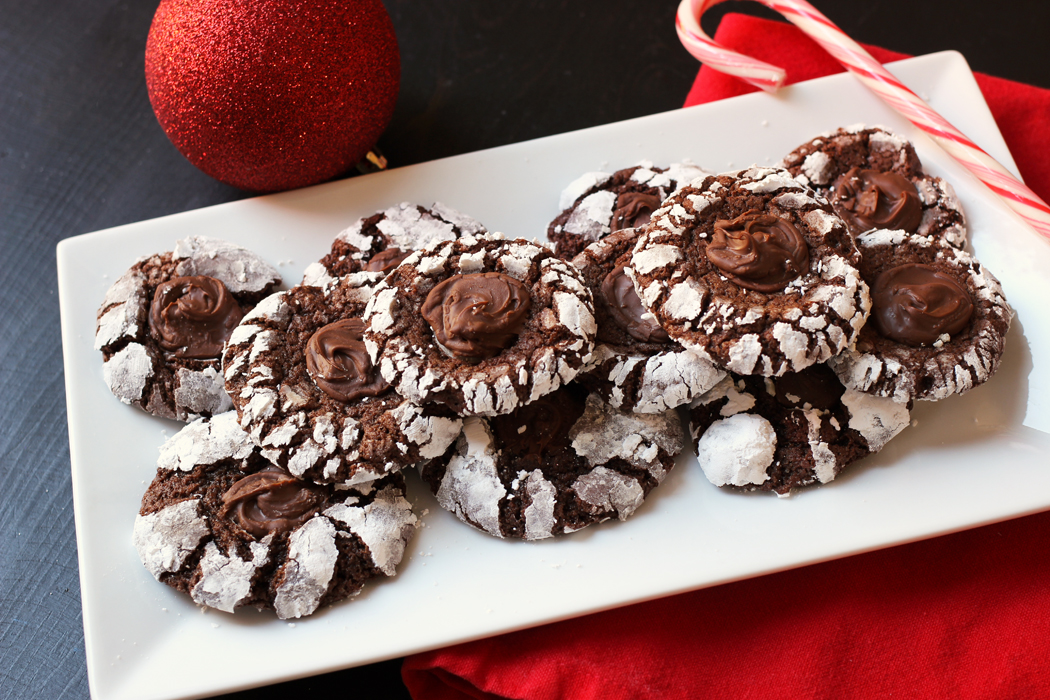 How do I make these cookies affordably?
Here are some of the strategies you can use to make Chocolate Mint Crinkle Cookies more economical:
How I make easy Mint Chocolate Crinkle Cookies?
This recipe really couldn't be easier than it is, but having the right kitchen tools can really make your time in the kitchen more enjoyable. Over time, I've honed my collection so that they are perfect for my needs.
Here are the tools that I use for this recipe: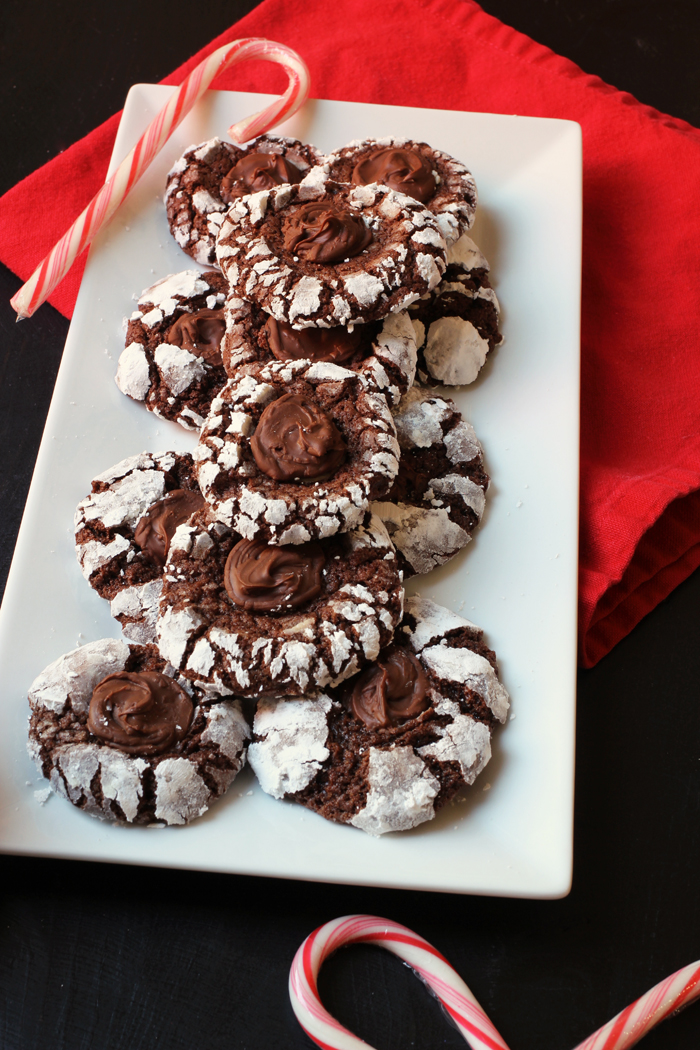 Chocolate Crinkle Cookies with Kisses
Enjoy melt-in-your mouth deliciousness with these Chocolate Minty Melts, mint-infused chocolate crinkle cookies topped with chocolate kisses.
Ingredients
1 ½

cup

unbleached, all-purpose flour

1 ½

teaspoon

baking powder

¼

teaspoon

salt

½

cup

unsweetened cocoa powder

½

cup

butter

softened

1

cup

granulated sugar

6

tablespoon

brown sugar

2

egg

1 ½

teaspoon

vanilla extract

¼

teaspoon

peppermint extract

42

chocolate mint kisses

wrappers removed

powdered sugar for rolling the cookies
Instructions
Preheat the oven to 350 degrees F. Line two baking sheets with parchment paper or silpat mats.

In a large mixing bowl, whisk together the flour, baking powder, cocoa, and salt; set aside.

In another mixing bowl, beat the butter with a mixer on medium speed until light and fluffy. Beat in the sugars until well combined. Add the eggs, vanilla extract, and mint extract. Stir in the flour mixture.

Cover and chill the dough for about 30 minutes.

Shape the dough into 1-inch balls and roll the balls in powdered sugar. Place the balls about 2 inches apart on the prepared baking sheets.

Bake in the preheated oven for 10-12 minutes or until the tops are crackled. Press the chocolate kisses into the center of each cookie ball immediately.

While the chocolate is still warm and melty, smooth the tops of the chocolate kisses with an offset spatula. Cool completely.

Cool 2 minutes on cookie sheet. Transfer to wire racks.
Notes
To store: place the cookies in layers separated by waxed paper in an airtight container; cover. Store at room temperature for 3 days or freeze for up to 3 months.
Regular chocolate kisses can be used instead of the chocolate peppermint kisses.
Nutrition
Calories:
67
kcal
|
Carbohydrates:
11
g
|
Protein:
1
g
|
Fat:
3
g
|
Saturated Fat:
2
g
|
Cholesterol:
14
mg
|
Sodium:
37
mg
|
Potassium:
40
mg
|
Fiber:
1
g
|
Sugar:
6
g
|
Vitamin A:
79
IU
|
Calcium:
11
mg
|
Iron:
1
mg