Celebrate the coming of fall with homemade pumpkin spice biscotti. Not only is it better for you than commercial brands, but it's cheaper, too.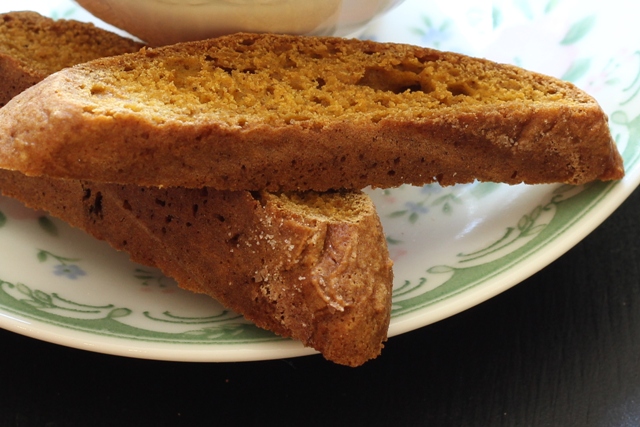 Baking season is upon us! It seems that as soon as the weather starts to cool, the days begin to shorten, and the smoky nights of fall set in, I want to bake.
Baking is an art that I hope we're not losing. It's all too easy to snatch up packaged cookies, cakes, and even mixes at the store. But, it's so incredibly easy to do yourself at home.
On a recent stroll through Trader Joe's, I saw these itty bitty boxes of Pumpkin Spice Biscotti. I think they were charging $4 for this box about the size of a Rubik's cube. Seriously? And of course, FishPapa said, "Why don't you just make those and post it on the blog?!"
Well, of course! Thanks to him, I know how to bake biscotti. Not because he knows how to bake biscotti. But, because one Christmas he said, "You know, we should learn how to bake biscotti." I don't know where he was when the biscotti got baked, but we learned to make biscotti that year.
Biscotti look intimidating. They have a funnily-spelled name. They're often packaged exotically at the holidays.
And they are really easy to make.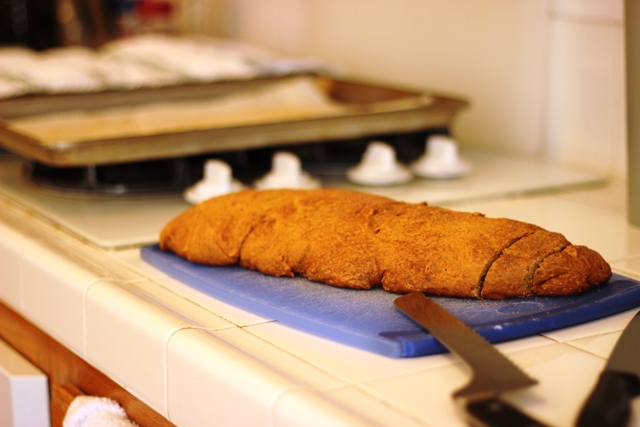 Making biscotti yourself
Biscotti is simply a cookie dough that's baked into a log and then sliced and baked again. Biscotti = twice-baked. These cookies are actually baked three times, since you flip the slices and continue the process.
The work is easy, even though the baking time is long. Make them while you have other things to do in the kitchen, or hang out nearby with a good book.
Making it cheaper
The package of Trader Joe's pumpkin biscotti was $4 for a small container.
Here's my price breakdown on homemade:
flour: $0.60
canned pumpkin: $0.25 (1/2 can bought on clearance)
sugar $0.25
eggs $0.40
spices and leavening allowance $0.25
Total = $1.75 for 18 large cookies. If I had Rubik's Cube-size boxes for all my biscotti, I think I could probably fill three to four boxes. Homemade is clearly a slam dunk.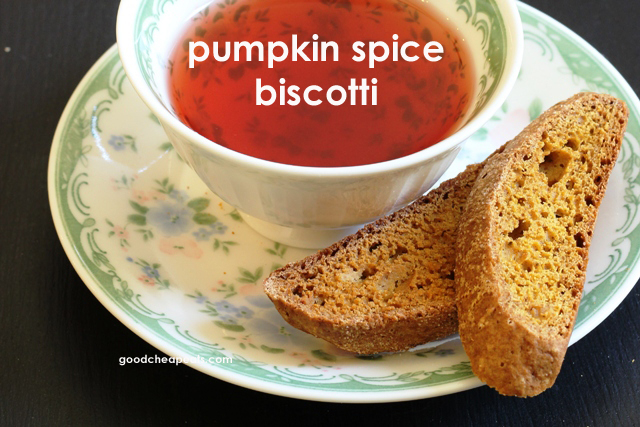 Print Recipe
Pumpkin Spice Biscotti
Ingredients
2

egg

3/4

cup

pumpkin puree

1

cup

granulated sugar

2 1/3

cup

unbleached, all-purpose flour

1

tsp

baking soda

1/2

tsp

ground cinnamon

1/4

tsp

ground ginger

1/4

tsp

ground nutmeg

1/4

tsp

salt

1/8

tsp

ground cloves
Instructions
Preheat the oven to 300°. Line a baking sheet with parchment paper or a silicone baking mat.

In a large mixing bowl, beat the eggs, pumpkin puree, and sugar together until well mixed.

Stir in the flour, baking soda, cinnamon, ginger, nutmeg, salt, and cloves.

Spoon the batter into one long log down the center of the parchment. Bake for 50 minutes.

Remove the pan from the oven. Leave the oven on. Wait 5-10 minutes, then slice the large cookie log on the bias into 1/2-inch slices.

Place the slices on cookie sheets and bake for 25 minutes. Turn cookie slices over and bake another 25 minutes. Cool on a rack.

To make this in advance: Store the cooled cookies in an airtight container. For longer storage, store them in the freezer.
Notes
Nutritional values are approximate and are based on 18 pieces of the recipe. Use within 4 days or freeze.
Nutrition
Calories:
112
kcal
|
Carbohydrates:
24
g
|
Protein:
3
g
|
Fat:
1
g
|
Saturated Fat:
1
g
|
Cholesterol:
18
mg
|
Sodium:
101
mg
|
Potassium:
44
mg
|
Fiber:
1
g
|
Sugar:
12
g
|
Vitamin A:
1615
IU
|
Vitamin C:
1
mg
|
Calcium:
8
mg
|
Iron:
1
mg
Other biscotti recipes: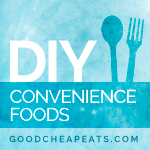 This is part of the DIY Convenience Foods series.
Don't want to miss a post in this series? Subscribe to 31 Days of DIY Convenience food here. Get updates via email here.