Known by a number of names Magic Bars, Hello Dolly Bars, or 7-Layer Bars is a delicious layered cookie that can be made in thousands of combinations with this basic Magic Bars Recipe. They are great added to a Dessert Charcuterie Board.
While Chocolate Coconut Bars are my favorite rendition of the famous Magic Bars recipe, there are in fact over 6000 different variations you can make, often with pantry staples you have on hand! No need to run to the store, mix up a batch today!
Jump to:
What sweet treat do you consider irresistible? C'mon, there's gotta be one.
There exist a handful of foods that I would go so far as to call addictive. Caramel Corn is one. Soda Cracker Cookies are another. And this Hello Dolly Bars recipe definitely ranks in my top three.
I'm not sure what it is, but I suspect it's the fact that all three feature caramel and some kind of crunch. All three are perfect for the holidays, but I'm going to suggest that you add Magic Bars to your all-year-round list since they are so easy, incredibly versatile, and — you guessed it — simply irresistible.
Why Make This
They are easy! These dessert bars are pretty magical. The classic Magic Bars recipe is made from layering sweetened condensed milk, chocolate chips, flaked coconut, and nuts atop a butter and graham cracker crust. It bakes into a gooey, caramelized concoction that is tremendously tasty and simple to make.
Magic Bars are incredibly versatile. While there is a classic ingredient list, the truth is that you can mix and match baking ingredients to come up with over 6000 different combinations.
You can bake from your pantry. With a mix-and-match option, this means you can basically make this Hello Dolly Bars recipe with whatever is in your baking cupboard. The only two must-haves are butter and sweetened condensed milk.
They are so good. With so much versatility, you're sure to find a flavor combo that you can put on repeat. Hello Dolly Bars for days!
Ingredients
Here's what you can use to make a batch of Magic Bars: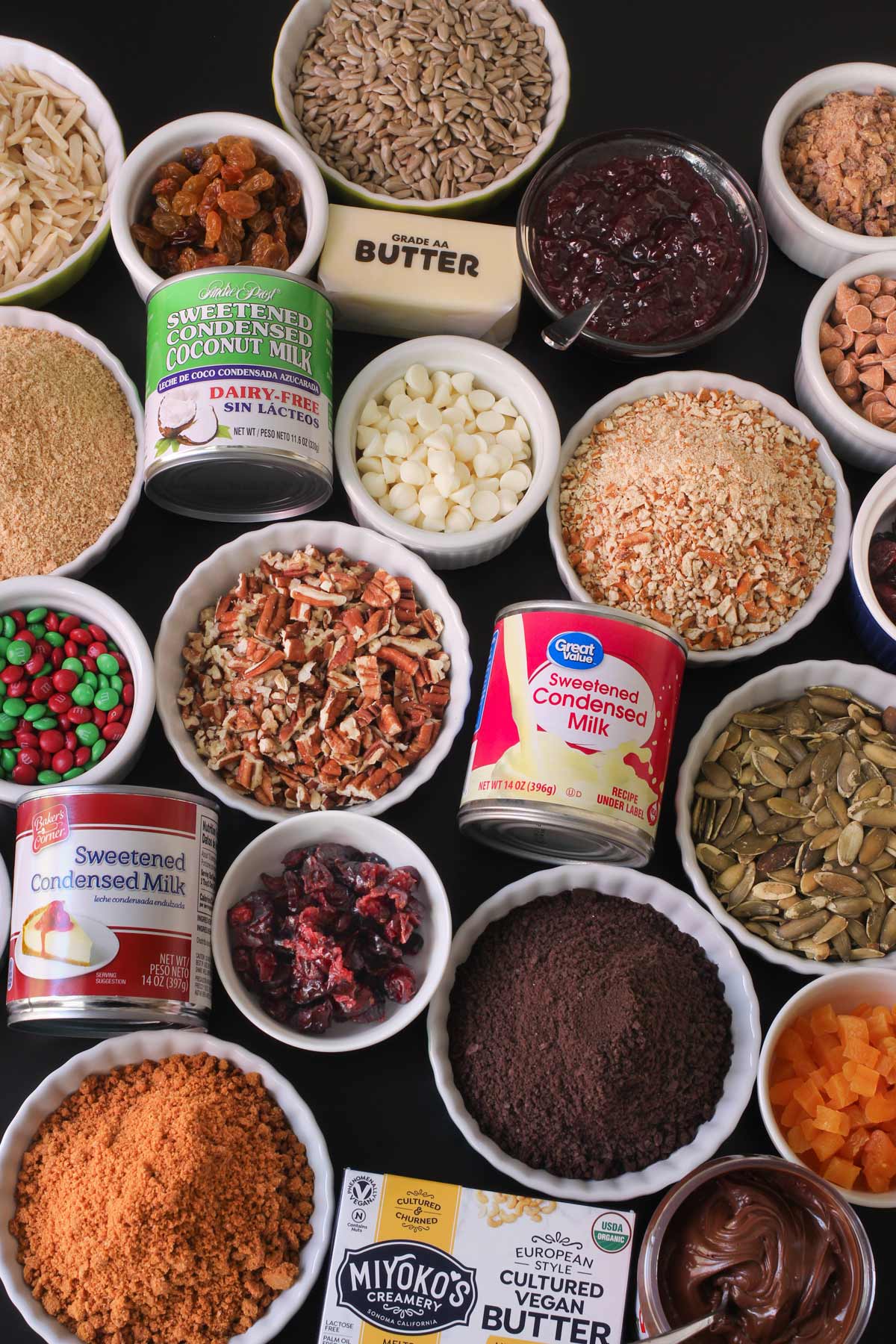 The standard ingredients in the classic Hello Dolly Bars recipe are:
butter
graham cracker crumbs
chopped nuts
chocolate chips
shredded coconut
sweetened condensed milk
butterscotch chips show up in many early versions of the Hello Dolly Bars recipe, so mix and match is nothing new.
After much (delicious) testing, I've discovered that are only two real requirements:
Butter is necessary to hold the crumbs together in the crust. You can use dairy butter, margarine, or a plant-based butter to make it vegan.
Sweetened condensed milk is needed to hold all the other ingredients together. You can use traditional, light, or even sweetened condensed coconut milk if you want to make them vegan.
Other Ingredients
While the butter and the sweetened condensed milk are necessary to keep everything together, you can swap out the flavor of the crust and the goodies piled on. You'll need 4 to 5 more layers, but you can choose what those are.
Here's how you can mix things up in your Magic, Seven-Layer, Hello Dolly Bars: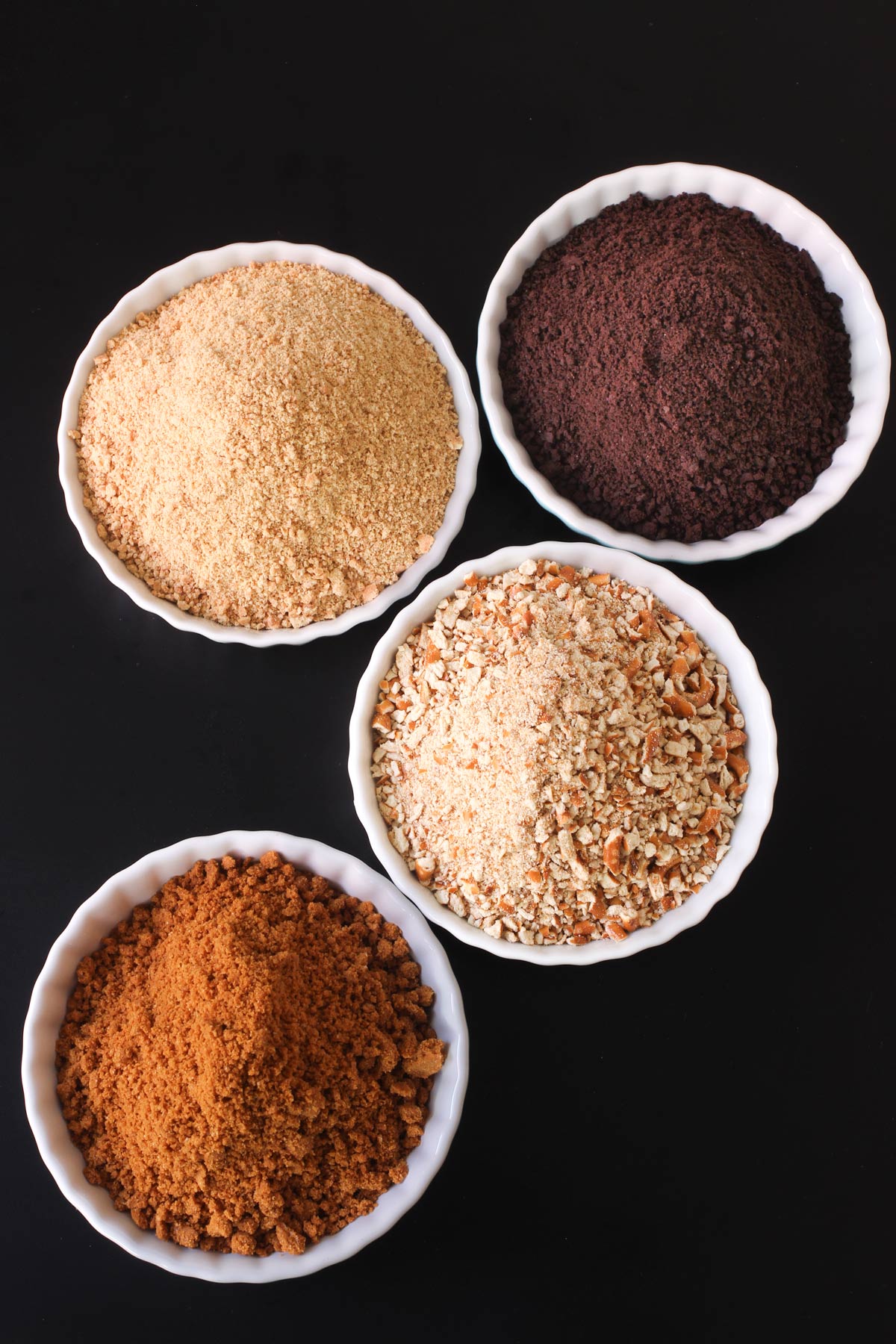 You'll need:
crumbs for the crust – You can use graham crackers, chocolate cookies, Biscoff. gingersnaps, shortbread cookies, pretzels, Nilla wafers, Saltine crackers, digestives (a Scottish cookie similar to graham crackers, but better), cereal (like crushed cornflakes or rolled oats).
sugar (optional) – you'll find a lot of variance in whether sugar is needed for the crust. Some argue that the sugar helps hold the crumbs together. Others say the cookie is sweet enough. Depending on the flavor and texture of the crumbs you use in your crust, you may want to add 2 tablespoons of sugar. In my testing, chocolate cookie crumbs don't need the sugar, but things like oats or pretzels can benefit from the addition.
nuts or seeds for at least one of the layers – Any of the following are delicious in Hello Dolly Bars: slivered almonds, chopped almonds, chopped cashews, chopped pecans, chopped walnuts, macadamia nuts, peanuts, pepitas, or sunflower seeds.
baking chips for one or two layers – Options include: dark chocolate, semisweet chocolate, milk chocolate, white chocolate, cinnamon chips, butterscotch chips, espresso chocolate chips, English toffee bits, or M&M's (if you choose to add colored candies, such as M&M's, be sure to add them after the sweetened condensed milk. This will help preserve their color during the baking process.)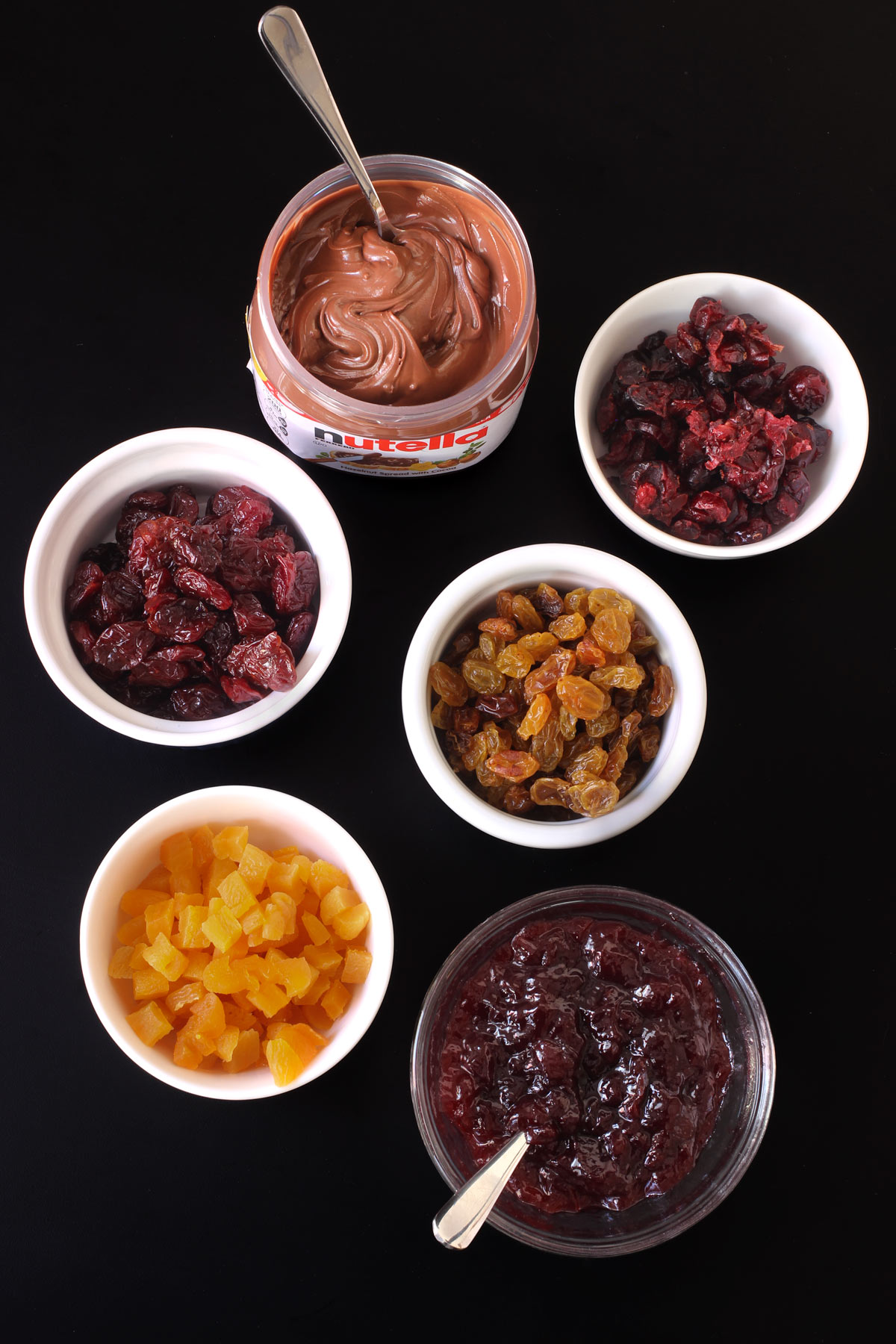 different dried fruits and spreads – These add a fruity element to the bars. Consider a layer of dried cranberries, raisins, golden raisins, dried blueberries, chopped dried figs, dried apricot bits, dried cherries, fruit jam, Nutella, or nut butter.
coconut – In classic Magic Bars, there is always a layer of coconut. The classic version of Hello Dolly Bars calls for sweetened coconut shreds. I prefer to use unsweetened shredded coconut since there's already so many sweet elements in the mix. You can also use coconut flakes or coconut chips, sweetened or not. You can absolutely omit the coconut if you prefer. The bars are just as tasty without coconut, and after all, add another layer of variations to the mix.
Step-by-Step Instructions
Hello Dolly Bars are super easy to prep: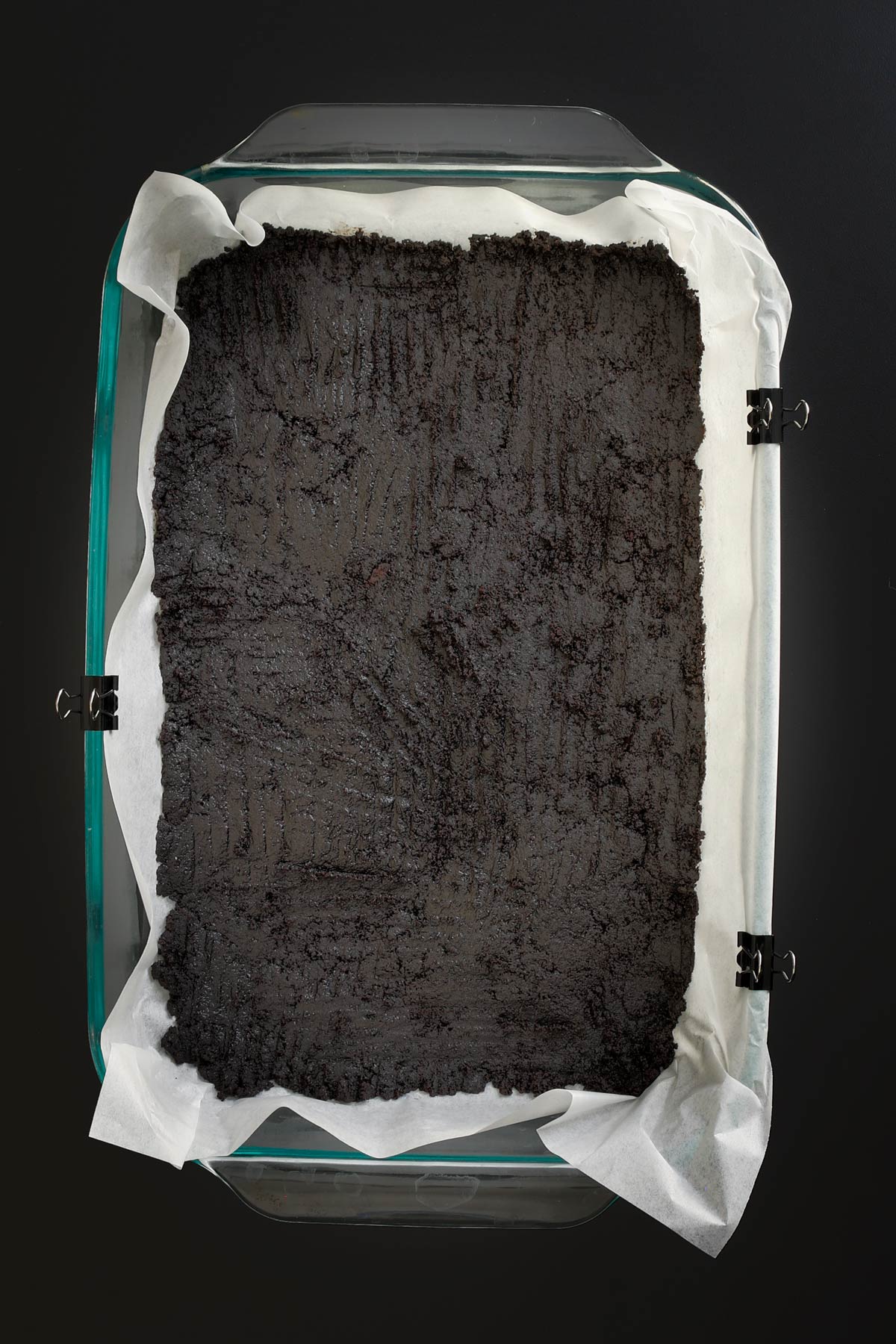 Make a crumb crust in the bottom of a 9×13-inch pan.
Scatter the baking chips and other layers over the crust.
Sprinkle coconut over the chips and other layers.
Drizzle sweetened condensed milk over all. Bake until golden. Cool and slice into squares.
Notes
In my research I discovered a wide range in methods of assembly. Some people add the goodies and top with the milk; others do it in reverse; some mix it up, leaving coconut for last.
My authority (ie the first recipe I ever saw for Magic Bars) comes from Sandham's Dutch Touch Cookbook, put together by my Aunt Sandy's church guild in 1977. Ergo, the "right" way to layer the ingredients is to end with the milk.
However, I see different reasons for changing the layering process, including leaving the coconut for last: the cookies look a bit prettier. If you use colored candies, they're best left for last as well so as to retain their color.
If you choose to add the milk after the crumb layer, be sure to press the goodies into the milk slightly to help everything stick together.
FAQs
What are magic bars?
The history of Hello Dolly Bars, as they were (probably) originally called, is a bit of a debate. Some say a little girl and her gramma created them, naming them after the popular musical of the mid-60s; others credit Gail Borden and her Eagle Brand company for slapping the recipe on cans of sweetened, condensed milk, sometime around 1965. Either way, the cookie has been a winner for over 50 years!
Can you make Magic Bars or Hello Dolly Bars vegan?
The beauty of this recipe is that there is no egg, the one thing that can make vegan baking tricky sometimes. To make vegan Hello Dolly Bars, simply use plant-based butter or kosher margarine for the butter and use sweetened condensed coconut milk instead of regular. You'll notice that the cans of sweetened condensed coconut milk are a tad less than 14 ounces. Be sure to read the labels of the baking chips, cookies, or crackers you use to be confirm they are egg- and dairy-free.
Do Magic Bars need to be refrigerated?
Magic bars do not need to be refrigerated. They are good at room temperature, covered in an airtight container.
How long do Hello Dolly Bars keep?
These dessert bars are good for up to 4 days at room temperature. However, I've been known to eat a full pan in an afternoon, so they likely won't last long with hungry people in the house. For longer keeping—and to hide them away so they last longer—store your bars in the freezer in an airtight container.
Variations
While the original combination is pretty delicious, the basic recipe lends itself to all sorts of variations. Over 6,000 to be exact!
Yep, it's true. You can make so many different Magic Bar variations, it's crazy!
Years ago I started playing with this recipe and found that I loved using Oreo crumbs instead of graham crackers. Swapping semisweet for dark chocolate, sealed the deal. Double Chocolate Magic Bars have since been a fam favorite ever since.
But, I've also learned that mixing and match different goodies into the basic Hello Dolly Bar recipe, swapping different crackers or cookies for the graham crackers and enhancing the filling with dried fruit, Nutella, jam, and different styles of baking chips provides you with endless cookie combinations.
Since the recipe is so easy and mess-free to prepare, it makes for the perfect sweet treat any time of year, but especially at the holidays.
Is there a limit to what you can add to Hello Dolly Bars?
While there's clearly no limit to the variety of things you can add to your basic Magic Bars, there is a limit on the quantity of goodies.
I recommend that you not exceed 4 ⅓ cups of different toppings, including the coconut. Any more and your cookie bars may not hold together very well.
How many different ways can you make Magic Bars?
With my chart of (at least!) nine different options across four different categories, you can make upwards of 6,561 different combinations of layered dessert bars and more if you include more variations such as changing the milk flavor or omitting the coconut—basically a different version every week for a lifetime.
Now that's some magical cookies!
I hope you will try a few different mash-ups and let me know which combinations you like the best. If you're interested, I've put together a printable chart to help you maximize your Hello Dolly bar-making, or whatever you want to call them.
Head here to subscribe to my newsletter and I'll send the free printable straight to your inbox.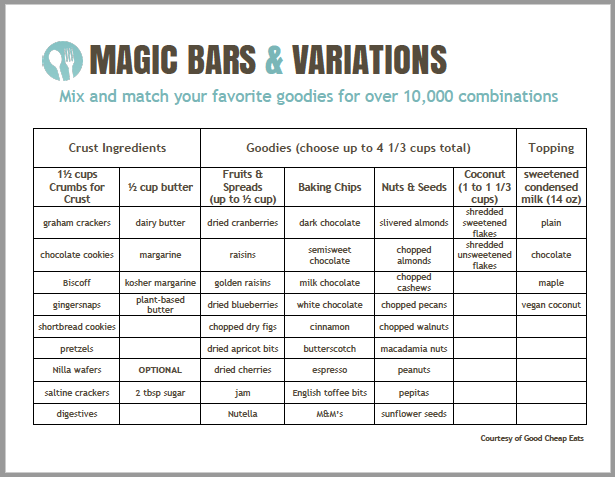 Do you even need a recipe?
My friend Lynn claims that you don't really need a recipe for these yummy bars. She just uses whatever she has on hand. In fact, she pointed out that there is chocolate sweetened condensed milk on the market, thereby increasing your magic bar variations by another 6,561. Ha!
That said, she's been pretty creative herself. Be sure to check out Lynn's gluten-free Oatmeal Pumpkin Magic Bars which gives yet another spin on the classic recipe.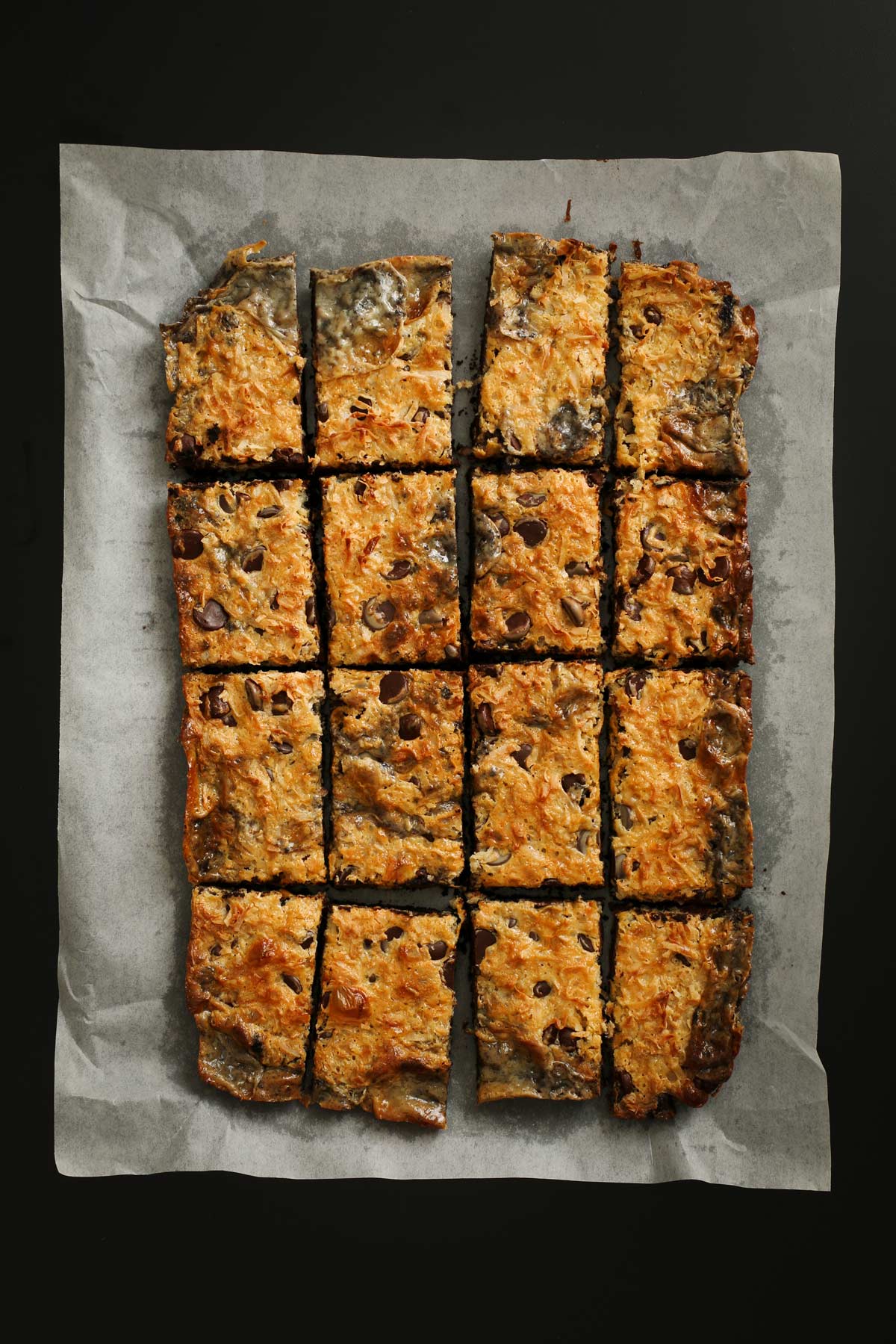 More Great Dessert Bars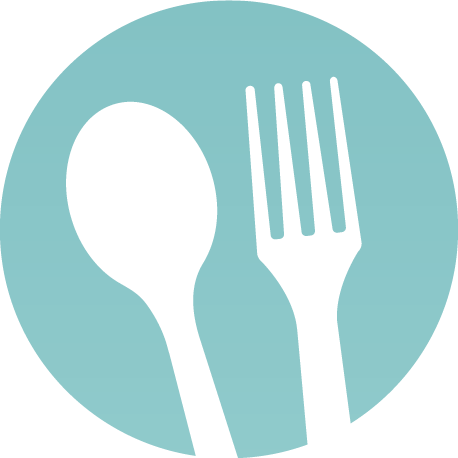 Tell us what you think!
We love to hear your experiences with Good Cheap Eats. Click the STARS on the recipe card or leave a STARRED comment to let us know what you think of the recipe.
Magic Bars
Known by a number of names, the Magic Bar, Hello Dolly Bar, or 7-Layer Bar is a delicious layered cookie that can be made in thousands of combinations with these Magic Bars Variations.
Ingredients
½

cup

butter

1 ½

cup

graham cracker crumbs

or cookie or pretzel crumbs

1

cup

chocolate chips

or other baking chips: milk, white, semisweet, dark, cinnamon, butterscotch, peanut butter, espresso

½

cup

dried fruit

or spread, such as jam or Nutella

1

cup

chopped nuts

or seeds

1

14-ounce can

sweetened, condensed milk

1

cup

shredded coconut

sweetened or unsweetened
Instructions
Preheat the oven to 350°.

Melt the butter in a 9×13-inch baking dish. Add the crumbs and stir. Pat the butter and crumb mixture into the bottom of the pan.

Sprinkle the baking chips or candies across the crumb layer.

Sprinkle the dried fruit, if using, over the baking chips. If using spread, dollop it around.

Sprinkle the nuts over the fruit.

Drizzle the sweetened condensed milk over the surface.

Sprinkle the coconut over the top.

Bake for 20 to 25 minutes or until golden. Cool completely on a rack and cut into squares.
Notes
Store cut cookies in airtight container, separated by layers of waxed paper for 4 days or freeze for longer storage.
Nutritional values are approximate and based on 1/12 the recipe.
Nutrition
Calories:
293
kcal
|
Carbohydrates:
24
g
|
Protein:
3
g
|
Fat:
21
g
|
Saturated Fat:
10
g
|
Cholesterol:
23
mg
|
Sodium:
167
mg
|
Potassium:
98
mg
|
Fiber:
2
g
|
Sugar:
16
g
|
Vitamin A:
270
IU
|
Vitamin C:
1
mg
|
Calcium:
41
mg
|
Iron:
1
mg
Tried this Recipe? Tell us what you think!
Your reviews help us develop better recipes and give newcomers the confidence to try your favorites. Scroll down to leave a starred comment.
This post was originally published on December 3, 2020. It has been updated for content and clarity.