Enjoy an easy dinner with this recipe for Chicken Street Tacos. So simple, but so delicious, these tacos can easily feed a crowd or be adapted to a grain-free lettuce wrap.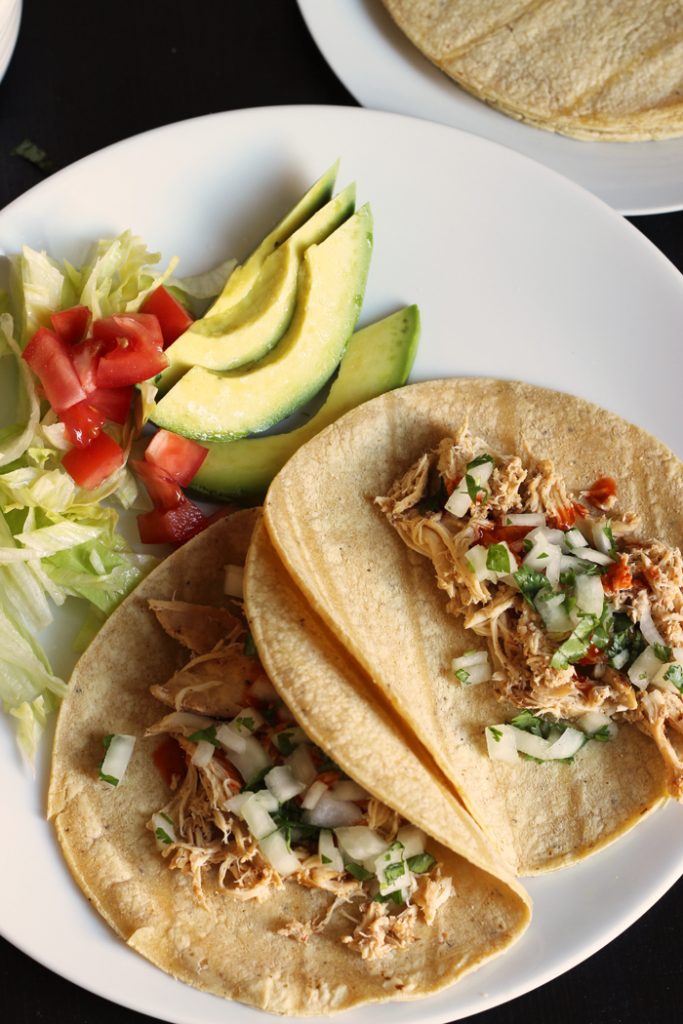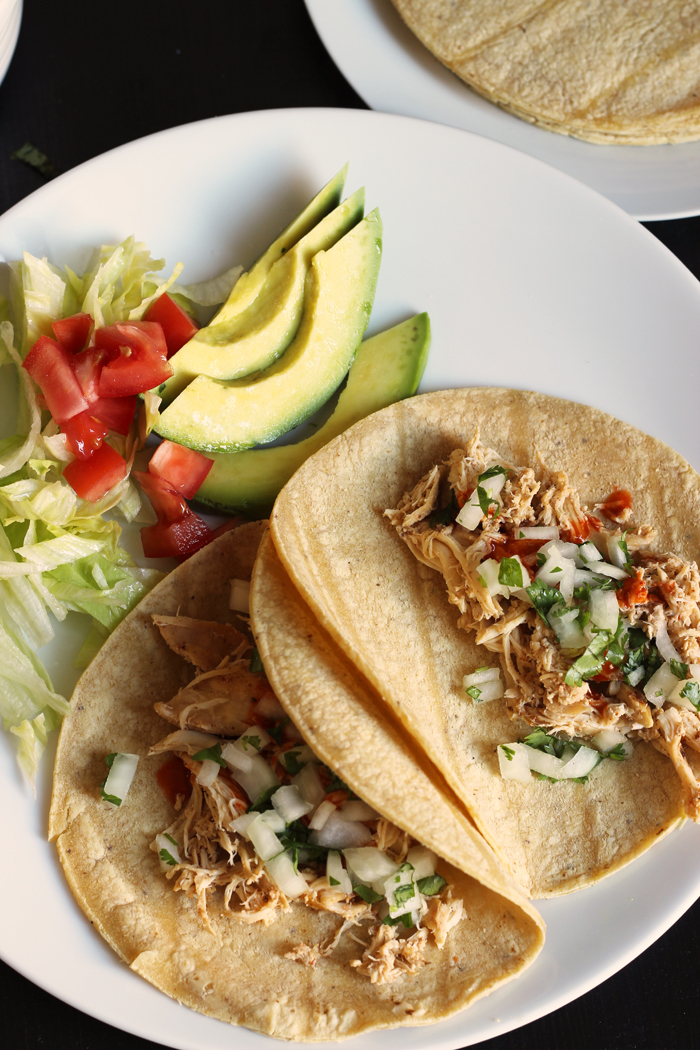 I grew up in Southern California where Mexican food reigns — and for good reason. Made from inexpensive ingredients and packed with flavor, Mexican food is something that I could eat every day of the week.
And honestly, as fast as we're going through that ginormous bottle of Cholula, I think we might be!
My favorite items to order at a restaurant or to make at home are street tacos. Traditionally, made easily portable and often sold on the street, street tacos differ from the crunchy corn or soft flour tacos you might be used to. However, growing up going to Olvera Street, street tacos are the kind of tacos I know well. No shredded cheese necessary!
And there was never anything easier to make!
We've got an authentic, family-owned Mexican diner around the corner where FishPapa and I often go for dinner on date nights. I often order the street tacos plate, but it's so easy to make at home!
By now you've heard about my love affair with Trader Joe's frozen chicken tenders. I just bought seven bags to fill my freezer. They cook up so tender and juicy. And they go great in this dish.
Typically I throw the chicken tenders (still frozen) in the slow cooker with a generous dousing of homemade taco seasoning mix. Within just a few hours, the chicken is fully cooked and easy to shred. A few slashes of the tongs and the meat practically falls apart.
If you don't want to wait for the slow cooker, you can also cook the chicken in a bit of oil in a skillet, season, and shred.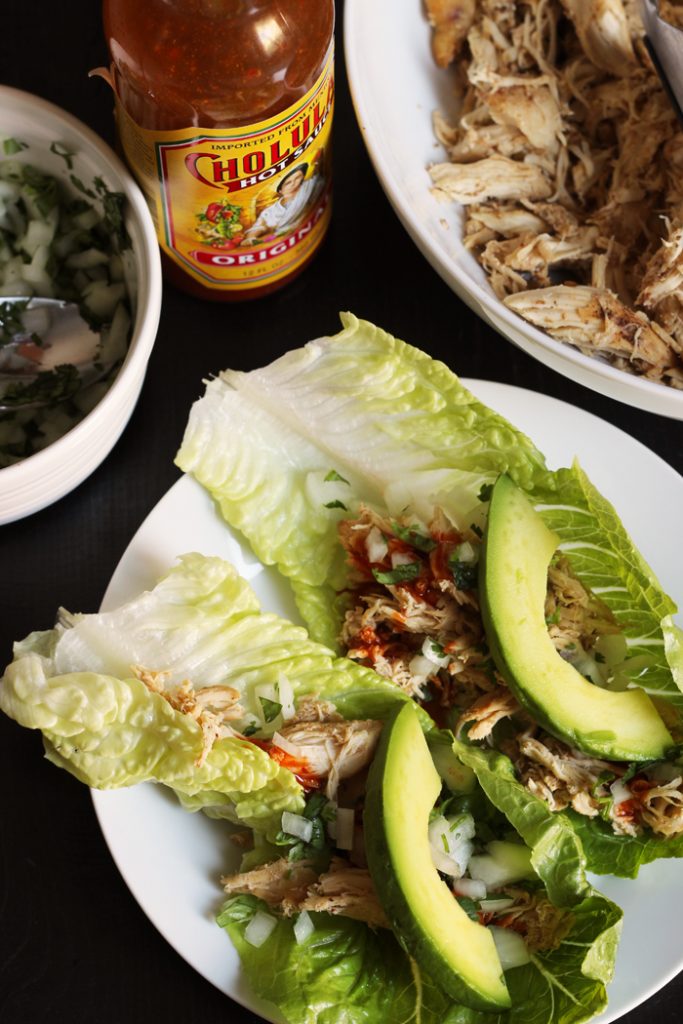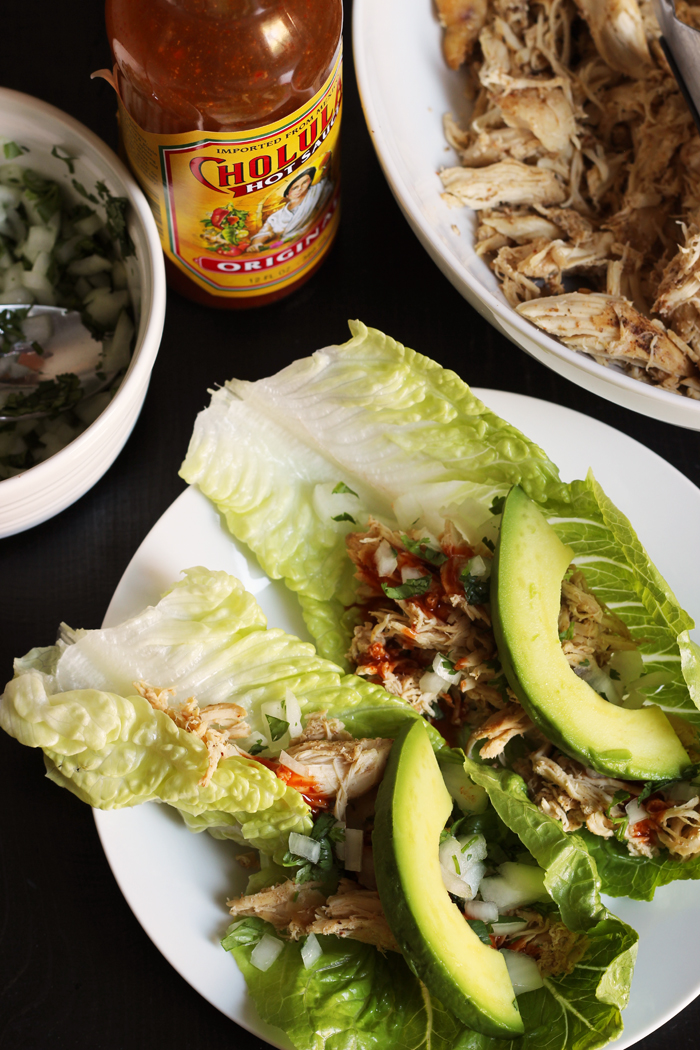 Corn tortillas are the traditional wrapper for street tacos. It's best to make your own.
However, if you're eating paleo, Whole 30, or grain free, the chicken filling and toppings go great in lettuce leaves. Not quite authentic, but super good.
Now, street tacos are typically served quite simply: top with some hot pepper sauce, like Chalula, and diced sweet onions and chopped cilantro. So good!
(If you can't find sweet onions, just be sure to rinse your onions well under cool water; it takes away some of the bitterness.)
Chicken Street Tacos
Enjoy an easy dinner with this recipe for Chicken Street Tacos. So simple, but so delicious, these tacos can easily feed a crowd or be adapted to a grain-free lettuce wrap.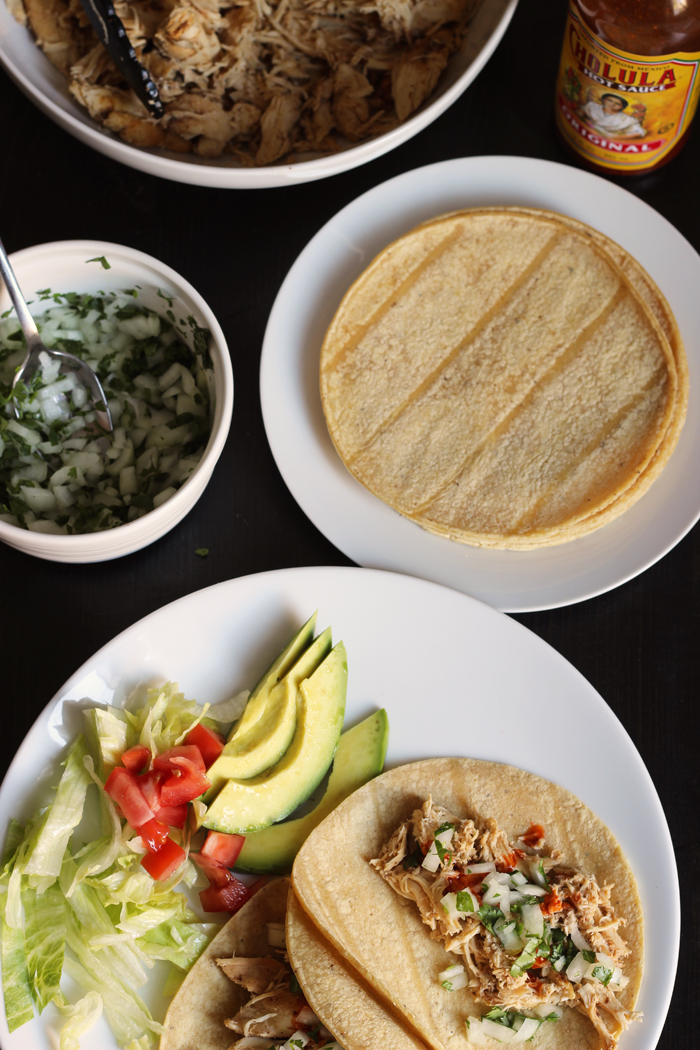 Preparation Time:5 minutes
Cook time:2 hours
Total time:2 hours 5 minutes
8 to 12 servings
Ingredients:
2 pounds chicken tenders or boneless, skinless chicken pieces, cut into strips

2 to 3 tablespoons taco seasoning mix*

corn tortillas* or lettuce wraps

diced sweet or white onion

chopped cilantro

hot sauce
Instructions:

Place the chicken pieces in the crock of a slow cooker. Sprinkle with taco seasoning mix. Cover and cook for two hours on high or until the chicken is tender and fully cooked.
If you prefer, you can cook the chicken on the stovetop. Heat a small amount of oil in a skillet until shimmering. Add the chicken and seasoning. Cook, turning, until the chicken is cooked through.
Shred the chicken and serve in tortillas or lettuce wraps, topped with onion, cilantro, and hot sauce.
Cooked chicken meat can be cooled and stored in an airtight container in the freezer for 2 to 3 months.
* If you're trying to avoid certain ingredients, like gluten or soy, be sure to read the ingredients label on your taco seasoning as well as the corn tortillas. I make my own whenever I'm concerned about what's inside.