Love the Pork Carnitas Tacos that you order at the local taco shop? Bring that delicious goodness to your home kitchen. Using the slow cooker makes the process super easy. You will wow your crowd with these delicious homemade pork carnitas tacos.
One of my favorite childhood memories is going to Olvera Street in downtown Los Angeles and eating at La Luz del Dia, the restaurant on the corner of the plaza. The pork carnitas tacos are sooooo delicious.
When they were at college close to my home, my brothers knew how to make their big sister happy. On their way through LA, they'd cruise by and pick up a pound of carnitas and a stack of corn tortillas. Wow! What a treat!
But, younger brothers grow up and move away, get married, and get deployed. Good thing I know how to make Pork Carnitas Tacos myself! And now, you can, too!
You'll be so pleased to see how incredibly easy it is to make these tacos, you'll want to make them a regular feature for Taco Tuesday. Trust me.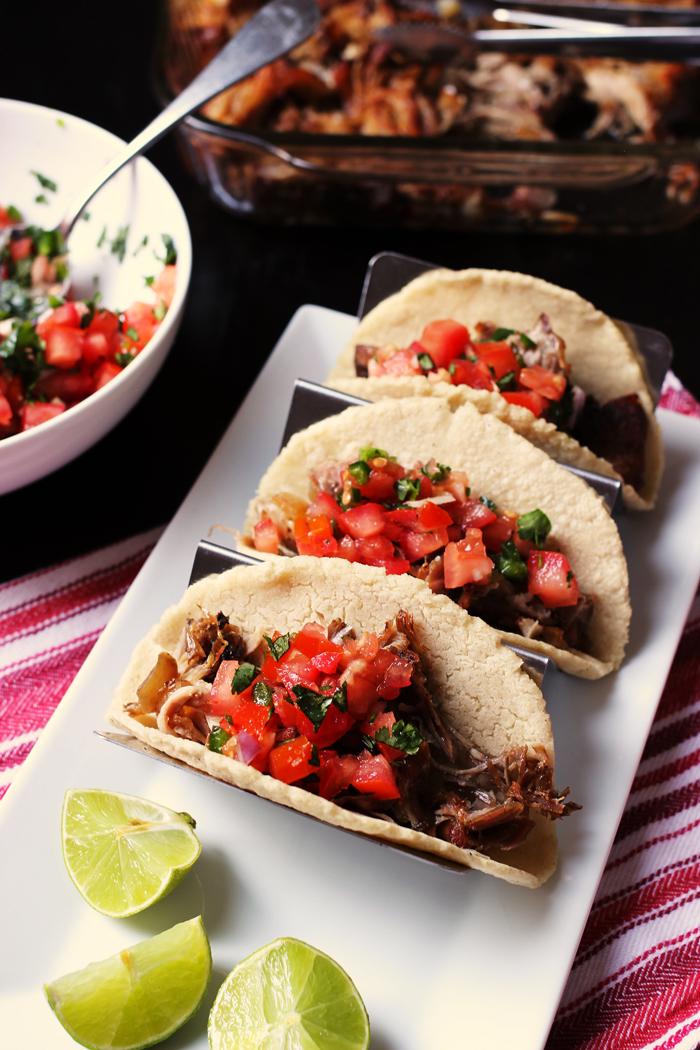 What are carnitas tacos?
Carnitas means "little meats" in Spanish. It is a seasoned, roasted shredded pork filling used for tacos. So good! Though I consider "Olvera Street carnitas" to be the gold standard of Pork Carnitas tacos; my version can give it a run for its money. It's cheaper, that's for sure, and a little easier to achieve than a drive to the City of Angels.
For traditional carnitas, the meat is braised in water to make it tender and then fried in pork fat to give it nice, crispy edges. I've healthier and simplified the method. I love doing a slow cooker pork taco version, but soon, I'm gonna try adapting it for the electric pressure cooker, aka Instant Pot.
This same pork filling goes super well atop tostadas or nachos and inside taquitos or burritos.
What cut of pork is best for carnitas?
The best pork to use is a pork shoulder because this meat is going to be cooked in your slow cooker. The pork shoulder can stand up to the low and slow cooking method!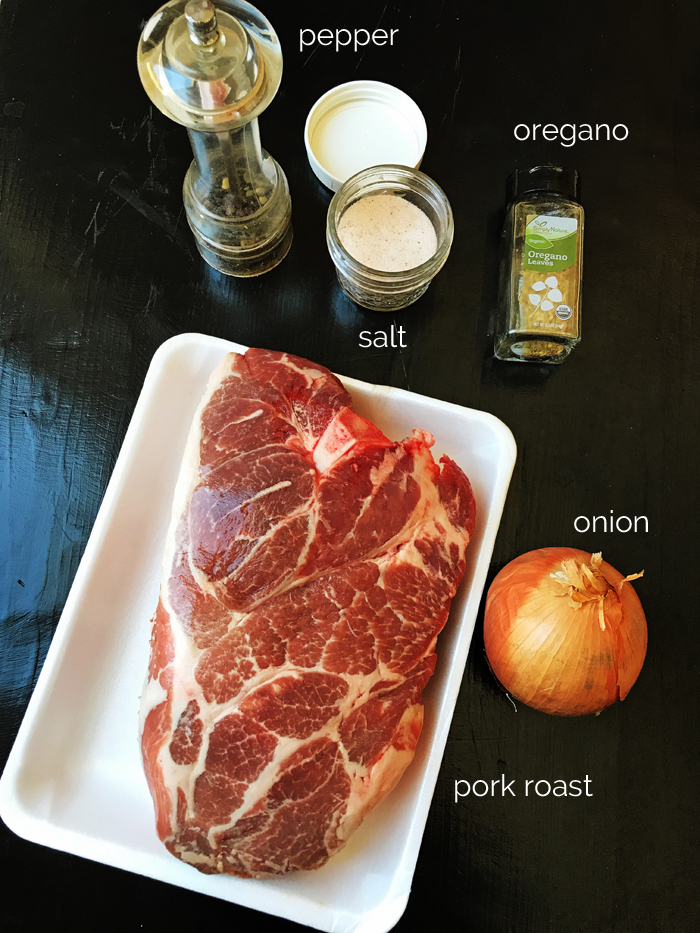 How do you make carnitas?
Place the roast in the slow cooker.
Season it generously with salt and pepper, oregano, and garlic powder.
Top with onions and oregano.
Add water.
Cover and cook on high for 4 hours or on low for 6 to 8. The meat will shred easily.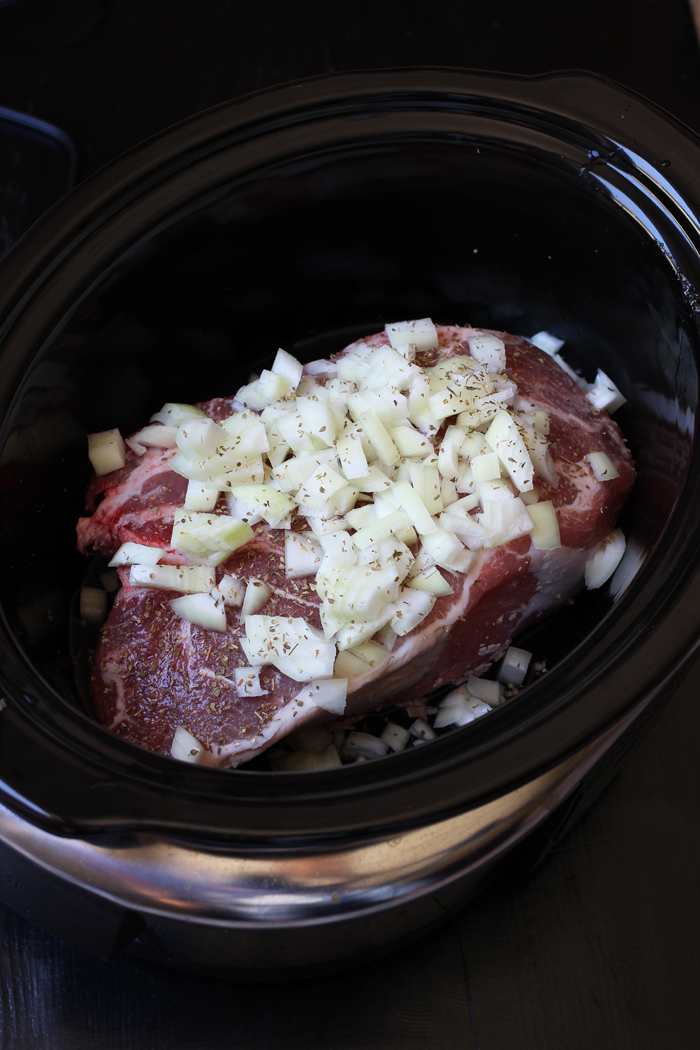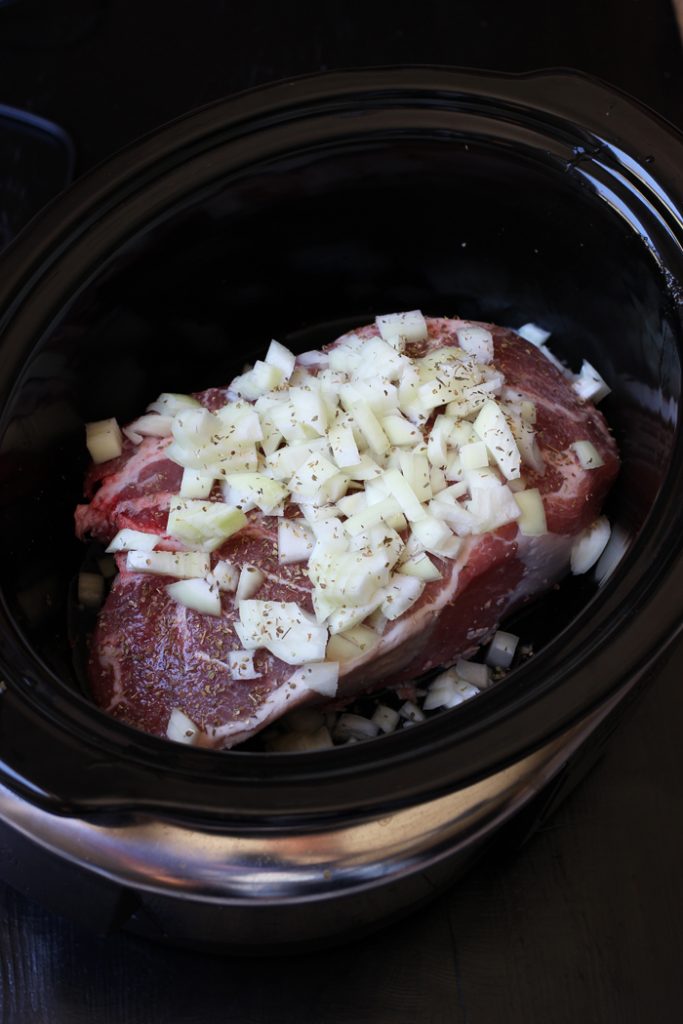 Remove the meat from the crock.
Shred the meat and place it in a baking dish. Season generously with salt.
Bake at 400 degrees for about ten minutes, until the edges are crispy.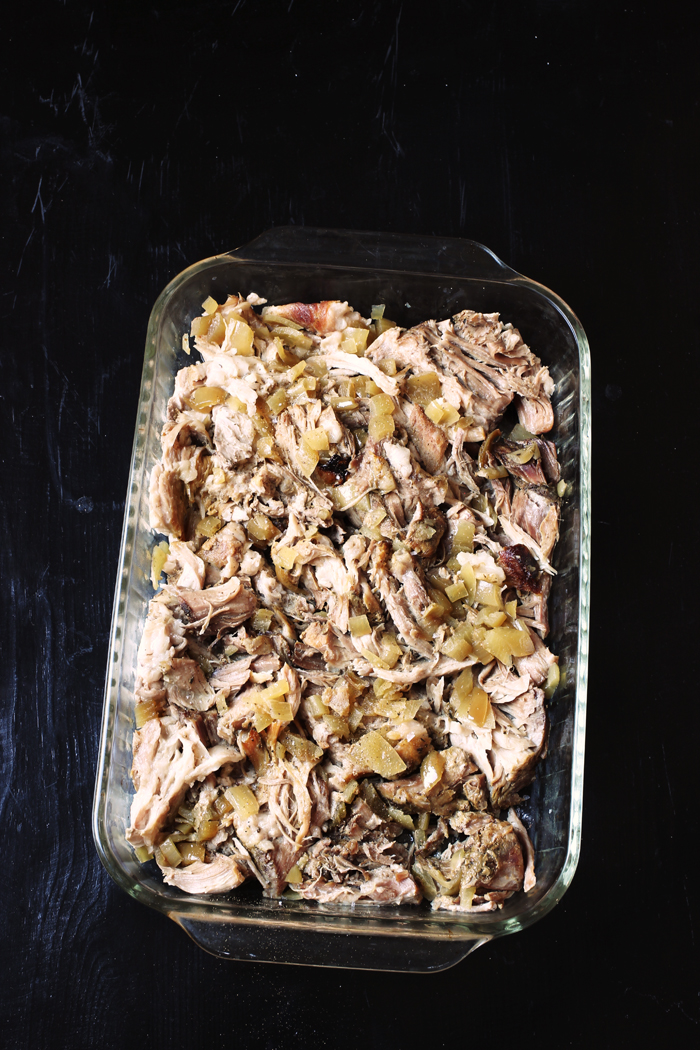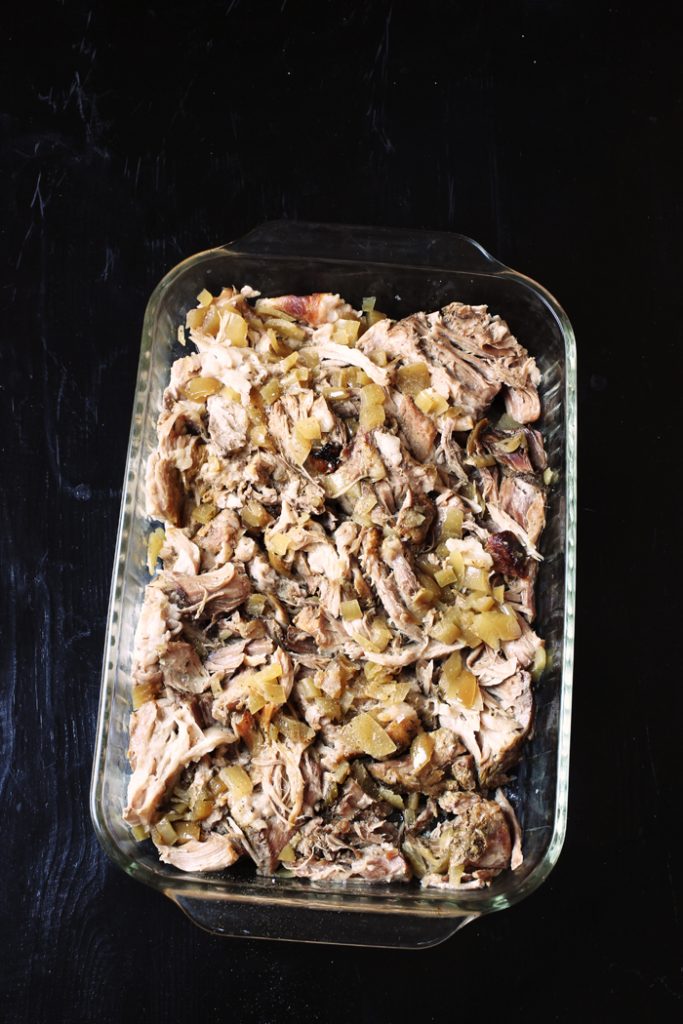 What toppings are good for these pork carnitas tacos?
You really can top these with any of your favorite taco fillings and toppings:
shredded lettuce
fresh tomatoes
jalapenos
sour cream (or greek yogurt)
shredded cheese
cilantro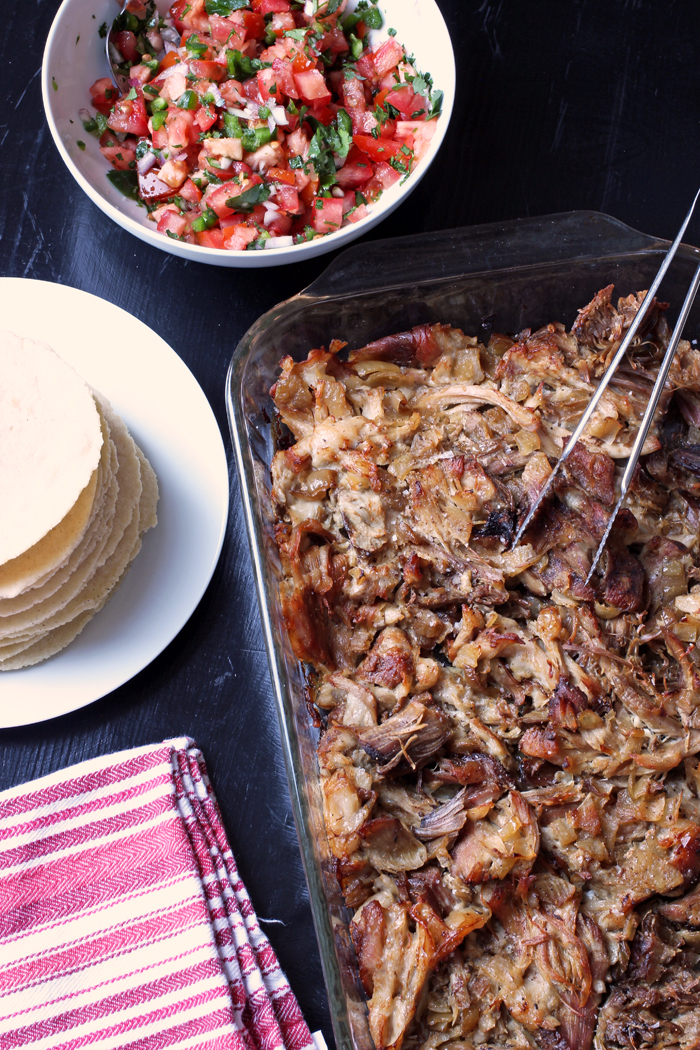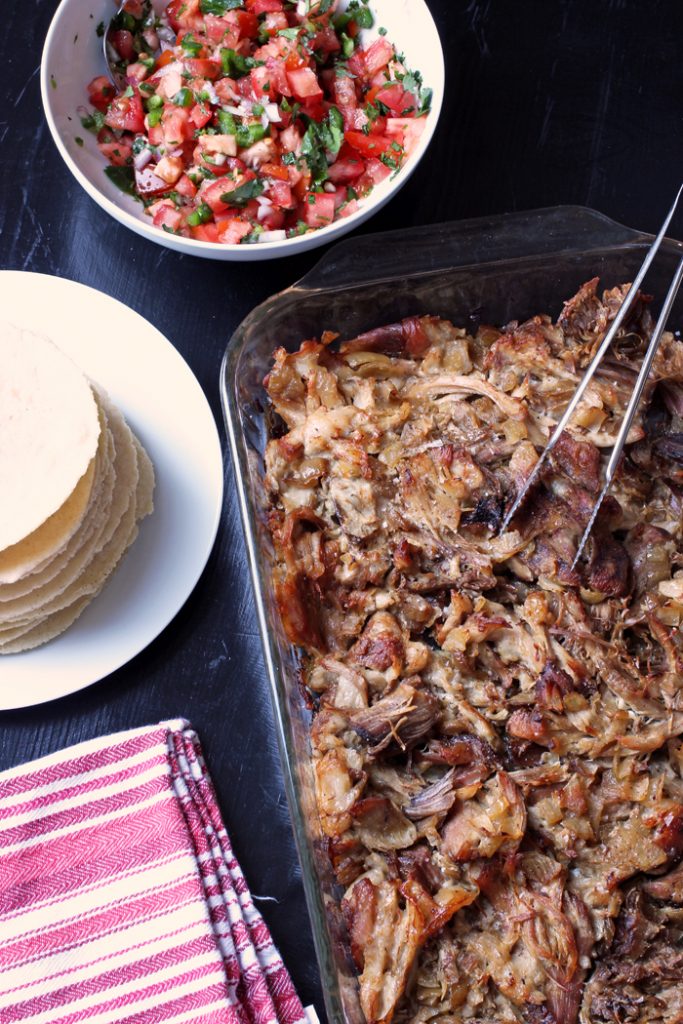 More taco recipes to enjoy
If you are like our household you can't get enough of tacos. Taco Tuesday just isn't enough! So here are a few more recipes to enjoy:
How to make this good and cheap:
Here are some of the strategies you can use to make this recipe more economical:
Stock up on ingredients when they are on sale. Stock up when you see pork roasts on sale and stash extras in the freezer. Likewise, load up on onions.
Price match. Check your grocery store fliers to see who has the best price on the items on your list.
Buy herbs and spices in bulk. I regularly order things like oregano and salt from Vitacost or Amazon, or buy them at Costco.
Tools I use to make this recipe easy:
This is a pretty straight-forward dish. You don't need any fancy equipment. However, having some good basic kitchen tools can really make your time in the kitchen more enjoyable. Over time, I've honed my collection so that they are perfect for my needs. Here are the tools that I like to use in this recipe.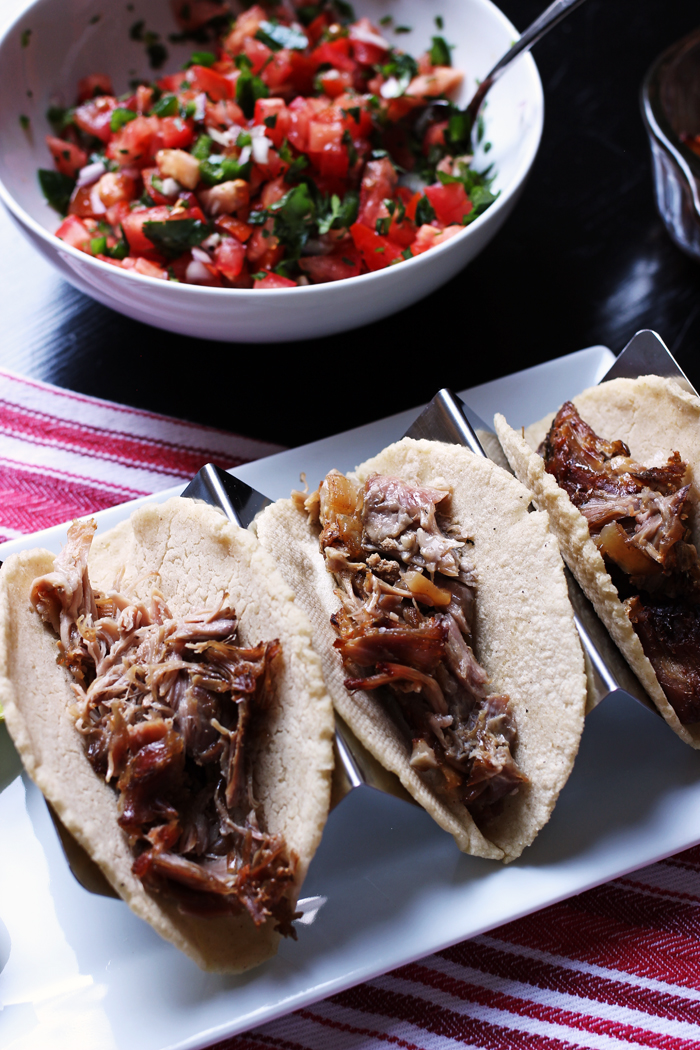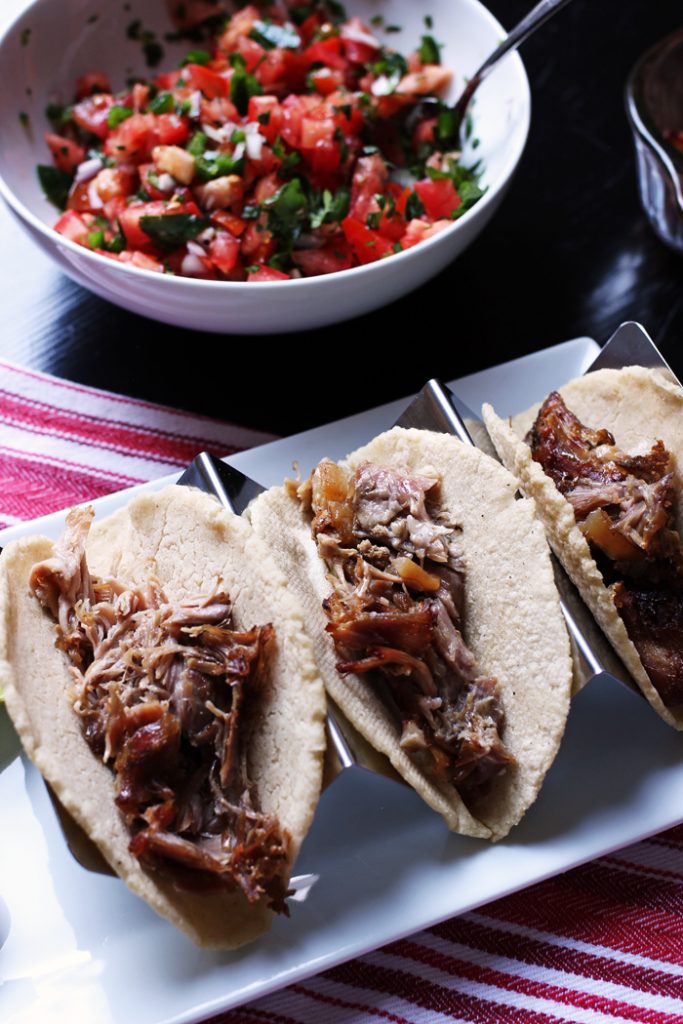 TLDR? Check out the web story.
Pork Carnitas Tacos
Love the Pork Carnitas Tacos that you order at the local taco shop? Bring that delicious goodness to your home kitchen. Using the slow cooker makes the process super easy. You will wow your crowd with these delicious homemade Pork Carnitas Tacos.
Ingredients
3-4

lb

pork shoulder roast

salt

black pepper

1

onion

chopped

½

teaspoon

dried oregano

¼

cup

water

24

corn tortillas preferably homemade

taco toppings

such as guacamole and salsa
Instructions
Place the pork roast in the crock of a slow cooker. Season the roast with salt and pepper. Add chopped onion and sprinkle with oregano. Add the water to the pot.

Cook on low for 8 hours or on high for about 4. The meat should be fall-apart tender. Save the juices for chili, stew, or soup.

Preheat the oven to 400 degrees F.

Remove the meat from the pot and shred it. Place it in a baking dish and bake for about ten minutes to crisp the edges just a bit and brown the meat.

Serve the meat with corn tortillas and toppings.
Notes
To freeze: Cool the meat completely and place in ziptop freezer bags. Squeeze out excess air and freeze. Reheat to serve.
Nutrition
Calories:
495
kcal
|
Carbohydrates:
12.1
g
|
Protein:
30.1
g
|
Fat:
35.3
g
|
Saturated Fat:
12.2
g
|
Cholesterol:
120
mg
|
Sodium:
124
mg
|
Potassium:
66
mg
|
Fiber:
1.8
g
|
Sugar:
0.8
g
|
Calcium:
240
mg
|
Iron:
0.4
mg
Tried this Recipe? Tell us what you think!
Your reviews help us develop better recipes and give newcomers the confidence to try your favorites. Scroll down to leave a starred comment.
Originally published October 27, 2009. Updated March 10, 2018.