Tacos are a good cheap eat that offer a tremendous amount of variety. Here are 8 favorite taco fillings that won't break the bank.
Tacos are just the start. Be sure to check out these easy Mexican dinner recipes for more inspiration.
Pictured: Pork Carnitas Tacos
Tacos. Tacos. Tacos. What was once an exotic food is now daily fare in most parts of the country.
And for good reason!
Tacos are filling, fun, and full of great flavors. Plus, it's not too expensive to rustle up some tortillas and easy taco fillings, making them a good cheap eat, for sure.
For our part, my family could eat tacos several times a week without complaint! They're just so good, particularly when you find your favorite combinations.
How to Make Great Tacos & Taco Fillings
So, let's consider how to build a better taco. You're going to have three basic components:
shells/wrappers
filling – we'll get to this in a minute
toppings
Let's take a look at the different options:
Taco Shells
Taco shells can range from crunchy fried shells, soft tortillas (flour, corn, whole wheat), and even lettuce wraps. There are small and large tortillas. You can buy tortillas at the store or make your own corn tortillas or your own flour tortillas.
You can even fry your own taco shells – which I might add, are amazing and addicting and probably the best thing to happen to taco night EVER. But I digress….
Certain tools come in handy when making homemade tacos, like a tortilla press for making homemade corn tortillas and taco holders or taco baskets for serving tacos.
Once you've got your shell and you fill it with a meat (or meat and veg or veg) filling, you're going to want some toppings.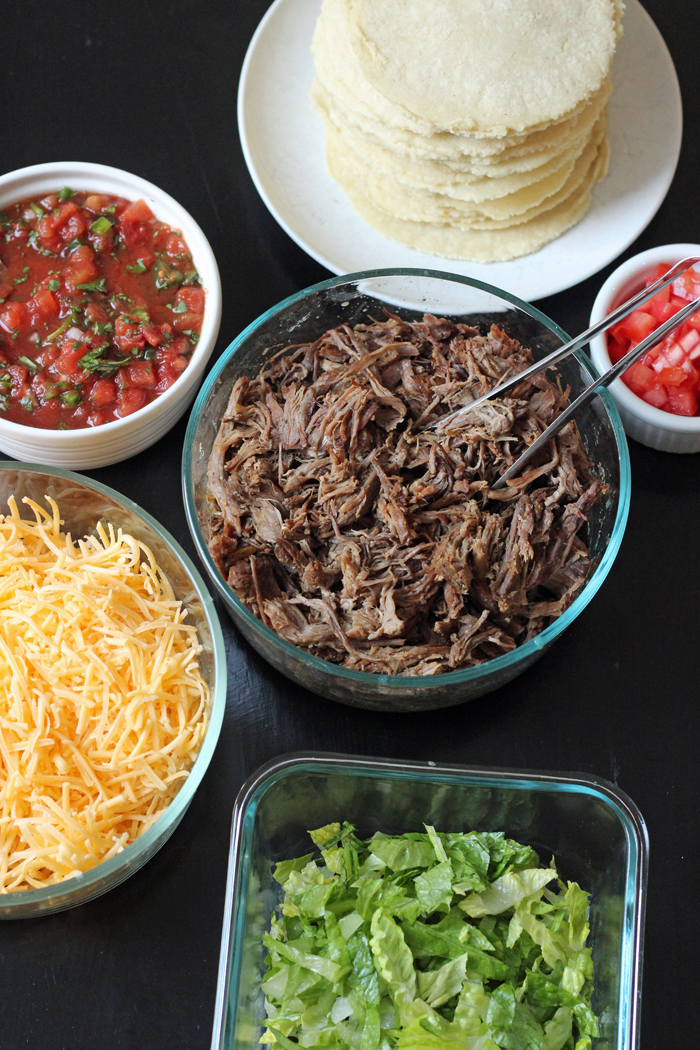 Taco Fillings And Toppings
Taco toppings can be pretty simple or fairly elaborate depending on your filling and how deluxe you want to get. Any combination of these taco toppings is delicious:
shredded lettuce, shredded cabbage, baby spinach, or coleslaw
shredded cheese, such as Jack, cheddar, or a mix
chopped tomatoes
chopped onions or scallions
chopped cilantro
salsa or hot sauce
sour cream or cream sauce
guacamole or diced avocado
sliced olives
lime wedges
Where shells and toppings are concerned, you can pretty much pick up a few commercially made items at the grocery store, but the filling is what really matters. Only homemade taco meat is gonna cut it.
Check out these simple, economical, and delicious taco fillings:
Quick & Easy Taco Fillings
Make taco night extra special with one (or more!) of these homemade taco fillings.
Once you vary the wrapper (crunchy, soft, flour, corn, whole wheat, lettuce leaf), the filling, and the toppings, there's really no end to the taco combinations you can create.
What's your favorite taco filling?