Home fried taco shells make the best tacos. Ever. They're a bit of work, but the flavor can't be beat! You won't stop at just one of these Paso Mom Fried Tacos.
Hubs and I both grew up enjoying home fried taco shells. Sure, they were a lot of work for our moms to make, but they were totally worth it.
Simple home fried taco shells filled with seasoned ground beef and topped with whatever suits your fancy, these tacos are certainly not complicated. But, they are filling. And good. And worth making for your next taco night.
And for these reasons, these magical tacos were the "all-you-can-eat" Thursday noontime special at a diner we used to frequent in our small town of Paso Robles, CA years ago. I have no idea if the diner is still there. It was located at the stock yards.
Yes, really.
We'd take our kids out to breakfast and then after we had devoured our steak and eggs and bacon and ham, we'd go out to the pens and look at the baby pigs.
The kids usually dressed like this: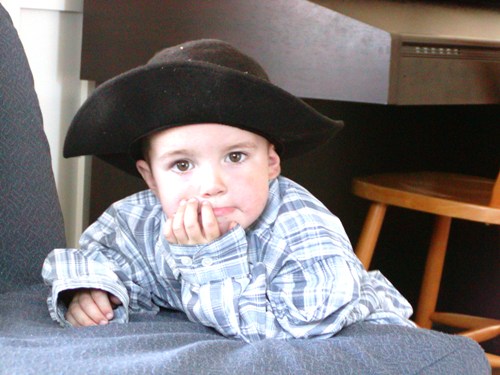 Yes, really! What can I say? We lived in a rural, Western town, complete with an annual "Bean Feed". I loved it! And I miss it, too. We created so many wonderful food memories there!
What is a fried taco called?
One of hubs' co-workers at the time had grown up there and when we told him about the all-you-could-eat tacos, just like we'd had when we were growing up, he said, "Oh yeah, Paso Mom Tacos."
I have no idea if anyone besides Jim ever called them that, but we do now. Although technically, a fried taco is known as taco dorado or "golden taco".
What do you need to make fried tacos?
How do you make fried tacos?
First, you cook up some taco meat. I use this spice blend. Keep the meat warm while you fry the corn tortillas.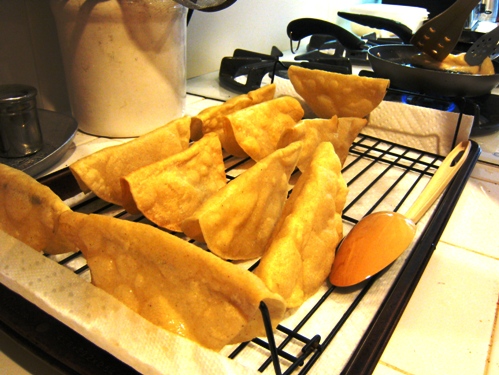 It's nice to have a husband willing to stand over hot oil and fry these for you. The home fried taco shells are pretty much the make-it or break-it component of this dish. You want to fry the corn tortillas until they are crisp enough to break when you bite them, but not so crisp that they shatter into a million pieces. It may take some experimenting, but you'll get it.
Hubs set up this new-fangled contraption to drain and cool the shells. It's a cooling rack upside down on a paper-towel lined baking sheet. Go with what you got.
As you fry, remember that you want the shells to be fried in a folded position. However, not so closed that you can't get the filling inside. It's an art.
Then lay out an assortment of toppings and fillings: seasoned taco meat, shredded lettuce, shredded cheese, chopped tomatoes, salsa, and sour cream.
Can I use a different meat than ground beef?
Absolutely you can. If you find ground pork, turkey, or chicken on sale then by all means use that in these homemade fried tacos.
Paso Mom Tacos are a huge hit at our house. They are fairly affordable since corn tortillas aren't as expensive as conventional taco shells. They take a little work, but they taste amazingly good.
Did I mention that part?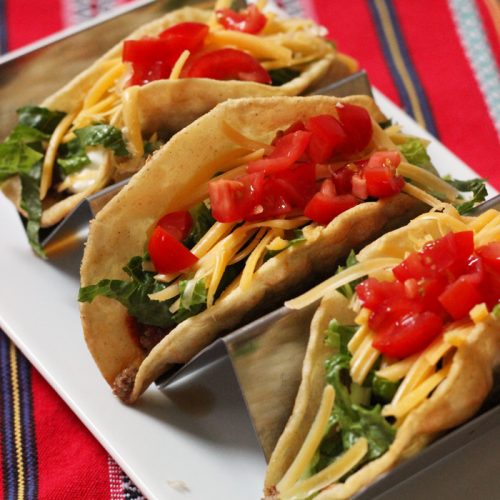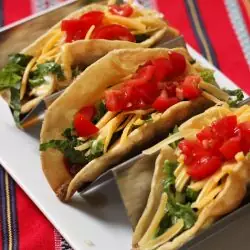 Paso Mom Tacos with Home Fried Taco Shells
Fried tortillas make the perfect vehicle for homemade tacos. You won't stop at just one.
Print
Pin
Rate
Ingredients
1

lb

ground beef

1

tablespoon

Taco Seasoning Mix

oil for frying the tortillas

2

cup

shredded lettuce

8

oz

cheddar cheese (shredded)

(2 cups)

2

tomato

chopped

½

cup

salsa

½

cup

sour cream
Instructions
In a large skillet, brown the beef. Once it starts to change color, add the taco seasoning to taste. Drain off the drippings and keep warm.

In a large fry pan filled with oil to 1-inch depth, heat the oil until a bit of tortilla sizzles. Fry the tortillas into taco shapes. Fry on one side for about 20 seconds, flip, and fold, holding with tongs. Fry until crisp. Flip and fry the other side.

Drain the cooked shells on paper toweling.

Once the shells are fried, fill with beef and add other toppings such as lettuce, cheese, tomatoes, salsa, and sour cream.

Serve immediately.
Nutrition
Calories:
171
kcal
|
Carbohydrates:
3
g
|
Protein:
25
g
|
Fat:
6
g
|
Saturated Fat:
3
g
|
Cholesterol:
70
mg
|
Sodium:
128
mg
|
Potassium:
404
mg
|
Fiber:
1
g
|
Sugar:
1
g
|
Vitamin A:
59
IU
|
Vitamin C:
1
mg
|
Calcium:
15
mg
|
Iron:
3
mg
Tried this recipe?
Tell us what you think! Your reviews help us develop better recipes and give newcomers the confidence to try your favorites. Scroll down to leave a starred comment.