Highly nutritious, full of antioxidants as well as iron and calcium, spinach is a favorite in my kitchen, especially thanks to its versatility to be served cooked or fresh. These Skillet Eggs were a favorite dish during my Whole 30 challenge.
Love eggs? Got extras? Be sure to check out our recipes for what to make with eggs.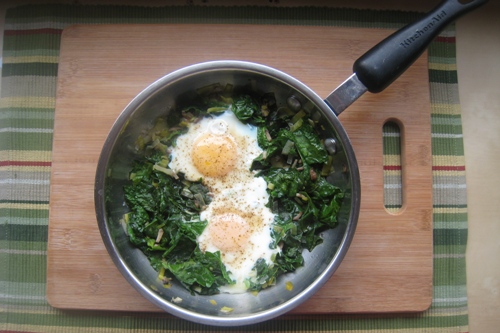 As a child, I don't know that we ever ate spinach. My parents were the kind sort that didn't serve us creepy foods like liver, oatmeal, squash, or spinach. Those foods haunted their childhoods so they didn't eat them nor did they ask us to. In recent years, however, I've come to know and love oatmeal, squash, and spinach.
You can have the liver.
Spinach is a close friend of mine, now. It's highly nutritious, full of antioxidants as well as iron and calcium. And its versatility to be served cooked or fresh makes it a favorite in my kitchen. It's also one of the Dirty Dozen, foods that retain residual pesticides, so it's better to eat organic spinach whenever possible.
Frozen spinach is a great staple.
Somewhere in my teen years our family was introduced to the ever-famous spinach dip in a bread bowl, typically made with frozen spinach. Love that dip! I since created a Healthier Spinach Dip that avoids boxed soup mixes and other processed ingredients.
Frozen spinach is a great staple to keep on hand. Typically, frozen vegetables are a nice alternative to fresh, especially in the winter months, and are generally considered more nutritious than their canned counterparts. Frozen boxes of chopped spinach also go on sale fairly often, making it something easy to stock up on. Trader Joe's, and perhaps other stores, also sells frozen bags of "loose" spinach, meaning you don't have to thaw the entire package to use some. I love this for adding to scrambled eggs. I imagine it would be good in smoothies, too.
Since the spinach that is sold as frozen has already been cooked it will obviously have a different texture than fresh. It works well in casseroles, egg bakes, and dips.
However, I prefer using fresh spinach for a lot of other things, stirring into a meatball mixture, sauteeing with other greens, or serving in a salad. Even though, I'm often cooking the spinach, I can control how cooked it gets and avoid that sogginess that comes with overcooking. Wilted is nice.
Enjoying Fresh Spinach
Hubs was actually the first to introduce me to fresh spinach. We were dating and he made these fantastic chicken tacos with spinach and whole wheat tortillas. He was super healthy back then. I corrupted him; convinced him that butter was good for him. Took him to France and gave him a croissant. And the rest, they say, is history.
I'm the one trying to feed him spinach, now.
Since joining our produce co-op, I've become familiar with a new breed of spinach: unwashed and unbagged. Who knew, eh? Previously, I had bought bagged and triple-washed baby spinach during the winter months when other salad greens were more expensive and not very pretty. Now, we regularly get big handfuls of large leafed spinach in our box.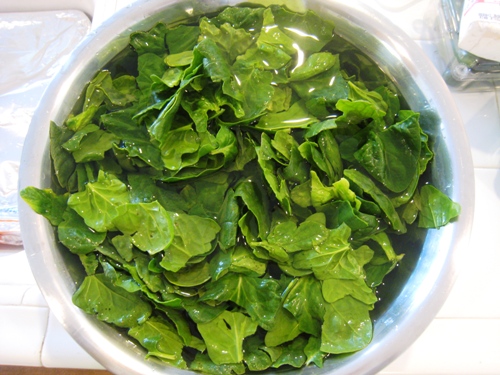 Storage and Preparation
I store the spinach leaves in a covered plastic container in the fridge and typically wash it up shortly before serving. Since spinach grows in sandy, gritty soil, the harvested leaves can be pretty dirty. It's best to wash the leaves in a bowl full of cool water, swishing them in the water to loosen any grit. Rinse and repeat until the leaves are clean.
You can certainly wash the spinach ahead of time, run it through a salad spinner and store it in the refrigerator until ready to use. It tends to be hardier than other salad greens and can hold up better. Just make sure it's not too wet when you store it.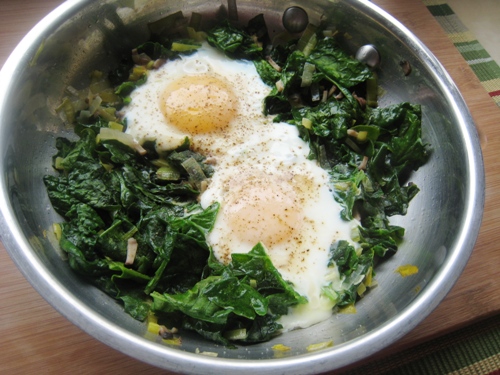 Browsing a recent issue of Bon Appetit, I stumbled on this recipe for Skillet-Baked Eggs with Spinach that sounded intriguing. But, it wasn't until Shaina told me about her eggs on brussels sprouts that I considered actually adding eggs to my veg. I didn't have brussels sprouts or bacon, but I did have leeks, spinach, and pea tendrils.
I'll tell you more about the pea tendrils next week, but let me say now that they are awesome!
Anyway, this egg dish is super easy to prepare — and delicious. Adventuresome FishBoy14 and I enjoyed it three times last week. Three times!
Get More Good Stuff:
This recipe is one of the few blog recipes republished in my cookbook,
Good Cheap Eats
. If you like this, check out the book and see what other tasty morsels I've included. Your purchase supports this site. Thanks!
The last time I made it with just spinach and leeks and we both felt it was missing something without the pea tendrils. But, it's still a healthy and tasty breakfast, lunch, or dinner. It's a very simple recipe, you don't need to measure exactly, but you can if you want.
Skillet-Poached Eggs with Spinach, Pea Tendrils, and Leeks
Eggs cooked on a bed of spinach with aromatic leeks are a great way to start the day. Serve these skillet eggs for breakfast, lunch, or dinner.
Ingredients
2

tablespoon

butter

1

leek

white and some of the green part thinly sliced into half moons

1

6-ounce package

baby spinach

4

oz

pea shoots

salt

black pepper

8

egg
Instructions
Melt the butter or heat the oil in a large skillet. Add the leek and saute until tender, about 3 to 5 minutes.

Add the spinach and pea tendrils. Stir gently and cook until slightly wilted. Season to taste with salt and pepper.

Move the mixture in the pan to create wells for the eggs. Crack an egg into each well. Add salt and pepper as desired and cover until desired doneness, 3 to 6 minutes.
Notes
Nutritional values are approximate and based on ¼ the recipe.
Nutrition
Calories:
204
kcal
|
Carbohydrates:
5
g
|
Protein:
14
g
|
Fat:
14
g
|
Saturated Fat:
6
g
|
Cholesterol:
342
mg
|
Sodium:
219
mg
|
Potassium:
399
mg
|
Fiber:
2
g
|
Sugar:
1
g
|
Vitamin A:
5124
IU
|
Vitamin C:
34
mg
|
Calcium:
105
mg
|
Iron:
3
mg
Tried this Recipe? Tell us what you think!
Your reviews help us develop better recipes and give newcomers the confidence to try your favorites. Scroll down to leave a starred comment.
Tools I use to make this recipe: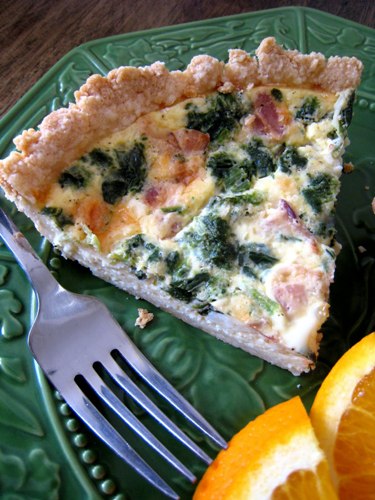 Tasty Ways to Eat Your Spinach
Not only is spinach good for you (just ask Popeye), but it's also delicious! Don't be scared. There are lots of ways to prepare it!
Stir it into soups, pasta dishes, meatball or meatloaf mixture, or casseroles. Toss it in salads. Tuck it in sandwiches and paninis. Scramble it with eggs. Saute it with other greens and a bit of cream.
Recipes with frozen spinach
Recipes with fresh spinach
Creamed Sorrel and Spinach
What's your favorite way to enjoy spinach?