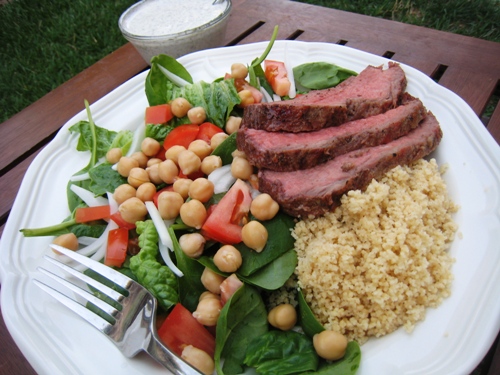 You know me, I love a good salad. And this one was a winner with grilled beef, dark leafy greens, whole grain couscous, onions, tomatoes, and garbanzo beans, drizzled with a yogurt-dill dressing? Yum!
Taste wise, this was fantastic. But, work wise, it was even better. The beef works well as a freezer meal component. Couscous takes 5 minutes to prepare.
Watch this video to see how easy it is:

The other salad ingredients came together in a snap. How could you go wrong?

Mediterranean Steak Salad
one top sirloin steak, marinated in Mediterranean Grilled Steak Recipe Marinade
one batch Yogurt-Dill Dressing
spinach and mixed salad greens
sliced onion
chopped tomatoes
garbanzo beans
couscous, cooked according to package directions.
Cook steak over hot grill until desired doneness. While it rests, assemble salad: greens, sliced onion, tomatoes, and garbanzo beans. Spoon coucous on the side. Place sliced steak atop the greens. Serve dressing on the side.