Have breakfast for supper! It's a great way to save money and easily go meatless.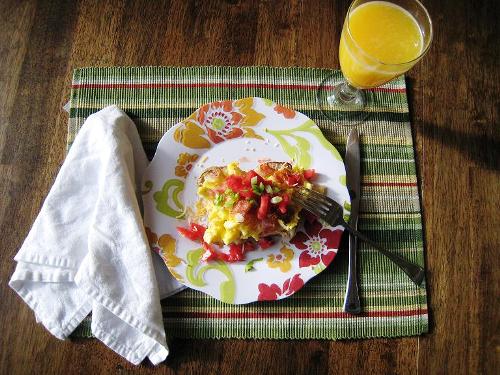 Unbelievably, one of the most popular dinnertime meals at my house is breakfast. I know. It's a morning meal, but for some reason this meal makes everyone break out in a dance when I serve it for supper. And when my kids really like a meal, they hum. It's weird, but they do.
Breakfast for supper is hum-worthy.
Thankfully, breakfast can take so many forms, it's rarely boring. My people love it when I pull out all the stops. That would mean a pan of hashbrowns, a platter full of pancakes, a bowl full of scrambled eggs, bacon, and maybe some fruit of juice. I shoot for somewhat of a protein-carb-fat balance, but sometimes we just carbo-load and call it good.
1. Bake something tasty.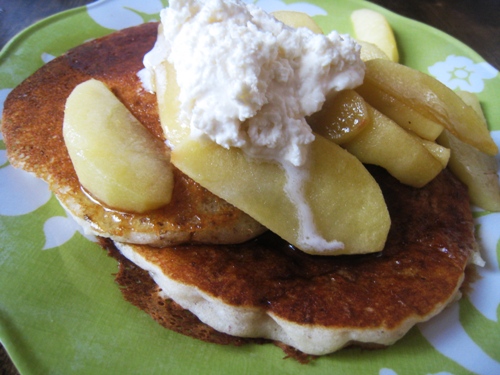 Whether it's pancakes, scones, waffles, or muffins, we love to have some kind of baked good. And in a pinch, hot buttered toast or English muffins serve well in this capacity.
Some good ones:
2. Add some protein.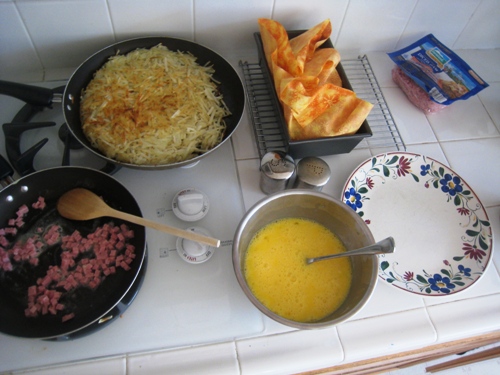 Most of us in the family can eat eggs, so scrambled or fried eggs are usually on the menu. Hubs loves his with a little diced ham. But since one of my crew is allergic to eggs, I try to make sure she has an alternate protein source, like bacon, sausage, or yogurt.
Ways to add protein:
3. Get fruity.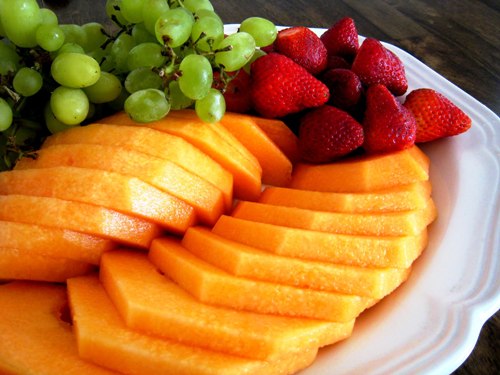 We love to add some fresh fruit to the meal. If we don't have something in season, then we opt for juice. And if we're feeling extra happy and extravagant, we have both.
4. Include the humble spud.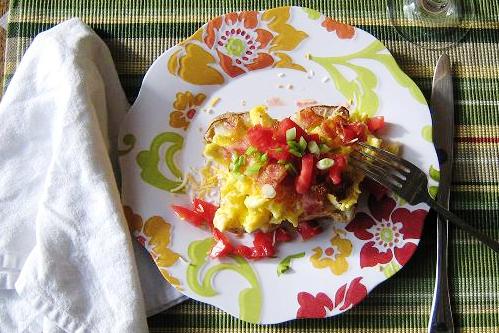 Potatoes help make the meal more filling and infinitely more fun. It seems I can never make too many potatoes. While the frozen shredded variety fried until crisp is a favorite, these are great, too:
And a stuffed breakfast potato? Now that is one tasty spud. You can lay out an array of toppings and let your people pick and choose. Most of the toppings can be prepped in advance, leaving you with a quick scrambling of eggs while the potatoes finish baking.
Recipe: Stuffed Breakfast Potato
omit butter, cheese, and sour cream if going dairy free
Ingredients
baked potatoes or baked sweet potatoes, try the crockpot method
butter, optional
salt and pepper
scrambled eggs
shredded cheese, omit for whole 30
chopped bacon or crumbled sausage
diced tomatoes
sauteed mushrooms
salsa
sour cream, omit for whole 30
chopped onion
Instructions
Split each potato down the center and smoosh up the insides. Add a pat of butter, if desired. Season to taste with salt and pepper.
Allow diners to add their desired toppings.
Preparation time: 20 minute(s)
Cooking time: varies
Number of servings (yield): 1
What's your favorite rendition of breakfast for supper?