Enjoy a delicious and easy snack, breakfast, or dessert with these Chocolate Chip Muffins scented with coconut and lime. They come together easily from a homemade muffin mix and freeze beautifully.
There's just something about a big, domed, bakery-style muffin studded with chocolate chips that makes you want to stop, sit down, and rest for a few minutes. Forget your cares. Pour a nice cuppa. And just be.
Now this could cost you a solid five bucks if you chose to indulge at a bakery or coffeeshop. And yes, the atmosphere may or may not be relaxing.
But, if you baked the Chocolate Chip Muffin yourself and brewed your own coffee drink at home? Well, it would cost less than a dollar! Yep, save 80% when you DIY.
And with these Chocolate Chip Muffins, you will be glad you did.
Chocolate Chip Muffins with Coconut & Lime
This Chocolate Chip Muffin recipe leans on three powerful flavors: dark chocolate, coconut, and lime. The combination is aromatic, flavorful, and just so soothing and delicious. You'll want to have this combo on repeat.
Or at least a batch in the freezer for one of those afternoon breaks.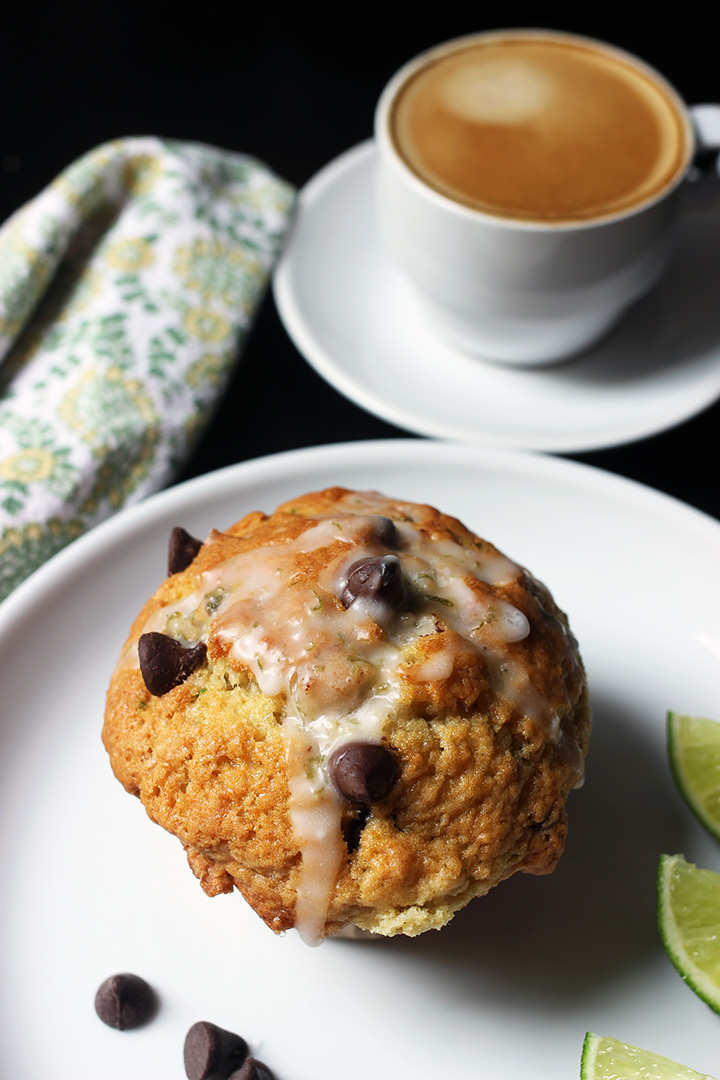 How do you make chocolate chip muffins from scratch?
Chocolate chip muffins are pretty easy to make:
Line a muffin pan with papers and preheat the oven to 375 degrees F.
Assemble the dry ingredients in a mixing bowl, whisking to combine.
Combine eggs, coconut milk, yogurt, oil, and lime zest. Fold in the dry mixture and the chocolate chips, just until mostly mixed. It's okay to have some dry spots.
Scoop the batter into the prepared muffin papers and bake. Cool on a wire rack.
While the muffins are cooling, prepare the glaze, stirring together powdered sugar, lime zest, and lime juice.
Drizzle the glaze over the muffins and serve.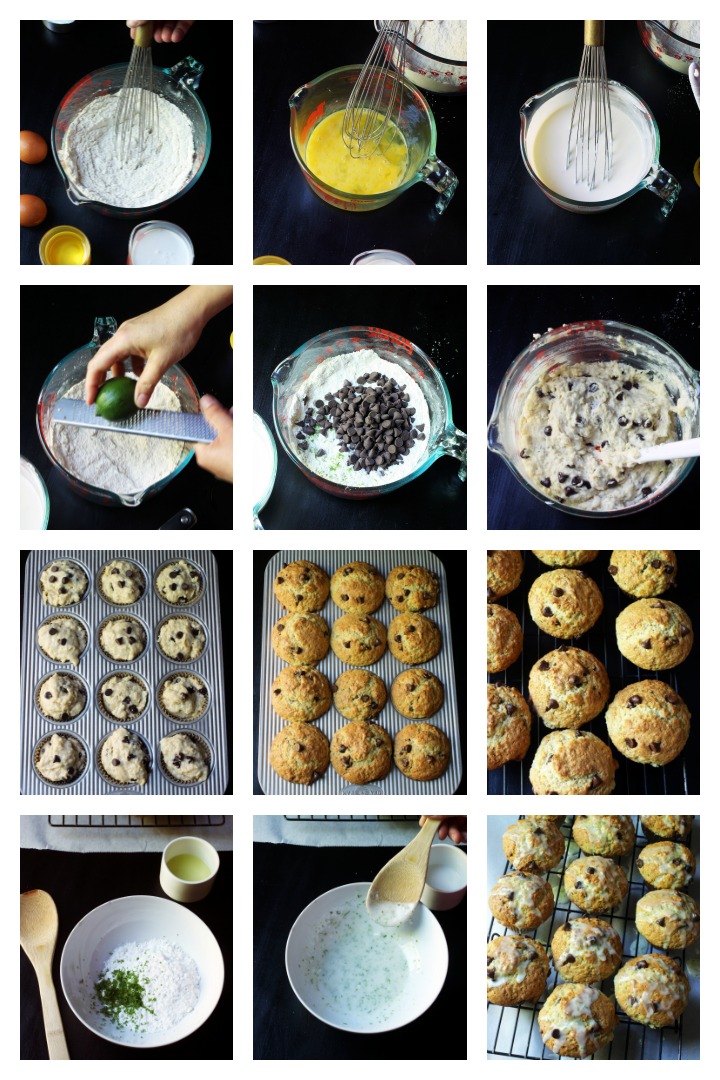 How can I make it easy to make muffins more often?
Having mixes premade is such a happy thing for me. No measuring too early in the morning, no flour flying. And I especially love it that I can customize mixes. Since it's so easy to prepare baked goods with a homemade mix, I feel a little added inspiration to get creative.
This homemade muffin mix allows you not only to have a homemade mix at the ready, but it also offers you a lot of freedom in your baking. Add whatever "mix-ins" sound good to you. And you can use that mix to turn them into so many scrumptious muffin recipes. How about a yummy raspberry muffin? Or maybe Blueberry Muffins with Nutmeg.
Can you freeze chocolate chip muffins?
Muffins are great for freezing. Why buy one at the coffee shop when you can bake them yourself for 40 cents each? Freezing helps you keep up your muffin habit for a lot less cash.
To freeze:
Prepare the muffins according to the recipe. Cool completely on a rack.
For individual freezing, wrap each in plastic or beeswax wrap and place them all in ziptop freezer bag.
For freezing many, place them in a large container with a lid, tucking parchment, deli wraps, or beeswax wrap around them as a layer of protection against the cold.
To serve: place the desire number of muffins on the counter about an hour before serving. They will thaw at room temperature.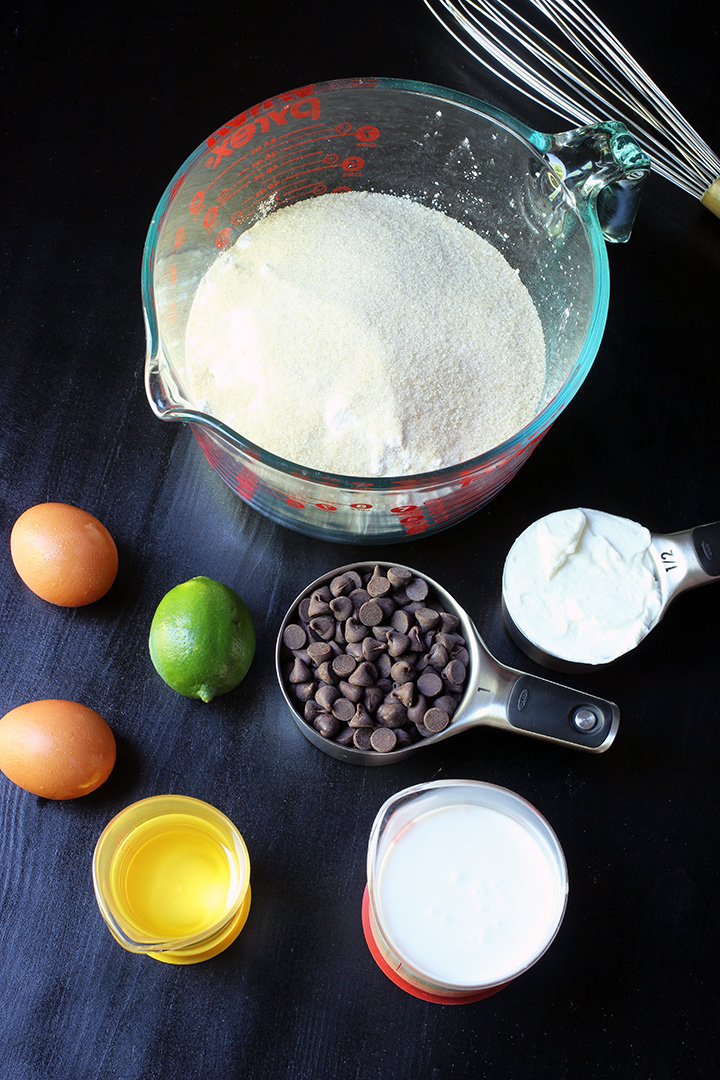 Can I change the flavoring of these muffins?
Absolutely! I love the flavor of lime and coconut together, especially when paired with chocolate, but you can definitely go in a different direction.
Use a favorite extract. Add just 1 teaspoon to the batter.
Use a different zest. Lime, lemon, orange, and grapefruit will all be delicious.
Use a different milk. You can swap out the coconut milk for regular cow's milk, almond milk, or other plant-based milk. If you want to get wild, you can also use brewed tea, such as Earl Grey, instead of the milk.
Use a mixture of chips. This Chocolate Chip Muffin recipe calls for dark chocolate, but you could swap them out for another variety or even use a combination of dark chocolate, milk chocolate, white chocolate, and semisweet. Butterscotch, peppermint, and cinnamon chips can also be used, just be sure that whatever chips you use go well with the extracts and zest you choose.
Do you need special equipment to make muffins?
After years of weekly muffin baking, I've come across a few tools that I absolutely LOVE for muffin baking: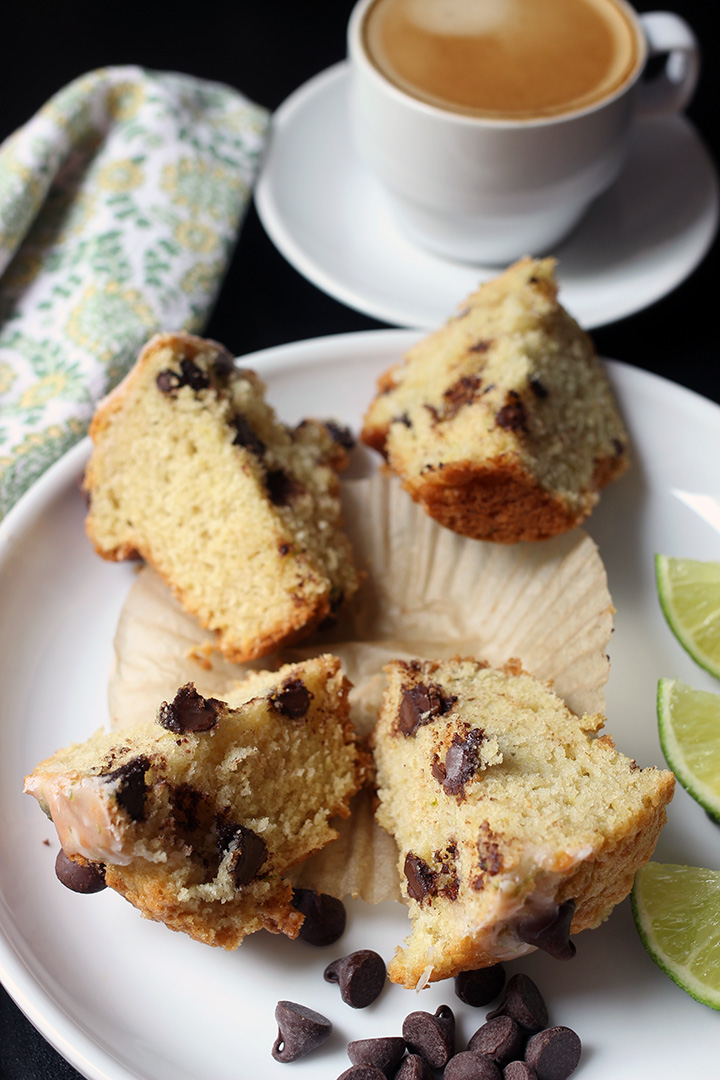 How much do chocolate chip muffins cost to make?
Priced with non-sale prices at a mid-range grocery store, the cost to make this recipe breaks down as follows:
Mix & Match muffin mix – $0.92
coconut milk – $1.06
yogurt – $0.60
oil – $0.16
eggs – $0.50
limes – $0.20
chocolate chips – $1.00
powdered sugar – $0.37
A dozen bakery-style chocolate chip muffins with lime and coconut costs a total of $4.81 or 40 cents each!
A box of 4 from the grocery store bakery cost $3.99. At Starbucks, one muffin costs $2.65! You can have three to six times as many muffins for the same price. You do the math.
It's a better deal, and you can enjoy muffins every day for 1/6th the price.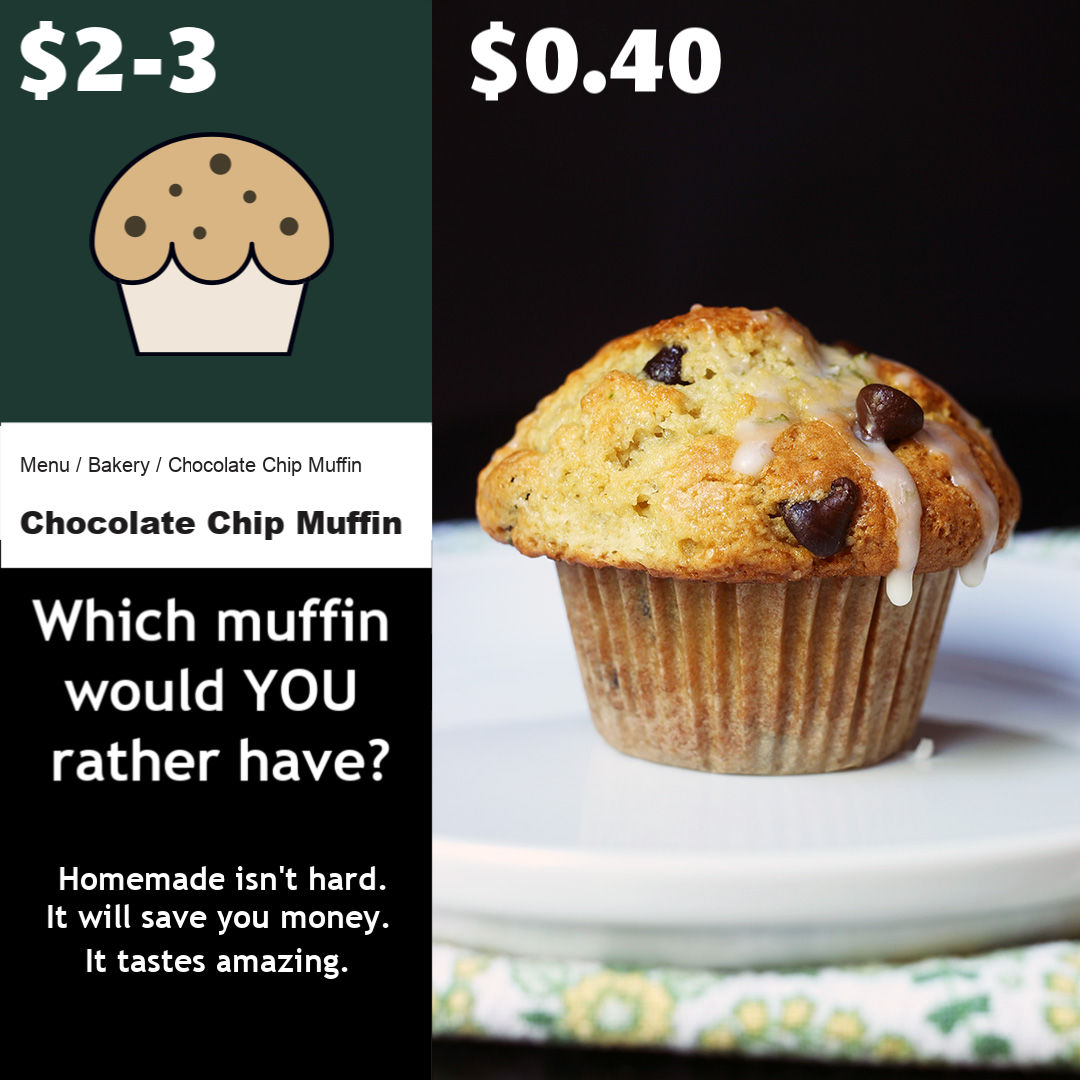 But you can do even better than that.
Follow the Good Cheap Eats system and you'll be able to shave more off the price of these delicious, homemade muffins.
Visit the store with the best prices. There is a wide range of prices charged for the exact same product, depending on where you shop. Be sure that you're frequenting the store that offers the best prices overall.
Check the sales and clearance. The highest priced items here are the coconut milk, yogurt, and chocolate chips. Watch for sales on these items and stock up so you can make budget muffins whenever you want. The holidays time is great for having sales on chocolate chips.
Opt for lower price alternatives. As mentioned earlier, you can swap out the coconut milk for a different milk. Using regular dairy milk would reduce the cost of this batch down by 87 cents, making your muffins 33 cents a piece.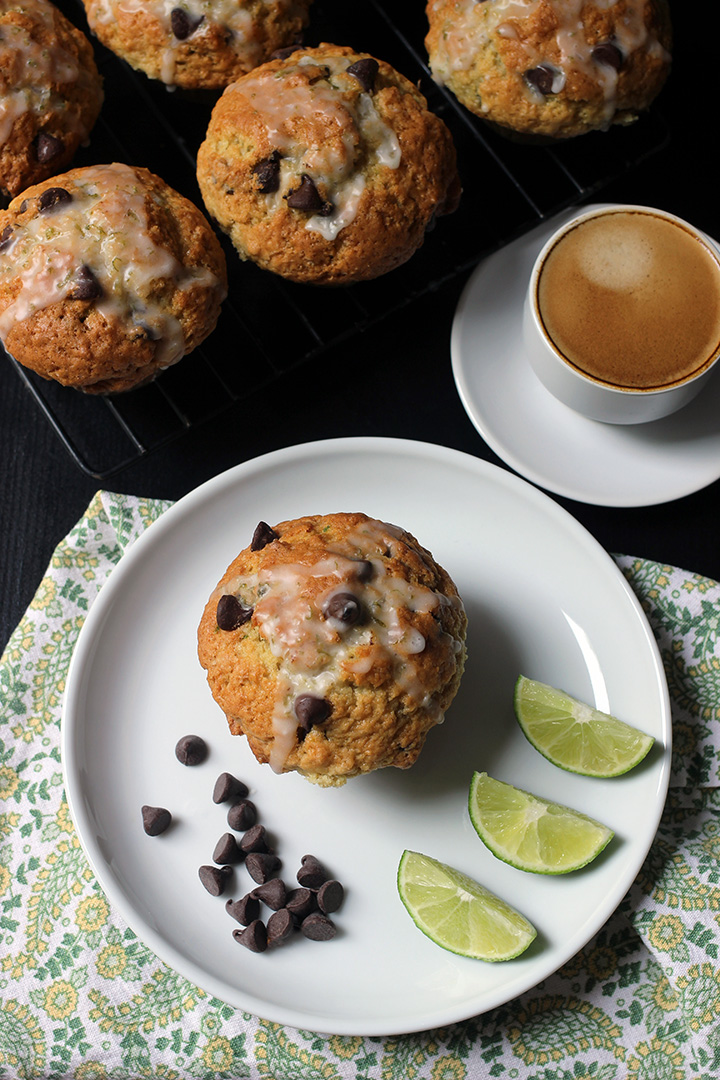 If you prepare this recipe, be sure to share a picture on social media and hashtag it
#GOODCHEAPEATS
. I can't wait to see what you cook up!
Coconut Lime Muffins with Chocolate Chips
Dotted with chocolate and infused with coconut and lime, these muffins are a delight. You'll want to bake an extra batch to freeze for later!
Ingredients
1

cup

coconut milk

1/2

cup

plain yogurt

1/2

cup

neutral oil

2

egg

1

batch

Mix and Match Muffin Mix

1

lime

zested

1

cup

chocolate chips
For the icing:
1

cup

powdered sugar

1

lime

zested and juiced
Instructions
Preheat the oven to 375°.

Line a 12-cup muffin cups with muffin papers.

In a large mixing bowl combine the coconut milk, yogurt, oil, and eggs. Whisk until well blended.

Add the muffin mix, zest of 1 lime, and chocolate chips

Fold just until combined.

Divide the batter among the muffin cups. It's okay if the cups overflow.

Bake for 25 to 30 minutes or until a tester comes out clean.

Cool the baked muffins on a wire rack.

While the muffins are cooling, combine the powdered sugar, lime juice, and lime zest in a small bowl. Stir until smooth with a wooden spoon. Drizzle the icing over the muffins. Once set, serve.
Notes
To make ahead: Baked, cooled, and unfrosted muffins can be stored in a ziptop freezer bag in the freezer. 
Nutritional values are approximate and based on 1 muffin.
Nutrition
Calories:
253
kcal
|
Carbohydrates:
22
g
|
Protein:
2
g
|
Fat:
18
g
|
Saturated Fat:
7
g
|
Cholesterol:
31
mg
|
Sodium:
29
mg
|
Potassium:
73
mg
|
Fiber:
1
g
|
Sugar:
20
g
|
Vitamin A:
83
IU
|
Vitamin C:
2
mg
|
Calcium:
39
mg
|
Iron:
1
mg
This post was originally published on July 10, 2010. It has been updated for content and clarity, because let's be real: in 2010, my kids were 2, 4, 6, 8, 10, and 13. I had a lot on my mind and making sense in a post may not have been a priority. 😉