Cool off with a sundae party and these recipes for homemade ice cream and toppings as well as an easy, two-minute, Homemade Chocolate Magic Shell Recipe.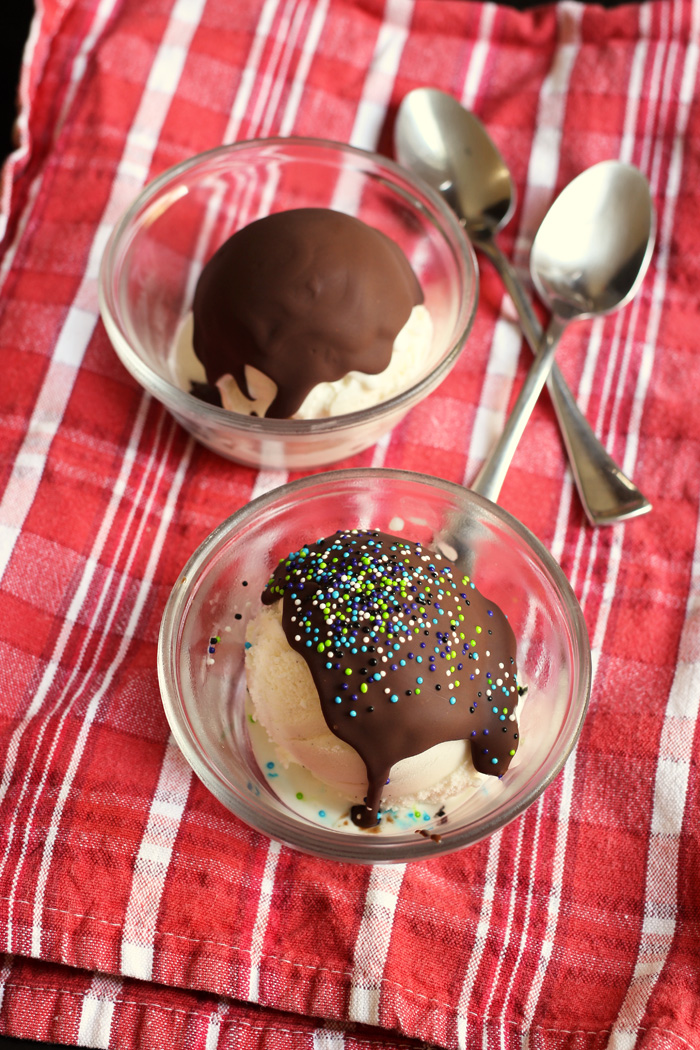 Are you dessert people? Have your children been conditioned since infancy to have a little dessert after dinner and sometimes after lunch as well?
(These courses are differentiated from one another, of course, by the technical terms of dessert and lunch dessert.)
If so, then you are not alone. Ahem.
Yet you don't need to give in to the commercially made frozen treats that line the frozen food aisle. In fact, there's no end to the homemade ice cream or ice cream toppings that you can make yourself!
No pressure to make everything "from scratch" all the time, but mixing it up a bit so that you can control the ingredients you feed your family is a great way to eat just a little bit better.
Even if it is dessert. A few times a day.
Often homemade is cheaper than storebought. When I first bought an ice cream maker, I discovered that I could make nearly-organic ice cream cheaper than I could buy conventional at the store. That's what I call winning, my friends.
And homemade whipped cream? So much better for you that "whipped topping" whatever that is, and so much tastier. Homemade whipped cream that's lightly sweetened makes things fun, especially when it comes out looking all fancy.
The same can be said for homemade ice cream toppings, such as Homemade Chocolate Magic Shell.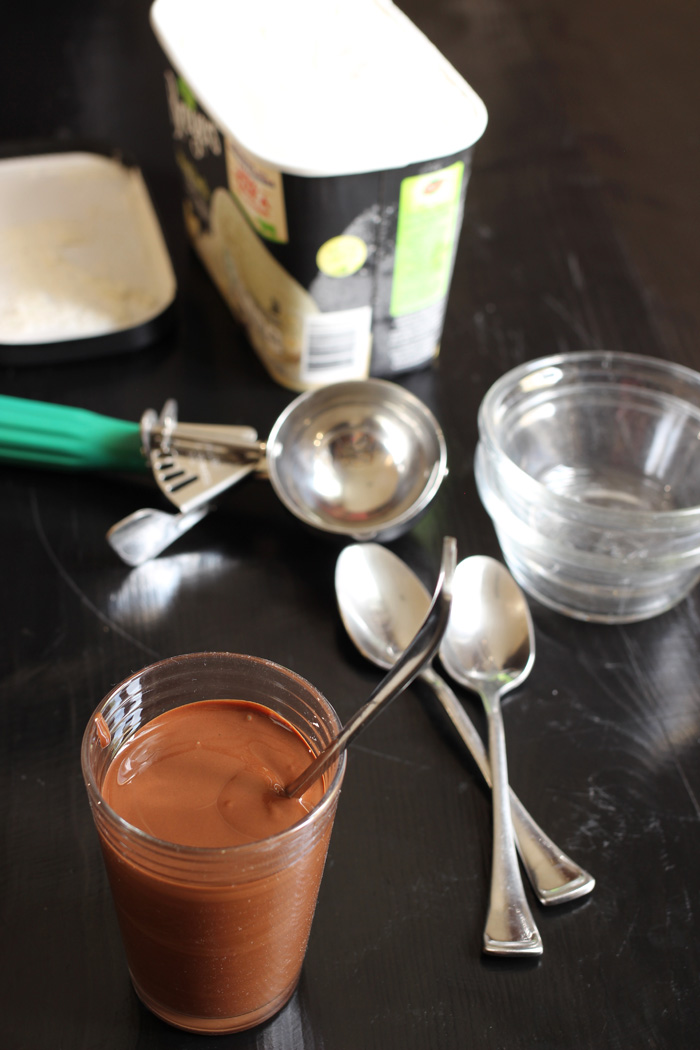 Homemade Chocolate Magic Shell Recipe
I well remember when they invented Magic Shell. It was such a big deal back in my avocado-hued 1980's childhood. (Technically, it was invented in Australia and called Ice Magic, in case you were wondering.)
Unlike a typical chocolate or fudge sauce, "magic shell" hardens on contact with something cold, much like the crunchy chocolate coating on a Sidewalk Sundae.
Which begs the question if it was really invented in the 80s or simply bottled at sold to the consumers.
Anywho…. My friend Lynn walked me through making magic shell the first time, and since then I've made a variety of combinations, sometimes using chocolate chips, sometimes using chocolate squares typically for baking. A few seconds in the microwave and we've got a homemade chocolate magic shell that beats the bottle.
You can use whatever kind of chocolate you want. I've heard that you can use margarine, but I prefer using coconut oil since it's a little bit healthier for you.
Our family is always fascinated to watch the chocolate liquid harden and lose its sheen when it firms up against the cold ice cream.
We use this Homemade Chocolate Magic Shell Recipe not only on ice cream sundaes but also on Frozen Chocolate Bananas. So good, so easy!
Feel free to add flavorings to this Homemade Chocolate Magic Shell Recipe. Just a few drops of mint extract or even coffee extract will give it a nice twist.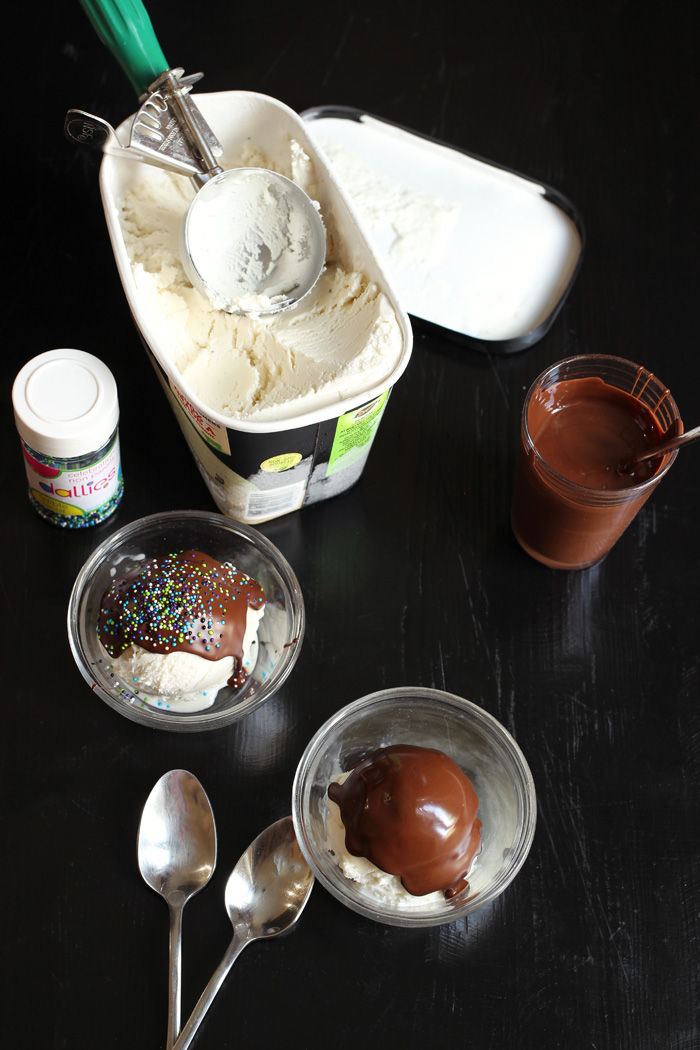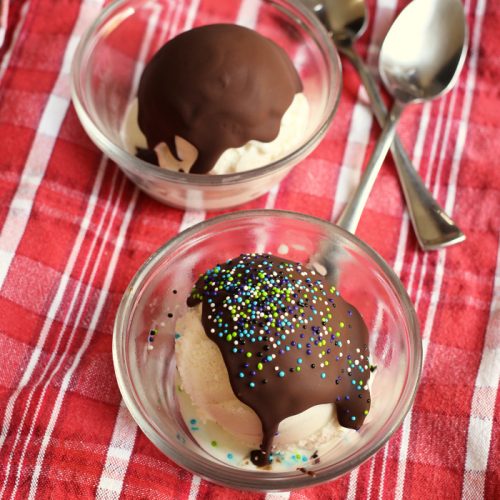 Homemade Chocolate Magic Shell Recipe
Cool off with a sundae party. Check out these recipes for homemade ice cream and toppings as well as this easy, two-minute Homemade Chocolate Magic Shell Recipe.
Keyword:
chocolate, chocolate sauce, chocolate sundaes
Ingredients
4

ounces

semisweet chocolate

4 squares or 1/2 cup chocolate chips

1

tablespoon

coconut oil
Instructions
In a small glass jar or dish, heat the chocolate in the microwave for 30 to 60 seconds, until melted.

Stir in the coconut oil until well blended.

Use as an ice cream topping. Store leftover sauce at room temperature. Use within a couple days.
Recipe Notes
Do not chill the sauce. It will harden if you do.
Nutrition Facts
Homemade Chocolate Magic Shell Recipe
Amount Per Serving
Calories 97
Calories from Fat 63
% Daily Value*
Fat 7g11%
Cholesterol 1mg0%
Sodium 1mg0%
Potassium 80mg2%
Carbohydrates 7g2%
Protein 1g2%
Vitamin A 7IU0%
Calcium 9mg1%
Iron 1mg6%
* Percent Daily Values are based on a 2000 calorie diet.