This Barbacoa Beef comes together quickly and easily in the slow cooker. The tangy, tender beef filling is perfect for tacos, lettuce wraps, bowls, and burritos.
It's that season again when you'll start seeing chuck roasts and steaks go on sale. Do me a favor, and buy a few the next time you see a decent price. (Around here, a decent price is about $2.99 or $3.99/pound, but your mileage may vary.
There are so many lovely dishes to make with said chuck cuts, including this luscious recipe for Barbacoa Beef. My people go wowser for this recipe. The tangy, tender beef filling is delicious stuffed in tacos and lettuce wraps, atop burrito bowls, or folded into burritos. Mmmmm…. plus, you can freeze the cooked filling for another night.
You see we are big fans of Chipotle at our house. Last month, it was our go-to every Sunday since they offered free kids meals every Sunday in September. But, September's over, and dinner at Chipotle costs over 50 bucks if everyone's a paying guest. So….
We're making our own burritos, bowls, and tacos. And you know what? It's not hard! Especially when you have this recipe in your repertoire. The beef filling is better than Chipotle's, according to my sweet husband. It's delicious as an alternative to standard Shredded Beef Filling.
How I make this good:
Whenever possible I like to cook with plain old ingredients. While the convenience of mixes and canned sauces is nice, I feel better about feeding my family just real food whenever possible. (Go here for some of my reasons on all that.)
While there's a fair handful of ingredients in this recipe, it's mostly just a bunch of herbs and seasonings, all of them real food. Buy the best quality chuck roast or steak you can afford, and you are good to go!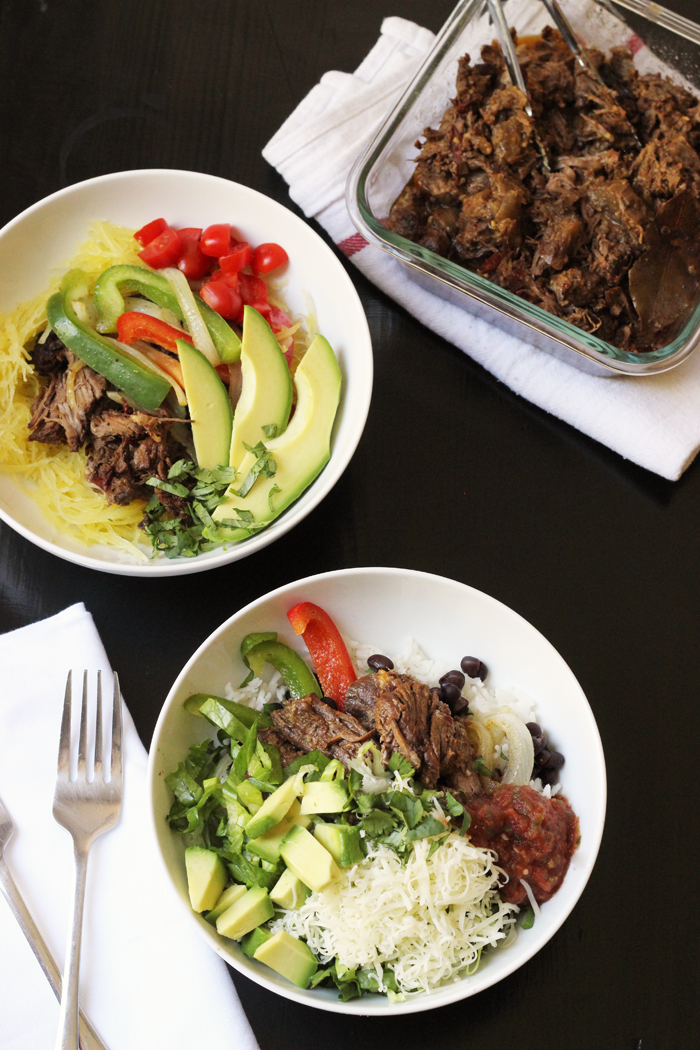 I know that a lot of my readers are gluten- and dairy-free, and even paleo, so I experimented in serving this Barbacoa in a number of ways to suit a variety of diets. It's great on your standard rice bowl a la Chipotle, but it's equally tasty served on a bed of spaghetti squash with loads of additional veggies and salsa. Yum!
This Barbacoa Beef is also delicious in burritos, tacos, and lettuce wraps. Just be sure to drain the juices well so things don't get too soggy.
How to make this cheap:
Here are some of the strategies you can use to make this recipe more economical:
Meal plan around what's on sale. Don't decide to make this when chuck roast is $7/pound and you have none in the freezer. Wait until it goes on sale.
Stock up on ingredients when they are on sale

. For instance, when I see a great price on chuck roast as I mentioned before, I buy a lot. The same goes for jack cheese. In some ways jack is a specialty item around here, so I shoot for buying it at less than $3/pound.

Save your extra chipotle peppers. Usually a can of chipotle peppers in adobo contains far more chiles than your recipe calls for. Freeze the extras in small packages so that you can avoid waste and have chipotle flavor at the ready whenever you need it.
Tools I use to make this recipe easy:
This is a pretty straight-forward dish. You don't need any fancy equipment. However, having some good basic kitchen tools can really make your time in the kitchen more enjoyable. Over time, I've honed my collection so that they are perfect for my needs. Here are the tools that I like to use in this recipe.
Barbacoa Beef
This Barbarcoa Beef comes together quickly and easily in the slow cooker. The tangy, tender beef filling is perfect for tacos, lettuce wraps, bowls, and burritos.
Ingredients
3

chipotle chile in adobo sauce from a can

finely chopped

2

tablespoon

apple cider vinegar

juice of 1 lime

3

clove

garlic

minced

1

teaspoon

dried oregano

1

teaspoon

ground cumin

1

teaspoon

salt

½

teaspoon

black pepper

1

bay leaf

1

tablespoon

olive oil

2

lb

boneless, beef chuck roast

cut into chunks

1

onion

coarsely chopped
Instructions
In the crock of a large slow cooker, combine the chipotles, vinegar, lime juice, garlic, oregano, cumin, salt, pepper, and bay leaf. Stir well to combine.

In a large heavy skillet, heat the oil until shimmering. Add the beef chunks, working in batches and brown on all sides. As they are browned, transfer the meat chunks to the slow cooker.

Cook the onion in the drippings until translucent, about 5 minutes. Transfer to the crock.

Stir gently to combine the beef chunks, onions, and sauce. Secure the lid and cook for 6 to 8 hours on LOW or 4 to 6 hours on HIGH. The meat should fall apart easily. Shred the meat to your preferred texture. Serve in tacos, burritos, lettuce wraps, and bowls.
Notes
To freeze: chill the meat completely. Store the meat in an airtight container in the freezer for up to 2 months. Thaw and reheat to serve.
Nutrition
Calories:
466
kcal
|
Carbohydrates:
6
g
|
Protein:
44
g
|
Fat:
30
g
|
Saturated Fat:
12
g
|
Cholesterol:
156
mg
|
Sodium:
910
mg
|
Potassium:
802
mg
|
Fiber:
2
g
|
Sugar:
2
g
|
Vitamin A:
592
IU
|
Vitamin C:
3
mg
|
Calcium:
61
mg
|
Iron:
6
mg
Tried this Recipe? Tell us what you think!
Your reviews help us develop better recipes and give newcomers the confidence to try your favorites. Scroll down to leave a starred comment.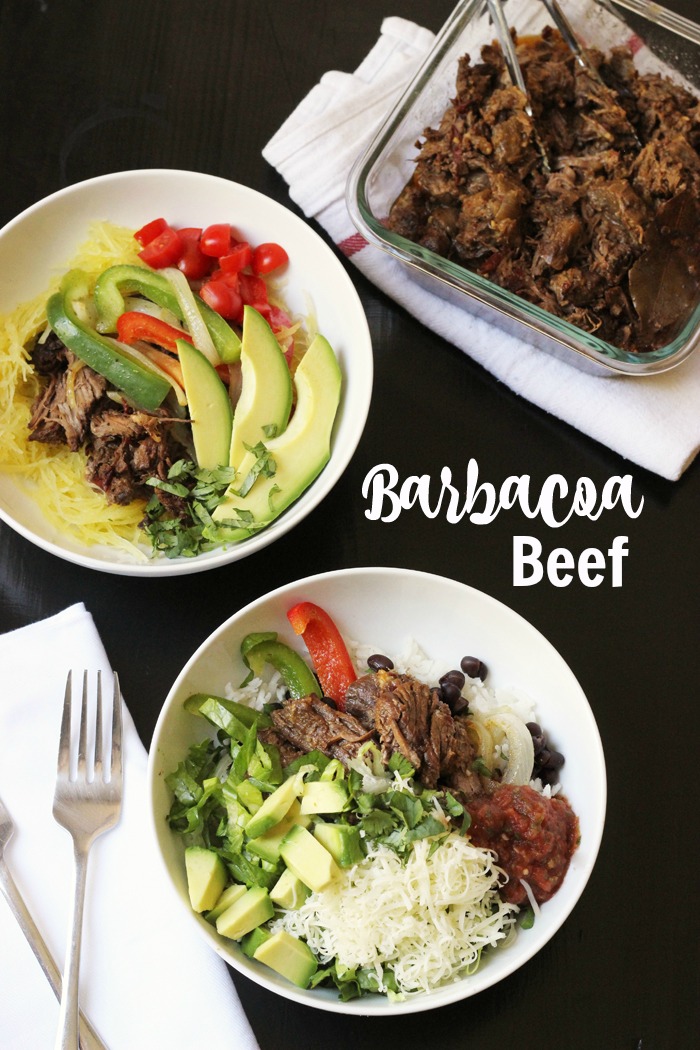 Are you looking for more good cheap eats?