Ready to welcome fall in style? This Chicken and Bowties Pasta dish, rich with sage and nutmeg, creamy and delicious is a perfect addition to your fall table.
I love fall. It's one of the best things about the Midwest. And the one thing that I miss since moving back to California.
The weather is turning just a bit now here in San Diego. Well, at least the leaves are falling. It's been cool enough to wear a sweatshirt some mornings, which I love. It's hard for me to decide, honestly. I did so enjoy our summer beach days.
If I can't enjoy traditional fall weather, at least I can indulge in fall foods.
One of the great things about fall is the food: soups, braises, creamy pastas, pies, and lot of baked goods. I'm ladening our table with Pumpkin Scones, Apple Turnovers, and this Chicken and Bowties Pasta.
This Chicken and Bowties recipe is one that I've been making for over 20 years, since we were newlyweds. A friend made it for me on a weekend visit, and it quickly became a regular in our meal rotation. It's perfect for fall when tomato season is winding down. Since it combines both sun-dried and fresh tomatoes, you can swing it either way, depending on the season.
Psst. You'll want to make it year-round.
This dish is a little addictive. Making it on a weekly basis that first year – ahem – we learned a few key things about it: fresh tomatoes are better added at the very end not cooked in the sauce, and you cannot omit the nutmeg.
My husband, Bryan, doesn't typically care for nutmeg in pasta recipes. (Martha, we tried mac and cheese your way, and it just didn't work!) But, this dish really needs the nutmeg. Combined with the cream, woodsy sage, chicken, and sweet and tart tomatoes, the nutmeg really adds something. The whole dish screams of fall!
So, don't omit the nutmeg. Even if it sounds weird.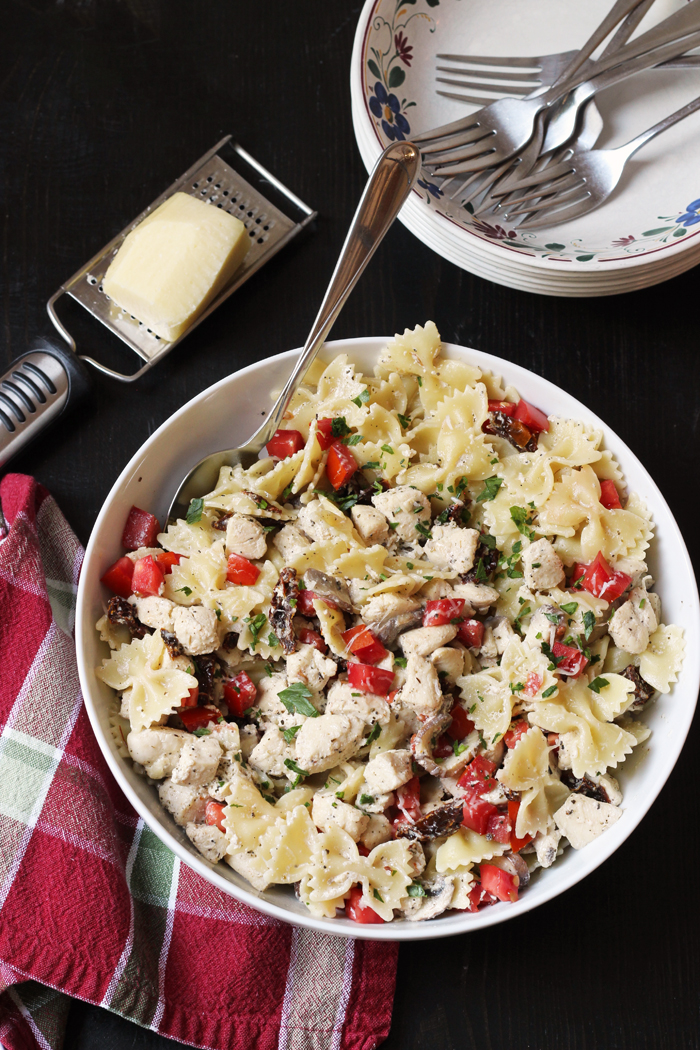 How I make this good:
Whenever possible, I like to cook with plain old ingredients. While the convenience of mixes and canned sauces is nice, I feel better about feeding my family just real food whenever possible. (Go here for some of my reasons on all that.)
This recipe has no processed ingredients, just real food. I like that. You can use gluten-free or whole wheat pasta if you prefer. And you can substitute half and half for the heavy cream, but it's worth the little indulgence.
How to make this cheap:
Here are some of the strategies you can use to make this recipe more economical:
Meal plan around what's on sale. Don't decide to make this when chicken is $7/pound  and you have none in the freezer.
Stock up on ingredients when they are on sale. For instance, when I see a great price on chicken, I buy a lot. The same goes for cream or sun-dried tomatoes.
Use less expensive alternatives to pricey ingredients. I love true parmigiano reggiano, but it's often pretty pricey. Using romano or asiago offers me a less expensive alternative.
Do a price comparison. I know that Trader Joe's is the best place to buy ingredients like pasta or chicken when there isn't a great sale elsewhere. Costco is where it's at for heavy cream. I keep track of prices so that I know who has the best deal where.
(If you don't already do so, consider following Good Cheap Eats, my food blog, where I regularly share money-saving tips and budget-friendly recipes.)
Tools I use to make this recipe easy:
This is a pretty straight-forward dish. You don't need any fancy equipment. However, having some good basic kitchen tools can really make your time in the kitchen more enjoyable. Over time, I've honed my collection so that they are perfect for my needs. Here are the tools that I like to use in this recipe.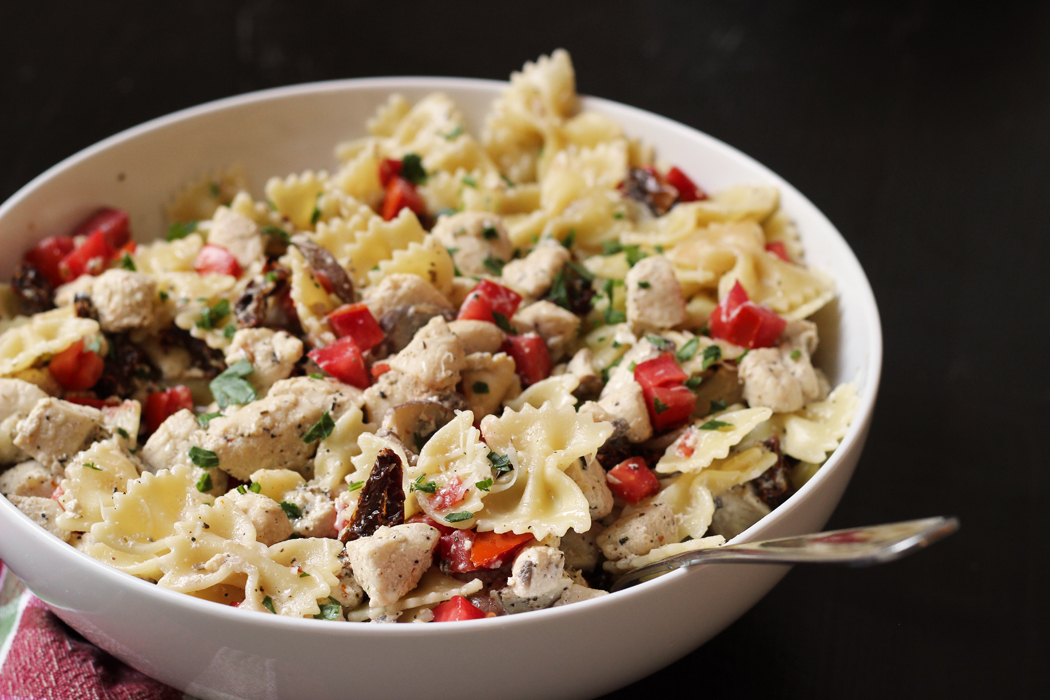 Chicken and Bowties Pasta with Sage and Nutmeg
Ready to welcome fall in style? This Chicken and Bowties Pasta dish, rich with sage and nutmeg, creamy and delicious is a perfect addition to your fall table.
Ingredients
½

cup

sundried tomatoes (julienned)

if oil packed, reserve the oil

2

tablespoon

butter

2

tablespoon

olive oil

or reserved oil from tomatoes

3

boneless, skinless chicken breast

cubed

2

oz

mushrooms (sliced)

(½ cup)

salt

black pepper

1

lb

bowtie pasta

1

cup

whipping cream

1 ½

teaspoon

dried rubbed sage

¼

teaspoon

ground nutmeg

2

tomato

chopped

Parmesan cheese (shredded)

asiago, or roman cheese
Instructions
Drain the tomatoes, if using oil packed sun-dried tomatoes. Set aside.

Heat the butter and oil in a large heavy skillet. Add the chicken and mushrooms and season to taste with salt and pepper. Saute until the chicken is almost cooked through and the mushrooms are tender.

Meanwhile, cook the pasta in a large pot of salted, boiling water, according to manufacturer's directions. Rinse and drain.

Add the sundried tomatoes, cream, and spices. Heat through, stirring occasionally. Stir in cream and spices. Heat well.

Toss the hot pasta with the chicken and sauce. Add the fresh tomatoes and

garnish with the cheese. Serve immediately.
Notes
Store leftovers covered in fridge for up to 4 days.
Nutrition
Calories:
545
kcal
|
Carbohydrates:
48
g
|
Protein:
23
g
|
Fat:
29
g
|
Saturated Fat:
12
g
|
Cholesterol:
101
mg
|
Sodium:
149
mg
|
Potassium:
593
mg
|
Fiber:
3
g
|
Sugar:
5
g
|
Vitamin A:
719
IU
|
Vitamin C:
7
mg
|
Calcium:
56
mg
|
Iron:
2
mg
What's your favorite fall recipe?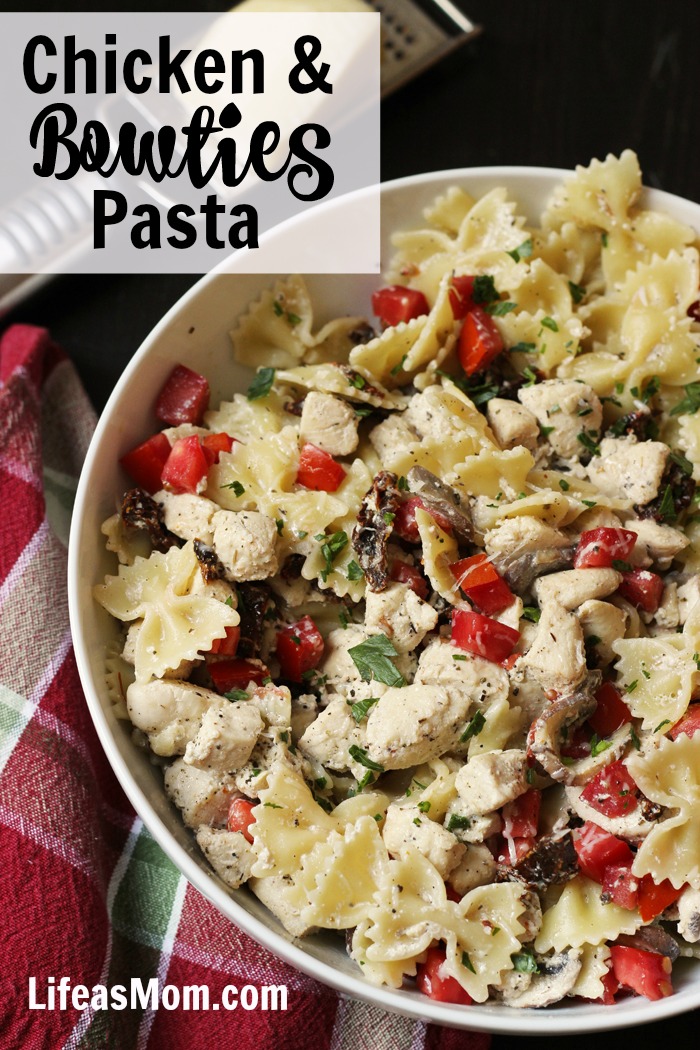 Originally published September 18, 2008. Updated October 8, 2016.