These Spiced Pumpkin Scones are delicious for breakfast with your morning coffee as well as an afternoon snack with tea or milk.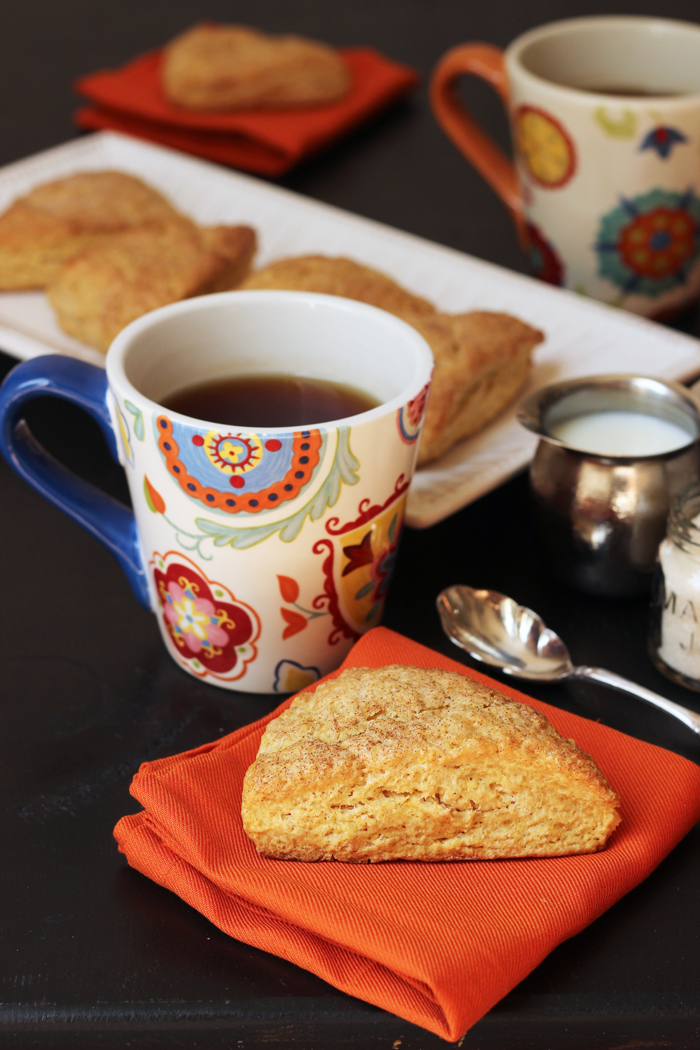 These were a spur-of-the-moment creation, based on a half jar of pumpkin sitting in the fridge just crying to be baked into something delicious. Scones sounded lovely.
And they were.
Scones are one of my favorite baked goods to experiment with. I have folded them into the pages of three of my cookbooks and scattered them here and there across the interwebs. They're almost a perfect food. Like a cookie and a biscuit all wrapped into one.
Some of my favorite scone recipes:
I might need a scone intervention…. Nah.
These Spiced Pumpkin Scones are always a big hit with my people, especially in the fall when pumpkin and spices are such comfort food. These are delicious for breakfast with your morning coffee as well as an afternoon snack with tea or milk. Cut smaller scones for younger folk; bigger scones for us old people. There are benefits to aging.
How I make these good:
Whenever possible I like to cook with plain old ingredients. While the convenience of mixes and canned sauces is nice, I feel better about feeding my family just real food whenever possible. (Go here for some of my reasons on all that.)
The ingredients list in this recipe is pretty wholesome. No mixes or cans, except for the pumpkin. Be sure to get pumpkin puree, not canned pumpkin pie filling. There's a difference. I use part whole wheat pastry flour to enrich this recipe. Feel free to use all whole wheat or all unbleached, depending on what works for you. If you use all whole wheat, you may need to add a few extra tablespooons of buttermilk.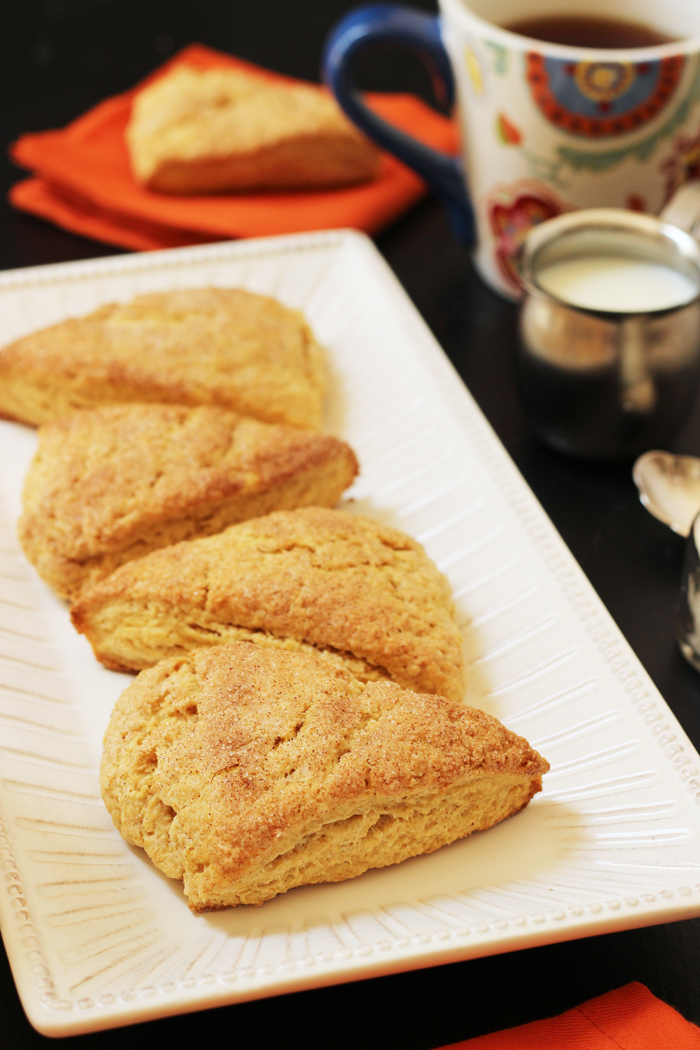 How I make these cheap:
Here are some of the strategies I use to make this recipe more economical:
Do a price comparison. I know that Costco is the best place to buy ingredients in bulk, like butter, and spices, especially when there isn't a great sale elsewhere. I keep track of prices so that I know who has the best deal where.
Stock up on ingredients when they are on sale

. For instance, when I see a great price on canned pumpkin, butter or flour, I buy a lot. Hint: this happens often in the fall months, so watch your sales and buy extra when you see a good sale.

Bake in bulk. It saves so much time and money to make a big batch of scones and freeze the extras. No need to buy a scone when you head to Starbucks next time. Pack your own. Better yet, make your coffee at home, too, and save a bundle.
Tools I use to make this easy:
I use a food processor like this one to cut in the butter and then transfer those buttery crumbs to a bowl and then mix in the liquid ingredients. You can cut the butter in with a pastry blender or with two knives if you don't have a food processor. Though honestly, I don't know what I would do without my food processor. It's essential for scone making!
Since it's such a big batch, I also use a large stainless steel bowl, similar to this one, to mix everything together. Large sheet pans are a must as is parchment paper, unless you buy USA sheet pans. You don't need to grease or line those.
Spiced Pumpkin Scones
These Spiced Pumpkin Scones are delicious for breakfast with your morning coffee as well as an afternoon snack with tea or milk.
Ingredients
3

cup

unbleached, all-purpose flour

2

cup

whole wheat pastry flour

1

cup

granulated sugar

1

tbsp

baking powder

1/2

tsp

ground ginger

1/2

tsp

ground cinnamon

1/2

tsp

ground nutmeg

1/2

tsp

salt

1

cup

butter

cut into small cubes

1/2

cup

pumpkin puree

1

cup

buttermilk
For cinnamon sugar topping
5 1/2

tsp

granulated sugar

1/2

tsp

ground cinnamon
Instructions
Preheat the oven to 375°.

Line baking sheets with parchment paper.

In a large bowl combine the flours, sugar, baking powder, ginger, cinnamon, nutmeg, and salt. Cut in the butter until coarse crumbs form. (To speed up the process, you can do this in batches in a food processor. Then pour the mixture into a large mixing bowl.)

In a small mixing bowl, whisk together the pumpkin and buttermilk. Fold this mixture into the dry gently until combined. The dough will be sticky.

Turn the dough out onto a floured surface and fold 2-3 turns or until dough comes together.

Gently pat or roll the dough into a 1 inch thickness.

In a small bowl combine the sugar and cinnamon. Sprinkle the cinnamon sugar over the dough.

Cut the dough into twelve squares, triangles, or whatever shape you like.

Place the scones on the prepared baking sheets and bake them for 15 minutes or until lightly brown.

Cool on a wire rack before serving.
Notes
You can also freeze the scones, baked or unbaked. Flash freeze and store in an airtight container in the freezer. If baking from frozen, increase baking time 5 minutes. Alternatively, bake and cool the scones and store them in an airtight container in the freezer.
To make as a mix: Take a large ziptop bag or container and label it with the wet ingredients and the baking instructions. Measure out the main dry ingredients into the bag. Place the cinnamon sugar in a second, smaller bag. Seal and store until ready to use.
Nutritional values are approximate and based on 1

 scone.
Nutrition
Calories:
407
kcal
|
Carbohydrates:
59
g
|
Protein:
7
g
|
Fat:
17
g
|
Saturated Fat:
10
g
|
Cholesterol:
43
mg
|
Sodium:
256
mg
|
Potassium:
260
mg
|
Fiber:
3
g
|
Sugar:
20
g
|
Vitamin A:
2094
IU
|
Vitamin C:
1
mg
|
Calcium:
85
mg
|
Iron:
2
mg