Reminiscent of canned bean with bacon soup — without the bacon or the can! — this Smoky Bean Soup is an economical and filling, without much fuss.
If you grew up eating soup from cans with red labels, you may have been a fan of Bean with Bacon soup. I know I was.
I can well remember my mom heating it up for me on cold, rainy days, with a plate of buttered saltines on the side. So good.
Nowadays, after a few years of making homemade soup for Soup Night, the canned taste of commercial soups just doesn't do it for me anymore.
Make homemade soup!
Instead, I make homemade versions of those soups you can buy in a can, but are cheaper and better when you make them homemade. Instant Pot Split Pea Soup? Yep. Alphabet Soup with Vegetables. Absolutely. Vegetable, Beef, and Barley Soup? How about an easy vegetable soup for a quick weeknight dinner. Or a Velvety Creamy Vegetable Soup made without cream. Yes please!
Between the tinny taste, the dubious ingredients lists, and the higher cost of canned soups, I'm a dedicated homemade soup evangelist. If you haven't taken the chance on homemade soup, today is your day, my friend!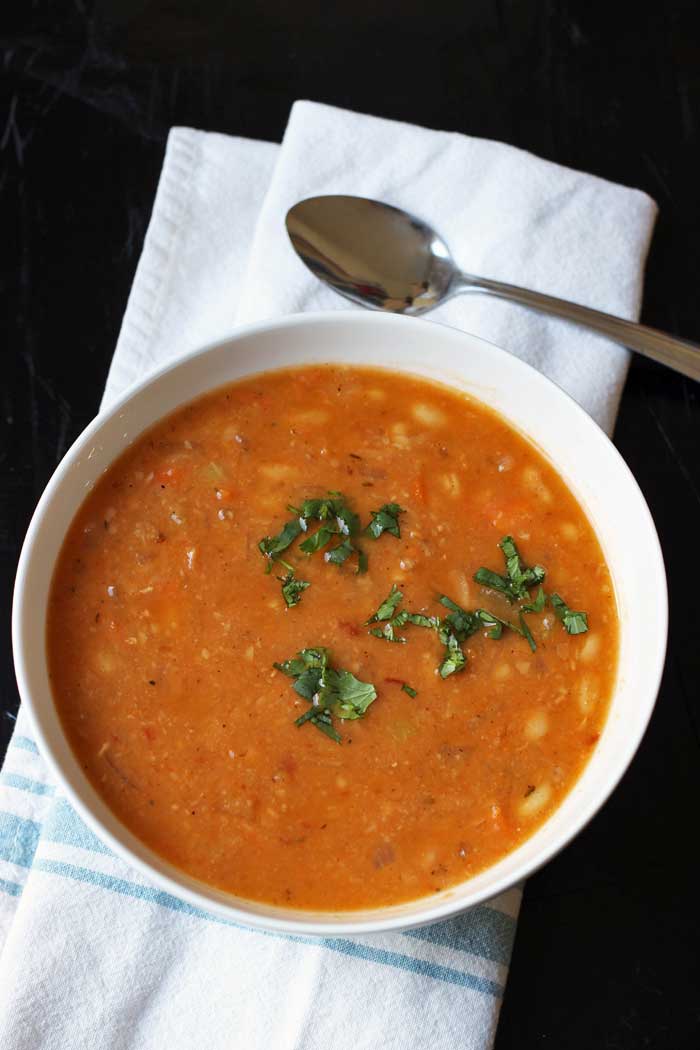 Make Homemade Smoky Bean Soup!
This Smoky Bean Soup is a great starter soup for a number of reasons:
You start with a few canned items, like beans and tomato sauce, so it's convenient.
It's gluten-free, dairy-free, and plant-based, meaning all your friends can share it with you. Throw some bacon to the carnivores in your life.
Since it's meatless and made from very inexpensive ingredients, this bean soup is a budget staple to add to your menu planning.
It takes less than 30 minutes to prepare, so you can enjoy this recipe frequently without any fuss.
Do I need to use the Basic Spice Blend?
Yes. One of the distinctive of this bean soup is that it has a smoky flavor without the more expensive addition of bacon. You can certainly add some bacon if you like, but it's plenty flavorful without it, thanks to my Basic Spice Blend.
A mixture of just five ingredients: smoked paprika, garlic powder, black pepper, sea salt, and dried thyme, this Basic Spice Blend adds a nice touch of spice to soups, marinades, and cooked meats. Like this homemade Carne Asada Recipe or our Favorite Slow Cooker Pot Roast.
I keep a jar on hand to add whenever I want to add quick flavor to dishes I'm throwing together.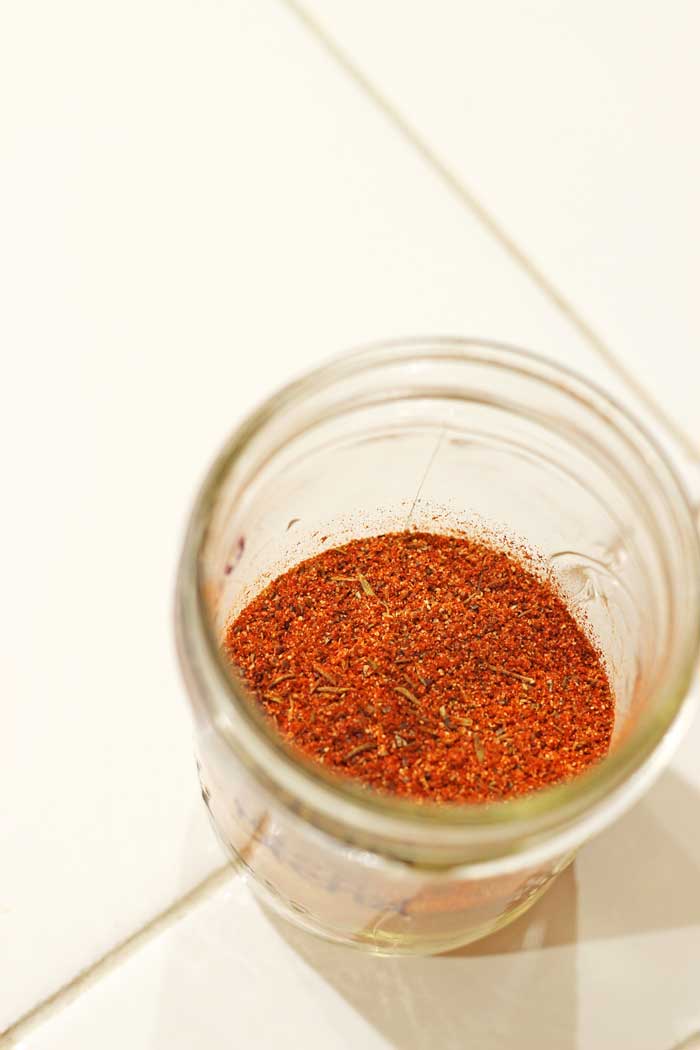 One of the important parts of the Basic Spice Blend, and therefore of the soup is that you use smoked paprika. It's not significantly more expensive than sweet paprika, but it definitely has a different flavor, smoky obviously, but also richer, and perfect for dishes that call for the smoke of barbecue or bacon.
Like this soup.
The Basic Spice Blend takes just a few minutes to stir up, so it's worth your while.
The bulk of your seasoning is going to come from the Basic Spice Blend, so it's important that you not skip that part.
Another important component of this Smoky Bean Soup is the beans. Obviously.
What kind of beans do you use in bean soup?
Like I said before you can use canned beans for this which makes it a quick and easy dinner recipe any night of the week. Or you can cook dried beans and use those in the soup.
Can I use any kind of bean in this soup?
I'm all for using what you have, so if you've got another kind of bean that you love, try it. But keep in mind that this recipe was developed a certain way. So, to get the flavors I planned, you'll need white beans.
Can I use any kind of white beans?
Now it's important to note that there are actually four kinds of white beans out there in the market: Navy beans, Great Northern beans, Cannellini beans, and Baby Lima beans.
All of these are available in canned and dry forms. While they each have their own special characteristics — for instance, Navy beans get creamy when cooked — they are fairly interchangeable, so if you've got Cannellini beans, but I've called for Great Northern beans here, don't sweat it. Just go with it.
Next time you can try Great Northern beans and see which one you like best.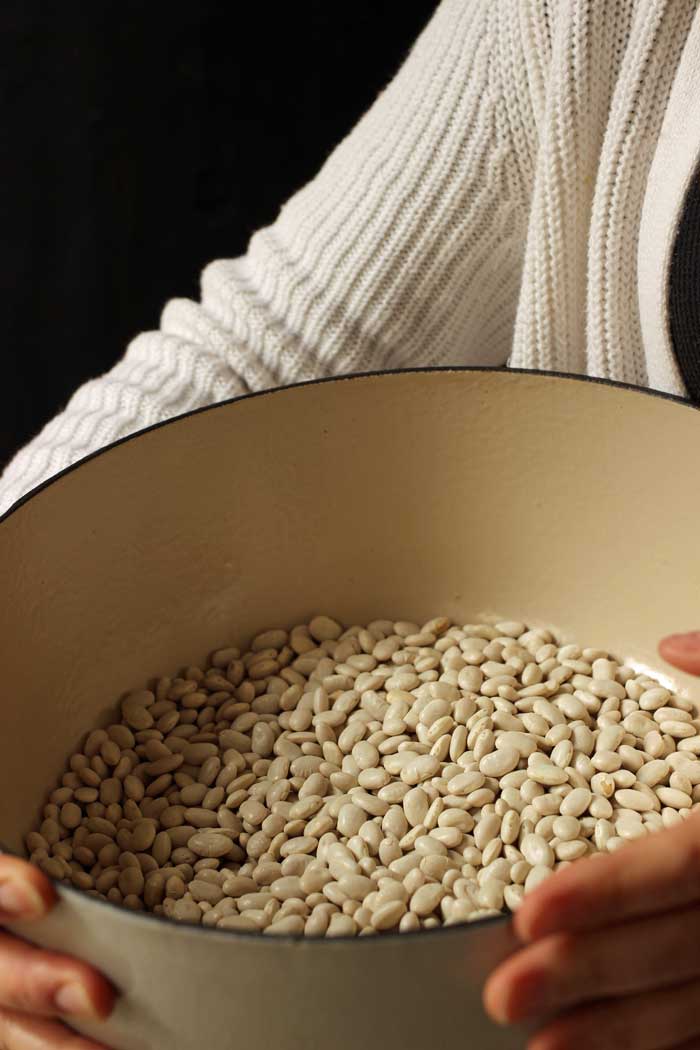 Can I use dry beans in this recipe?
To make this soup quick and easy like I intended, you need to use canned beans.
But if you want to save a little money, you can cook your own dried beans. I cook beans in the instant pot (or crockpot or stovetop) regularly in my efforts to trim a few more dollars off our grocery bill.
If you use the instant pot, it will be pretty quick. Not as quick as opening a can of beans, but fairly quick.
Is it cheaper to cook dried beans?
I've crunched the numbers and found that it really does save some money to cook dried beans and freeze them for later. I get the convenience of the can but on my terms. I can add whatever ingredients I like, avoid the ones I don't.
I keep a food storage bucket like this one in my pantry where I stash all my bags of dried beans. Check the unit prices at the stores you shop. Sometimes, the bigger bag is cheaper but not always.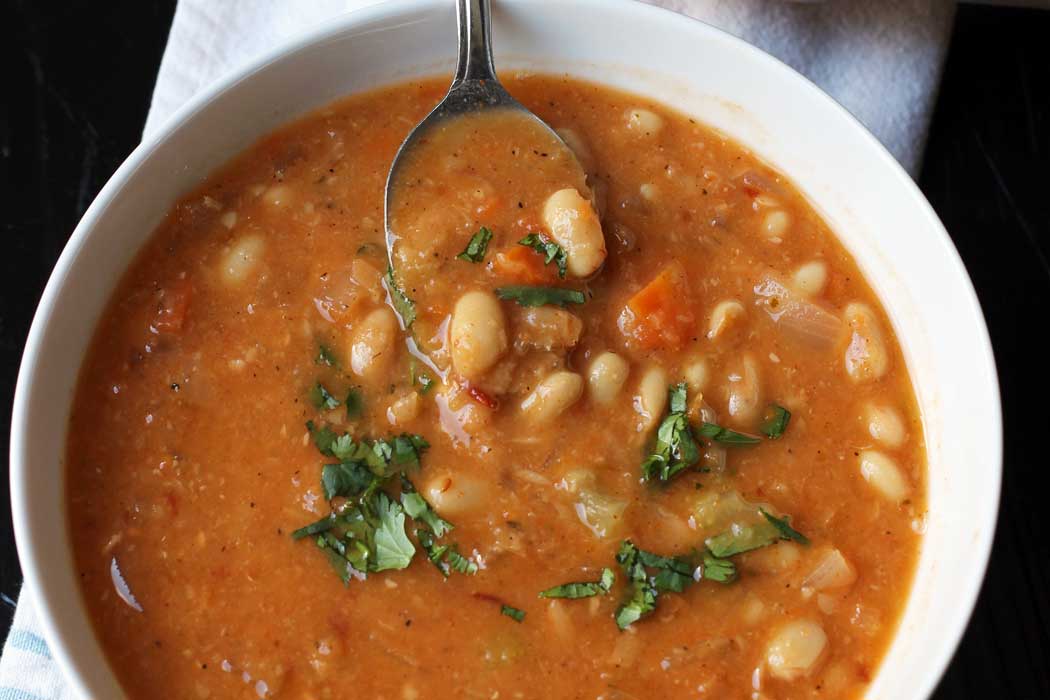 How can I make bean soup economically?
By their very nature, bean dishes are very budget-friendly. However, here are some of the strategies you can use to make this recipe even more economical:
Stock up on ingredients when they are on sale. When you see a good price on tomato sauce, beans, or your spices, buy a few extra to stash for later. You know you'll use them. Stocking up can save you money.
Cook dried beans. It's a lot cheaper to cook dry beans than to buy canned. Recently I've started using my electric pressure cooker for beans and it has been a game changer.
Buy spices in bulk. I regularly buy larger containers of spices I use frequently, like pepper, sea salt, garlic powder, and smoked paprika. I store excess dried herbs and ground spices in the freezer if I know it will be awhile before I go through the large container.
What tools do I need to make bean soup?
This recipe really couldn't be easier than it is, but having the right kitchen tools can really make your time in the kitchen more enjoyable. Over time, I've honed my collection so that they are perfect for my needs.
Here are the tools that I use for this recipe: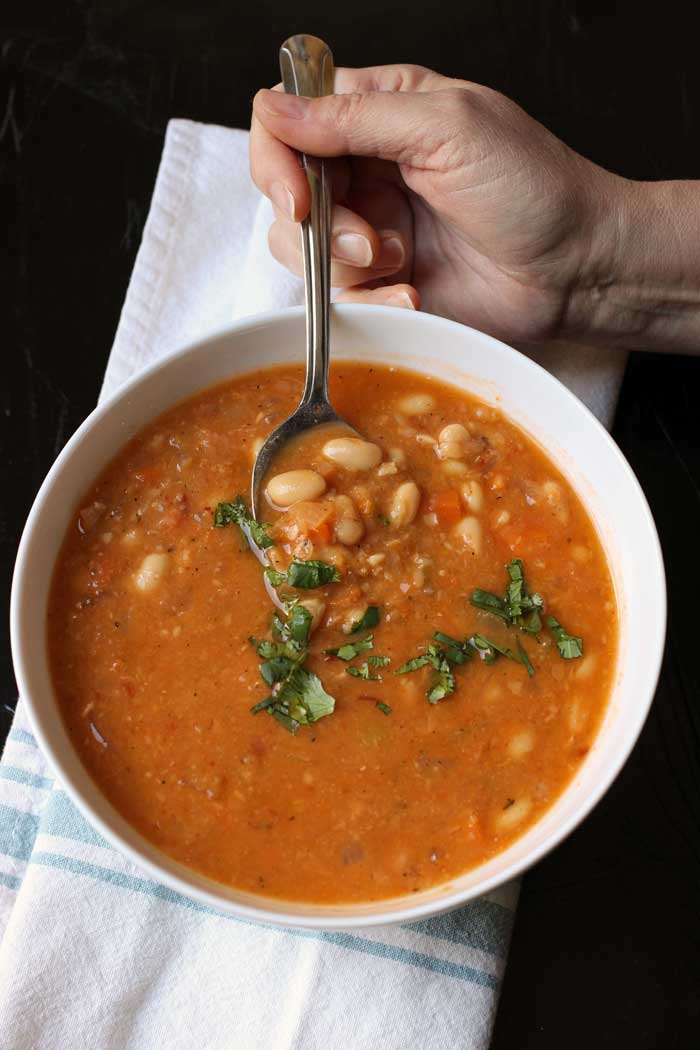 How do you make bean soup?
In a large pot, heat the olive oil until shimmering. Add the vegetables and season them with salt and pepper. It's good to season with every layer you add to the soup and taste often.
Cook the vegetables in the hot oil until the onions go clear. This helps them give up water and crunch, softening and mellowing the onion.
Add the beans, water, tomato sauce, and spices. Since the beans are already cooked, it's just a matter of blending the flavors of the tomatoes and spices with the beans as well as cooking the carrots. Simmer for about 20 minutes or until the carrots are tender.
The soup is ready to serve at this point or you can blend it to your preferred texture. Taste it and add salt and pepper or more Basic Spice Blend, to taste.
Serve the soup with a sprinkling of chopped cilantro if you like.
Can you freeze bean soup?
Yes! Divide the soup into meal-size containers. Chill it overnight in the refrigerator. Then freeze for up to two months.
To serve, thaw and reheat.
Smoky Bean Soup
Reminiscent of canned bean with bacon soup — without the bacon or the can! — this Smoky Bean Soup is economical and filling, without much fuss.
Ingredients
2

tablespoon

olive oil

1

onion

finely chopped

2

carrots

finely chopped

2

rib

celery

finely chopped

salt

black pepper

4

15.5-ounce cans

Great Northern beans

rinsed and drained

4

cup

water

8

oz

tomato sauce

1

tablespoon

Basic Spice Blend

2

tablespoon

fresh cilantro (chopped)
Instructions
In a large stockpot, heat the oil until shimmering. Add the onion, carrots, and celery and season to taste with salt and pepper. Cook until the onions start to go clear.

Add the beans, water, tomato sauce, and spice mix. Simmer for 15 to 20 minutes or until the carrots are tender.

With an immersion blender, blend the soup to your preferred texture. Adjust the seasonings and serve with chopped fresh cilantro, if desired.
Notes
To freeze: Cool the soup and divide it into meal-sized containers with lids. Label with the date and contents. Chill the containers in the refrigerator until completely cold. This helps the beans freeze more quickly, reducing the risk of freezer burn. Place the containers in the freezer for up to 6 weeks. Reheat before serving.
Navy beans or Cannellini beans can be used instead of Great Northern Beans.
Instead of using canned beans, you can use 8 cups cooked great northern beans or other white beans. Head here for instructions on how to cook dried beans.
Nutrition
Calories:
315
kcal
|
Carbohydrates:
52
g
|
Protein:
19
g
|
Fat:
5
g
|
Saturated Fat:
1
g
|
Polyunsaturated Fat:
1
g
|
Monounsaturated Fat:
3
g
|
Sodium:
179
mg
|
Potassium:
1072
mg
|
Fiber:
17
g
|
Sugar:
3
g
|
Vitamin A:
2756
IU
|
Vitamin C:
7
mg
|
Calcium:
198
mg
|
Iron:
6
mg
Tried this Recipe? Tell us what you think!
Your reviews help us develop better recipes and give newcomers the confidence to try your favorites. Scroll down to leave a starred comment.