Homemade Soup can come to your rescue any night you need a quick meal. Simple and nourishing, soup is good food, especially when you make it yourself.

Pictured: Creamy Chicken Noodle Soup
When I'm not sure what to make for dinner, especially in cooler months, I turn to homemade soup. Soup is quick to fix, super versatile, and is a great way for me to sneak veggies into my kids' diet.
Over the years our family has developed quite the repertoire of homemade soup recipes we love, like Broccoli Cheese Soup or Vegetable, Beef, and Barley Soup.
That wasn't always the case, though. Back when I developed this recipe for Chicken Noodle Soup, my kids gave me very limited options for Soup Night. They were all so little and so fussy, I stuck with what worked.
Which was Chicken Noodle Soup on repeat.
Over time, I busted out and tried different flavor combinations on them. And won. Eventually.
The result has been that the weekly soup night no longer phases anyone. I don't have to bribe them with the bread basket or an amazing dessert to get them to dig in and eat. In fact, I actually get requests for soup these days. Go figure!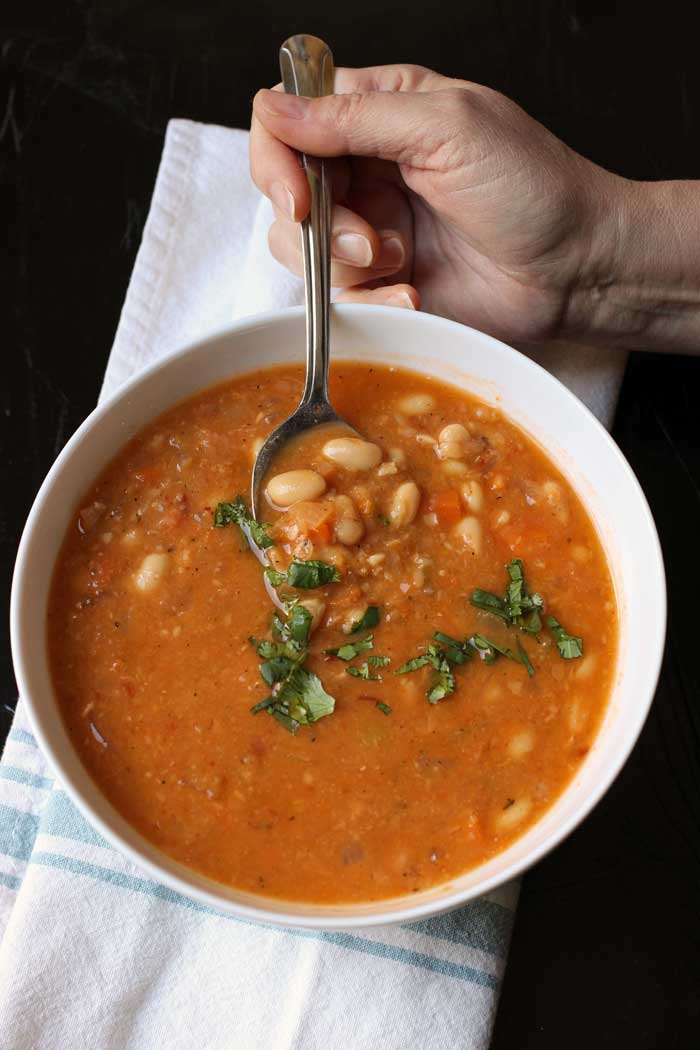 Pictured: Smoky Bean Soup
What are the ingredients in soup?
Soups can vary in ingredients but almost anything can be added to soup. I've even seen recipes that call for lettuce!
That said, your standard soup ingredients include some kind of fat, like butter or oil, some aromatics — think onions, garlic, ginger — a flavorful broth or stock, and some vegetables and meat.
How do I make homemade soup?
The process of making homemade soup is not difficult or complicated, though I'm going to show you a very easy step-by-step process in a minute.
You're basically going to combine flavorful liquid with things you enjoy eating like noodles, rice, vegetables, and chopped meats. You can very easily make soup from leftovers!
Adding garnishes like chopped fresh herbs or croutons can really make homemade soups feel special.
Can I use water instead of broth?
Yes! Using water is a very economical alternative to broth or stock, particularly if you have to buy commercial stocks instead of making your own.
Just be sure to add sufficient seasonings and to allow the soup to simmer so that the liquid is flavored by the ingredients you add in.
Some simple additions like tomato sauce, leftover gravy, or even a few splashes of soy sauce can enhance the flavor of a simple soup.
Can you freeze soup?
I love to freeze soup! I use these freezer-safe quart containers to freeze soup. They are the perfect size for lunches for 2 or 3 people and fit perfectly in a row in the door of my freezer.
I can decide on what kind of soup I want to reheat, run some warm water around the outside of the container to loosen it and plunk the frozen chunk of soup into my slow cooker. Since the food has already been cooked, it's safe to let it reheat from frozen in the slow cooker.
It's ready by lunchtime, making homemade soup one of my very favorite things to freeze.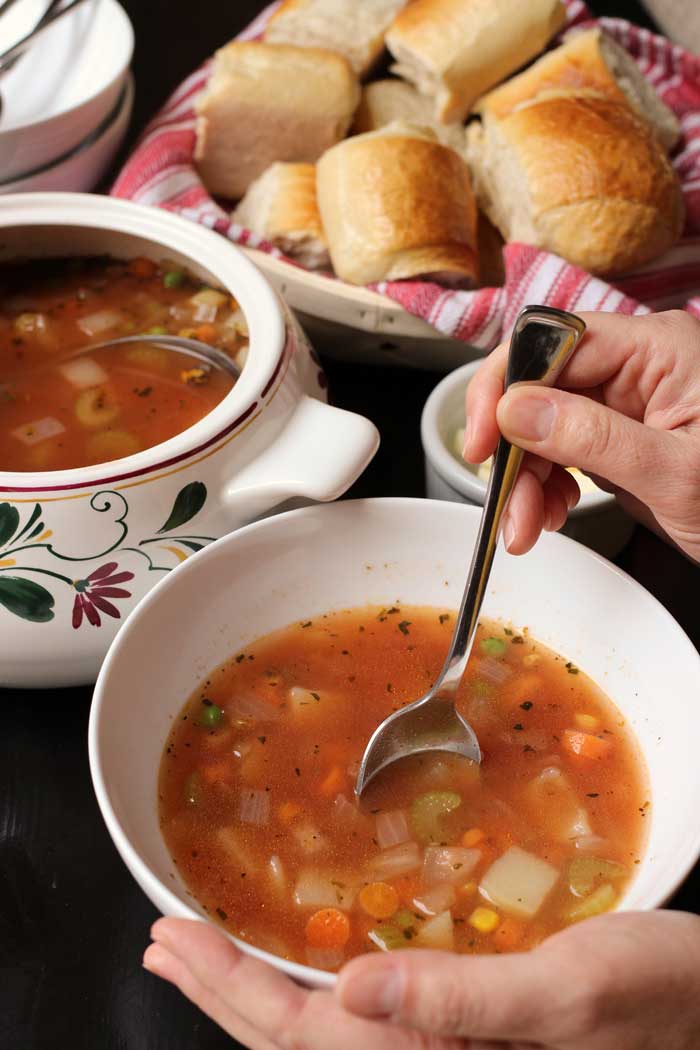 Pictured: Easy Vegetable Soup
How to Make Homemade Soup
Here's how to make homemade soup quickly and easily:
1. Assemble your tools.
The wonderful thing about homemade soup making is that you really don't need a lot of special tools and gadgets. Sure, there are a few things that help make the process easier, but I've made homemade soup on vacation in a little town in France with an itty-bitty, under-stocked kitchen without all my favorite tools and it came together just fine.
That said, here are some of my go-to homemade soup tools that make the process quick and simple:
2. Start with some oil and an onion.
I read Shauna Niequest's Bread and Wine years ago and remember nodding in agreement when she said something like,
If you're not sure what to make, just start sautéing an onion. Once it's nice and soft and beginning to brown, you'll have a good idea what's for dinner. (My paraphrase.)
This is so true for homemade soup. Usually this is how I start a soup, even if I'm not sure what kind I'm making. It's a great aromatic to start the process. By the time the onions have done their thing, I know what I'm going to add next!
Once you've got the onions going, you can add in other hearty vegetables like carrots, potatoes, celery. Saute them just a bit to caramelize them and bring out their flavors.
Once you've got the aromatics sautéed, stir in your broth or stock.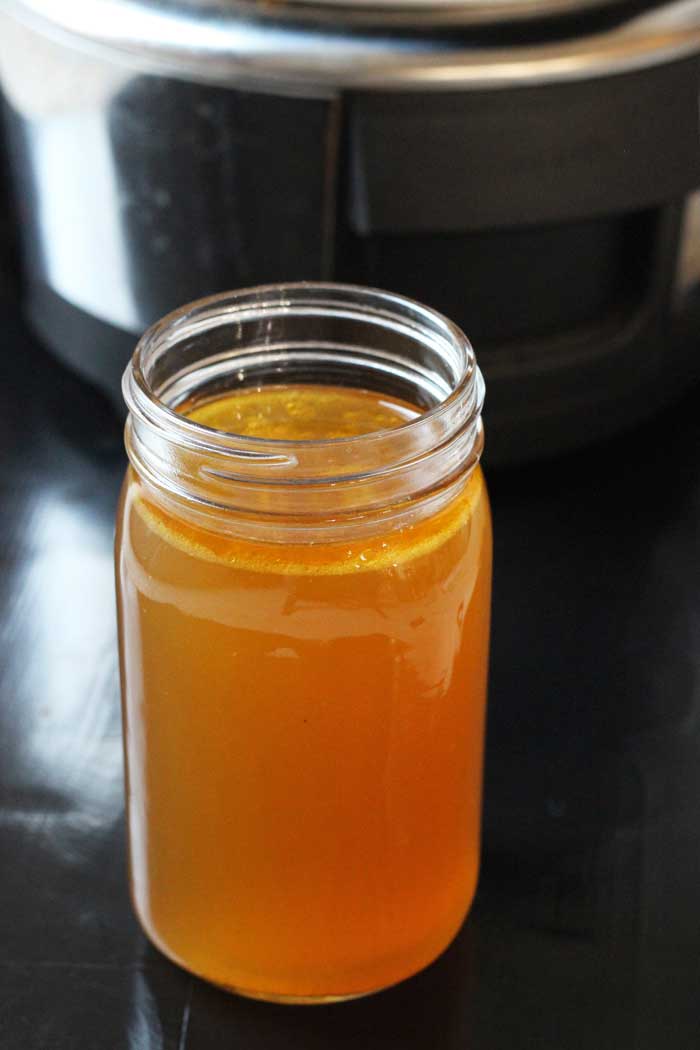 Pictured: Homemade Chicken Stock
3. Use good broth or stock.
Soup is really just flavored liquid with yummy things in it. So, it stands to reason that the liquid you use makes a huge difference in the flavor of your finished soup. You can use water, but make sure to add lots of flavorings, like spices, herbs, aromatics, and maybe tomato sauce.
For automatic flavor use a good quality stock or broth. There are some great commercial brands out there; I find Costco's organic line to be very good, but nothing beats homemade chicken or turkey stock.
After roasting a chicken one day, I make two batches of chicken stock in the slow cooker and use the rich brown stock in homemade soup a day or two later. So good and practically free!
4. Add bits of meat and vegetables that you have on hand.
Add vegetables in the order of how long they need to cook. Potatoes take longer than peas, so add them early. The peas can wait until the end.
If you're adding a protein, like beans or cooked meat, you can probably stir them into the soup pot in the last ten minutes, just to heat them through. If they are uncooked proteins, you'll obviously need to add them earlier to give them time to cook.
Not sure what to mix in? Check out this list of foods to stash in the freezer for a quick weeknight soup.
5. Be sure to taste and adjust the seasonings.
When you make homemade soup, you'll find that it has nowhere near the saltiness of commercial, canned soups. Be sure to taste frequently and adjust the seasonings to taste. It's your soup; make it how you like it!
So, that's pretty easy, isn't it?
You can easily make a homemade soup in less than 30 minutes, with or without a recipe. This recipe for Stone Soup is a great starting point if you want a little more guidance to making homemade soup without a recipe.
What's YOUR favorite homemade soup to make?