Homemade granola is cheaper than store bought and it can be super simple to make! This Maple Granola, loaded with nuts and seeds, is HALF the price of a commercial equivalent, making it a very good cheap eat.
How do you love granola? With milk and dried fruit? Layered with yogurt and fresh fruit? Eaten out of hand like a snack?
Some granolas can taste almost like dessert, making them a very delicious way to get your whole grains.
Store granola can be pretty pricey. Good thing it's pretty inexpensive to make your own.
Inspired by a recipe from Ellie Krieger, this Maple Granola is the simplest one you've ever made. Simply toss oats, nuts, and seeds with a little salt and maple syrup. Bake until crisp. Delicious!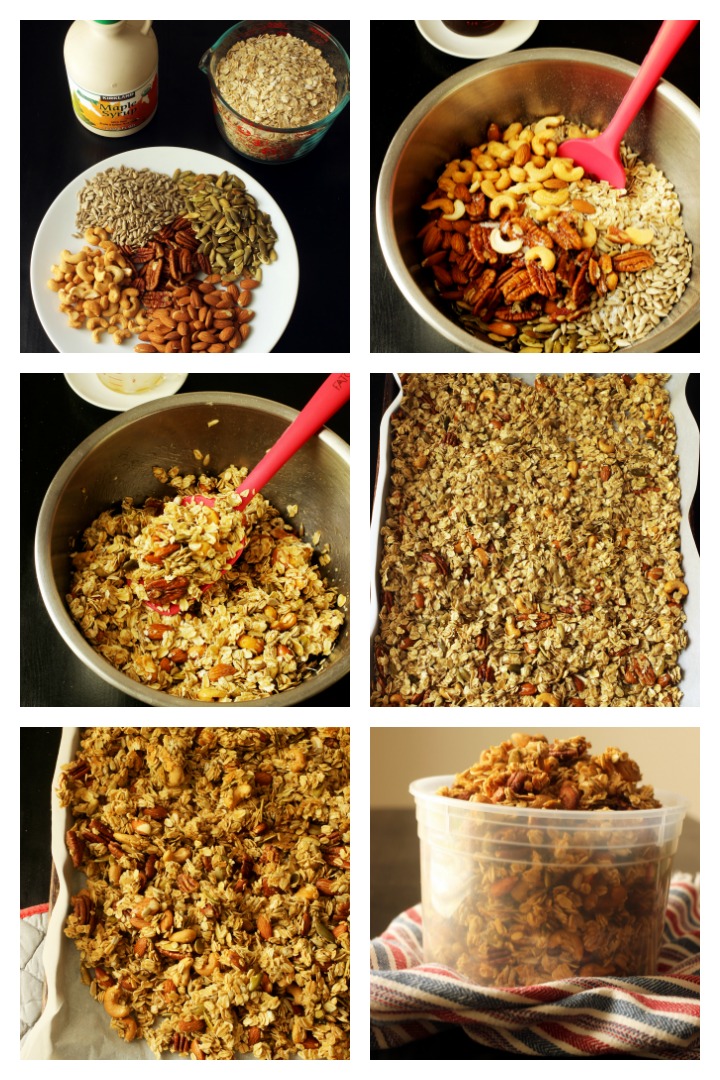 How do you make maple granola from scratch?
Making granola is super simple. Throw some dry ingredients like oats, nuts, and seeds in a bowl. Add a sweet liquid. Toss well to combine.
Lay the mixture out on a parchment-lined tray and bake until crisp and browned.
How long should you cook granola?
How long you cook the granola depends on how much you're making and what temperature you bake it at. Low heat is helpful as it allows the oats to crisp without burning.
Generally speaking you'll need 30 to 60 minutes to cook a batch of granola.
What is the liquid in maple granola?
Usually the liquid in a granola recipe is oil mixed with a sweetener, about half and half. This Maple Granola Recipe is oil-free and gets plenty of flavor and sweetness from real maple syrup.
This makes it so easy to make this homemade granola.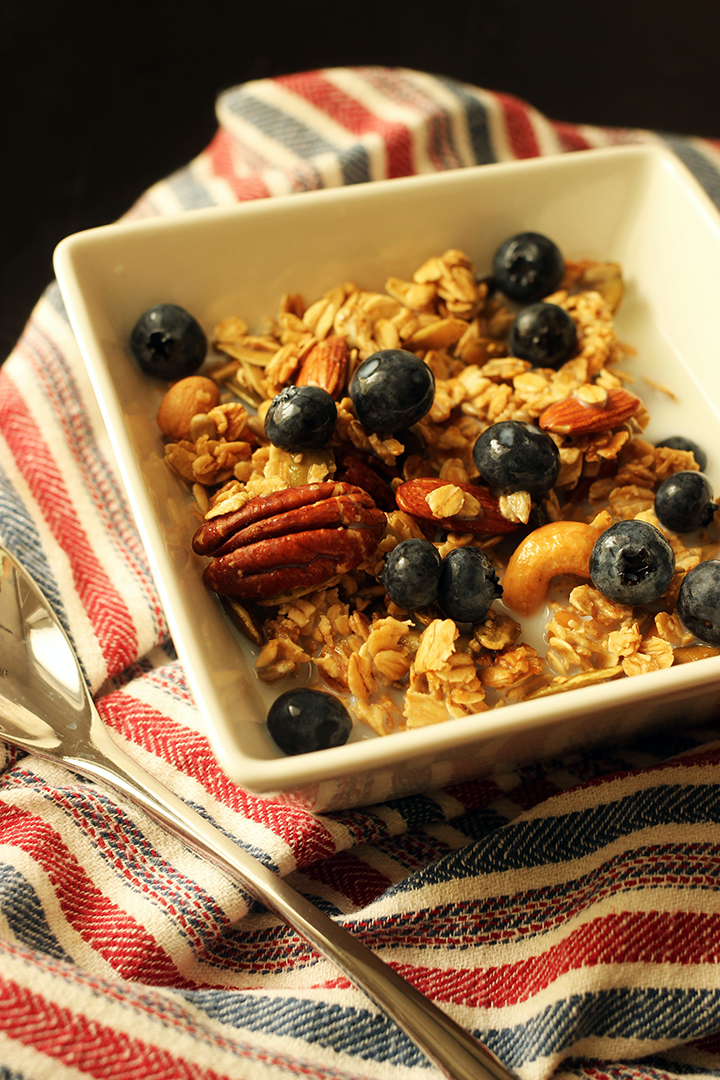 What kind of oats do you use in granola?
Old-fashioned rolled oats are best for making granola. Steel-cut and quick oats don't have the right texture to complement granola. That said, flaked rye, quinoa, and spelt are all great additions to the rolled oats.
What kind of mix-ins are good in granola?
Once you've made a tasty base of grains and nuts and your binder, it's nice to have some mix-ins. These ingredients are all good added to granola:
However, be sure to add the chocolate and dried fruit after the granola has baked and cooled. Otherwise, the chocolate will melt and the fruit will get too hard.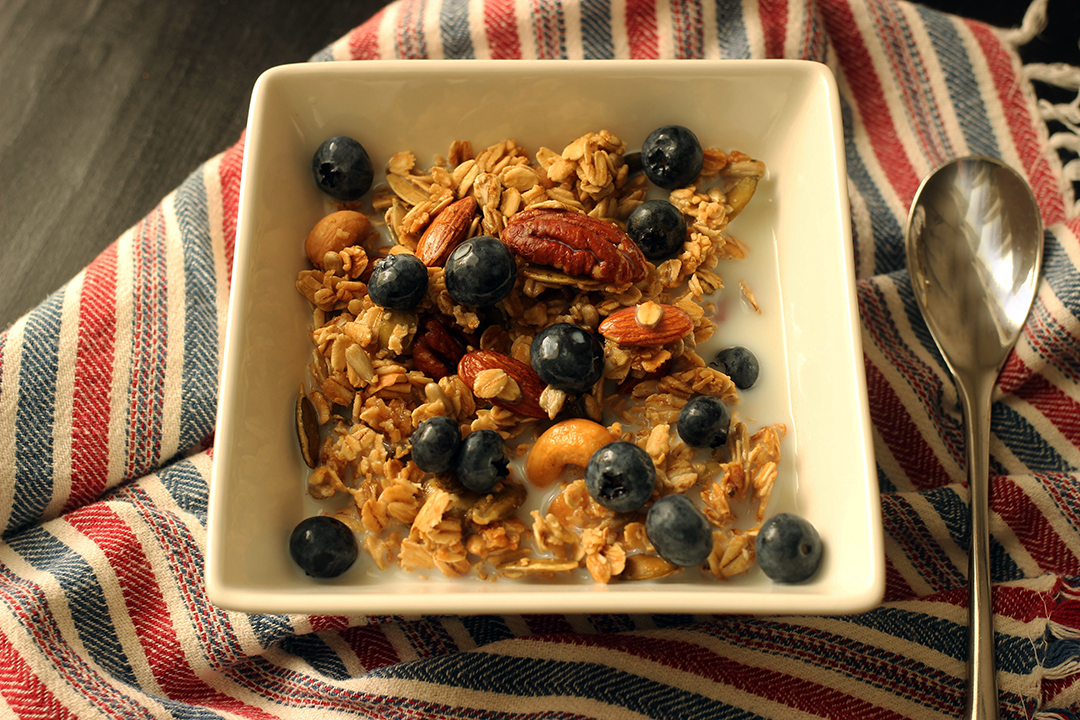 Is it cheaper to make your own granola?
You know me, I love to make Good Cheap Eats. And you know that commercially made items are often more expensive than homemade.
Is it cheaper to make your own granola? Here's how this recipe pencils out:
rolled oats – $1.00 ($3.50/42 oz)
mixed nuts – $4.00 ($7.99/16 oz)
maple syrup – $4.00 ($15.99/32 oz)
seeds – $1.20 ($2.49/8 oz)
This batch makes 30 ounces, more than 9 cups of granola. The cost for this large, nut-laden batch is $10.20 or $0.34/ounce. By comparison, commercial maple-nut granola is $6.49/11 oz or about $0.59/ounce.
Homemade is about half the price of store-bought!
How can you save more when making this recipe?
Nuts and real maple syrup can be pretty costly, which accounts for the higher price of this granola recipe.
Consider these strategies from the Good Cheap Eats System to help you lower your costs even more:
Use what you have. You don't need to go out for a specific nut or seed if you don't have it. Feel free to use whatever you've got in the house, varying the amounts to suit. You can also increase the proportion of oats since they're so much cheaper than the other ingredients.
Make a plan for leftover ingredients. Since nuts and maple syrup are somewhat of an investment, be sure that you'll have a use for the rest of the package. Likewise, be sure to freeze the granola for longest storage if you don't think you'll eat it up in a couple weeks.
Visit the store with the best prices. The cost of nuts and maple syrup can vary widely from store to store. Compare prices so you know where to stock up. (I usually get my nuts and seeds at Trader Joe's and maple syrup at Costco.
Check the sales and clearance. When you see great prices, load up on these ingredients so you can have granola whenever you want.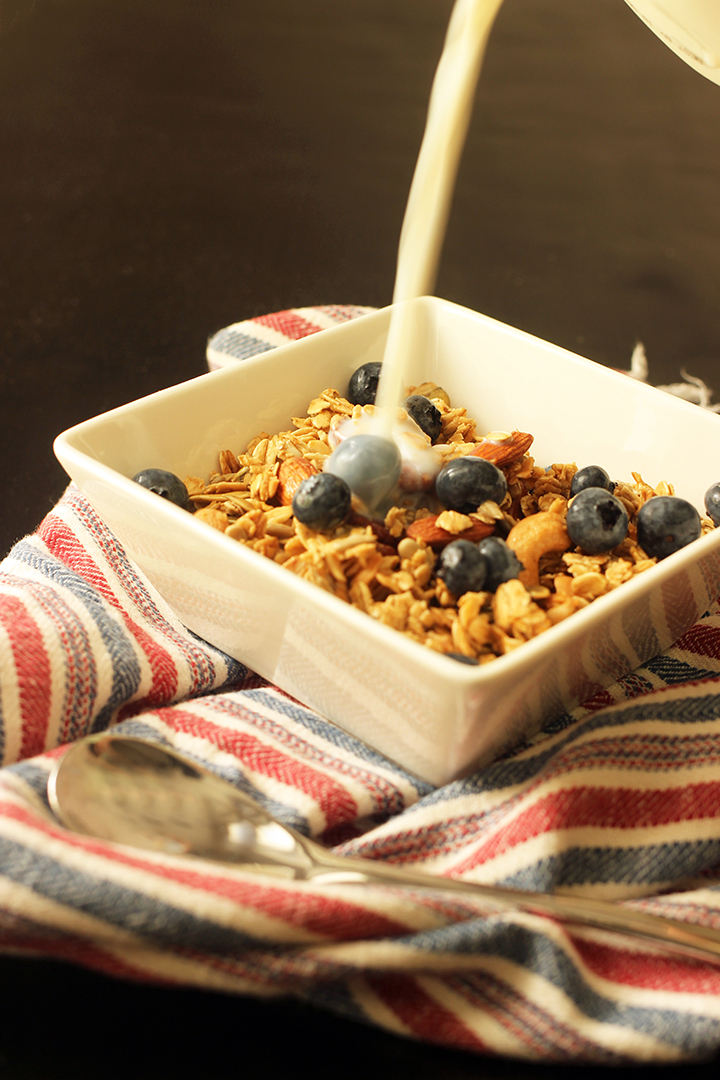 If you prepare this recipe, be sure to share a picture on social media and hashtag it
#GOODCHEAPEATS
. I can't wait to see what you cook up!
Maple Granola with Oats, Nuts, and Seeds
Bake up a batch of this easy Maple Granola loaded with nuts and seeds as well as rolled oats. It's delicious in parfaits or in milk.
Ingredients
4

cup

rolled oats

½

cup

whole pecans

½

cup

whole cashews

½

cup

whole almonds

½

cup

sunflower seeds

½

cup

pepitas

½

teaspoon

salt

1

cup

maple syrup
Instructions
Preheat the oven to 300°. Line a rimmed baking sheet with parchment paper.

Combine the oats, pecans, walnuts, almonds, sunflower seeds, pepitas, and salt in a large mixing bowl. Add the maple syrup, tossing to coat all components.

Spread the mixture on prepared baking sheet. Bake 30 - 45 minutes, stirring often, until toasted and crisp.

Cool completely and store in airtight container.
Notes
Store the cooled granola in an airtight container for up to 2 weeks. For longer storage, store in the freezer.
If using salted nuts, adjust the salt added to the recipe.
Nutritional values are approximate and based on ⅓ cup.
Nutrition
Calories:
285
kcal
|
Carbohydrates:
40
g
|
Protein:
7
g
|
Fat:
12
g
|
Saturated Fat:
1
g
|
Sodium:
102
mg
|
Potassium:
275
mg
|
Fiber:
4
g
|
Sugar:
17
g
|
Vitamin C:
1
mg
|
Calcium:
67
mg
|
Iron:
2
mg
This post was originally published on March 11, 2010. It has been updated for content and clarity.