Make your own homemade dry onion soup mix to keep on hand to flavor dips and main dish recipes.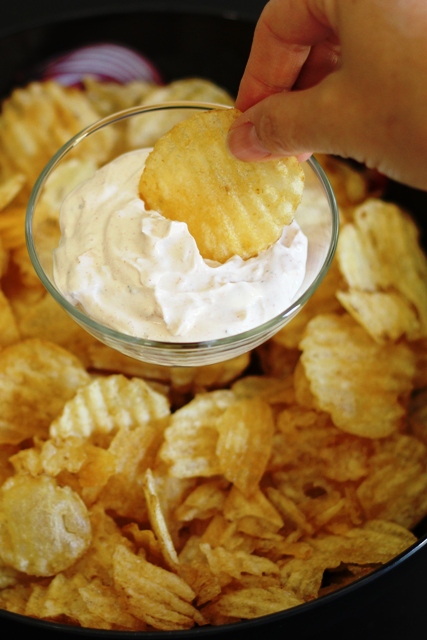 Sour Cream and Onion Dip is one of my weaknesses. And even though not all my people love sour cream as a topping, they go wild for the dip. I've developed a couple different recipes for sour cream dips, but for this DIY Convenience series, I decided to try for a dry mix that you could keep on hand, using all shelf-stable ingredients.
That's what I used to use when I was in high school and first learning to cook. Dry packaged onion soup mix was a go-to for pot roast, stew, meatloaf, and of course, sour cream dip. I don't think we ever used it as a soup, but it was mighty fine mixed into things as a seasoning.
It was also pretty chock-full of junky ingredients, excessive sodium, and weird stuff I can't pronounce, even with a graduate degree.
Making my own homemade onion soup mix sounded like the way to go. And it was tasty! I mixed it into dip, stewed it with pot roast, and stirred it into meatloaf. All I can say: Super Yum. The dip was flavorful, the roast well seasoned, and the meatloaf? Pretty awesome.
There are probably more ways to use this mix. Try it out in your favorite recipe that calls for commercial soup mix and let us know how it works out.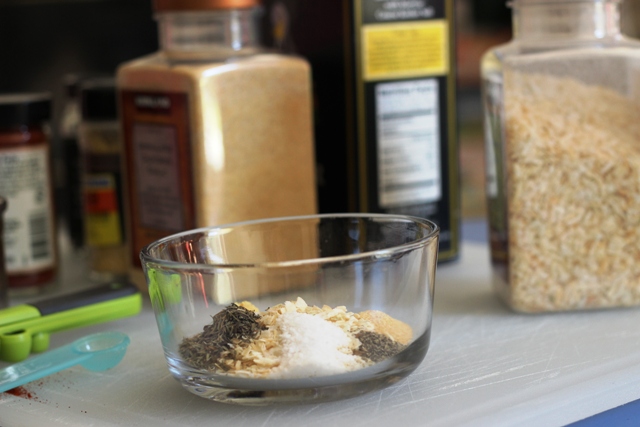 What's in homemade onion soup mix?
When you're making your own homemade onion soup mix you get to choose what's in it! Unlike those store-bought versions. Here's what in my homemade version:
dry onion flakes
kosher salt
dried thyme
paprika
dry mustard
garlic powder
black pepper
Making dry onion soup mix yourself.
This was a super easy process. Just mix dry seasonings together and voila!
Handy Storage Vessels for Mixes:
Please note that you will probably not need a one-to-one substitution for the dry mix. I'm going to bet that my version is more strongly flavored. Less is more, you know?
To make onion dip: I used 1 to 2 tablespoons of the mix to 1/2 cup sour cream
To use with meat: a few tablespoons over a pot roast; and a couple tablespoons in meatloaf.
Making it cheaper.
I honestly don't have an exact price breakdown. It looks like a packet of mix runs between one and two bucks. My guesstimate on my ingredients is about 50 cents for the batch. I'm only guessing that mine's cheaper, but I know that it's better for you and pretty convenient to make at home.
Homemade Onion Soup Mix
Make your own homemade onion soup mix to keep on hand to flavor dips and main dish recipes.
Keyword:
onion dip, onion soup mix
Ingredients
1/4

cup

dry onion flakes

also called dehydrated onion

1

teaspoon

kosher salt

1

teaspoon

dried thyme

1

teaspoon

paprika

1

teaspoon

dry mustard

1

teaspoon

garlic powder

1/4

teaspoon

black pepper
Instructions
In a small mixing bowl, combine all ingredients.

Store in an airtight container.

To use, stir into recipes as you would commercial onion soup mix (about 1 to 2 tablespoons per 1/2 cup sour cream for dip).
Nutrition Facts
Homemade Onion Soup Mix
Amount Per Serving
Calories 79
Calories from Fat 9
% Daily Value*
Fat 1g2%
Sodium 2332mg101%
Potassium 308mg9%
Carbohydrates 16g5%
Protein 3g6%
Vitamin A 985IU20%
Vitamin C 10.5mg13%
Calcium 55mg6%
Iron 2.1mg12%
* Percent Daily Values are based on a 2000 calorie diet.
What's YOUR favorite use for onion soup mix?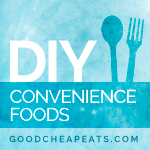 This is part of the DIY Convenience Foods series.
Don't want to miss a post in this series? Subscribe to 31 Days of DIY Convenience food here. Get updates via email here.