Make your own homemade dry onion soup mix to keep on hand to flavor dips and main dish recipes. With a few pantry staples, you can save money on homemade convenience.
Dry onion soup mix was a staple in Gramma's pantry. Adding quick and easy flavor to any number of dips, soups, sauces, and meat dishes, it was seen as a must-have. Run out and it would seem you'd run out of luck.
The great thing about this "wonder ingredient" is that you can make it yourself at home.
For better.
For less.
Yep, true story. Making your own dry onion soup mix is not only quick, but it's so much more affordable than buying the expensive packets.
Most importantly, it makes it so easy to cook at home!
Keep a batch on hand to stir into sour cream for a great dip, sprinkle on pot roast, or fold into meatballs or meatloaf. It's the ultimate, one-stop flavor shop.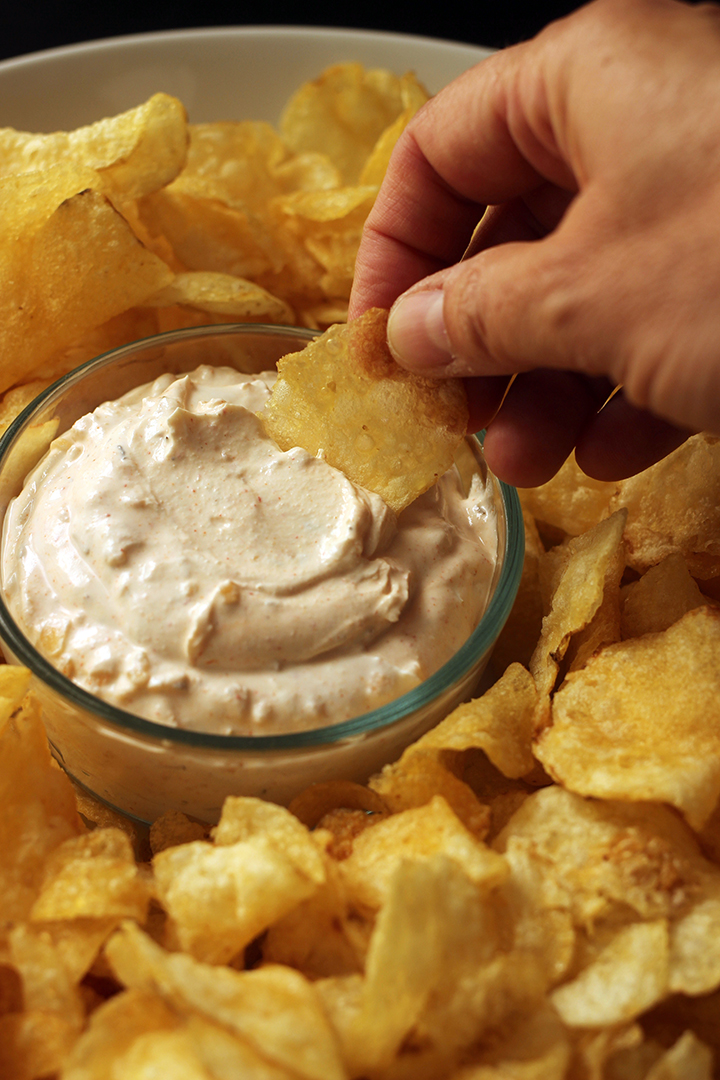 Sour Cream and Onion Dip is one of my weaknesses. Alongside some kettle chips or maybe some veggies, it's an simple pleasure.
I've developed a couple different recipes for sour cream dips, but I wanted to recreate an all-purpose dry onion soup mix that you could keep on hand, using all shelf-stable ingredients, for all the recipes that you might use the boxed mixes for.
After all, those boxed mixes got me cooking over 30 years ago.
A box makes it easy, right?
Dry onion soup mix is what I used in high school when I was first learning to cook, a go-to seasoning for pot roast, stew, meatloaf, and of course, sour cream dip. I don't think our family ever used it as a soup, but it was mighty fine mixed into things as a seasoning.
Once I grew up and had my own kids to feed, I realized that the super seasoning was also pretty chock-full of junky ingredients, excessive sugar and salt, and weird stuff I can't pronounce, even with a graduate degree.
Homemade Onion Soup Mix to Replace the Packets!
Making my own homemade onion soup mix sounded like a better alternative. And it is tasty!
I mix it into dip, stew it with pot roast, and stir it into meatloaf and meatballs. All I can say: Super Yum. The dip was flavorful, the roast well seasoned, and the meatloaf? Pretty awesome.
Try this mix out in your favorite recipe that calls for commercial soup mix and let us know how it works out.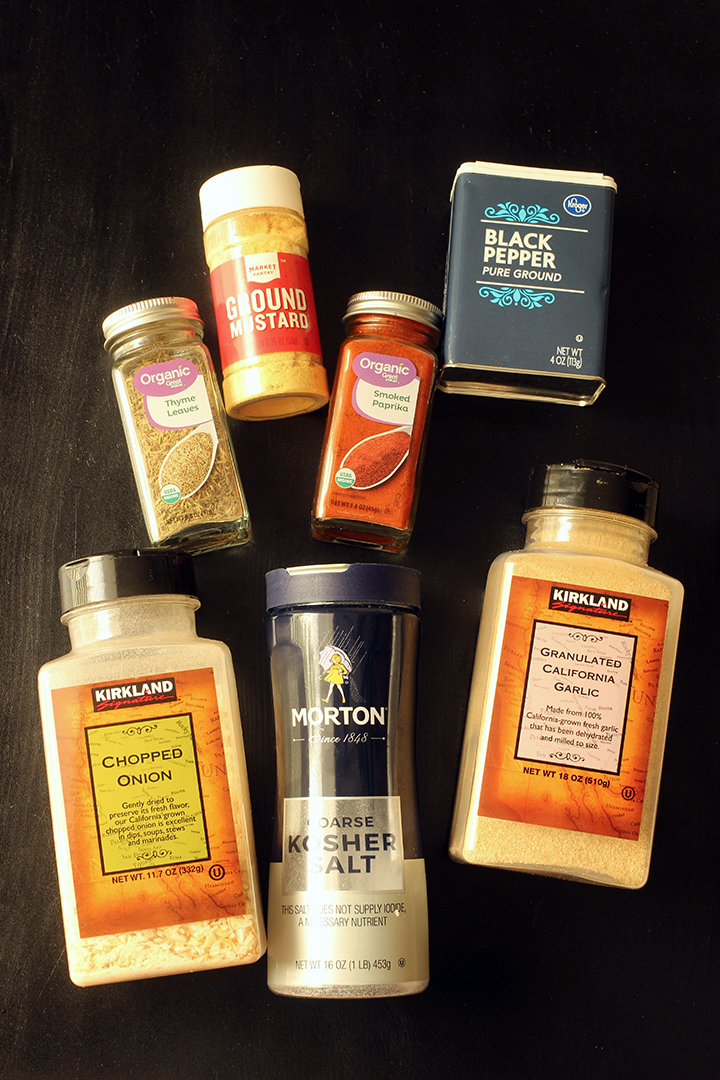 What's onion soup mix made of?
When you're making your own homemade onion soup mix you get to choose what's in it! Unlike those store-bought versions. Here's what in my homemade version:
dry onion flakes
kosher salt
dried thyme
paprika
dry mustard
garlic powder
black pepper
Other recipes you might find call for beef bouillon granules. I opted not to, making this mix vegan-friendly.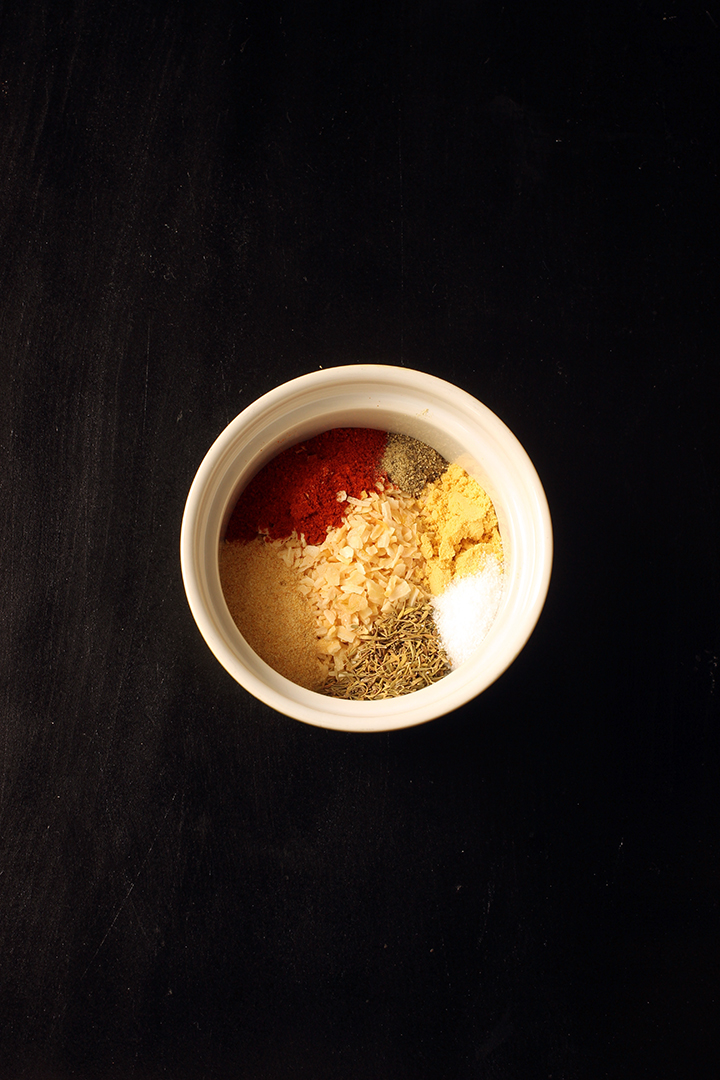 Making dry onion soup mix yourself.
Making your own soup mix is the simplest thing ever; all you do is measure! Just mix dry seasonings together and voila!
Be sure to store the mix in an airtight container in a cool, dark place.
Handy Storage Vessels for Mixes:
What can you make with onion soup mix?
Dry onion soup mix is a great flavoring for any number of dishes. It's pretty amazing, actually. Consider using this recipe as a starting point for any of the following:
soup
stew
sour cream dip
pot roast
burgers
roast potatoes
sloppy joe's
swiss steak
crispy chicken
stroganoff
rice pilaf
oven roasted vegetabels
hummus
pulled pork
shredded beef
chicken cacciatore
pot pie
shepherds' pie
chili
bean salad
salad dressing
pasta dishes

How much homemade soup mix do you add for a packet?
You will probably not need a one-to-one substitution for the dry mix. Keep in mind that the mixture is based on onion flakes. Two tablespoons of onion flakes is the equivalent of ½ onion.
Start with the following and adjust to suit your tastes.
Onion dip: 2 tablespoons of the mix to ½ cup sour cream
Pot roast: 4 tablespoons sprinkled over a pot roast plus ¼ cup water
Soup, stew, or chili: 3 to 4 tablespoons
Meatloaf or meatballs: for every pound of meat add 2 tablespoons plus ½ cup breadcrumbs, 1 egg, and 2 tablespoons tomato sauce or ketchup
Burgers: for every pound of meat add 2 tablespoons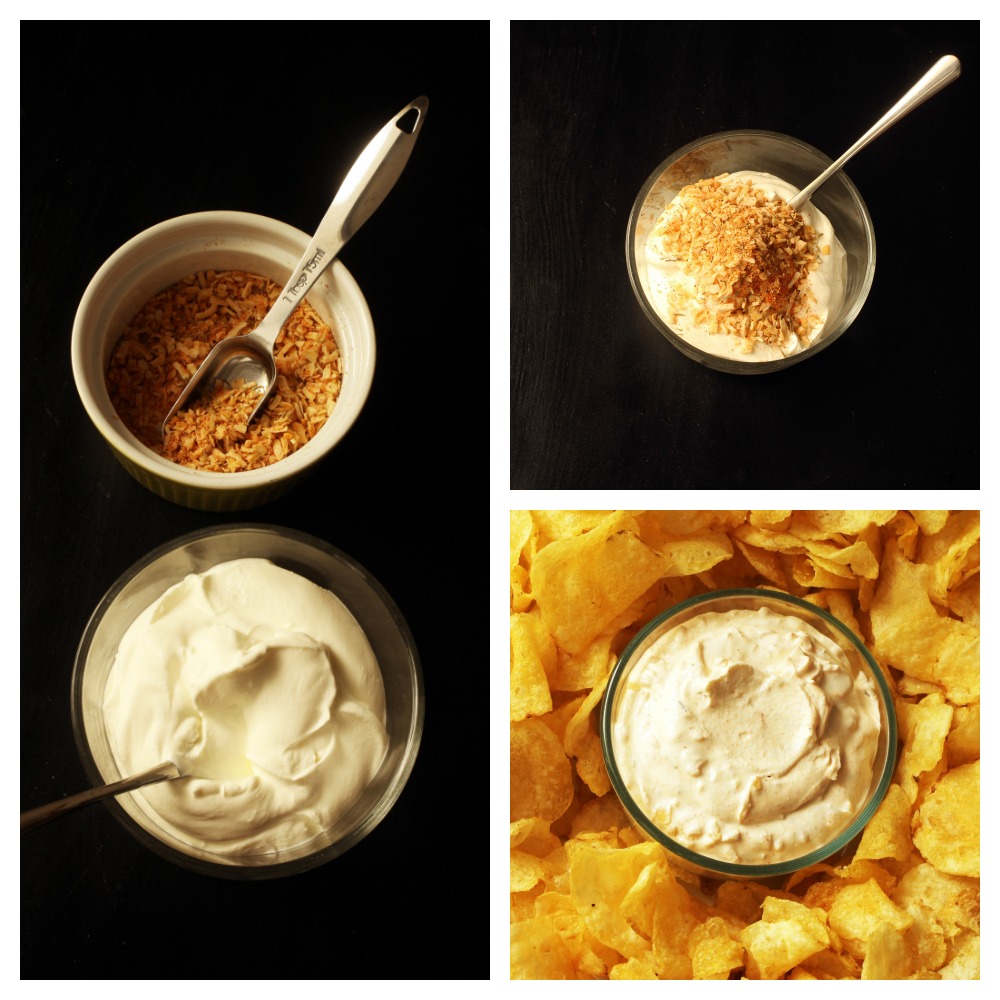 Is it cheaper to make your own onion soup mix?
You know me, I love to make Good Cheap Eats. And you know that commercially made items are often more expensive than homemade.
Is it cheaper to make your own dry onion soup mix? Here's how this recipe pencils out:
onion flakes – $0.29 ($0.98/2.35oz)
salt – $0.02 (42.99/26 oz)
pepper – $0.01 ($3.98/6oz)
dried thyme – $0.01 ($1.98/.6oz)
paprika – $0.03 ($.98/2.5oz)
garlic powder – $0.04 ($0.98/3.4 oz)
dry mustard – $0.20 ($3.97/1.6 oz)
This batch makes about ⅓ cup, enough for 1 to 3 recipes. The cost is $0.60. By comparison, name brand onion soup mix is $3.49/2 oz, enough for two batches.
Even if you used a full batch of the mix to replace a packet, you're saving by a huge margin. The commercial brand is almost three times the cost of homemade!
How can you save more when making this recipe?
Consider these strategies from the Good Cheap Eats System to help you lower your costs even more:
Use what you have. While the onion flakes, salt, and pepper are required for the recipe, you can take a little liberality with the other spices, swapping in whatever you've got in the house, such as oregano for the thyme, chili powder for the paprika, and onion powder for the garlic powder.
Make a plan for leftover ingredients. One batch of this mix will probably serve you for at least two recipes. Make sure to use it all so as not to waste it.
Visit the store with the best prices. The cost of herbs and spices can vary widely from store to store. Compare prices so you know where to stock up. (I usually get my onion flakes and garlic powder at Costco.)
Check the sales and clearance. When you see great prices, load up on these ingredients so you can have your own onion soup mix whenever you want.
Buy spices in bulk. I love shopping at Costco to save a few dollars. Instead of paying a few dollars for a small jar of garlic powder or onion flakes, I buy larger container for even less!

If you prepare this recipe, be sure to share a picture on social media and hashtag it
#GOODCHEAPEATS
. I can't wait to see what you cook up!
Homemade Onion Soup Mix
Make your own homemade onion soup mix to keep on hand to flavor dips and main dish recipes.
Ingredients
¼

cup

dry onion flakes

also called dehydrated onion

1

teaspoon

coarse salt

1

teaspoon

dried thyme

1

teaspoon

paprika

1

teaspoon

dry mustard

1

teaspoon

garlic powder

¼

teaspoon

black pepper
Instructions
In a small mixing bowl, combine all ingredients.

Store in an airtight container.

To use, stir into recipes as you would commercial onion soup mix (about 1 to 2 tablespoons per ½ cup sour cream for dip).
Notes
To make onion dip:  I used 1 to 2 tablespoons of the mix to ½ cup sour cream
To use with meat: a few tablespoons over a pot roast; and a couple tablespoons in meatloaf.
Nutritional values are approximate and based on 1 tablespoon.
Nutrition
Calories:
79
kcal
|
Carbohydrates:
16
g
|
Protein:
3
g
|
Fat:
1
g
|
Saturated Fat:
1
g
|
Sodium:
2332
mg
|
Potassium:
308
mg
|
Fiber:
3
g
|
Sugar:
6
g
|
Vitamin A:
985
IU
|
Vitamin C:
10.5
mg
|
Calcium:
55
mg
|
Iron:
2.1
mg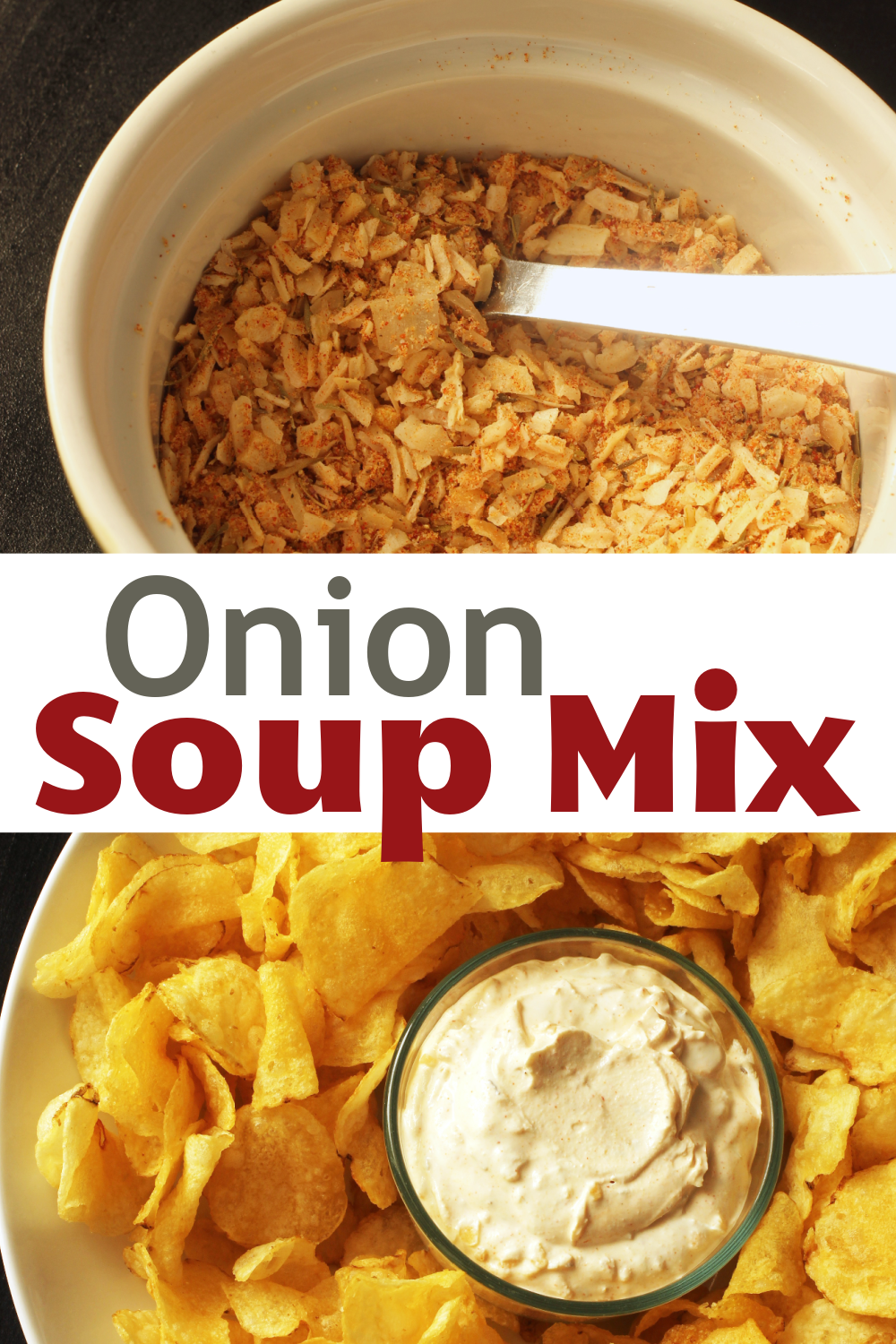 What's YOUR favorite use for onion soup mix?
This post was originally published October 21, 2013. It has been updated for content and clarity.