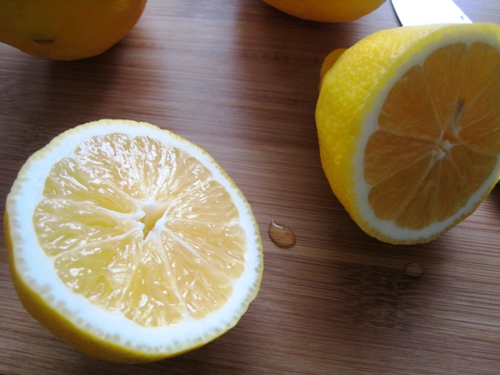 My childhood home has a Meyer lemon tree growing in the backyard. It's over 40 years old, and yet my dad is able to harvest hundreds of lemons from it every year — and share them with me. We love it!
I lived a privileged life as a child in as much as I had this wealth of lemons twice a year. We weren't rich. Ours was quite the modest neighborhood. But thanks to a backyard garden, we ate like kings. And fresh lemonade was a regular feature on our table.
I never had a grocery store lemon until I went to college. And I was stunned. Meyer lemons are a totally different and beautiful experience when it comes to citrus.
The Meyer Lemon
The Meyer lemon is a cross between a lemon and a mandarin orange. Frank Meyer, an USDA employee, collected a sample of the tree when he was traveling in China in the early 20th century. For most of that century it was relegated to backyard gardens, particularly California gardens like ours, because its thin skin wasn't sturdy enough for mass distribution.
In the late 1990s chef Alice Waters and home manager extraordinaire Martha Stewart helped the Meyer Lemon come into its own. And it continues to grow in popularity.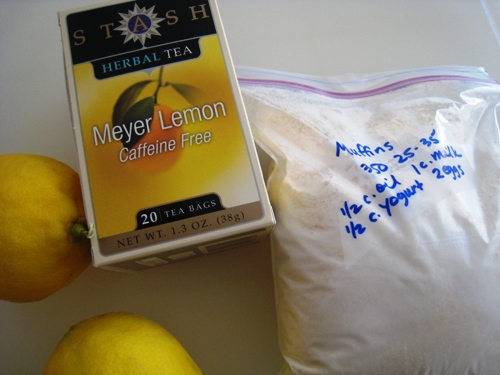 Meyer Lemon Herbal Tea by Stash
Recently Stash Tea sent me a sample of their latest flavor — Meyer Lemon. Herbal tea takes me back to the year I lived in France and my friend Sarah and I explored all flavors of tisane. We would have loved this one, crafted from a blend of rosehips, lemongrass, orange peel, hibiscus, Meyer lemon oil, and safflower.
Currently, Stash is running a recipe contest, featuring this newest flavor of herbal tea. There are several different categories to enter. And the prizes include a Kitchenaid Mixer, a dutch oven from Le Creuset, a Breville blender, a Takeya tea maker, and of course, cases of Meyer Lemon Herbal Tea. To read more details on the contest and to enter, go here.
I got creative with this tea and decided to use it in baking. I already had a bag of Mix and Match Muffins in the freezer. So, I substituted tea for the liquid. The result was a batch of lemony sweet muffins that my family devoured in a flash.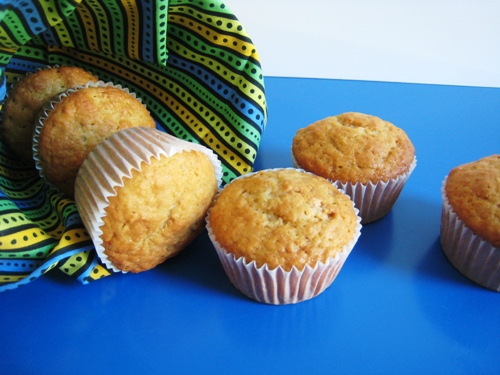 Recipe: Meyer Lemon Tea Muffins
Ingredients
3 cups unbleached flour
1/2 cup whole wheat flour
4 teaspoons baking powder
1/2 teaspoon baking soda
1/2 teaspoon salt
1 cup sugar, brown sugar, or sucanat
1/2 cup oil
1 cup strongly brewed Stash Meyer Lemon Herbal Tea, cooled
1/2 cup plain yogurt
2 eggs
the zest of one lemon
Instructions
Preheat oven to 350 °. Line 2 muffin tins with papers or spray with nonstick cooking spray. In large mixing bowl, combine, flours, baking powder, baking soda, salt, and sugar. (If preparing as a mix, simply combine all these ingredients in a ziptop bag, label well, mark with the wet ingredients and baking instructions.)
In a separate bowl, combine oil, milk, yogurt, and eggs. Whisk to blend. Add wet ingredients to dry. Fold gently until mostly moistened, but still lumpy. Fold in mix-ins.
Divide batter amongst 24 muffin cups. Bake 25 – 30 minutes, or until a tester comes out with a few crumbs attached.

A Giveaway from Stash
This week Stash is offering a free box of Meyer Lemon Herbal Tea to three GoodCheapEaters.
To Enter: Simply leave a comment on this post, telling us about how and when you serve tea.
This giveaway will be open until Sunday, May 1st at 8 pm, PST. Winners will be chosen randomly and notified via email. You will have 48 hours to respond to the email in order to claim your prize.
THIS GIVEAWAY IS NOW CLOSED. CONGRATS TO THE WINNERS: chayo.ramirez@, eckert.s@, csbailey@
Put Your House in Order
Over the last few months I've collaborated with a great group of bloggers in the Put Your House in Order series. Each of us has covered a different aspect of home management.
Over the last three months we've talked about new beginnings, ways to love our families, welcoming spring, and considering new growth. Today each of these ladies is hosting a giveaway as well. Pop over to see them and enter their giveaways as well:
Disclosure: I received tea samples from Stash Tea. I was not compensated to publish positive comments. All opinions are my own.