Enjoy a bright, spring dessert with this Lemon Poppy Seed Cake. Scented with lemon and layered with lemon curd, the tender cake is topped with luscious Vanilla Buttercream Frosting.
Serve this easy to prep cake as a bright and lemony addition to your Easter Desserts.
Spring is here, and in my book, that means time for some sweet and lemony desserts. While Lemon Meringue Pie is pretty high on my list, this Lemon Poppy Seed Cake is a close second.
The tender poppy seed cake gets a delicious aroma from lemon zest. Then a thick layer of lemon curd is sandwiched between two cake layers. It's all topped off with thick and creamy, vanilla-flavored Buttercream Frosting.
Lemon Poppy Seed Cake – Homemade
When my Aunt Cass was battling cancer the second time, I got the chance to visit with her twice, once in Minnesota and once when she spent a few days with us in San Diego. My mission? To fatten her up.
She had trouble with her appetite so I spent hours researching foods to shop to her and quizzing her on what she was willing to eat. This cake is born of that effort and dedicated to her.
Cass said that Lemon Poppy Seed was her favorite cake, so I worked to make it from scratch, something that's been hard for me over the years. I've always loved to decorate cakes, but I often cheat when it comes to the cake-part.
I'm pleased to report that all the testing and tweaking was worth it. I took an old Poppy Seed Cake recipe from my mom's recipe card box, messed with a few times, and finally did something new.
Most of the cake recipes I've seen call for one to cream the butter and sugar, the add liquid and flour, alternating. This resulted in a dry poppy seed cake that disappointed.
Then I read about the paste method or reverse creaming in which you combine the butter and the dry ingredients together first and then add the liquid. This method slows the formation of gluten and resulting in a soft and tender cake.
It kinda made a mess of flour flying, so I recommend using a very big bowl or stand mixer. 😉
What does poppy seed cake taste like?
Poppy seed cake is mild, not too dense, not too sweet. The poppy seed tastes nutty.
Why do you soak poppy seeds in milk?
Soaking poppy seeds is said to soften the seeds and bring out the flavor.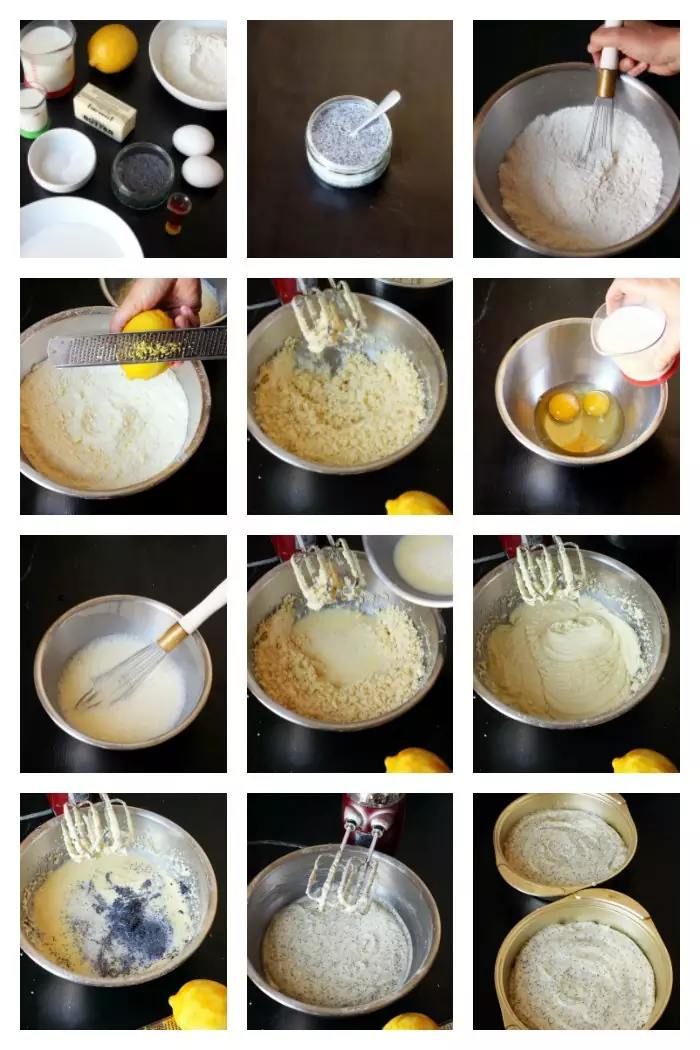 How do you make Lemon Poppy Seed Cake?
This Poppy Seed Cake recipes requires a few steps, but with all things delicious, it's totally worth the effort.
Preheat the oven and spray two round cake pans with nonstick cooking spray and line them with parchment paper.
Soak the poppy seeds in a bit of the milk.
Whisk together the dry ingredients in a large mixing bowl. Add the lemon zest.
Beat in the softened butter until the mixture is sandy and characterized by little clumps.
Whisk together the milk and eggs. Add half this mixture to the butter mixture and blend. Add the remainder of the milk mixture as well as the poppy seeds. Mix well to blend.
Divide the cake batter into the prepared pans and bake. Cool on a rack.
Once cool, place the bottom layer on a cake platter. Spread the lemon curd over the cake. Sandwich the top layer atop the curd.
Spread the buttercream over the entire cake. Gobble down within three days or freeze for longer storage.
Variations
I love this cake with vanilla buttercream, but it's also delicious with other frostings such as Orange Buttercream Frosting or Fluffy Cream Cheese Frosting.
You can also bake a 9×13-inch cake, top it with Sweet Cream Cheese, and drizzle it with Lemon Sauce.
Do you need special equipment to make Poppy Seed Cake?
This cake recipe really couldn't be easier than it is, but having the right kitchen tools can really make your time in the kitchen more enjoyable. Over time, I've honed my collection so that they are perfect for my needs.
Here are the tools that I use for this recipe: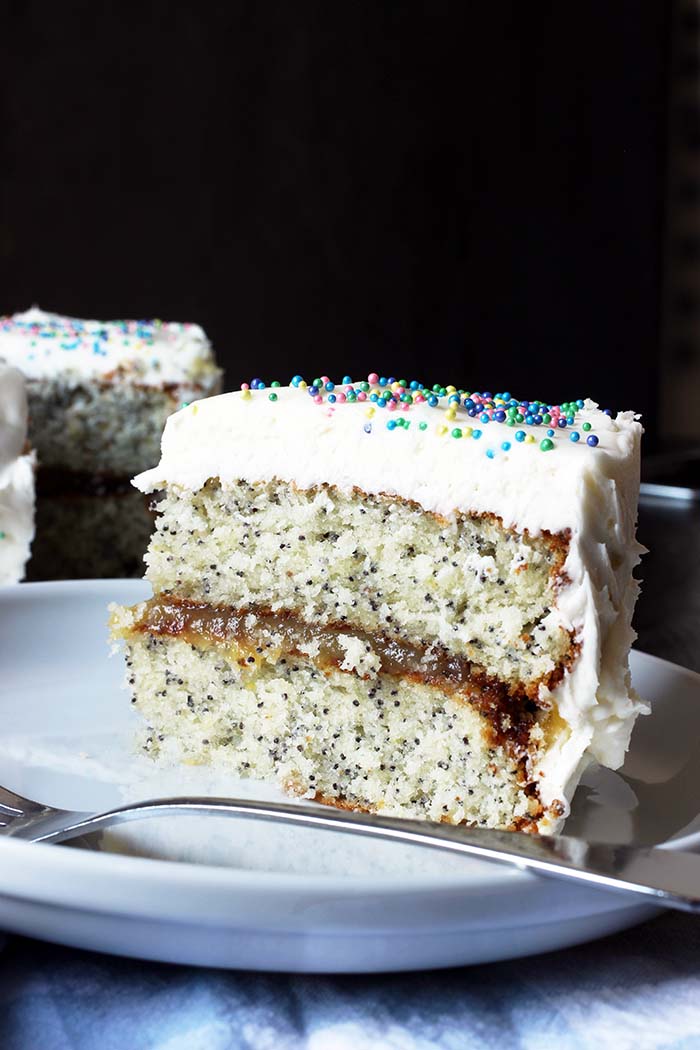 How much does it cost to make Lemon Poppy Seed Cake?
Homemade lemon poppy seed cake calls for basic baking ingredients that, when bought at regular prices, break down as follows:
flour – $0.30 ($2.69/5 lbs)
sugar – $0.33 ($1.97/4 lbs)
baking powder – $0.09 ($1.49/8.1 oz)
salt – $0.02 ($2.99/26 oz)
butter – $0.92 ($3.69/lb)
milk – $0.24 ($3.09/gal)
eggs – $0.50 ($2.99/dozen)
poppy seeds – $1.50 ($3.49/1.96 oz)
vanilla extract – $0.67 ($7.99/2 oz)
Homemade Buttercream Frosting – $4.01
Total cost for a homemade lemon poppy seed cake at non-sale prices = $8.58 or 72 cents per slice. For a bakery-quality cake, I'd say this is a great deal.
If you shop the Good Cheap Eats way, that is shopping the best store, the sales, and clearance, you can easily get that price much, much lower.
Here are some of the strategies you can use to make this recipe more economical:
Stock up on ingredients when they are on sale. When I find regular kitchen staples on sale, I buy a lot. I'm currently using a price book to track prices and that's saving me money. For this recipe, keeping an eye on the price of sugar, flour, and butter can help keep the price down.
Buying in bulk – Poppy seeds are one of the more expensive ingredients in this recipe. Buying them from the bulk bin of the health food store or finding them at a lower unit cost from a restaurant store may offset this cost.
Make your own vanilla extract. Vanilla extract is super easy to make and is much more economical than buying commercially made extract.


If you prepare this recipe, be sure to share a picture on social media and hashtag it
#GOODCHEAPEATS
. I can't wait to see what you cook up!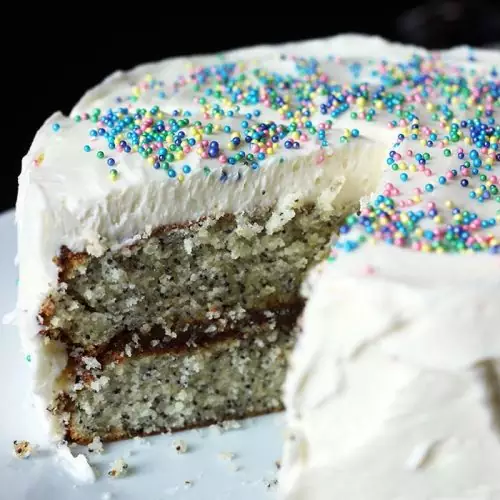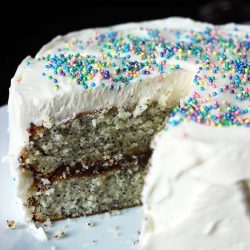 Lemon Poppy Seed Cake
This tender cake is studded with poppy seeds and lemon zest and then layered with lemon curd and homemade buttercream frosting.
Print
Pin
Rate
Ingredients
1 ¼

cup

milk

¼

cup

poppy seeds

2

cup

unbleached, all-purpose flour

1 ½

cup

granulated sugar

1

tablespoon

baking powder

1

teaspoon

salt

1

lemon, zested

½

cup

butter

softened

2

egg

1

teaspoon

vanilla extract

½

cup

lemon curd

1

batch

Homemade Buttercream Frosting
Instructions
Preheat the oven to 350 degrees. Spray two 8-inch round cake pans with nonstick cooking spray and line the bottoms with rounds of parchment paper.

In a small bowl combine ¼ cup milk with the poppy seeds. Set aside.

1 ¼ cup milk,

¼ cup poppy seeds

In a large mixing bowl of the bowl of a stand mixer, whisk together the flour, sugar, baking powder, and salt. Whisk in the lemon zest.

2 cup unbleached, all-purpose flour,

1 ½ cup granulated sugar,

1 tablespoon baking powder,

1 teaspoon salt,

1 lemon, zested

Add the butter and with a mixer, blend the butter into the dry ingredients until it appears grainy and small clumps form.

In a separate bowl, mix together the remaining cup of milk, the two eggs, and the vanilla extract.

2 egg,

1 teaspoon vanilla extract

Add the liquid to the flour micture in two additions, then stir in the seeds and their milk, beating 15 seconds on medicum after each addition.

Divide the mixture into the prepared pans and bake for 28 minutes or until the cake springs back when lightly touched and a tester comes out with a few crumbs attached.

Cool the cakes on a rack for 15 minutes prior to removing them from the pans and removing the attached parchment paper. Allow the cakes to cool completely.

To frost, place one cake layer on the serving platter. Spoon the lemon curd on top and spread to the edges. Place the second layer on top.

Frost the entire cake with the buttercream frosting. Add sprinkles or decor if you wish.

1 batch Homemade Buttercream Frosting

The cake can be stored at room temperature until serving. If you prefer cold cake, store it in the refrigerator.
Notes
Promptly store leftovers in an airtight container and consume within 3 days.
Nutritional values are approximate and based on 1 slice of cake. Values do not account for frosting.
Adaptation: if you have a white cake mix, you can substitute that for the flour, sugar, baking powder, and salt. Follow the package instructions, using milk and butter for the oil and water, adding milk-soaked poppy seeds, lemon zest, and vanilla extract to the batter.
Nutrition
Calories:
300
kcal
|
Carbohydrates:
49
g
|
Protein:
4
g
|
Fat:
10
g
|
Saturated Fat:
6
g
|
Cholesterol:
23
mg
|
Sodium:
303
mg
|
Potassium:
172
mg
|
Fiber:
1
g
|
Sugar:
32
g
|
Vitamin A:
278
IU
|
Calcium:
107
mg
|
Iron:
1
mg
Tried this recipe?
Tell us what you think! Your reviews help us develop better recipes and give newcomers the confidence to try your favorites. Scroll down to leave a starred comment.