We all know that a cake sometimes needs to come from a mix, but not the frosting! Top your favorite cake with this easy-to-whip-up Fluffy Cream Cheese Frosting.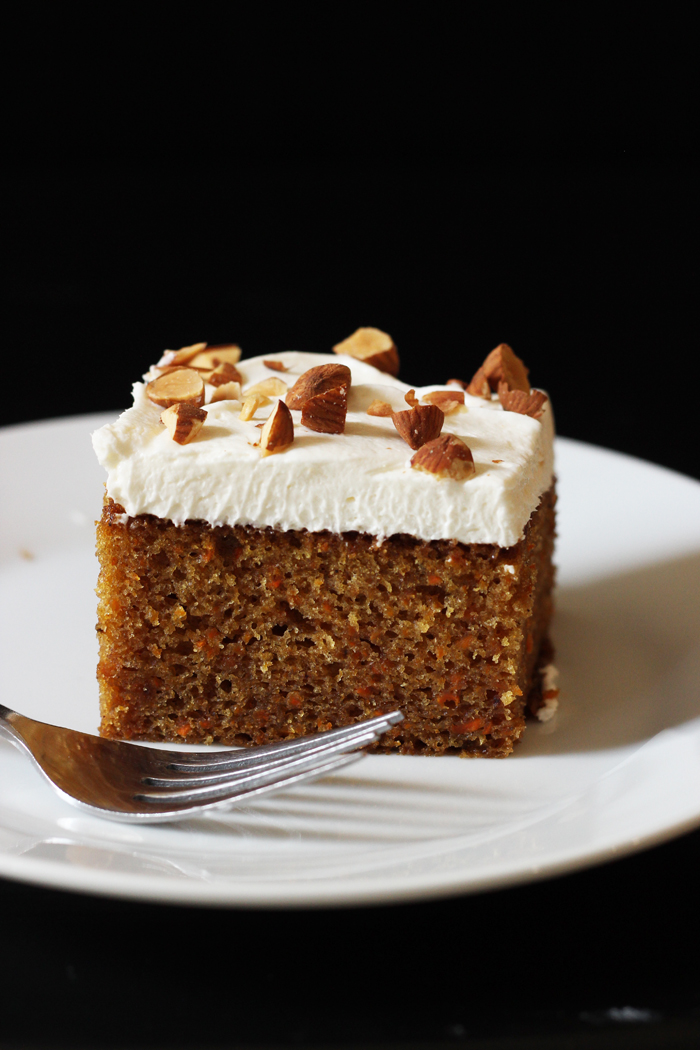 Every mom knows that sometimes a cake needs to come from a box. There are times and places for things, and while you would love to be the hostess with the mostest, some times and some places call for a cake mix shortcut.
However, I draw the line at using frosting from a can. I've done my time in Frosting Can Land, and I know — yes, sweet sister — I know with every fragment of my being that there's a better way.
The wonderful thing is that homemade frosting is not hard. Oh no! It's not hard. It's so quick and easy that when you slather it on your cake mix cake and serve it at your next party/potluck/PTA meeting, everyone will want to know what in the world you did to make such an amazing cake!
Trust me.
Such is the case with this Fluffy Cream Cheese Frosting. It's what I typically use to top my very favorite Carrot Cake. But, I've been known to use it on chocolate cake, lemon cake, zucchini cake, and banana cake. It's just very friendly and versatile like that.
Now let me tell you there are two tricks you need to keep in mind in order to make this Fluffy Cream Cheese Frosting quick and easy.
Your butter and cream cheese MUST be softened.
Your powdered sugar MUST be sifted.
If you don't follow these rules, my young Padawan, your frosting will not be Fluffy Cream Cheese Frosting, Lumpy Cream Cheese Frosting it will be.
And lumpy does not get you points at the PTA meeting. Sorry.
You want this to be almost like whipped cream, which means you'll need to prep your ingredients accordingly.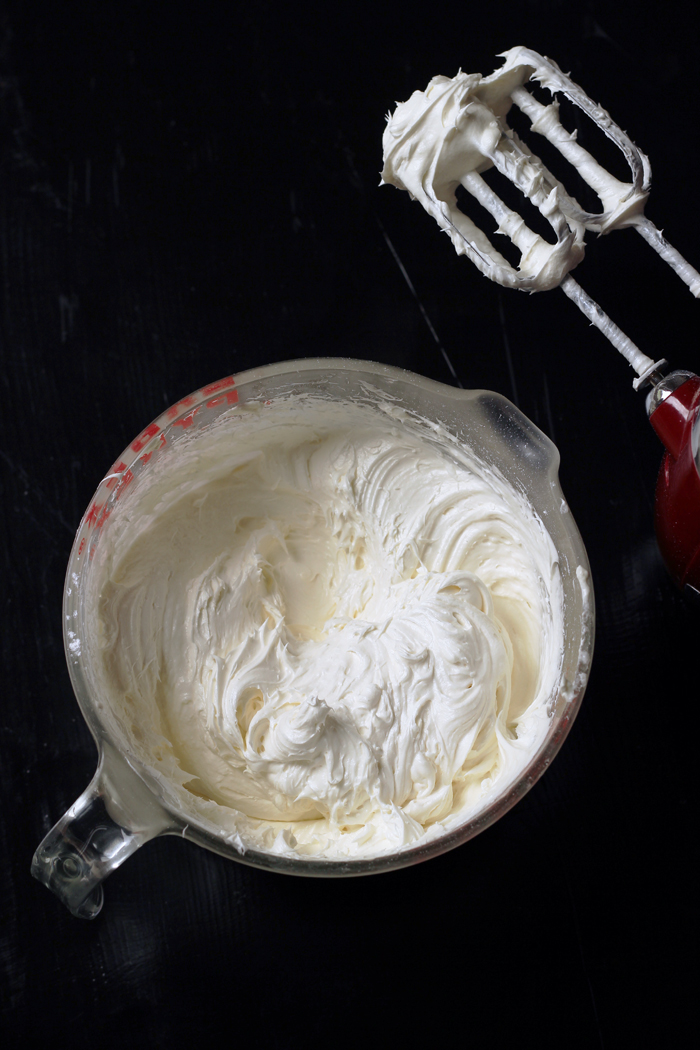 You will note that there's a range recommended on the sugar content in this frosting. If your cake is very sweet, feel free to use the lower amount of sugar. I find that cream cheese does a great job in "cutting" the sweet. If you prefer a sweeter, but not overly sweet frosting, use the 2 cups of sugar. My boys prefer it with the full 2 cups. Of course.
How to make this good and cheap:
Here are some of the strategies you can use to make this recipe more economical:
Stock up on ingredients when they are on sale. When I find regular kitchen staples on sale, I buy a lot. I'm currently using a price book to track prices and that's saving me money. For this recipe, keeping an eye on the price of butter and cream cheese is important.
Buying in bulk – I buy my butter in big ginormous packs at Costco. It offers the best unit price in my neighborhood. If you don't go through butter very fast, just freeze it, packaging and all. Thaw in the fridge or on the counter when you're ready to use it.
How I make this recipe easy:
This recipe really couldn't be easier than it is, but having the right kitchen tools can really make your time in the kitchen more enjoyable. Over time, I've honed my collection so that they are perfect for my needs.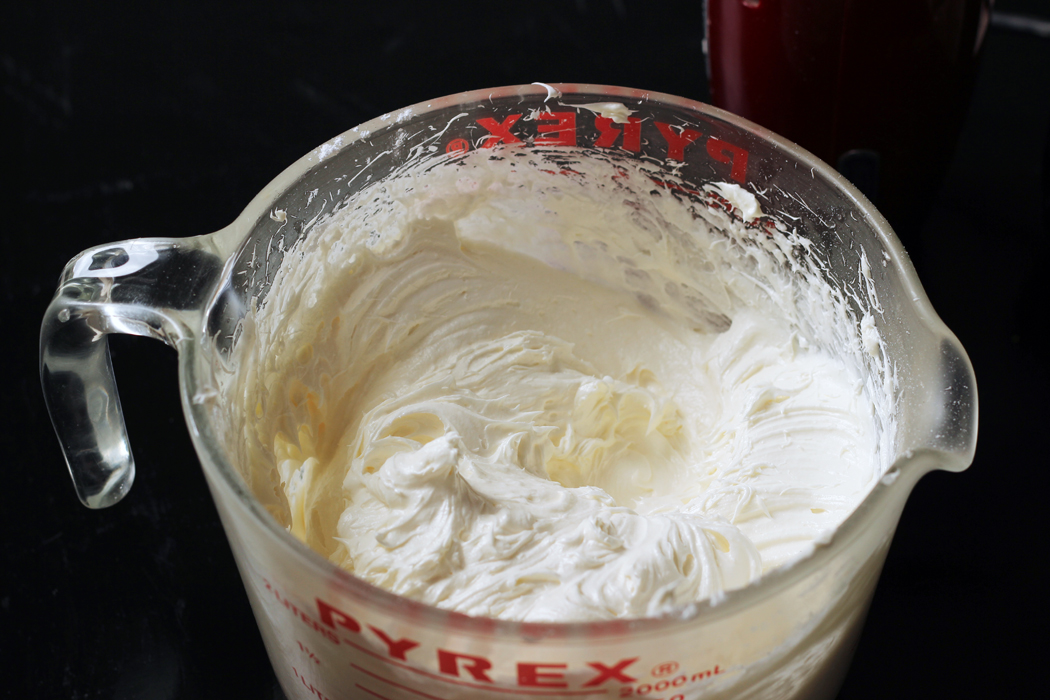 Fluffy Cream Cheese Frosting
We all know that a cake sometimes needs to come from a mix, but not the frosting! Top your favorite cake with this easy-to-whip-up Fluffy Cream Cheese Frosting.
Keyword:
cream cheese frosting
Ingredients
8

ounces

1 cup or 2 sticks butter, cut into 1/2-inch pieces and completely softened at room temperature

two 8-ounce packages Neufchatel or light cream cheese

cut into pieces and completely softened at room temperature

2

cups

confectioners' sugar

sifted

1

tablespoon

vanilla extract
Instructions
In a large mixing bowl, beat the butter on medium speed until light and fluffy, 2 to 3 minutes. Add the cream cheese one piece at a time, beating well after each addition.

When all the cream cheese is incorporated, reduce the speed to medium low and gradually add the vanilla and then the sugar, in 3 to 4 additions. Mix until the frosting is very fluffy. Use as a frosting and keep chilled until ready to serve.
Recipe Notes
Store frosting, covered, in the fride up to one week. You can also freeze frosting up to 3 months. Thaw overnight in the refrigerator before using.
Nutrition Facts
Fluffy Cream Cheese Frosting
Amount Per Serving
Calories 585
Calories from Fat 378
% Daily Value*
Fat 42g65%
Cholesterol 122mg41%
Sodium 626mg27%
Potassium 196mg6%
Carbohydrates 46g15%
Protein 6g12%
Vitamin A 1362IU27%
Calcium 121mg12%
Iron 1mg6%
* Percent Daily Values are based on a 2000 calorie diet.