Enjoy a quick and delicious lunch or dinner with these Shrimp Bowls topped with Mango and Avocado. So easy and so yummy!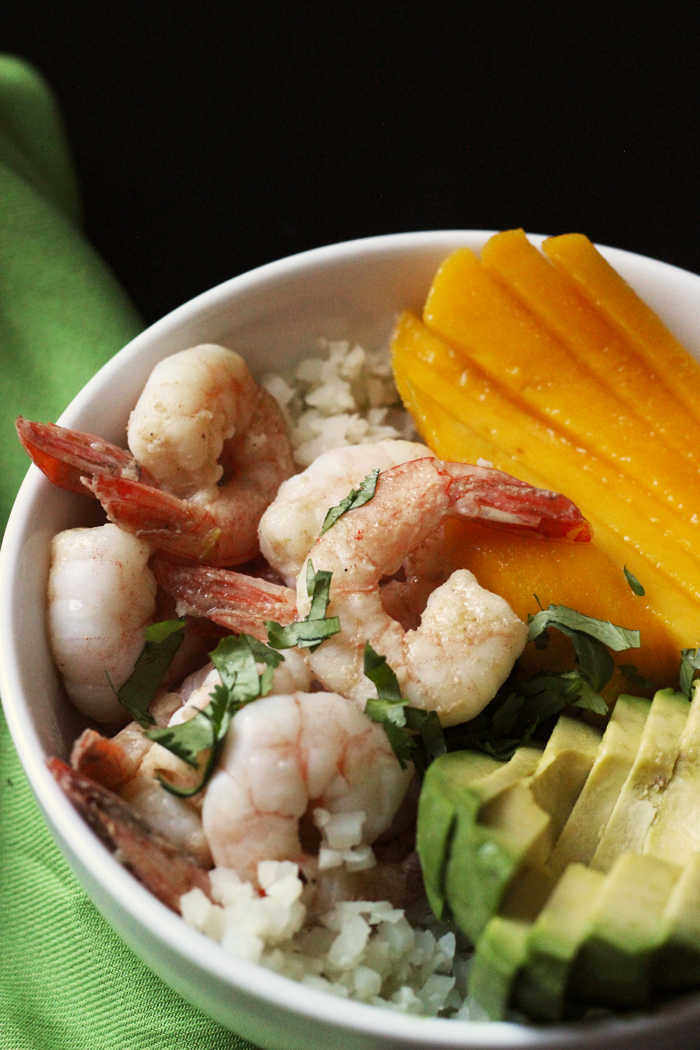 Imagine me taking pictures in the dark tonight, trying to capture this meal for you. My husband didn't believe I could do it with such low light, but yes, yes, I did. 1. I needed to cook the shrimp before it went off and 2. I knew you would love this recipe and I couldn't wait another day to share it with you.
Pro-tip: this lens is awesome for taking pictures in the dark with a natural light source nearby. lol!
I was chasing the light and am pleased to report that this meal comes together in about fifteen minutes if you're on your toes. And if you didn't believe me about how awesome bowl meals are, these Shrimp Bowls will convince you.
So, this shrimp…. my teen boys could not stop talking about this shrimp. FishBoy16, who's currently in the throes of a very nasty virus that takes away one's appetite, changed his tune at dinner after one bite. "I think I just found my appetite."
FishBoy19, who generally scorns most of the food I make, (spoiled kid, cough, cough) even asked what I seasoned the shrimp with. Ten bucks says he makes it himself sometime soon.
Don't turn your nose up at the cauliflower rice. As FishBoy14 said, "The cauliflower is really a vehicle for everything else that is so good." Out of the mouths of babes…. if you really want to, you can serve this on regular rice, but for a Whole 30/paleo experience go with the cauliflower rice. (Learn to make your own here.)
As for the mango AND avocado…. trust me. They make an amazing combination together. These Shrimp Bowls are really good, full of healthy things, and packed with flavor. What is not to love?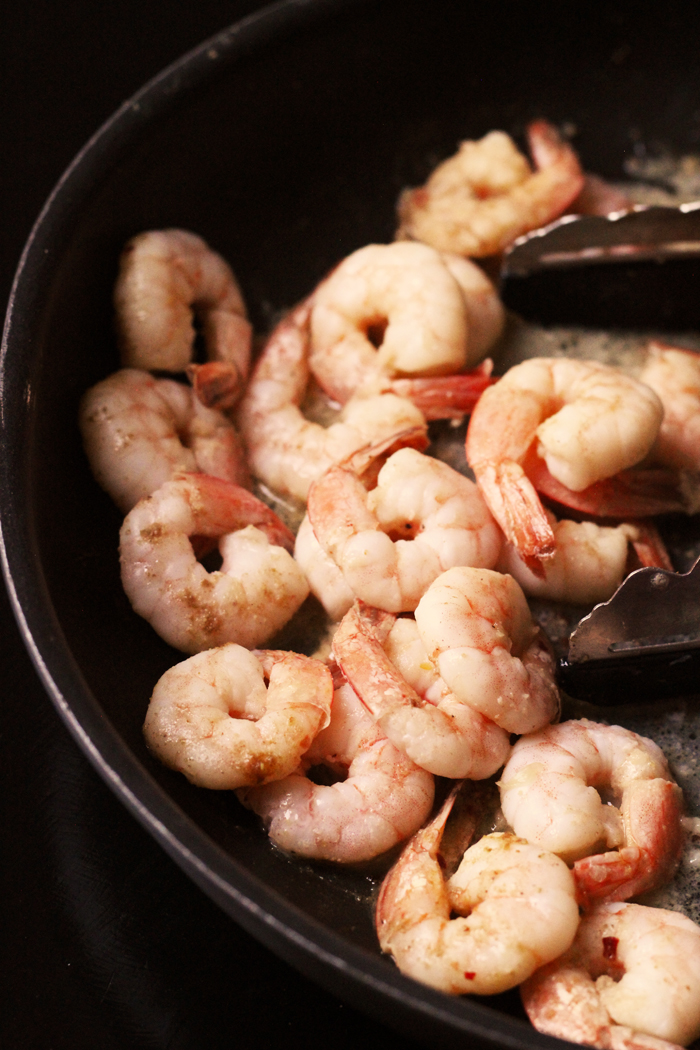 How to make this good and cheap:
Here are some of the strategies you can use to make this recipe more economical:
Meal plan around what's on sale. Don't decide to make this when shrimp is $10/pound  and you have none in the freezer. Wait until the price is right.
Stock up on ingredients when they are on sale

. When you see a great price on shrimp or avocados or mango, stock up!

Make it yourself. While cauliflower rice is now a real thing you can buy at the store — check the freezer section — you may save money buying cauliflower on sale and making your own at home.
Price match. I track my prices so that I know the best prices on the items we use the most. That means I buy my avocados at Costco because they're super cheap there.
Tools I use to make this recipe easy:
This is a pretty straight-forward dish. You don't need any fancy equipment. However, having some good basic kitchen tools can really make your time in the kitchen more enjoyable. Over time, I've honed my collection so that they are perfect for my needs. Here are the tools that I like to use in this recipe.
Shrimp Bowls with Mango and Avocado
Enjoy a quick and delicious lunch or dinner with these Shrimp Bowls topped with Mango and Avocado. So easy and so yummy!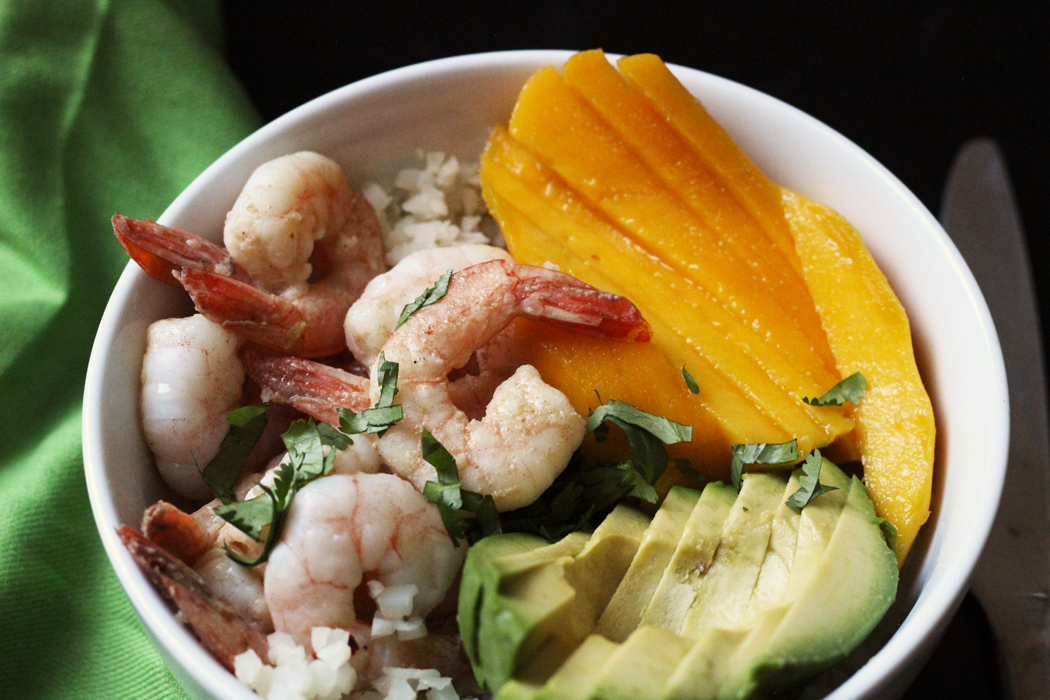 Preparation Time:10 minutes
Cook time:15 minutes
Total time:25 minutes
4 servings
Ingredients:
2 Tablespoons olive oil

1 pound medium shrimp, peeled and deveined

1 teaspoon pressed garlic

1/8 teaspoon crushed red pepper

1/2 teaspoon ground cumin

1/8 teaspoon black pepper

juice of 1 lime

Cauliflower Rice or hot cooked rice

2 avocados, peeled and sliced

2 mangos, peeled, pitted, and sliced

chopped fresh cilantro
Instructions:

In a large skillet over medium heat, heat the olive oil. Add the shrimp and garlic and cook until the shrimp is almost pink. Add the crushed red pepper, ground cumin, and black pepper to the pan. Stir to combine. Squeeze the lime juice all over the shrimp and stir.
Serve the cooked shrimp over beds of cauliflower rice. Garnish with avocados, mango, and chopped fresh cilantro.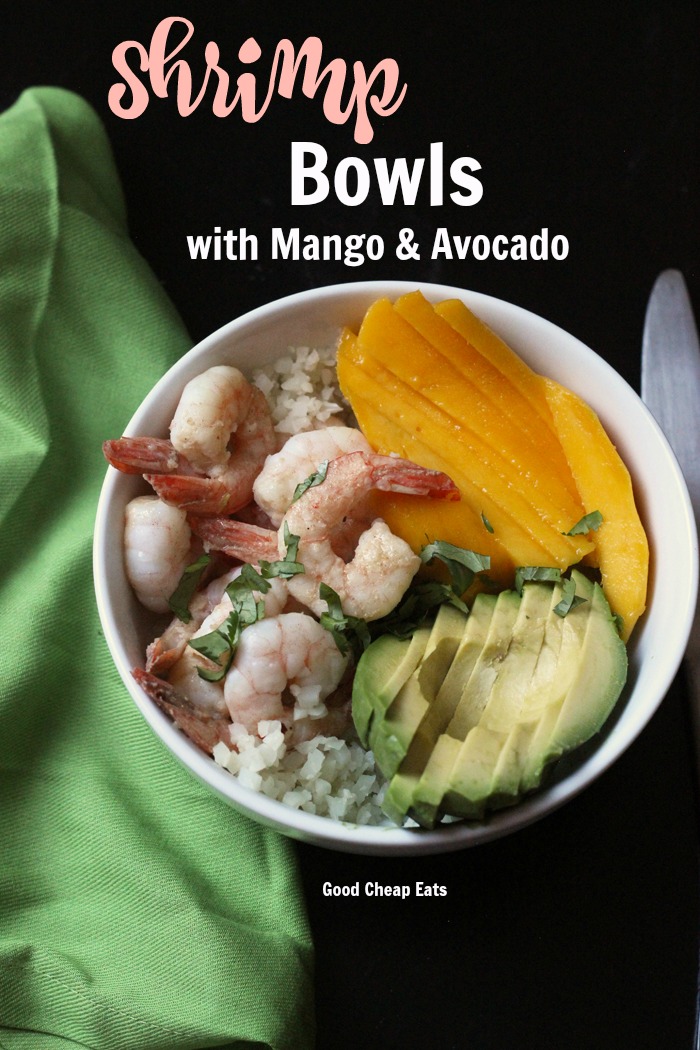 Are you looking for more good cheap eats?