Bake someone happy this week with these luscious Carrot Muffins with Sweet Cream Cheese. They are filling, freezer-friendly, and absolutely delicious!
Jump to:
I've been making muffins for as long as I can remember. Muffins were "a thing" back in 1994 when we got married. In fact, I worked in a bakery that sold predominantly… muffins. And among our wedding presents were several muffin tins and a muffin cookbook.
Like I said, I have lots and lots of experience with muffins.
Remember my all-purpose, mix and match muffins? Well, that's pretty much the only muffin recipe you need. It's so versatile and as long as you're not going savory with your muffins, you can mix any flavor combos into it.
Once you've sampled these Carrot Muffins, be sure to try the Chocolate Chip Muffins with Coconut & Lime or the Raspberry Muffins with Streusel.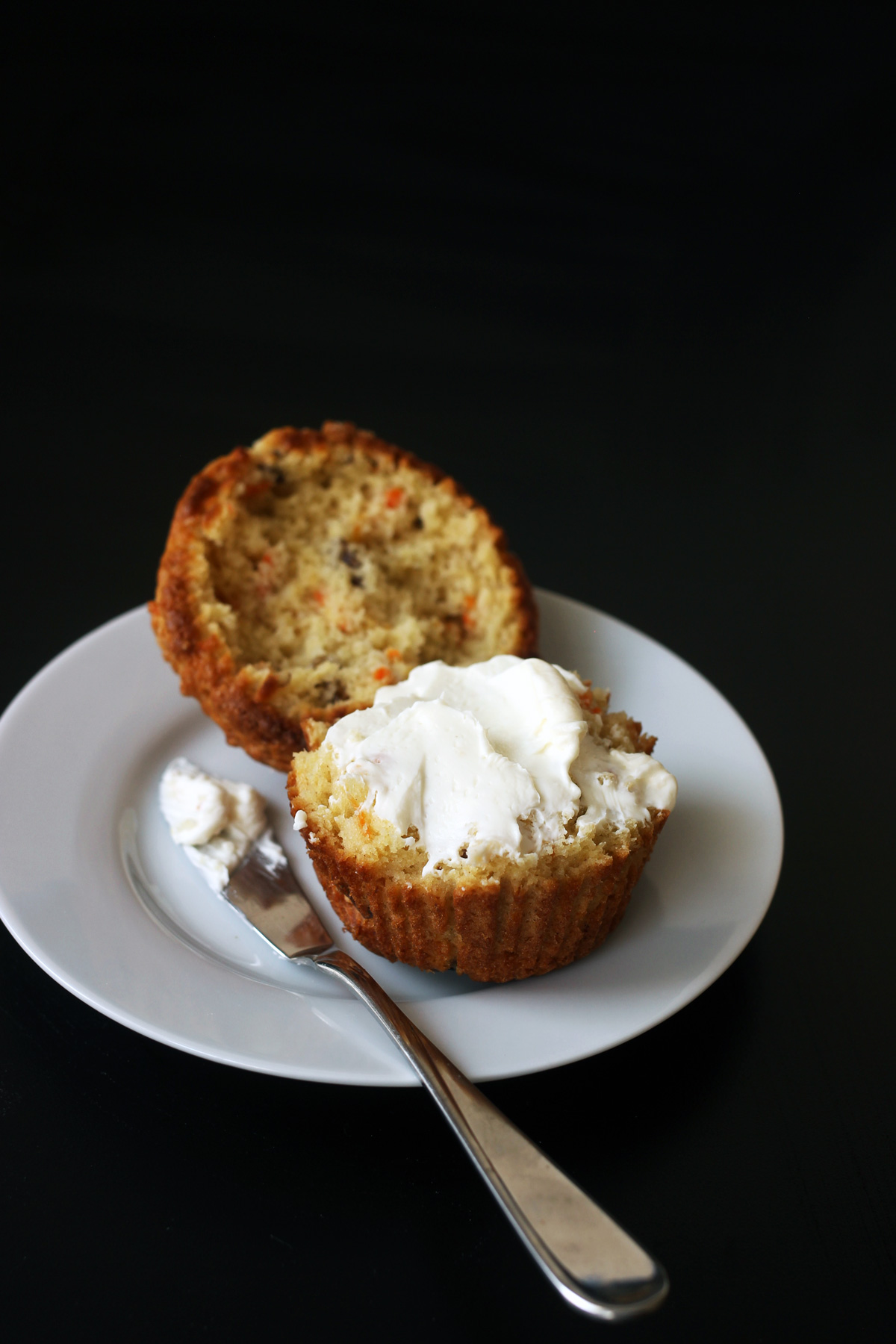 What are carrot muffins?
Carrot muffins are muffins, similar to Carrot Cake or Carrot Bread, but in muffin form. They are less sweet than a cake, but loaded with ingredients traditionally featured in carrot cake, such as raisins, nuts, and cream cheese.
While they sound savory, Carrot Muffins are actually sweet. Like zucchini, carrots are a great vegetable for shredding and stirring into quick breads and muffins.
Serving suggestions
These Carrot Muffins are delicious as an on-the-go breakfast or a side to a more substantial breakfast or brunch. They are tasty as a mid-morning snack or tucked into lunch boxes.
They are also pretty good late at night with a cup of tea when you need something nourishing and comforting.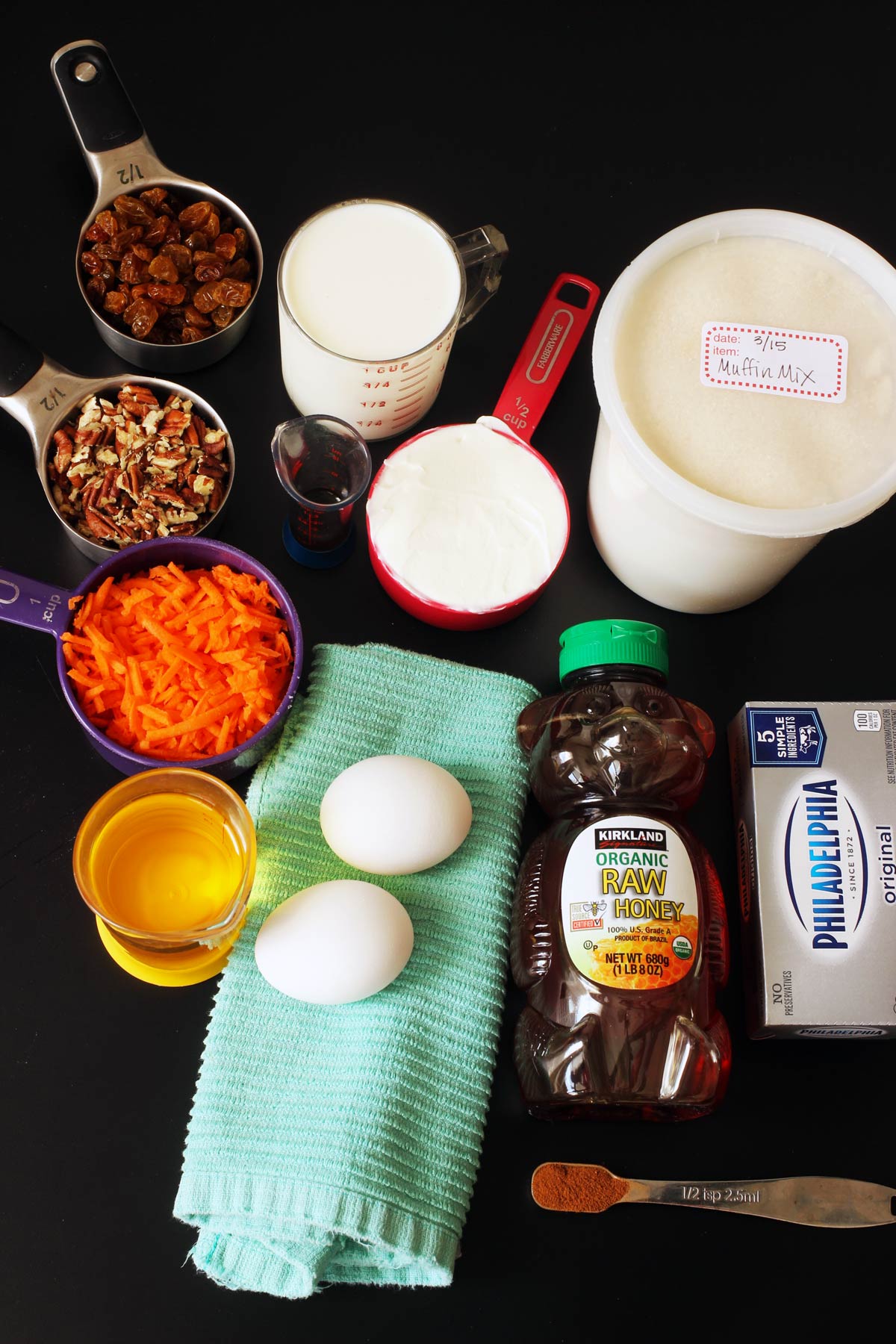 Ingredients
This recipe calls for some pretty basic, staple baking ingredients, such as:
flour – I use a combination of unbleached, all-purpose flour and whole wheat flour. You can also use regular bleached flour. Feel free to adjust the proportions as of white to wheat, so long as wheat is not more than half the total flour used.
baking powder, baking soda, and salt – These are used to bring texture to the muffins. Don't omit them. You can make your own baking powder if you run out.
granulated sugar – This adds sweetness and a softer texture to your muffin. You can use an alternative sweetener if you prefer. Keep in mind that if you use a liquid sweetener like honey, to reduce the overall liquid in the recipe just a smidge.
oil – I use a neutral oil, like avocado. You can use whatever oil you like or even melted butter or margarine.
milk – I use dairy milk, but you can substitute a plant-based milk if that is what you have.
yogurt – The yogurt adds acidity to the batter which helps the baking powder react. If you don't have yogurt or don't want to use it, you can do one of two things. Use buttermilk as a substitute for both the milk and yogurt in this recipe (1 ½ cups total) or use 2 tablespoons white vinegar plus the rest milk to equal 1 ½ cups.
eggs – The eggs add richness and texture to the muffins. If you want to make this recipe egg-free or vegan, you can use flaxseed as an egg substitute.
vanilla extract – I love using vanilla in baking, despite its higher price tag. To counteract this, I usually make my own vanilla extract. You can use a bit of rum instead if you like.
ground cinnamon – Cinnamon is a nice foil to the carrots, bringing a spiced aspect to the muffins. You can also use ground ginger in addition or instead of the cinnamon in the recipe.
shredded carrots – They wouldn't be carrot muffins without the carrots. I shred my own as that's the cheapest option usually. You can also use preshredded carrots if you prefer. If you've got zucchini instead of carrots on hand, you can also substitute shredded zucchini.
chopped nuts – I like to use chopped walnuts or pecans in carrot muffins. Feel free to omit the nuts or substitute them with a different kind if you prefer.
raisins – People either love or hate raisins in baked goods. I find that they add some sweet interest to these muffins. You can use golden or regular raisins, but you could also add dried cranberries, chopped dried apricots, or chopped dried cherries if you prefer.
cream cheese – The cream cheese is optional, but it's a fun addition to standard muffins, elevating them just a bit. You can use either full-fat or neufchâtel cream cheese.
honey – Just a bit o' honey adds delicate sweetness to the cream cheese topping. You could use an alternative sweetener if you like or serve these muffins with one of my sweetened, flavored cream cheese recipes, such as the Brown Sugar and Spice or the Strawberry.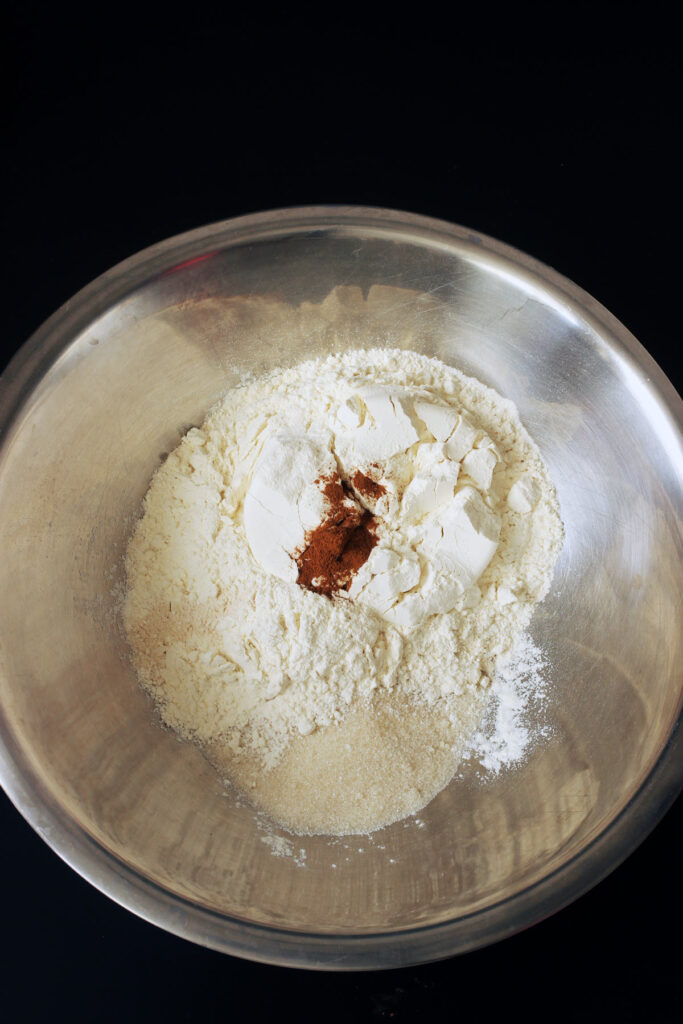 Instructions
Preheat the oven to 375 degrees. Line a 12-cup muffin pan with muffin papers.
Whisk together the homemade muffin mix (the dry ingredients) with the cinnamon in a large bowl.
In a medium bowl, whisk together the milk, yogurt oil, and eggs until blended. Pour the wet mixture into the dry ingredients and give it a few folds. Add the shredded carrots, raisins, and nuts. Fold just until combined; do not overmix.
Spoon the batter into the prepared muffin cups, dividing evenly. The cups should fill pretty near the top.
Bake for 25-30 minutes or until tester comes out clean. Cool on a wire rack.
In a small mixing bowl combine the honey and cream cheese with a hand mixer until light and fluffy. Serve alongside the baked muffins.
Pro tip: see Freezing Instructions below for instructions for freezing unbaked or baked muffins.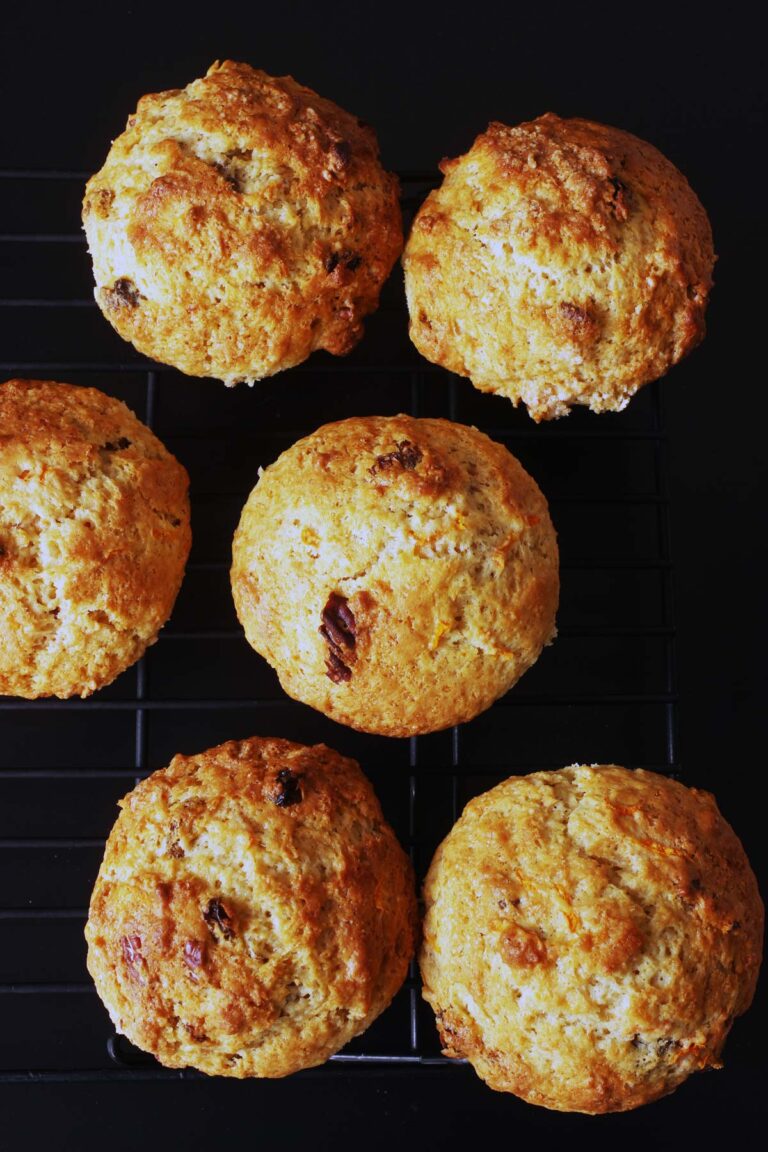 Freezing instructions
There are three basic ways to freeze muffins:
These Carrot Muffins mix up beautifully and are super freezer-friendly already baked, so if you bake more than you need, you can throw them in the freezer for another time. Be sure to cool them completely on a rack before wrapping them in an airtight container or ziptop freezer bag.
You can freeze the muffins unbaked! Just prepare the batter, fill the cups, and slide the muffin tin into the freezer until the muffin pucks are frozen solid. Once firm, you can transfer them out of the tin and into a box or bag in the freezer. Bake from frozen whenever you want them fresh!
I highly recommend keeping several bags of homemade muffin mix in your freezer or pantry. Totally worth the few extra minutes for abundant rewards.
Recipe costs
Knowing how much it costs you to prepare a recipe can help you decide if it's the type of recipe to make regularly or one you might want to save for special occasions. Let's crunch some numbers and see how this recipe pencils out.
eggs – $0.50
oil – $0.16
yogurt – $0.15
milk – $0.17
vanilla – $0.25
granulated sugar – $0.22
flour – $0.60
baking soda – $0.04
baking powder – $0.02
salt – $0.02
cinnamon – $0.02
carrots – $0.35
nuts – $1.33
raisins – $0.57
cream cheese – $0.99
honey – $0.88
Purchased at a mid-range grocery store at non-sale prices, the ingredients for this recipe cost $6.27/dozen or 52 cents each.
Compared to a bakery muffin, homemade is a surefire winner. But, you can save even more with the Good Cheap Eats System.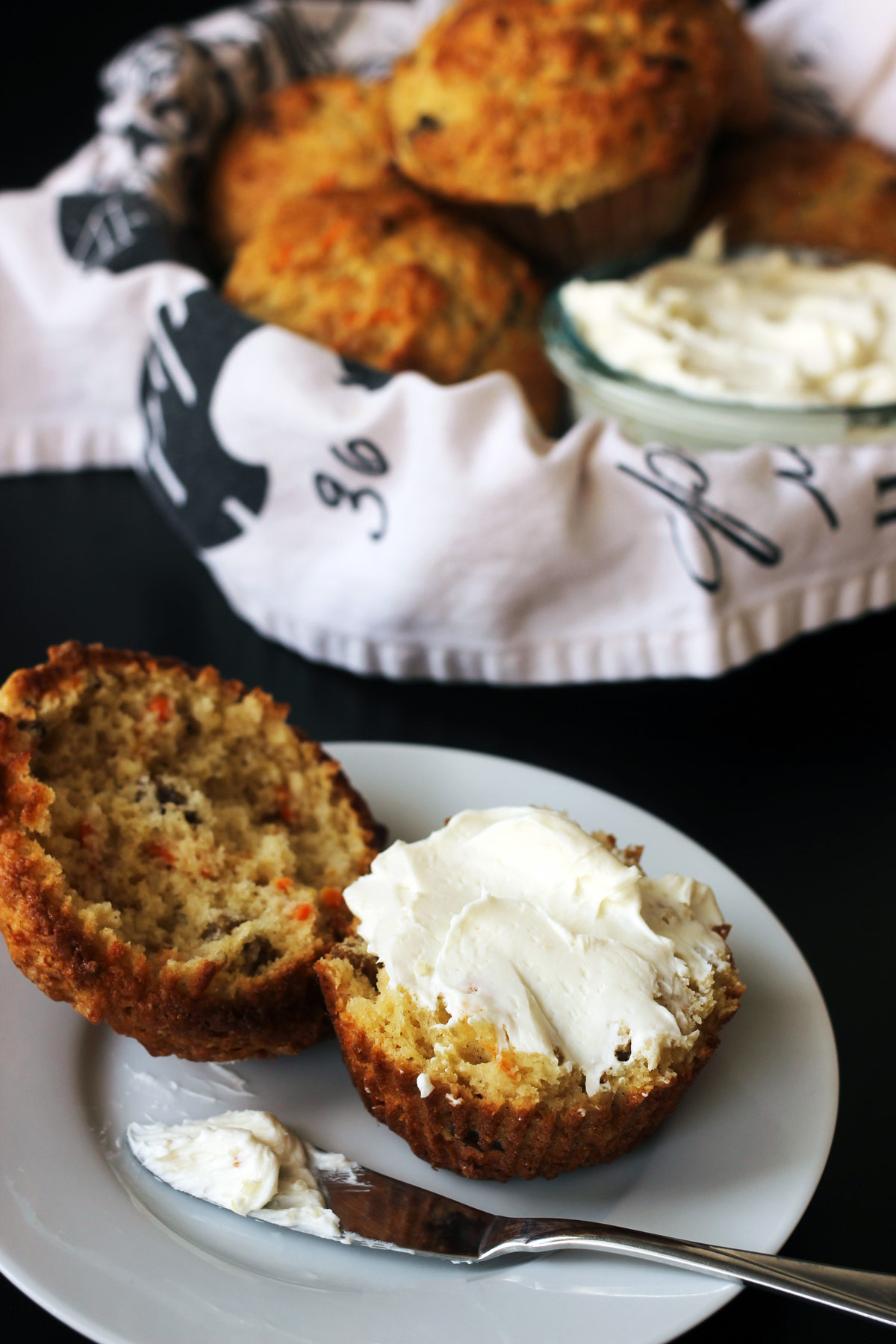 How to save more money
Shop your kitchen – use what you have in terms of ingredients. Check the ingredients section for possible substitutions.
Make a plan for leftovers – You won't use an entire package of milk, eggs, or yogurt for this recipe. Be sure to use them up in other ways. Also, remember to freeze the muffins you won't eat in a few days so they don't go to waste.
Shop wisely – Whether it's which store you shop at or focusing on sales and clearance items, savvy shopping for the ingredients can greatly reduce the cost of this recipe, particularly where the vanilla extract, nuts, and honey are concerned.
Kitchen equipment
After years of weekly muffin baking, I've come across a few tools that I absolutely LOVE for muffin baking: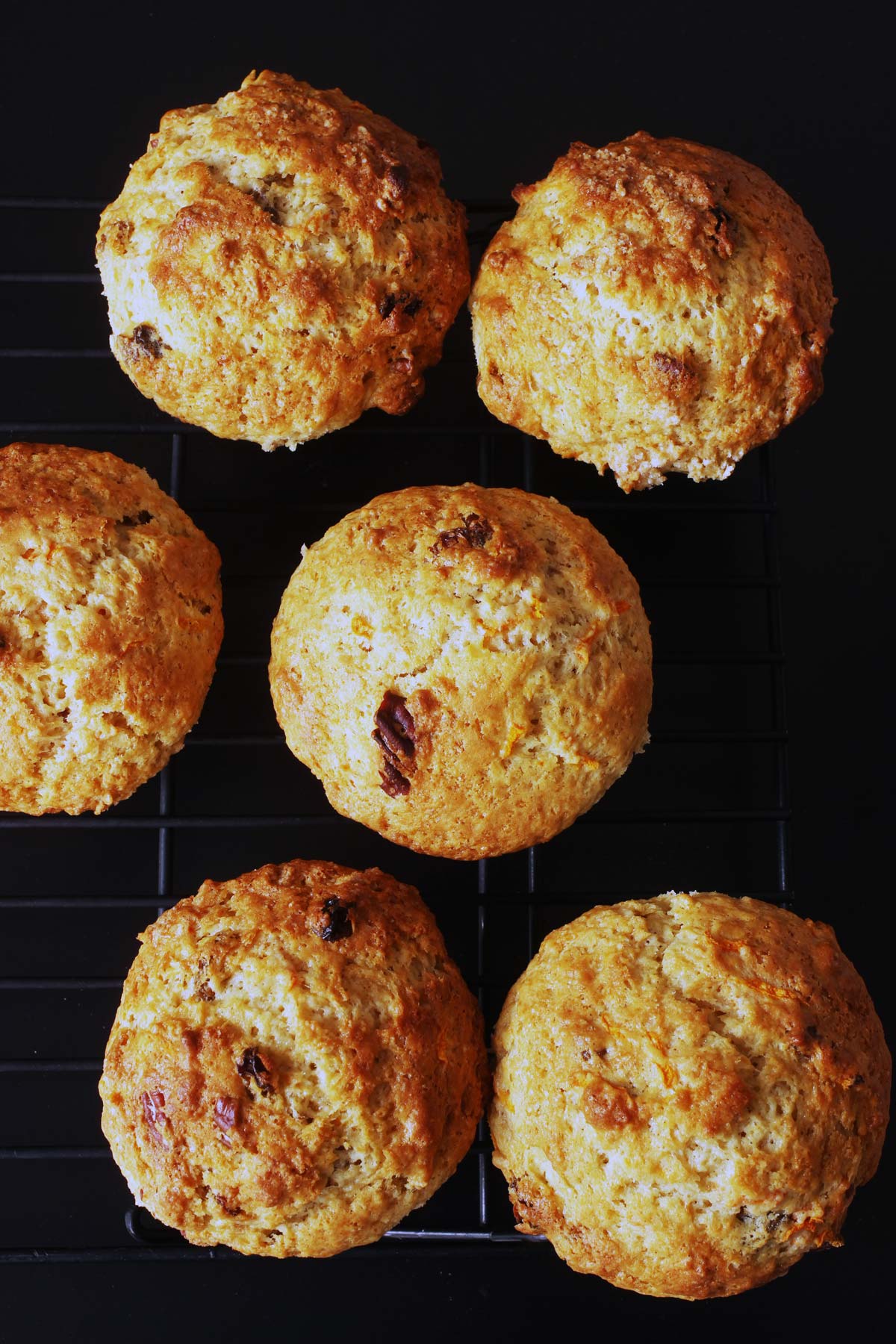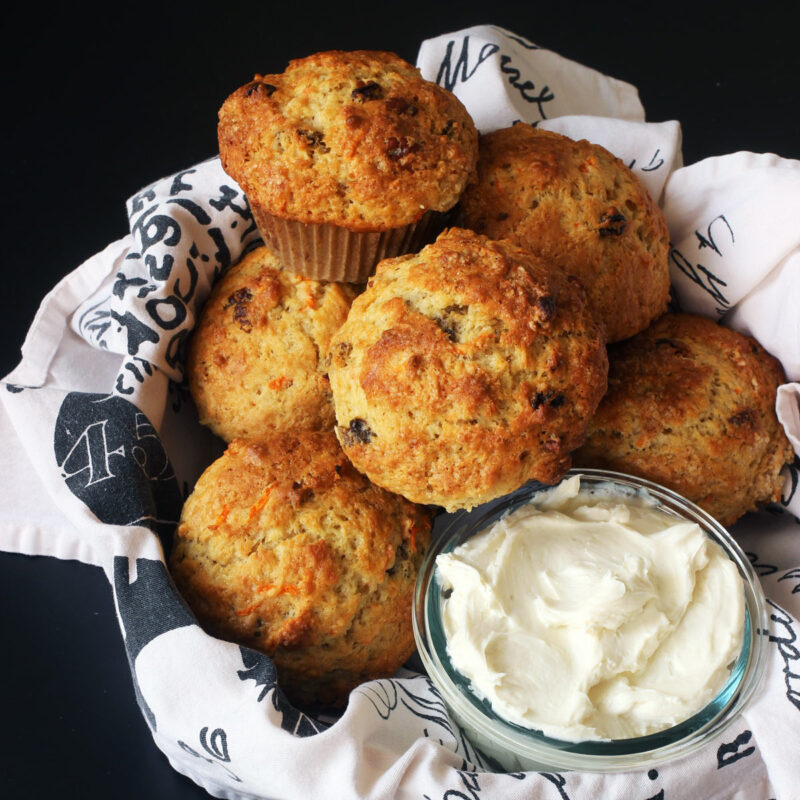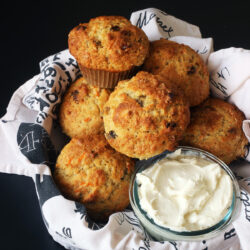 Carrot Muffins with Honey Cream Cheese Recipe
Bake someone happy this week with these luscious Carrot Muffins with Honey Cream Cheese. They are filling, freezer-friendly, and absolutely delicious!
Print
Pin
Rate
Ingredients
Dry (or muffin mix) ingredients
3

cup

unbleached, all-purpose flour

1

cup

granulated sugar

½

cup

whole wheat flour

4

teaspoon

baking powder

½

teaspoon

baking soda

½

teaspoon

salt
Wet ingredients
1

cup

milk

½

cup

neutral oil

½

cup

plain yogurt

2

egg

1

teaspoon

vanilla extract
Mix-ins
½

teaspoon

ground cinnamon

¾

cup

carrots (shredded)

½

cup

chopped nuts

½

cup

raisins
Cream cheese topping
1

8-ounce package

cream cheese

softened

¼

cup

honey
Instructions
Preheat the oven to 375 °. Line a muffin tin with papers or spray with nonstick cooking spray.

In a large mixing bowl, combine the flours, baking powder, baking soda, salt, and sugar. This is all that is in my homemade muffin mix if you premake it. Then whisk in the cinnamon.

In a separate bowl, combine the oil, milk, yogurt, eggs, and vanilla . Whisk to blend.

Add the wet ingredients to the dry. Gently fold in the carrots, walnuts, and raisins until mostly moistened. Spoon the batter into the prepared cups. It's okay if they are heaping.

Bake 25 – 30 minutes or until a tester comes out clean. Cool on a rack.

In a small mixing bowl, combine the cream cheese and honey. Whip until fluffy with a hand mixer. Serve the cream cheese with the muffins.
Notes
Freeze muffins in a sealable plastic bag up to 3 months. Nutritional information is approximate and accounts for 1 muffin (out of 12) and 1/12 the cream cheese topping.
Nutrition
Calories:
448
kcal
|
Carbohydrates:
58
g
|
Protein:
8
g
|
Fat:
21
g
|
Saturated Fat:
6
g
|
Cholesterol:
51
mg
|
Sodium:
237
mg
|
Potassium:
364
mg
|
Fiber:
2
g
|
Sugar:
25
g
|
Vitamin A:
1673
IU
|
Vitamin C:
1
mg
|
Calcium:
131
mg
|
Iron:
1
mg
Tried this recipe?
Tell us what you think! Your reviews help us develop better recipes and give newcomers the confidence to try your favorites. Scroll down to leave a starred comment.
Originally posted March 24, 2010. It has been updated for content and clarity.