Bake someone happy this week with these luscious Carrot Muffins with Honey Cream Cheese. They are filling, freezer-friendly, and absolutely delicious!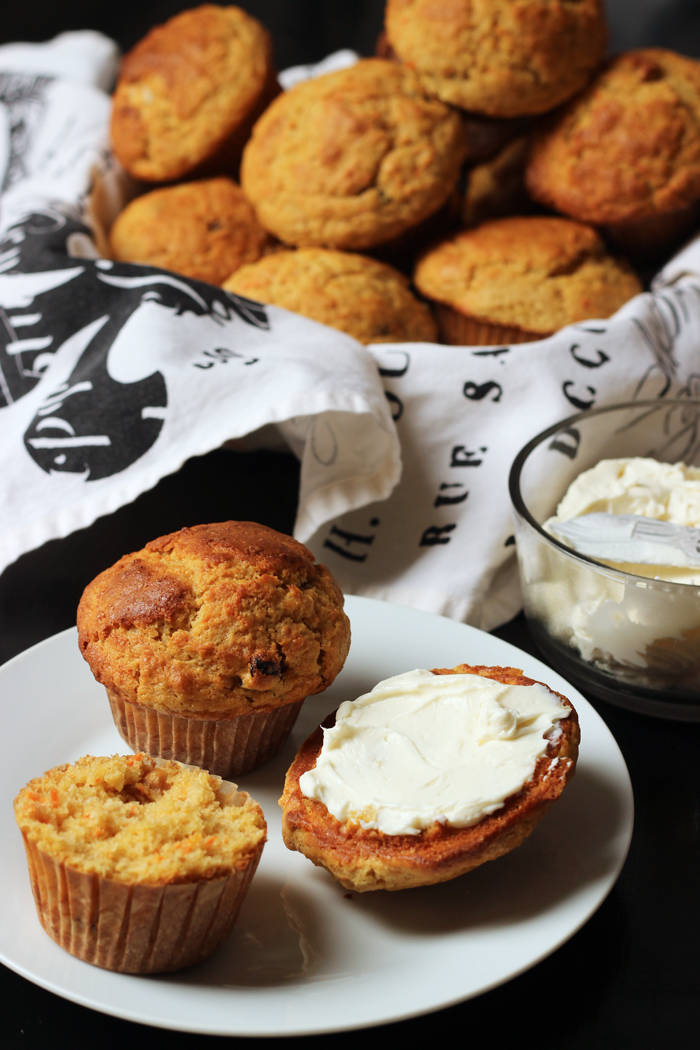 I've been making muffins for as long as I can remember. Muffins were "a thing" back in 1994 when we got married. In fact, I worked in a bakery that sold predominantly… muffins. And among our wedding presents were several muffin tins and a muffin cookbook.
I have lots and lots of experience with muffins. Remember my all-purpose, mix and match muffins? Well, that's pretty much the only muffin recipe you need. It's so versatile and as long as you're not going savory with your muffins, you can mix any flavor combos into it.
(Head here for all my muffin tips.)
A few years ago — about seven, to be exact — I tweaked them to coordinate with the arrival of spring, turning them into Carrot Muffins with Honey Sweetened Cream Cheese. They are so yummy!
Recently, I baked up a batch to surprise the ladies in my Bible study. It was a cold morning, and while we don't typically have snacks, I thought it would be fun to have muffins and tea. It was also the first morning ALL YEAR LONG that I was with-it enough to do something fun and spontaneous.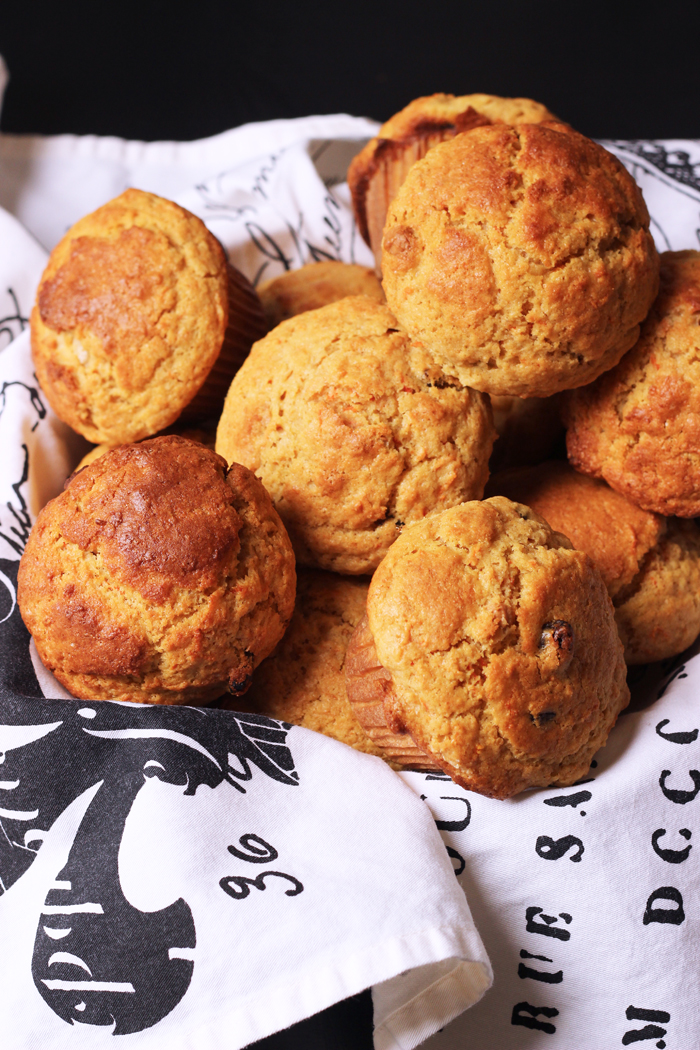 I loaded up all the stuff in my car, fended off my children from the carrot muffins and honey cream cheese, and toddled off to CBS. And guess what?
Suzanne was sick. Kathryn and Joy were out of town. Alison had to take her grandpa to the doctor. Barbara was on jury duty. The only people there were my leader Nichole and me! Talk about irony. I had to answer all the study questions on my own! But, I also got to eat all the muffins I wanted.
Which I did without even blinking an eye.
Needless to say, my kids were THRILLED. They ate muffins all the car ride home. Ha!
These Carrot Muffins mix up beautifully and are super freezer-friendly, so if all your friends stand you up, you can throw them in the freezer for another time. 😉
I highly recommend keeping several bags of mix in your freezer. Totally worth the few minutes for abundant rewards.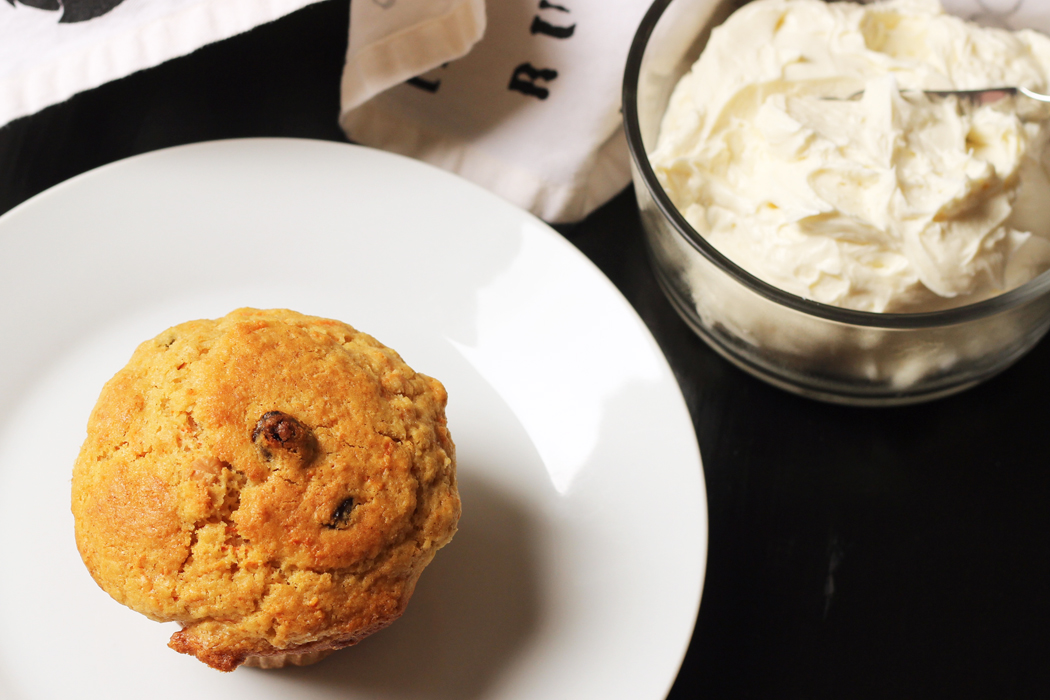 Carrot Muffins with Honey Cream Cheese
Bake someone happy this week with these luscious Carrot Muffins with Honey Cream Cheese. They are filling, freezer-friendly, and absolutely delicious!
Ingredients
3

cup

unbleached, all-purpose flour

1/2

cup

whole wheat flour

4

tsp

baking powder

1/2

tsp

baking soda

1/2

tsp

salt

1

cup

granulated sugar

1/2

cup

neutral oil

1

cup

milk

1/2

cup

plain yogurt

2

egg

1

tsp

vanilla extract

1/2

tsp

ground cinnamon

3/4

cup

carrots (shredded)

1/2

cup

chopped nuts

1/2

cup

raisins

1

8-ounce package

cream cheese

softened

1/4

cup

honey
Instructions
Preheat the oven to 375 °. Line a muffin tin with papers or spray with nonstick cooking spray.

In a large mixing bowl, combine, the flours, baking powder, baking soda, salt, and sugar.

In a separate bowl, combine the oil, milk, yogurt, eggs, vanilla and cinnamon. Whisk to blend.

Add the wet ingredients to the dry. Gently fold in the carrots, walnuts, and raisins until mostly moistened. Spoon the batter into the prepared cups. It's okay if they are heaping.

Bake 25 - 30 minutes or until a tester comes out clean. Cool on a rack.

In a small mixing bowl, combine the cream cheese and honey. Whip until fluffy with a hand mixer. Serve the cream cheese with the muffins.
Notes
Freeze muffins in a sealable plastic bag up to 3 months.
Nutrition
Calories:
448
kcal
|
Carbohydrates:
58
g
|
Protein:
8
g
|
Fat:
21
g
|
Saturated Fat:
6
g
|
Cholesterol:
51
mg
|
Sodium:
237
mg
|
Potassium:
364
mg
|
Fiber:
2
g
|
Sugar:
25
g
|
Vitamin A:
1673
IU
|
Vitamin C:
1
mg
|
Calcium:
131
mg
|
Iron:
1
mg
Originally posted March 24, 2010. Updated May 9, 2017.