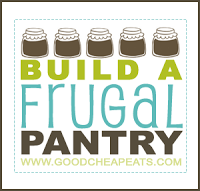 Whole grains are considered one of nature's bounty. Not only are they a good source of fiber, protein and carbohydrates, but they are generally very affordable, especially when purchased in bulk. Add to that the fact that they are considered excellent components of a heart-healthy diet, and it's no wonder that whole grains are a world-wide staple.
What is considered a cereal grain can be a tricky question. In my research, I found some saying that grass (like rice) and fruit seeds (like buckwheat) aren't technically grains. I'm not really sure about the agricultural differences, but for our purposes, the culinary ones, we're going to put the following in the whole grain family:
barley
buckwheat
corn
millet
oats
quinoa
rice
rye
wheat
wild rice
And there are so many variations within each of those grain families. Oh my! The possibilities are endless.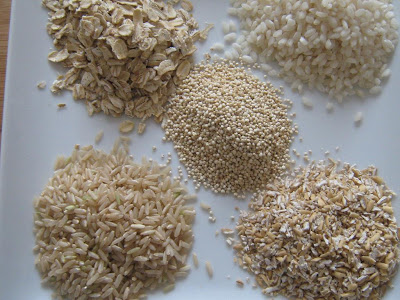 And for our purposes this week, we're going to be talking about the WHOLE whole grain. Last week we talked about flours which are essentially ground up grains. This week it's the WHOLE grain's time to shine.
I've personally had experience with barley, corn, oats, rice, and wild rice. I try to buy these items in bulk at the health food store or from Costco which generally gets us the lowest price. Our family eats quite a lot of rice, so it never really lasts long. I use barley in soup, oats in granola, cookies, and oatmeal, and corn or hominy as a side dish or in chili.
Dry grains should be stored airtight in a cool, dark, dry place. Refrigeration can extend the life of many grains, like rice or popcorn. Obviously, a fresh grain like sweet corn should be refrigerated and cooked (or processed via canning or freezing) within a short time of picking so as to prevent the starches from developing.
You'd probably be surprised to think how rich your diet already is in whole grains. Popcorn, rice, oatmeal, and granola are easy to work into any meal plan. And with the surge in gluten-free recipes, other grains like quinoa and millet are becoming more and more available in the store and in restaurants.
Grains are an excellent filler for most meals. And since they are rather inexpensive to purchase, they most definitely rank as a good cheap eat.
What's your favorite grain and how do you prepare it?
Sources: The New Food Lover's Companion (2nd edition), The All-Heart Family Cookbook, The Mayo Clinic
Want the dish on delicious ways to act your wage? Subscribe to GCE in a reader or via email.