Homemade baked goods are significantly cheaper than store-bought varieties. Try this whole wheat bread that mimics an "English muffin" in texture and taste.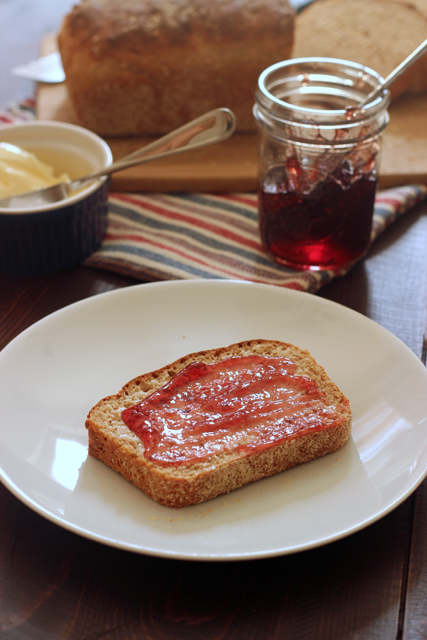 My cousin Kelly is an awesome penpal. About 8 years my senior, she took pity on her younger cousin. There are 22 of us cousins and I pretty much fall on the young end of them all, except for my siblings.
Starting when I was in high school and she was a new mom, she wrote me great letters, full of stories of her kids and her students. She often tucked in interesting newspaper clippings, recipes, pictures, or other interesting things.
It's too bad her cousin Jessica, wasn't/isn't a great penpal in return. I was for awhile, but then the internet ate my stationery and stamps.
This English Muffin Bread recipe is an adaptation of a recipe clipping Kelly sent me years ago. It's just as good today as it was when the internet was just a sparkle in someone's eye.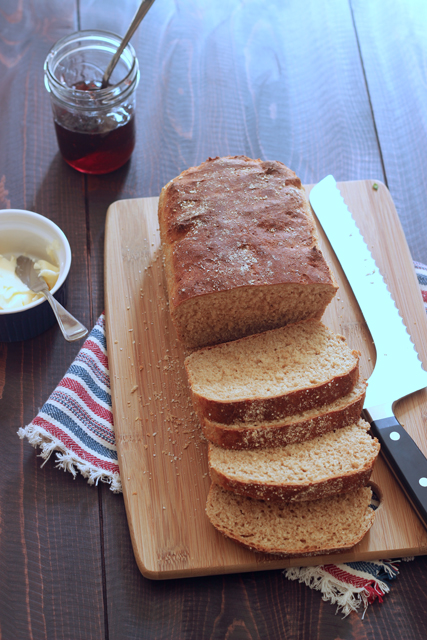 I've changed up the original a bit, using honey and whole wheat flour instead of the white flour and white sugar that it originally called for. And I use my Kitchen Aid to stir it because, yes, it is a stiff dough to stir with a wooden spoon. I haven't tried it out the bread machine, but that could be an interesting experiment.
This is really a very simple bread recipe, but there's baking soda added to it. The texture of the bread is very similar to English muffins. It is not light and fluffy at all, but it's delicious toasted with butter and jam. My kids can scarf both loaves in a morning.
Honey Whole Wheat English Muffin Bread
Ingredients
1

tbsp

cornmeal

3

cup

whole wheat flour

2

tbsp

active dry yeast

2

tsp

salt

1/4

tsp

baking soda

2

cup

milk

1/2

cup

water

1

tbsp

honey

3

cup

unbleached, all-purpose flour
Instructions
Spray two loaf pans with nonstick cooking spray and dust them with cornmeal.

In a large mixing bowl or the bowl of a stand mixer, whisk together the whole wheat flour, yeast, salt, and baking soda.

In a glass, microwave-safe bowl, combine the milk, water, and honey and heat. Heat in the microwave until warm to the touch. Add this to the dry mixture and stir. Add the unbleached flour and beat until smooth. The dough will be very stiff and sticky.

Separate the dough into two portions. It helps to have wet hands. Spread each portion in the prepared baking pan. Sprinkle cornmeal over each.

Preheat the oven to 400°F. Allow the dough to rise for 45 minutes.

Bake for about 20 - 25 minutes until the bread is golden brown and baked through. Remove from the pans right away and cool on a rack before slicing.
Notes
Nutritional values are approximate and are based on 1/16 of the recipe (makes 2 loaves). Refrigerate leftovers promptly and use within 4 days.
Nutrition
Calories:
185
kcal
|
Carbohydrates:
36
g
|
Protein:
7
g
|
Fat:
2
g
|
Saturated Fat:
1
g
|
Cholesterol:
3
mg
|
Sodium:
323
mg
|
Potassium:
150
mg
|
Fiber:
3
g
|
Sugar:
3
g
|
Vitamin A:
49
IU
|
Calcium:
46
mg
|
Iron:
1
mg