Full of rich spices and the hearty sweetness of pumpkin, this Spiced Pumpkin Bread is one of my favorites to make during the fall and winter. 

I suppose everyone has a favorite pumpkin bread recipe, right? If you don't, you need to try this one.
Lately my feed has been exploding with Pumpkin Chocolate. While I love pumpkin and chocolate — see here and here — I don't want chocolate chips in this bread.
Nope. Not today.
This recipe needs no adornment. It's moist, flavorful, and perfectly captures the tastes of fall. This is the Spiced Pumpkin Bread Recipe that I've been making for over 20 years. And it doesn't really need much messying with.
Okay, I confess. I have messed with it a bit. This recipe got its origins in this recipe from Bon Appetit. But, I reduced the sugar because it didn't need all that sugar. Oh my! It's still really sweet with 2 cups.
About six years ago, I eliminated eggs from my baking because the doctors suspected our youngest had an egg allergy. I used flax seed as a substitute for the eggs in the recipe. It works wonderfully this way if you want to A) eliminate eggs and/or B) want more heart-healthy flax in your diet.
If I'm really going to bake myself happy, I bake two batches of this. At least one loaf to eat fresh out of the oven and three to cool and freeze. I love being able to pull a loaf of this Spiced Pumpkin Bread from the freezer for a yummy breakfast or snack. Or dessert.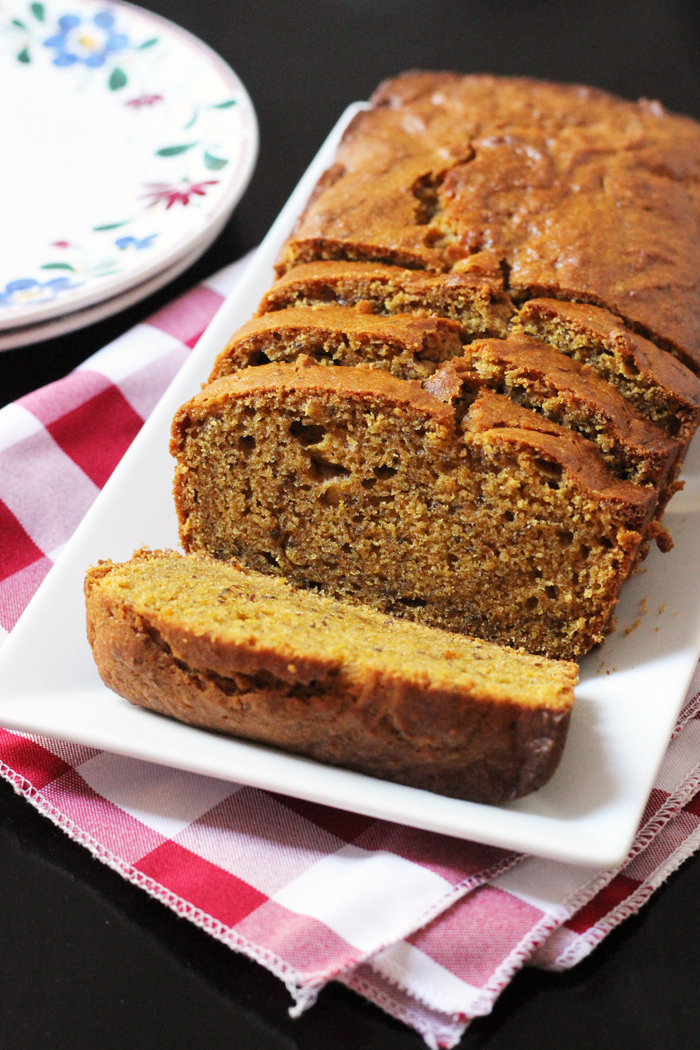 Favorite Spiced Pumpkin Bread Recipe
Full of rich spices and the hearty sweetness of pumpkin, this Spiced Pumpkin Bread is one of my favorites to make during the fall and winter.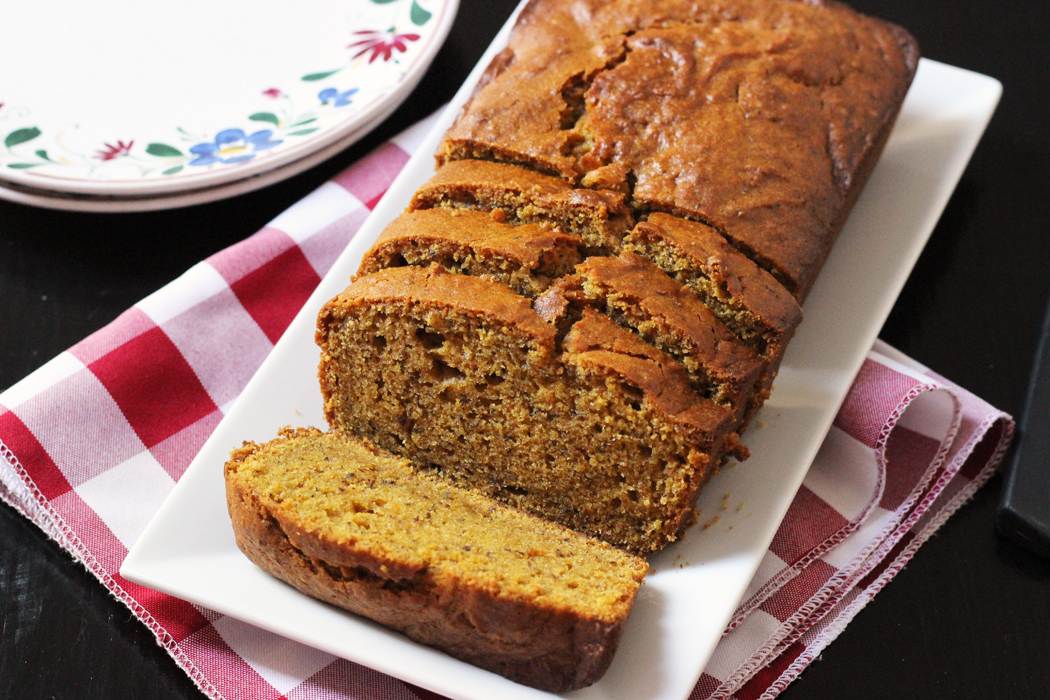 Preparation Time:15 minutes
Cook time:50 minutes
Total time:1 hour 5 minutes
8 to 12 servings
Ingredients:
2 cups sugar

14 tablespoons melted butter or oil

3 tablespoons flax seed meal mixed with 9 tablespoons water (OR you can use 3 beaten eggs)

about 2 cups pumpkin puree (about one 15-ounce can)

3 cups unbleached, all-purpose flour

1/2 teaspoon ground ginger

1/2 teaspoon ground cinnamon

1/2 teaspoon ground nutmeg

1 teaspoon baking soda

1/2 teaspoon salt

1/2 teaspoon baking powder
Instructions:

Preheat the oven to 350 °. Grease two 9×5 inch loaf pans with nonstick cooking spray.
In a large mixing bowl beat together the sugar and butter. Mix in the flax mixture and pumpkin.
In another large mixing bowl, sift the flour, ginger, cinnamon, nutmeg, baking soda, salt, and baking powder. Stir this dry mixture into the pumpkin mixture.
Divide the batter equally between the two loaf pans. Bake 50 minutes to 1 hour or until a tester comes out clean. Transfer the pans to a cooling rack; cool 10 minutes. Loosen loaves from edges of pan. Turn onto racks and cool completely.
To freeze: wrap cooled loaves in plastic wrap and then place in a ziptop freezer bag in the freezer. Thaw wrapped at room temperature.
Originally published September 29, 2010. Updated October 18, 2016.
Other pumpkin recipes we love: