Can the canned cream soups. Make a homemade green bean casserole from scratch! It's tastier; it's healthier; it's so much better than the fake food version.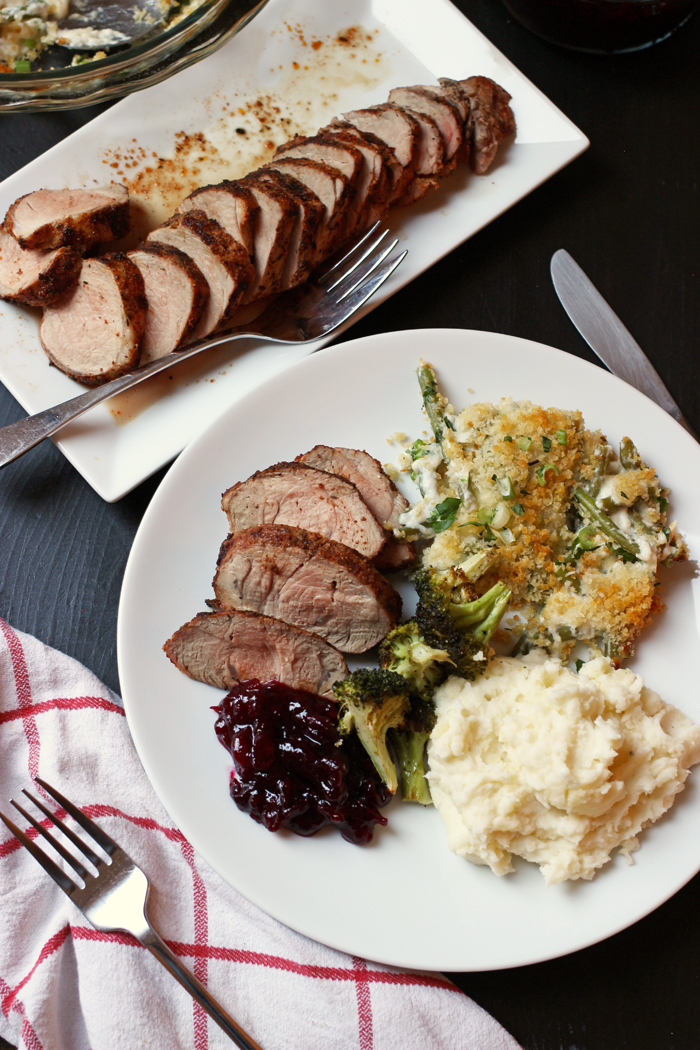 In years past, I've always been stunned to look into my holiday grocery shopping cart. While I try to feed my kids mostly real food the rest of the year, it seems the holiday foods that we enjoy tend toward the fake food.
Shockingly so.
Now, there's no way I'm giving up my Jell-O and the famed Pretzel Berry Dessert, though these Raspberry Cream Cups are a fun real food alternative. Instead, where I can, I am making efforts to make things just a little bit more real and a little less boxed.
Chopping dry bread into cubes instead of buying boxed stuffing, making your own gravy instead of buying a can, and rolling out homemade pie crust instead of buying frozen are some easy, economical –and tastier! –alternatives to buying commercially processed foods.
So is making a really homemade green bean casserole.
Yep, true story. I've taken the classic Thanksgiving favorite and remove the processed food from it. Ironic, since the Green Bean Casserole was developed for a processed food company. But, never mind.
As you may know, the original recipe calls for cream of mushroom soup, green beans, milk, spices, and a can of fried onions. I've done a few things to remove the cans while still keeping the comfort food element of the traditional casserole.
I've substituted Homemade Cream of Celery Soup for the can. You can add 1 cup sautéed mushrooms if the mushroom element is important to you. I don't simply for ease of assembly.
I use sour cream and Asiago cheese to add more flavor and richness to the basic white sauce.
I use frozen green beans in order to achieve a fresher taste than canned. If you prefer, use canned.
And while I know that french fried onions are traditional, I opted out of frying my own and just topped the dish with buttered panko bread crumbs followed by a scattering of chopped scallions and parsley after it bakes. The panko lid adds the crunch of the canned fried onions while the scallions add the oniony flavor.
I know that many families have their preferred tweaks to the classic recipe, saucy v. less saucy, frozen beans v. canned, etc. Know that this lies on the saucy continuum. Add more beans if you fall on the less saucy side.
Best thing of all, this Really Homemade Green Bean Casserole is freezer-friendly. If making it for the freezer, cool the creamy soup before assembling and don't thaw the beans. Mix it all together, wrap, label, and freeze. Voila!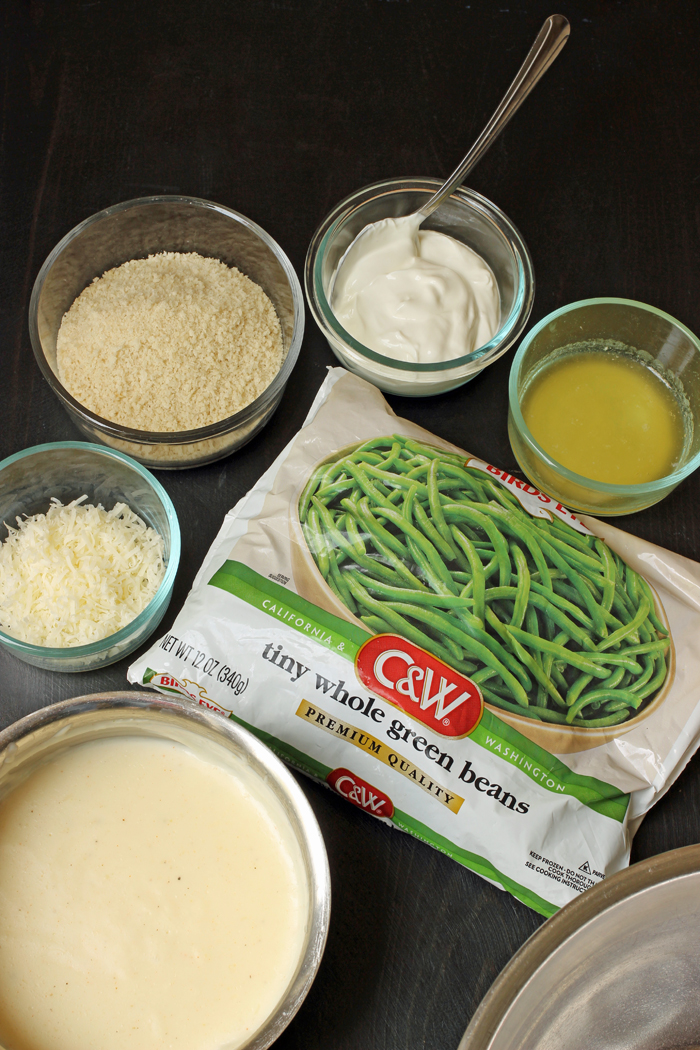 What is Green Bean Casserole?
Green Bean Casserole is a mixture of a white sauce with green beans and a crunchy, bready, onion-y top. It was originally made with canned cream of mushroom soup, green beans, milk, spices, and canned fried onions.
What is the story behind Green Bean Casserole?
Home economist Dorcas Reilly developed this recipe in 1955 for the Campbell Soup Company. You can read more of the story here.
Can you make Green Bean Casserole with fresh, frozen, or canned green beans?
You can do any of the above. Every family I've met has a preference of their own. I've even heard of some coming to blows about whether or not the green beans should be plain cut or french cut. Use what you personally prefer, knowing that the finer the cut of the bean the softer the casserole will be.
What is a white sauce?
A white sauce is the basis of all canned cream of soups. Commercial soup companies tried to make it easier on the home cook by packaging the product. However, the result has been a tinny-flavored, fake food.
Making a white sauce is incredibly easy, take just a few minutes, and tastes so much better. Not to mention, it's made from three basic ingredients.
What are panko bread crumbs?
Panko bread crumbs are a Japanese style of bread crumb that is crisp and light in nature. It is coarser than most bread crumbs so it makes a nice crunchy coating. It's available in most grocery stores, in white and whole wheat varieties.
You can make your own panko, by toasting homemade bread crumbs in a 300-degree oven for about 7 minutes.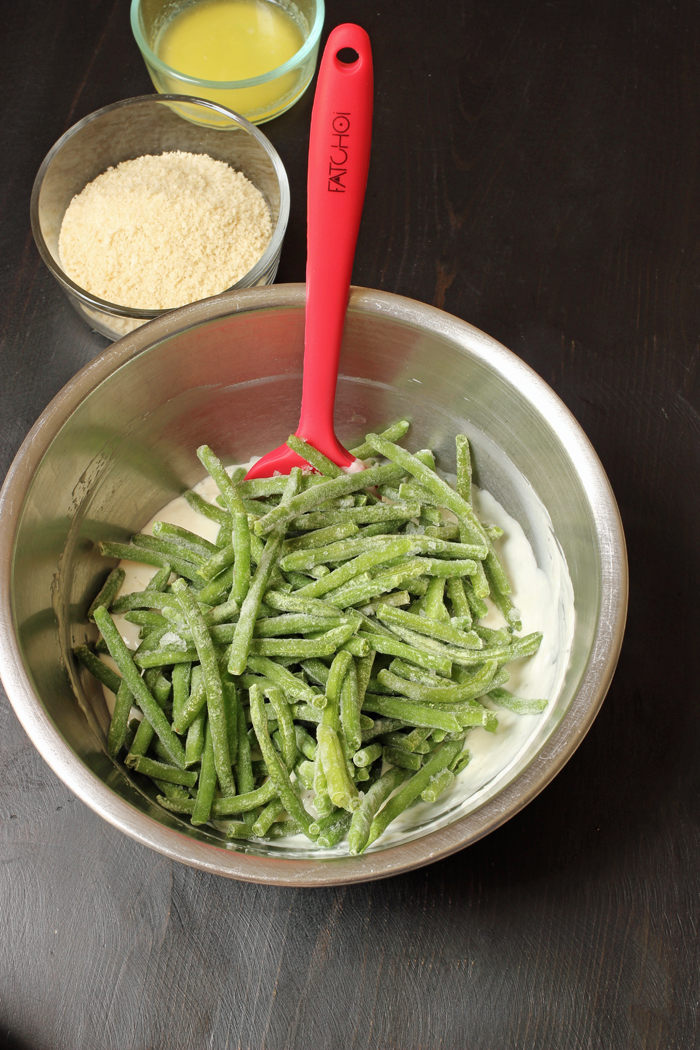 How to make this good and cheap:
Here are some of the strategies you can use to make this recipe more economical:
Stock up on ingredients when they are on sale. When you see a good price on frozen green beans, Asiago cheese, or panko bread crumbs buy a few extra to stash for later. You know you'll use them.
Shop the cheapest stores. In lieu of killer sales and manager specials, shop at the store that offers the best prices on most things. Same goes for times when you don't have a lot of time to shop. Choose the one store with the best bang for your buck. In my neighborhood, that's ALDI. Your mileage may vary.
Make your own creamed soup. It's not hard to do! Here are some easy recipes: Homemade Cream of Celery Soup for Cooking and Cream of Chicken Soup.
How I make this recipe easy:
This recipe really couldn't be easier than it is, but having the right kitchen tools can really make your time in the kitchen more enjoyable. Over time, I've honed my collection so that they are perfect for my needs.
Here are the tools that I use for this recipe:
Really Homemade Green Bean Casserole
Can the canned cream soups. Make a homemade green bean casserole from scratch! It's tastier; it's healthier; it's so much better than the fake food version.
Keyword:
green bean casserole, green beans
Ingredients
1 1/2

cups

Homemade Cream of Celery Soup for Cooking

1/2

cup

sour cream

2/3

cup

grated asiago cheese

divided

16

ounce

bag frozen green beans

no need to thaw

2/3

cup

panko bread crumbs

2

tablespoons

melted butter

2

tablespoons

chopped green onions

1

tablespoon

chopped fresh parsley
Instructions
Preheat the oven to 350 °. Grease a 10-inch round baking dish.

In a medium mixing bowl, combine the celery soup, sour cream, and 1/3 cup asiago cheese. Stir in the green beans.

Spoon the mixture into the prepared pan. Sprinkle with the remaining 1/3 cup asiago cheese.

In a small dish combine the panko and the melted butter. Sprinkle this mixture evenly over the cheese.

Bake for 45 minutes or until bubbly and the top is light golden.

Top with the green onions and parsley and serve immediately.
Recipe Notes
To freeze: The casserole can be wrapped and frozen prior to baking. Be sure to chill the soup and do not thaw the green beans before assembling. Thaw the casserole in the refrigerator before baking.
Drained, canned green beans can be substituted for frozen.