Homemade pizza sauce comes together in a pinch with ingredients you can easily keep on hand all the time. Last-Minute Pizza Sauce will save the day!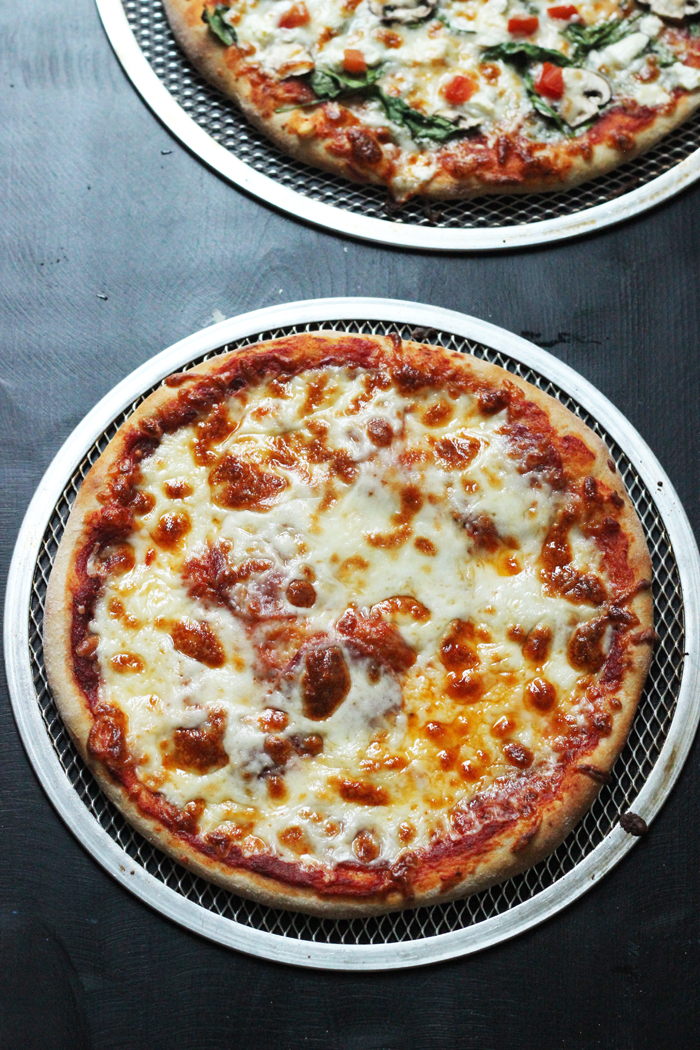 Years ago I was under the misunderstanding that you had to have pizza sauce to make pizza, as in some special, magic commercially-prepared pizza sauce. In fact, so dire was my confusion that if I didn't have a jar of pizza sauce on hand for Pizza Night, I would make a special trip to the store to get some. Gasp!
Thankfully, I've learned the error of my ways. Never make a special trip when you've got something else that will do already in your cupboards.
And never buy commercial pizza sauce. Ever.
Any tomato or pesto sauce works great on pizza. I've even used BBQ sauce and Pad Thai sauce. Use your imagination. Almost anything can work on a pizza crust.
My kids are pizza purists, however. A few of them will experiment with their pizza flavors, but their favorite is simple red sauce, cheese, pepperoni, and olive.
I try to plan ahead for the predictable by filling the freezer with pizza fixings. I stock up on pepperoni when it's on sale. I buy cheese in bulk and divide it into 1-pound bags. And usually, I have several batches of our favorite red sauce on hand.
But, if I don't, well, I make this easy Last-Minute Pizza Sauce. It's easy. It's last minute. It saves the day.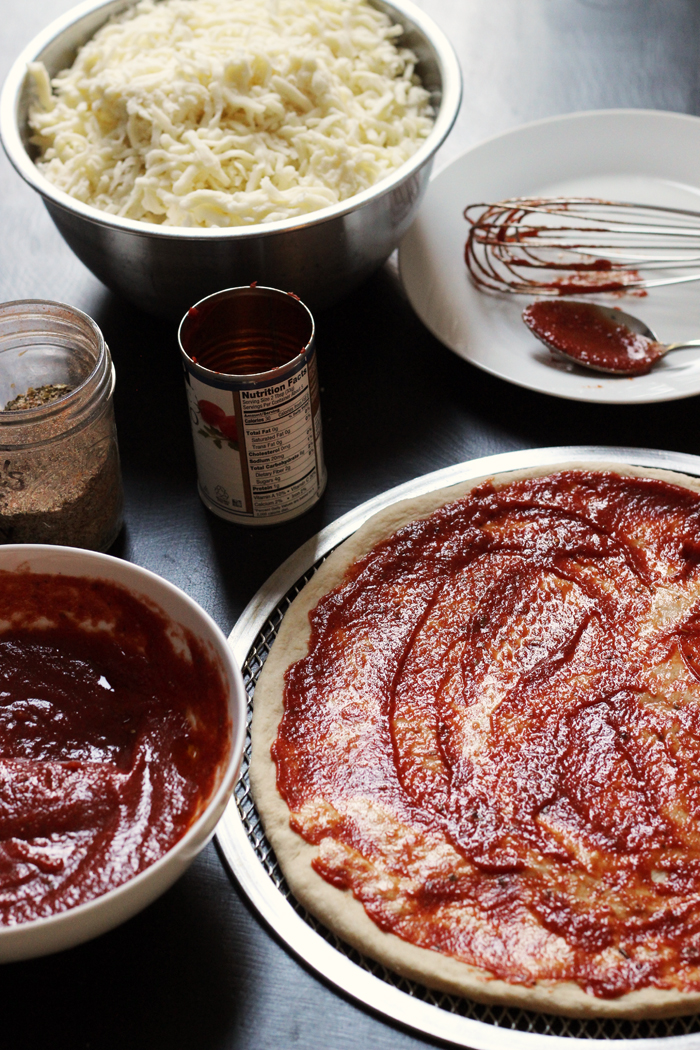 How I make this good:
Whenever possible I like to cook with plain old ingredients. While the convenience of mixes and canned sauces is nice, I feel better about feeding my family just real food whenever possible. (Go here for some of my reasons on all that.)
Remember when I told you how versatile Jamie's Spice Mix was? Well, check this out. Just stir a few tablespoons of it into diluted tomato paste and you've got a fantastic (and easy) pizza sauce made with a handful of ingredients that you can easily keep on hand all the time. The spice mix is a custom blend that you make with your own spices instead of relying on preservatives and additives in other mixes. Tomato paste and olive oil…. well, you can't get much closer to the source without a ton of work.
How to make this cheap:
Here is the key strategy you can use to make this recipe more economical:
Shop in bulk. I buy tomato paste, olive oil, and spices in bulk from Costco. This is pretty much the cheapest way to go and makes this Last-Minute Pizza Sauce super affordable.
Tools I use to make this recipe easy:
This is a pretty straight-forward dish. You don't need any fancy equipment. However, having some good basic kitchen tools can really make your time in the kitchen more enjoyable. Over time, I've honed my collection so that they are perfect for my needs. Here are the tools that I like to use in this recipe. You won't need many!
can opener – A good hand held one will do the job.
whisk – Get one with a sealed barrel so you can't throw it in the dishwasher.
This batch makes enough to cover four 12-inch pizzas, depending on how thick you like your sauce spread on the pizza. If you prefer a thinner sauce, feel free to add more water and/or use less per pizza.
Last-Minute Pizza Sauce
Homemade pizza sauce comes together in a pinch with ingredients you can easily keep on hand all the time. Last-Minute Pizza Sauce will save the day!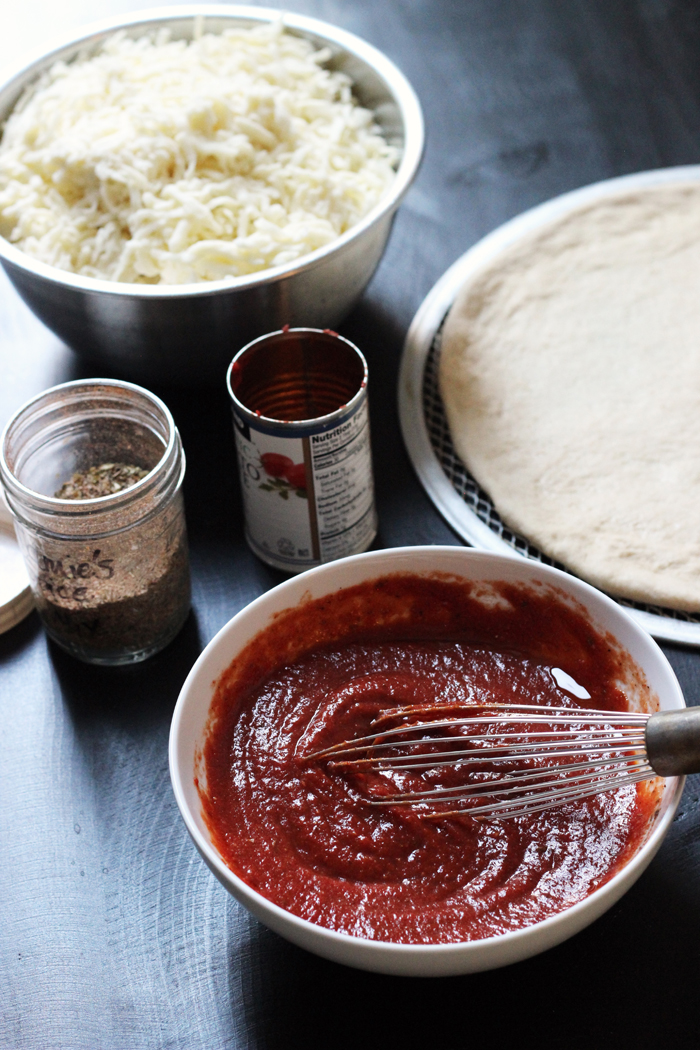 Preparation Time:5 minutes
Cook time:0 minutes
Total time:5 minutes
about 1 1/2 cups sauce
Ingredients:
one 6-ounce can tomato paste

3/4 cup water (one canful)

1 1/2 tablespoons Jamie's Spice Mix

1 tablespoon olive oil
Instructions:

In a mixing bowl, whisk together the tomato paste and water. Add the spice mix and stir well. Stir in the olive oil, whisking until well-combined.
To make ahead: sauce can be prepared up to 3 days in advance and stored in the refrigerator or frozen for up to 2 months in an airtight container.
Originally published April 16, 2013. Updated October 11, 2016.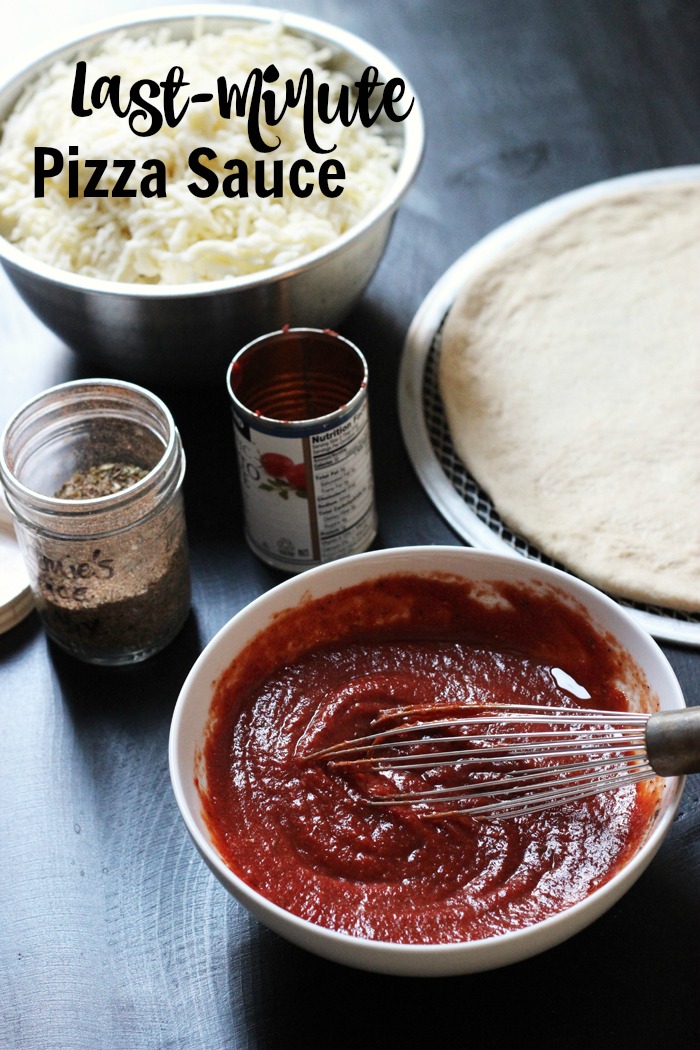 Are you looking for more good cheap eats?