Homemade Pizza Sauce is super simple to make and can transform an okay homemade pizza into a great one. Make a batch of this sauce for your pizza night this week!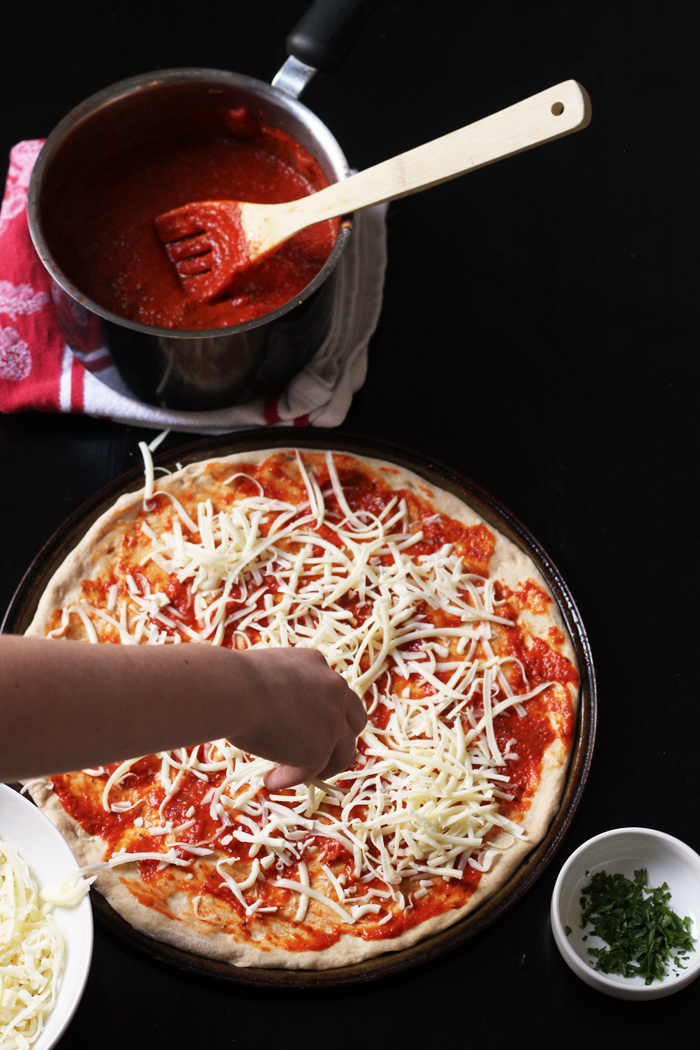 Pizza night has been a regular part of my week for almost 20 years. My early attempts at homemade pizza were doughy and sad, but with practice I've now achieved Pizza Nirvana. Or at least pizza pies that my family prefers over all others.
Bonus: homemade pizza is better tasting and healthier than most commercially-made pizzas.
In the early years I thought jarred pizza sauce was a prerequisite. I guess that what my "almost homemade" 1980's childhood did to me.
Thankfully, I saw the light sooner rather than later: homemade pizza sauce is easy to make and utterly delicious!
This homemade pizza sauce is my favorite sauce. I have quicker sauce recipes and multipurpose sauce recipes that work in a pinch, but this homemade pizza sauce is near and dear to my heart. When I have a few minutes to mess at the stove, this is the sauce I make.
It's loosely based on one that California Pizza Kitchen supposedly used back in the day. I've made some tweaks to it to make it easier for the home cook with pantry-stable ingredients so you can make it at a moment's notice.
My friend Jessika clued me into pureeing it smooth. You can leave it chunky if you like chunky sauce, but if your kids might balk at a piece of tomato, smooth it out.
One batch of sauce will do you for 3 to 4 batches of pizza dough, so if you don't use it all in one go, freeze it in small containers to use next week.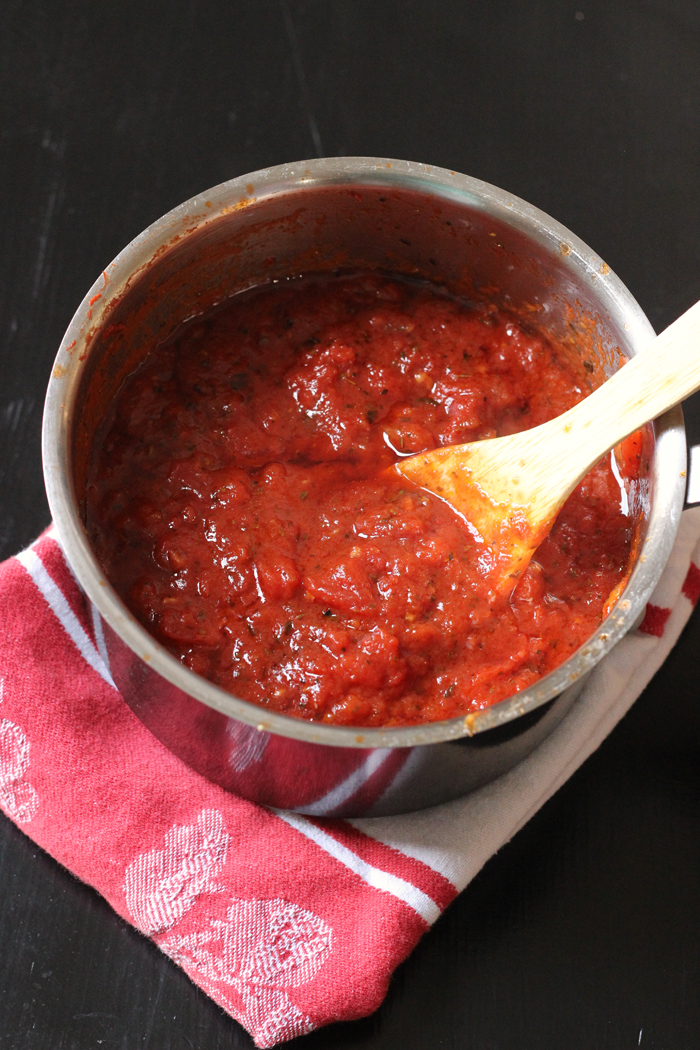 How to make this good and cheap:
Here are some of the strategies you can use to make this recipe more economical:
Stock up on ingredients when they are on sale. Diced tomatoes are practically a kitchen staple at my house. I've found that ALDI and Costco both have very competitive pricing, so I stock up in one of those two places.
Cook in bulk. Anytime you can make extra, you are saving time and money, so do it.
How I make this recipe easy:
This recipe really couldn't be easier than it is, but having the right kitchen tools can really make your time in the kitchen more enjoyable. Over time, I've honed my collection so that they are perfect for my needs.
Here are the tools that I use for this recipe:
Homemade Pizza Sauce
This delicious tomato sauce is great on pizza and pasta. It comes together in just minutes on the stovetop.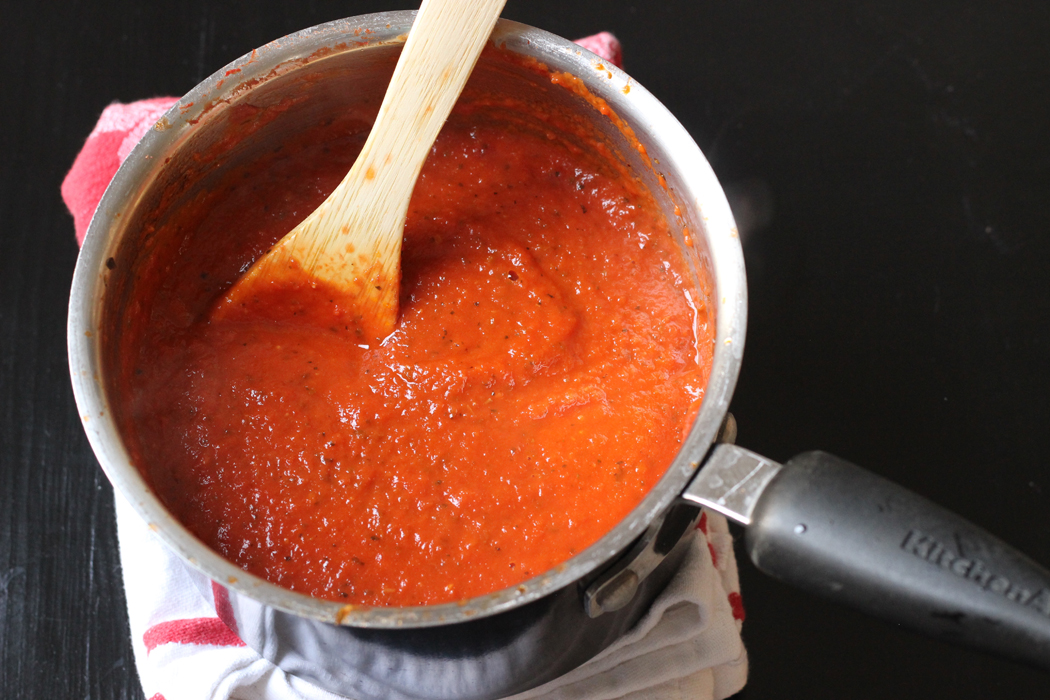 Preparation Time:2 minutes
Cook time:13 minutes
Total time:15 minutes
about 4 cups sauce
Ingredients:
1/4 cup olive oil

2 teaspoons minced garlic

28 ounce can diced tomatoes OR 7 roma tomatoes, cored and diced

1 tablespoon basil

1/2 teaspoon oregano

1/2 to 1 teaspoon salt, depending on the sodium content of your tomatoes

1/4 teaspoon red pepper flakes

6 ounce can tomato paste
Instructions:

In stock pot, heat olive oil until shimmering. Stir in garlic and cook until just lightly browned. Add tomatoes, basil, oregano, salt, and red pepper flakes. Simmer until juices have started to evaporate slightly, about 10 minutes.
Stir in the tomato paste and cook 3 minutes more. Cool slightly before using on pizza.
Puree the sauce in a blender or with an immersion blender if you prefer a smoother sauce.
Can be made ahead. Cool, cover, and refrigerate or freeze for longer storage.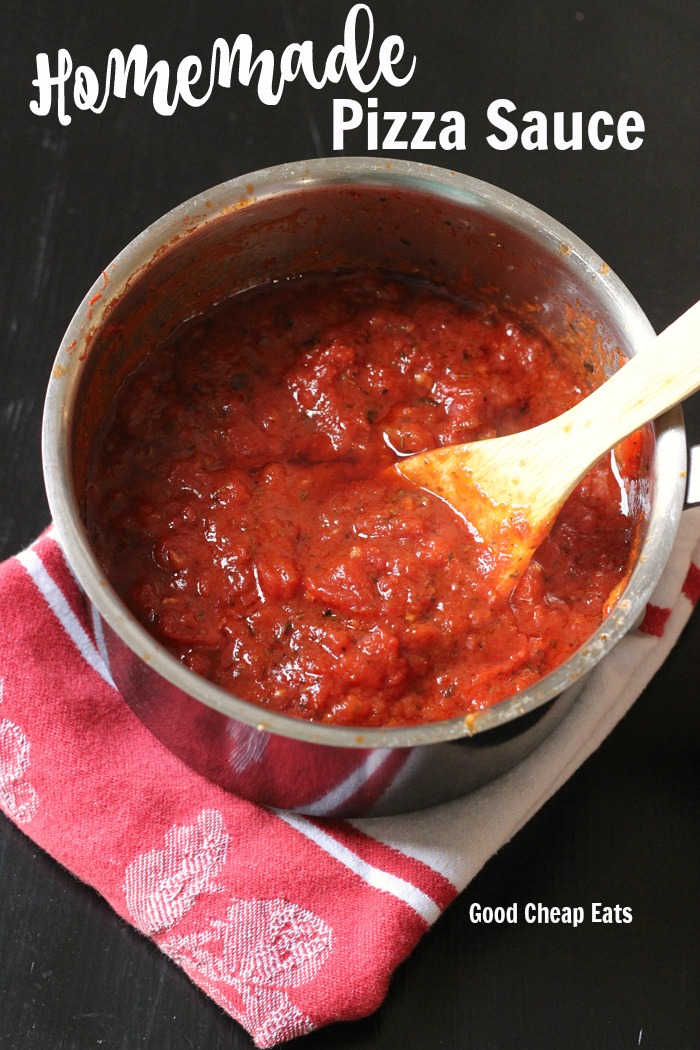 Are you looking for more good cheap eats?