Enjoy easy convenience with these Ultimate Cheesy Stuffed Potatoes. Loaded with creamy goodness, these spuds are freezer-friendly and very make-ahead.
Jump to:
Potatoes and cheese? What's not to love? The two were just meant to go together.
There's Mashed Potato Casserole and Cheesy Potatoes, Burning Love Mashed Potatoes and Loaded Potato Salad.
Today I want to bring you potatoes and cheese in portable form! Okay, most people don't walk around eating a stuffed potato, but you could if you wanted. Being able to eat potatoes and cheese on the go is one great blessing in life. And this dish brings it.
What are stuffed potatoes?
Stuffed potatoes are baked potatoes which the have been hollowed out and refilled with a combination of the cooked potato flesh and all kinds of goodness. In this case, the potato is mixed with cream cheese, shredded cheese, butter, green onions, and seasonings.
Also known as twice-baked potatoes, these stuffed potatoes are then baked in the oven until piping hot. The end result is all the deliciousness of a cheesy potato casserole packed into the potato's jacket.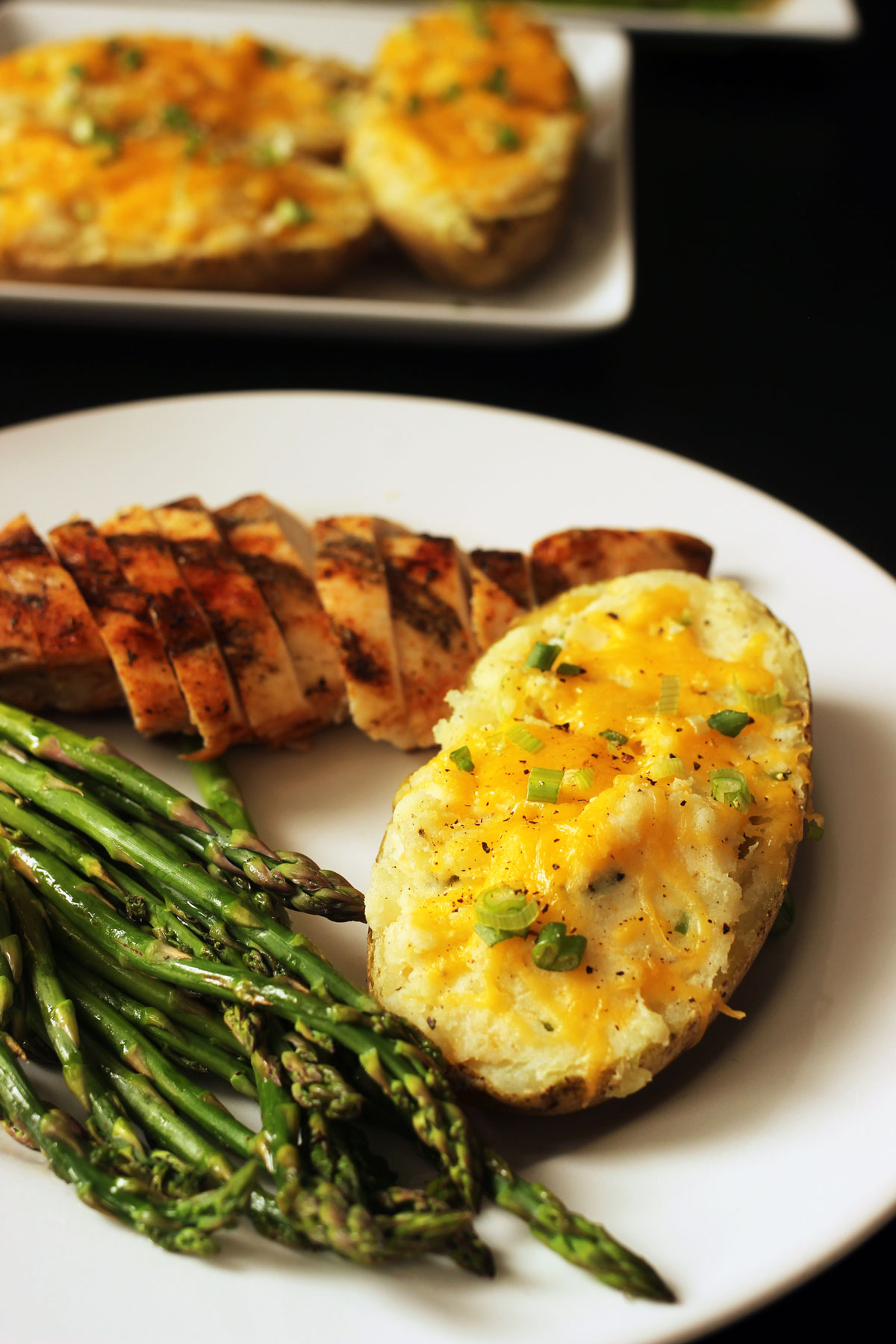 Serving suggestions
Twice-baked potatoes make a delicious side dish or vegetarian main. You can serve them with grilled or roasted meats and plenty of vegetables.
While they make a tasty part of lunch or dinner, you could also serve stuffed potatoes for breakfast, topped with scrambled or fried eggs. Yum!
Ingredients
One of the things I love about this recipe is that it's made from pretty basic ingredients, things that I normally keep on hand:
large baking potatoes – While you can make these with smaller size potatoes, the process of hollowing them out will be a bit cumbersome. Use large baking potatoes to make it easy.
cream cheese – You can use full fat or neufchâtel cream cheese. If you don't have it, sour cream can also be used in a pinch.
shredded cheese – Use whatever kind you like, though I prefer a hearty cheese with lots of flavor, like cheddar, gruyere, or Dubliner.
butter – Margarine can be used as well.
chopped green onion – One of the benefits of using green onion is that you don't need to cook it before adding it to the recipe. You can substitute sautéed onion, shallots, or leeks, or roasted garlic if that's what you have.
seasonings, like salt, pepper, and garlic powder – Feel free to vary this and use a favorite seasoning blend if you prefer.
Instructions
This is a super simple recipe.
Wash and dry your potatoes and poke holes in them with a fork. This helps steam escape. You don't want to be like Almanzo and get hit in the eye by an exploding potato.
Bake your potatoes. You can use Crockpot Baked Potatoes, bake your potatoes in the oven (1 hour at 400 degrees), or cook them in the microwave. Most microwaves these days have a potato button that will automatically set a cooking time and temperature. You want your potatoes to be soft enough that the insides will mash easily.
Slice the potatoes in half lengthwise. Let them cool until you can easily handle them. Then with a spoon, scoop out the insides, leaving a ¼-inch shell. It's okay if it's not perfect.
Place the shells on a baking sheet and place the cooked insides into a mixing bowl.
Mash the cooked potato until smooth. Add the cream cheese, most of the shredded cheese, melted butter, green onions, and seasonings. Incorporate this all together well.
Spoon the potato mixture back into the potato shells and topping with the rest of the shredded cheese. At this point you can chill the potatoes for later or bake them right away to serve.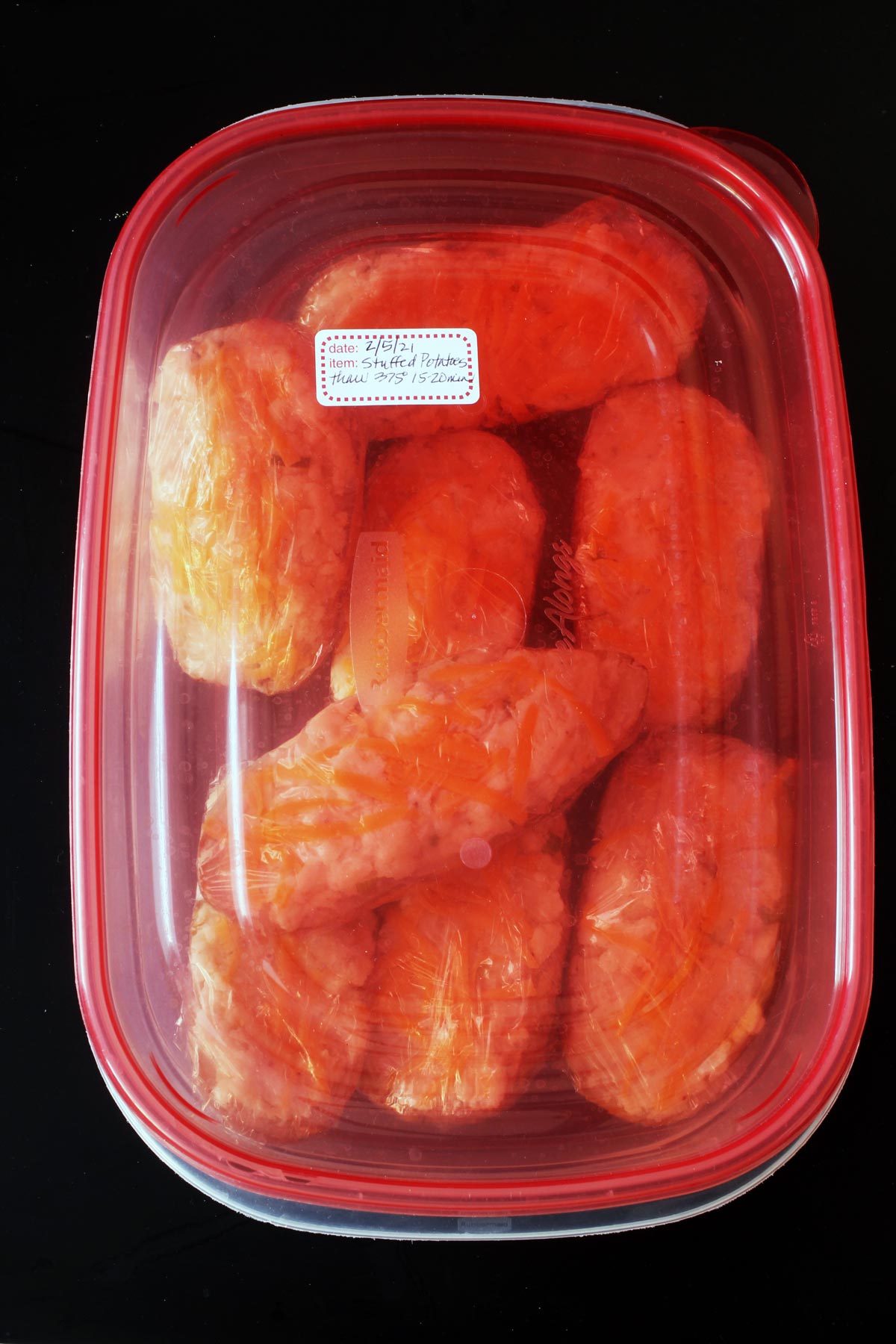 Leftovers
Storage
You can prep the potatoes and refrigerate them for up to 24 hours in advance. They are a great make-ahead dish.
Likewise, leftovers can be stored, covered, in the refrigerator for up to 3 days.
Reheating leftovers
These potatoes are great the next day. Reheat in the microwave or in the oven until hot.
Freezing instructions
Freezing potatoes is tricky business, but this recipe is ideal for freezing! Once the potatoes have chilled through, you can wrap them in plastic wrap and store in a ziptop freezer bag in the freezer. This will allow you to remove just one or two for quick side dishes.
You can also freeze them in a large, covered container. If you do, I recommend, covering the potatoes with a sheet of plastic wrap before adding the lid. This will help reduce the formation of ice crystals on the surface of the potatoes.
However you package the potatoes, be sure to label them with the date, the name of the item, and baking instructions.
To prepare from frozen, thaw the potatoes in the fridge overnight and bake according to recipe instructions. You can also microwave them from frozen until hot.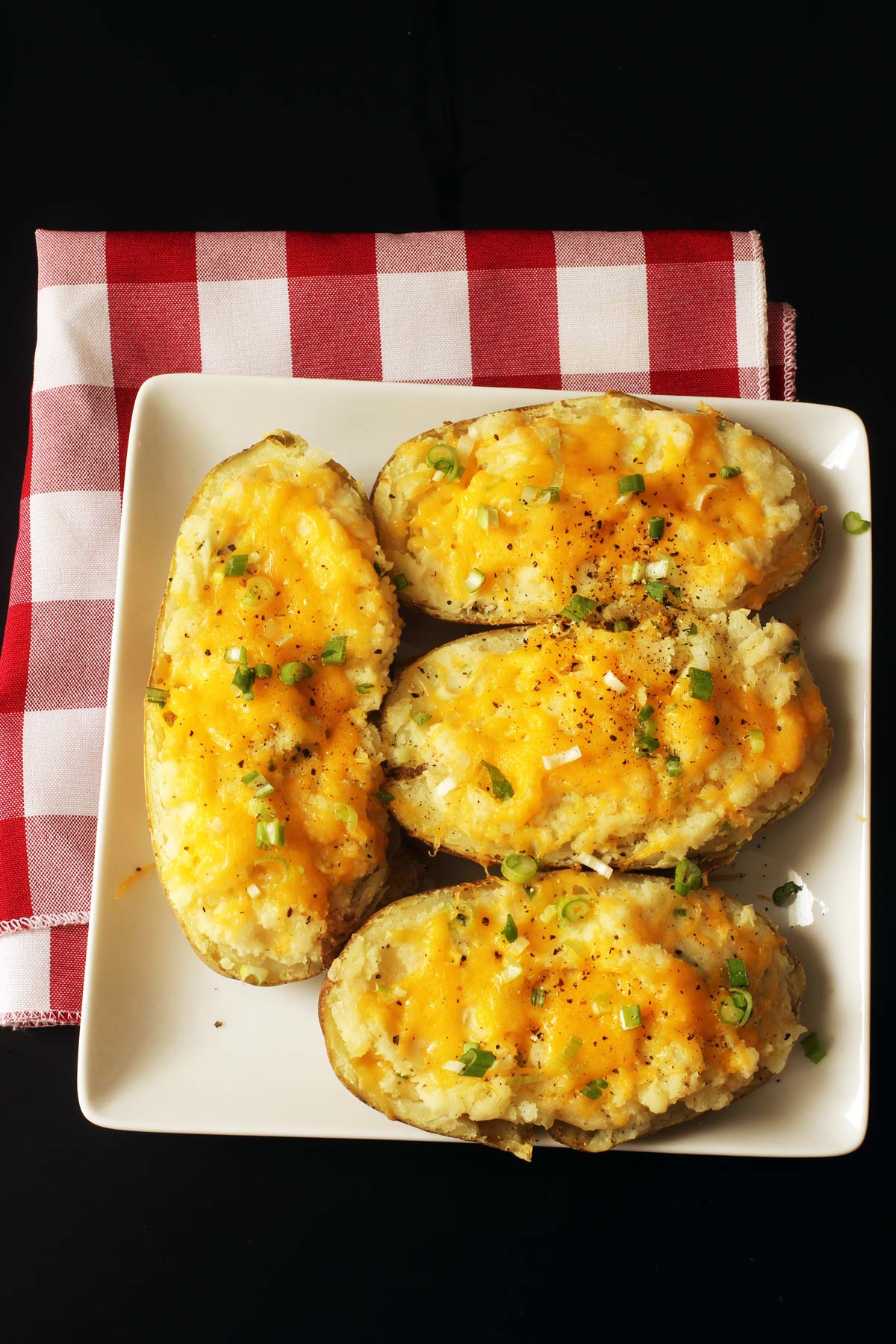 Recipe costs
Knowing how much it costs you to prepare a recipe can help you decide if it's the type of recipe to make regularly or one you might want to save for special occasions. Let's crunch some numbers and see how this recipe pencils out.
4 baking potatoes – $1.34 ($0.67/lb)
cream cheese – $0.99
shredded cheese – $0.99 ($3.99/lb)
butter – $0.60 ($3.99/lb)
green onions – $0.10 ($0.50/bunch)
seasonings – $0.04
The total cost for this recipe is $4.06 for 8 servings or 51 cents/serving. Commercially frozen twice baked potatoes cost $5 for 4 servings or $1.25 each.
Hands down, homemade is cheaper—and better tasting.
Kitchen equipment
This recipe really couldn't be easier than it is, but having the right kitchen tools can really make your time in the kitchen more enjoyable. Over time, I've honed my collection so that they are perfect for my needs.
If you make this recipe, I'd love for you to give it a starred review below. Your feedback helps me develop recipes and strategies to serve you better. Thank you!

— Jessica
Cheesy Stuffed Potatoes Recipe
Enjoy easy convenience with these Ultimate Cheesy Stuffed Potatoes. Loaded with creamy goodness, these spuds are freezer-friendly and very make-ahead.
Ingredients
4

large baking potatoes

or 8 medium potatoes

8

oz

cream cheese

4

oz

cheddar cheese (shredded)

(1 cup)

⅓

cup

melted butter

¼

cup

chopped green onion

½

teaspoon

salt

½

teaspoon

black pepper

¼

teaspoon

garlic powder
Instructions
Bake the potatoes in the slow cooker, oven, or microwave. Cool to handle.

Cut the potatoes in half lengthwise. Scoop out the insides, leaving a shell ¼-inch thick.

Place the cooked insides of the potatoes in a large mixing bowl and mash until smooth. Mix in the cream cheese, ¾ cup cheddar, and butter. Stir in the green onions, salt, pepper, and garlic powder. Taste and adjust the seasonings.

Fill the potato shells with the cheesy potato mixture. Top with the remaining ¼ cup shredded cheese. The potatoes can be stored in the refrigerator at this point or baked for serving.
To bake:
Preheat the oven to 375 degrees. Place the stuffed potatoes on a baking sheet and bake for 15 minutes or until the potato is hot through and the cheese is melted.
To freeze:
Once the potatoes are filled, do not bake them. Instead chill them in the refrigerator until completely cold. Wrap in plastic wrap or place in a covered, freezer-safe container. Store in the freezer for up to 2 months.

To serve from frozen, thaw overnight in the fridge and continue with the baking instructions. Alternatively, you can reheat them in the microwave until hot.
Notes
Promptly store leftovers in an airtight container in the refrigerator, for up to 3 days.
Nutritional values are approximate and based on 1

 stuffed potato half.
Nutrition
Calories:
308
kcal
|
Carbohydrates:
21
g
|
Protein:
8
g
|
Fat:
22
g
|
Saturated Fat:
13
g
|
Trans Fat:
1
g
|
Cholesterol:
66
mg
|
Sodium:
398
mg
|
Potassium:
511
mg
|
Fiber:
2
g
|
Sugar:
2
g
|
Vitamin A:
792
IU
|
Vitamin C:
7
mg
|
Calcium:
149
mg
|
Iron:
1
mg