Recipes that let you "set it and forget it" are some of the best. These Crockpot Baked Potatoes are no exception. Come home to a pot full of baked potatoes all set for dinner!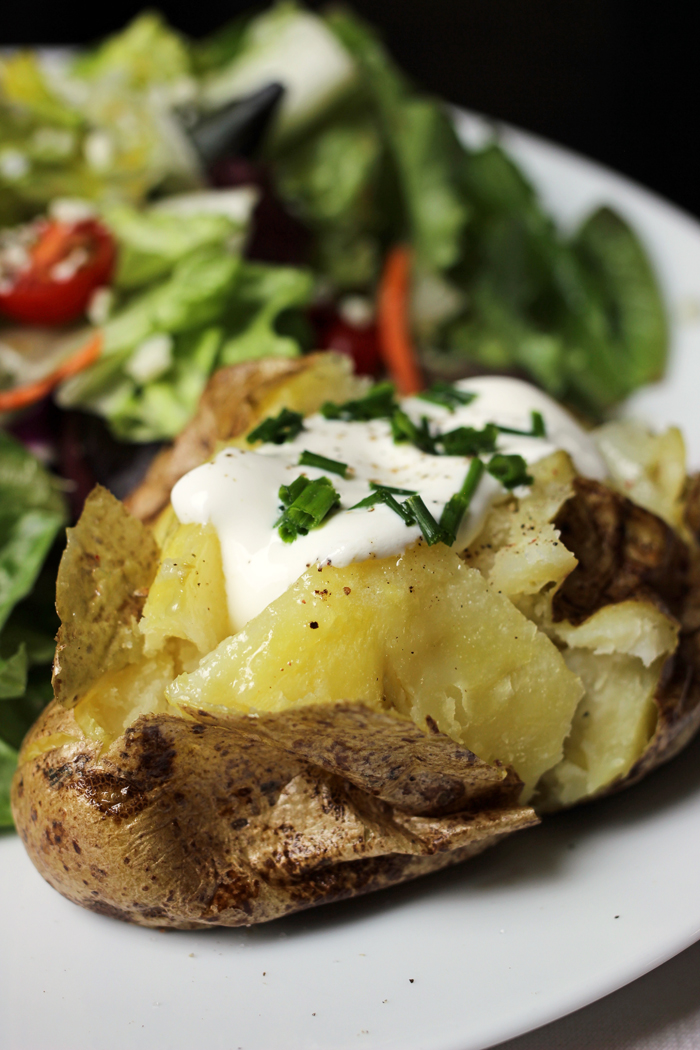 It seems that in recent years I've become remiss in serving baked potatoes. I'm not sure why that is, but I'm ready to bring back the good old spud.
Years ago when Bryan and I were first married, his mom and I would often go shopping or out to dinner together. Believe it or not, we had a favorite steak house where we'd go for just baked potatoes and salad bar. It was one of our favorite things to do together.
That steak house was probably pretty pricey. Good thing that this is such an easy meal to make at home! In case you didn't know, a way to make it even easier is to cook your potatoes in the crockpot!
Yes, really!
As with most crockpot recipes, Crockpot Potatoes don't turn out exactly the same as those you bake in the oven. You won't get the same crispy skin that you do with traditionally baked potatoes. What these lack in crispiness, they make up for in convenience!
There really couldn't be an easier way to make baked potatoes. These Crockpot Potatoes are perfect for taking to a potluck supper or serving to a crowd. Make a bunch at one time and let the slow cooker do the work!
Can You Use Aluminum Foil In A Slow Cooker?
Absolutely! It's what makes this easy to make.
And fast to clean up as well! Like I said…let the slow cooker do all the work here.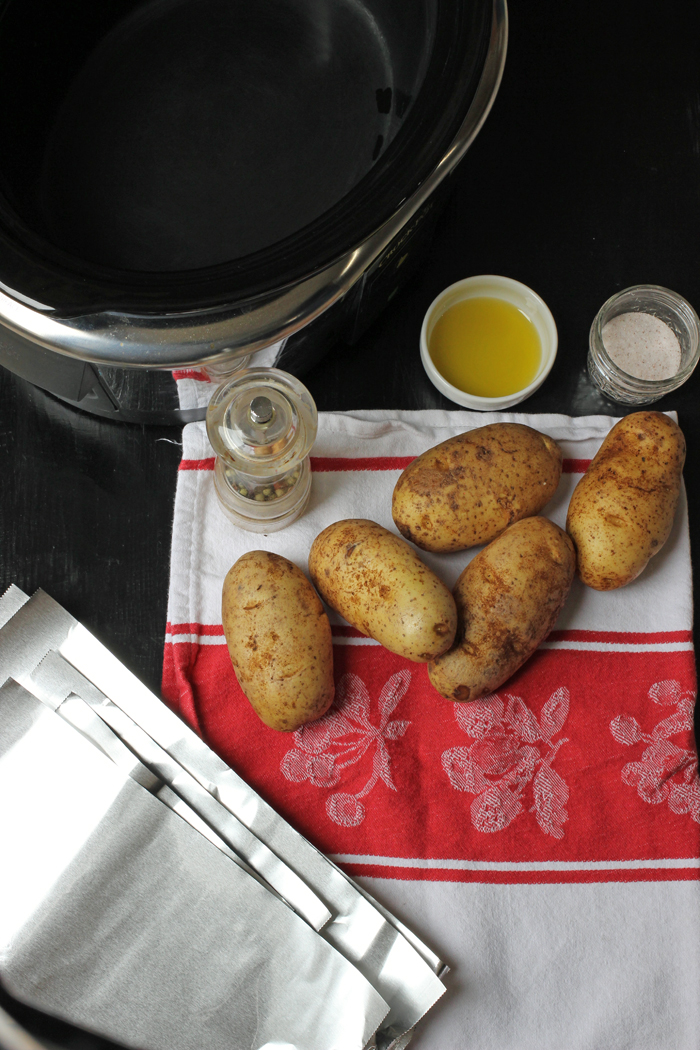 Baked Potato Topping Ideas
Consider serving a baked potato bar and serving these toppings:
as well as the traditional sour cream, chives, butter, and salt.
You can also prepare this Chili Stuffed Sweet Potatoes Recipe by making the sweet potatoes according to this method.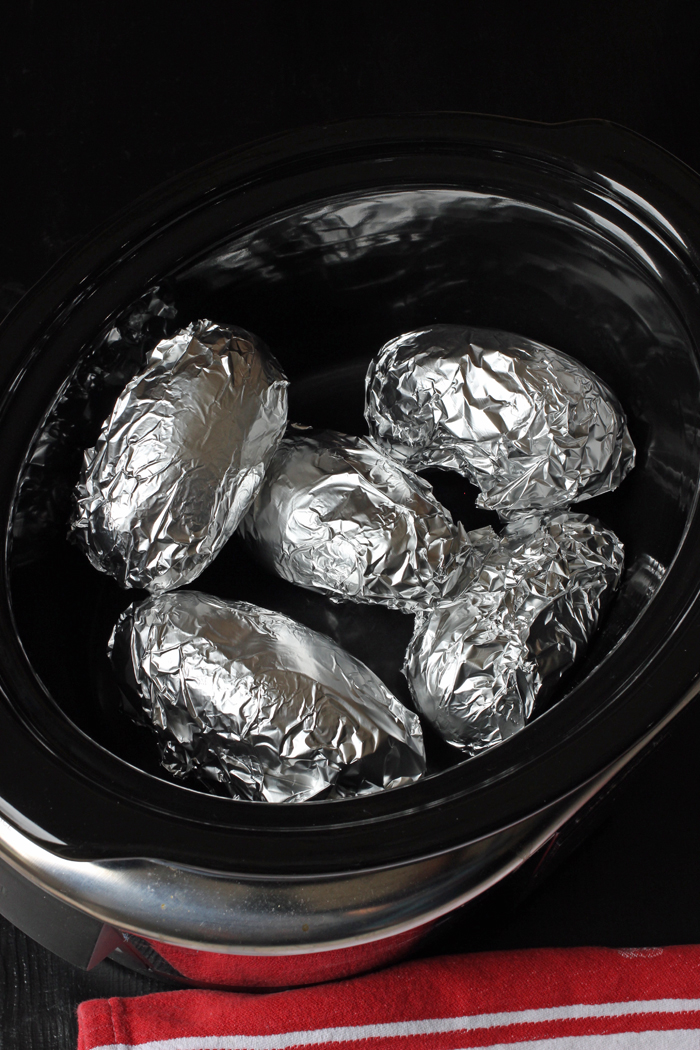 How to make this good and cheap:
Here are some of the strategies you can use to make this recipe more economical:
Stock up on ingredients when they are on sale

. 

Stock up when you see potatoes on sale and then put a Baked Potato Bar on the menu! Generally you'll see potato sales near holidays when spuds are on the menu, such as Thanksgiving and St. Patrick's Day.
Price match. Check your grocery store fliers to see who has the best price on the items on your list.
Tools I use to make this recipe easy:
This is a pretty straight-forward dish. You don't need any fancy equipment. However, having some good basic kitchen tools can really make your time in the kitchen more enjoyable. Over time, I've honed my collection so that they are perfect for my needs. Here are the tools that I like to use in this recipe.
This post contains affiliate links which provide a means for me to earn fees linking to Amazon and other affiliate sites.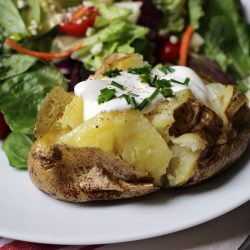 Crockpot Baked Potatoes
Recipes that let you "set it and forget it" are some of the best. These Crockpot Baked Potatoes are no exception. Come home to a pot full of baked potatoes all set for dinner!
Keyword:
baked potatoes, crockpot, slow cooker
Ingredients
4

large baking potatoes

2

tablespoons

olive oil

salt and pepper
Instructions
Scrub each potato and pierce it with a fork. Rub the olive oil all over the skin and sprinkle with salt and pepper. Wrap each potato with foil and place in the crock of a slow cooker.

Cook for 8 to 10 hours on low or 6 hours on high. Serve with your favorite toppings.
Nutrition Facts
Crockpot Baked Potatoes
Amount Per Serving
Calories 315
Calories from Fat 67
% Daily Value*
Total Fat 7.4g 11%
Sodium 313mg 13%
Potassium 1502mg 43%
Total Carbohydrates 58g 19%
Protein 6.2g 12%
* Percent Daily Values are based on a 2000 calorie diet.
Originally published August 5, 2009. Updated February 10, 2018.