Ditch the canned chili. You can make your own bowl of red or topping for a hot dog in just minutes. Great taste without the wait.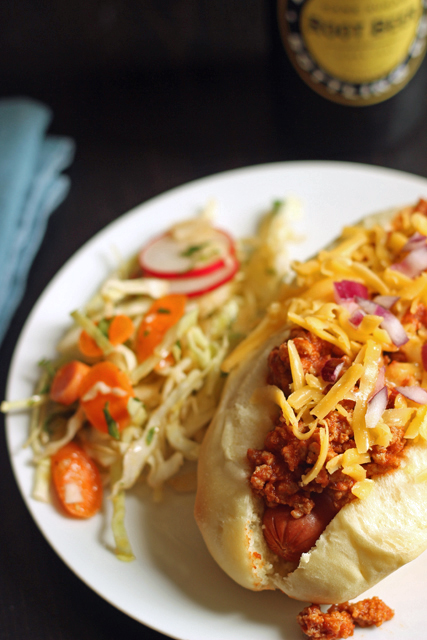 As we research our trip to Europe we are learning so much about different cultures and norms. I put a moratorium on all children's spending until after the trip. While they get a monthly stipend from us ($1 for every year of age) that won't go far when you trade dollars for pounds or euros. They need to save. My kids weren't super thrilled with the idea — especially when someone saw a Lego set or video game that was just too enticing to pass up.
In order to dish up some perspective (name that movie!), I showed FishBoy10 how his money would convert in England or France and then we went virtually shopping. He was stunned to see that some varieties of chewing gum (one of his favorite treats) was almost $1 per stick. Everyday British sweets at Tesco were significantly cheaper than gum, so he'll be very cosmopolitan in his candy consumption.
(Not that our kids eat candy on a regular basis, but they do get a "vending machine allowance" on vacations. This may translate to a candy shop stop in Europe.)
FishBoy13 did his own virtual shopping and perused the different styles of cuisine. I don't know where he was on the site, but he reported that every national cuisine was represented except American. I had to laugh. What is American food anyway? At least in the eyes of Europeans. The boys argued for hamburgers and pizza. I'm going to make the case for the Chili Dog.
Now, this isn't your everyday greasy chili dog you buy at the movie theater or the convenience store. I'm talking about a quality hot dog (think kosher or nitrate-free/uncured) in a homebaked bun with meaty, homemade chili, sprinkled with Tillamook cheddar and chopped onion.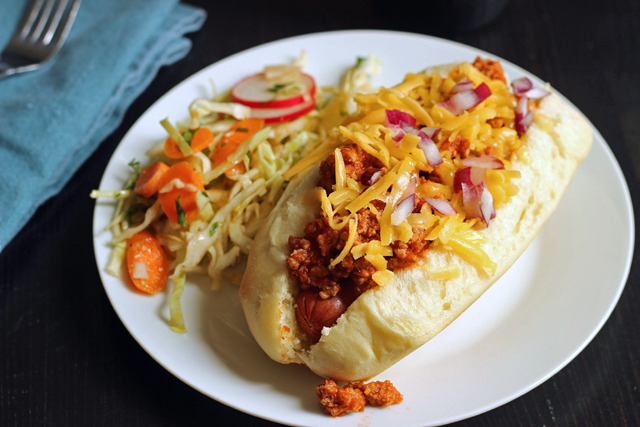 Now that's what I'm talking about!
This meaty chili comes together quickly and easily on the stovetop. It's great for chili dogs but is equally delicious atop baked potatoes, pasta, and nachos, or folded into burritos. Or serve it all by itself; there's a good Whole 30/paleo dish for you.
I know…. "But, I can buy a can of chili for a dollar." Yeah, you probably can. But, I'd argue that the quality just isn't there. And I really don't want to know what kind of meat they put in that can. Nuf said.
Make your own for a delicious treat on burgers, dogs, potatoes, pasta, nachos, or burritos. Complete the package with a side of Cumin-Scented Cabbage Salad and you've got a rocking meal to please the masses, no matter their country of origin.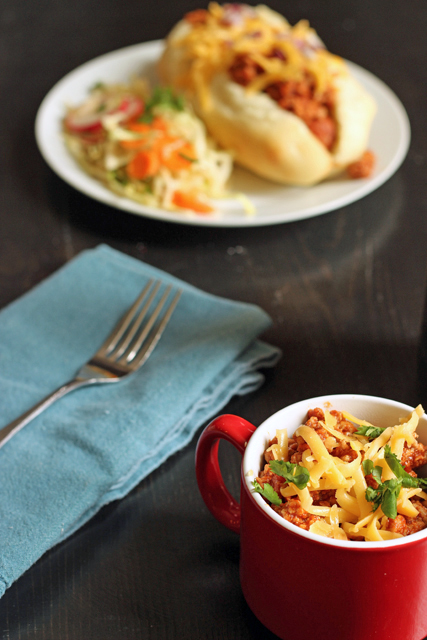 Spicy No Bean Chili
Ingredients
12

oz

ground beef

can use turkey, pork, or chicken

1/4

onion

(for 2 tbsp chopped)

2

tbsp

jalapeño

seeded and finely chopped

1

tsp

garlic

minced

8

oz

tomato sauce

1

tbsp 

Taco Seasoning Mix
Instructions
In a large skillet over medium-high heat, cook the meat, onion, jalapeño, and garlic until the meat is browned and the onion is translucent, 10 to 15 minutes. Spoon off any fat. Stir in the tomato sauce and spice blend. Simmer for 10 minutes. Adjust seasonings and serve.

Make Ahead: Store the chili in an airtight container in the refrigerator for up to 4 days or in the freezer for up to 2 months.
Notes
Nutritional values are approximate and are based on 1/4 of the recipe. Refrigerate leftovers promptly and use within 4 days.
Nutrition
Calories:
142
kcal
|
Carbohydrates:
6
g
|
Protein:
19
g
|
Fat:
4
g
|
Saturated Fat:
2
g
|
Cholesterol:
53
mg
|
Sodium:
652
mg
|
Potassium:
501
mg
|
Fiber:
2
g
|
Sugar:
4
g
|
Vitamin A:
673
IU
|
Vitamin C:
15
mg
|
Calcium:
15
mg
|
Iron:
3
mg