Want to get ahead of the game and fill your freezer with some easy lunches? Have I got the plan for you!
Last week was Fill the Freezer Week. I mean, really. filled. the. freezer. There is no way to squeeze anything more in there.
It took a lot of work to shop and cook and play Freezer Tetris, but it worked. You can see all the grocery shopping I did last week here. 
Stick a fork in me. I am done. But, I have a full freezer!
I'm so happy when this happens. You know what this means, right? I am ahead of the game! At least in one area. It won't last long. Like a freshly-mopped floor, my work will come undone. But, for a few blessed minutes meals I am ahead.
I've created a meal plan for the week with all these yummy things I made and I am over the moon happy.
Easy Lunches for the Freezer
Last month I did breakfasts. This month is lunches. Next month? Yep, dinners.
Here's what I ended up doing for my freezer cooking daze this month.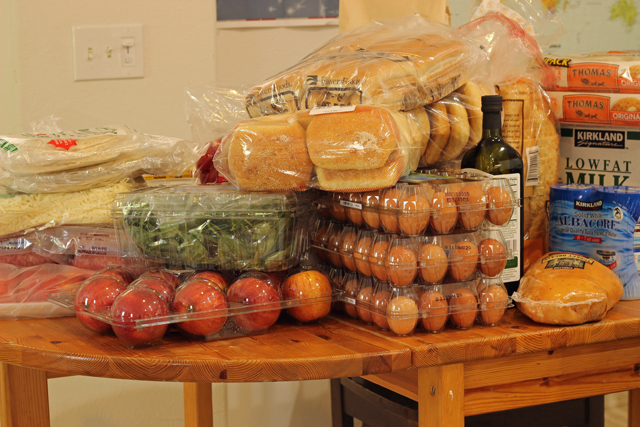 I shopped Tuesday afternoon and evening at two stores to get the things that I needed to cook. I am so tired of the grocery store. Ha! Thought I would never say that.
That night I made tacos with some of the beef I bought at Costco. While the package was open, I went ahead and made the hamburger patties to freeze. Beef is so expensive these days, it's almost the same price to get burgers at In-N-Out, but I believe it's still healthier to make them at home, particularly when I make homemade buns, which is my plan.
The next day was Wednesday. The morning was sucked up by medical appointments, so our school didn't finish until well after four. I got a pretty late-in-the-day start on freezer cooking.
Thankfully, I had the foresight to put a bag of chicken tenders in the Crock-pot to cook for the shredded chicken that's part of the plan. Nothing could have been easier. Seriously. It was so tender that I didn't even have to shred it. A few flicks with my kitchen tongs and it was all done!
I stashed that in the fridge to chill while we finished school. This was an important step. Some people don't know that proper chilling is the key to avoiding freezer burn and food that looks like Elsa gave it a dirty look. Cold food freezes quickly. Quick freezing reduces the ice crystals and freezer burn. So, always chill food prior to freezing, and prior to assembly when possible.
The Chicken Bacon Subs do better filled with cold ingredients than hot. The bread won't get soggy from hot fillings and the sandwich freezes more quickly.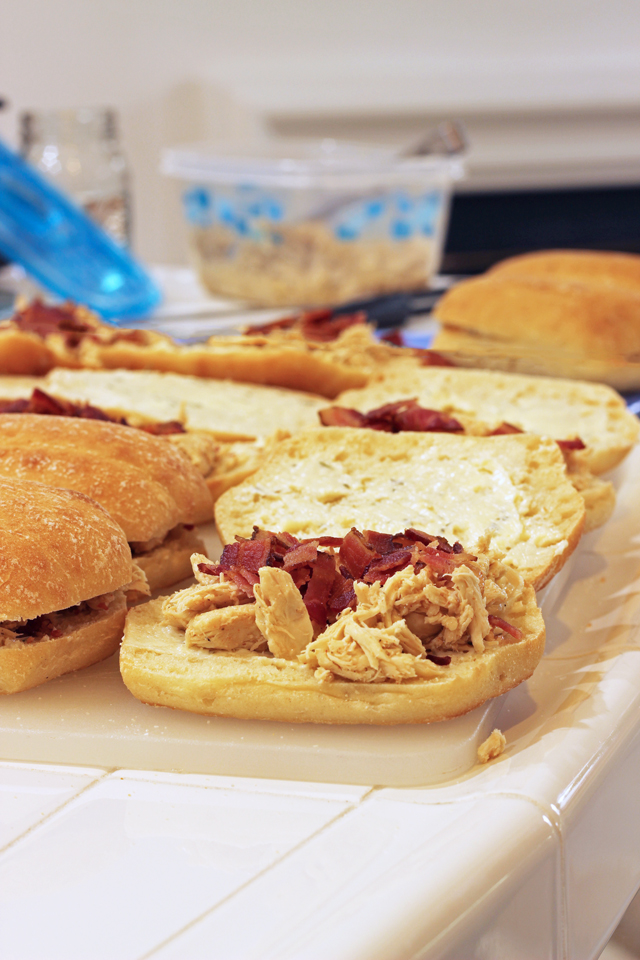 I hadn't made the subs in a long time. For ease of serving, I made them on torta rolls from Costco this time. This worked perfectly! I also cheated and bought precooked bacon at Costco. It's so nice to just pull a few slices out of the freezer. I doctored up the garlic butter with a little Herbes de Provence (super yummy!) and left out the cheese. Some of my kids have cheese issues, so it's better to leave it off.
I also went off plan and made a sausage and pepper sandwich instead of the Pizzawiches. I already had a batch of those in the freezer, so I went with an experiment. Can't wait to try them!
Once I had the sandwiches done, I got the tamales ready to go. They are so good and easy, my cheater tamales. I ended up taking a dinner break at this point.
The tamales were ready to cool by the time we were done eating and all cleaned up. That left me with pizzas and burritos to make. The littles helped me with the pizzas. I ended up doing the burritos the next day because I was wiped out.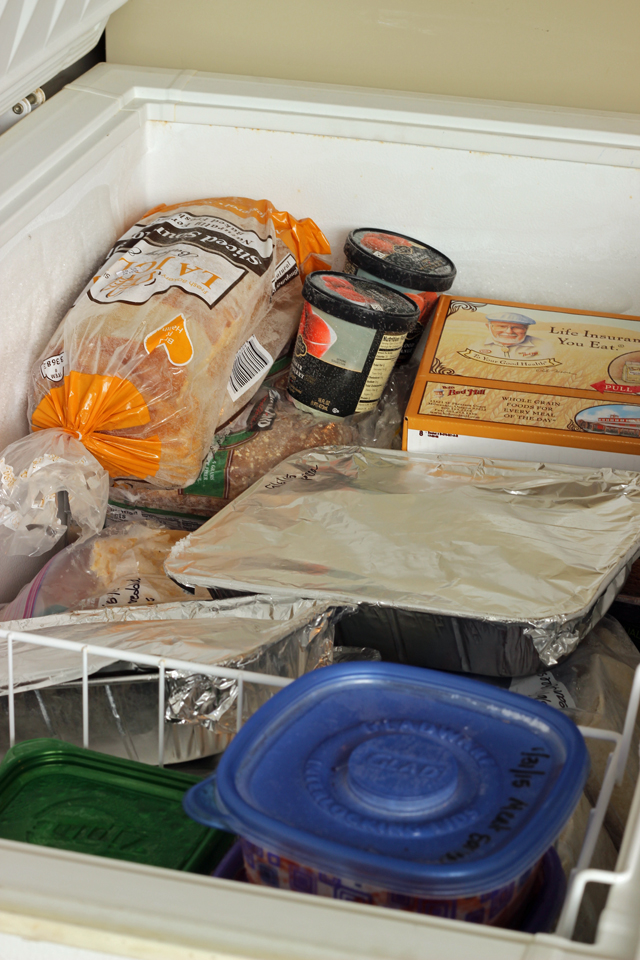 But the freezer's full! It was totally worth it. I've now got over 100 lunches for our family into the month. The kids and I will probably do a lot of them at home where we can reheat in the oven, but FishPapa can take the tamales and burritos to work with him.
Make some easy lunches!
Here's what's included in this month's freezer cooking plan:
If you'd like to prep this cooking plan, you can download it here.
Not in the mood for lunches? No problem. CHECK OUT ALL MY FREEZER COOKING PLANS HERE.
Have you done any freezer cooking lately?
Tell us what you've been up to! What's chilling in your freezer?