Serve an assortment of toppings alongside hot dogs and sausages for a creative and tasty twist on an old summer standard.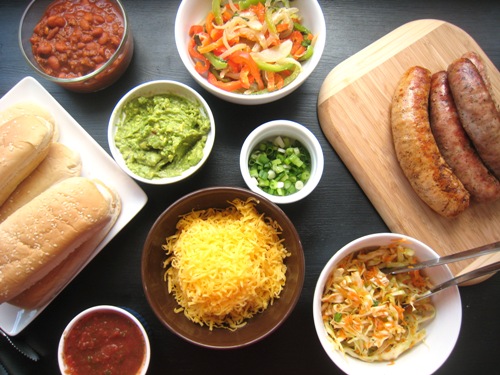 This past weekend, I cooked for twelve. Our friends Devin and Jessika and their two kids came to spend a couple days with us. Ours is the kind of friendship where the dads like each other, the moms like each other, and the kids all like each other. That means there's little tension and lots of fun.
Part of the fun is eating. Of course.
Thankfully for me, part of the fun is cooking, too. It turns out I have a reputation for putting my guests to work in the kitchen, which Jessika and Devin both did quite graciously.
One of the meals we shared together was a hot dog and sausage bar. My kids can eat hot dogs and brats like nobody's business, so I knew the meal would be a hit, even if I served it with simple mustard, ketchup, and onions. I decided to fancify it just a bit with an array of toppings.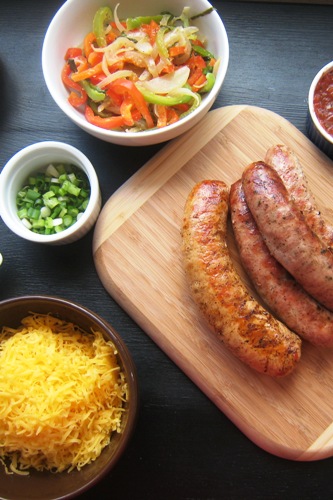 Three Steps to a Great Hot Dog and Sausage Bar
Pretend you're running the best hot dog truck in town. You've got great meats (no mystery links here) and fresh rolls. Plan a spread to please anybody and everybody. It's really not that hard.
1. Offer a variety of sausages. Consider different meats and spice levels. Offer a vegan or vegetarian option. Grill them well and keep them hot. You can even make them in the slow cooker.
2. Have plenty of fresh rolls. I usually make my own homemade hot dog buns, but I knew that if I were really going to let each of my kids eat his fill, then there's no way I could keep up with the supply. I bought two different kinds of buns in bulk at Costco so we didn't run out.
3. Let your imagination run wild with the toppings you choose. There are so many tasty ways to top a dog, you don't need to be limited to bottled condiments. Think outside the box and offer lots of choices.
Some toppings we liked:
various mustards and bottled condiments (who are we kidding?)
chopped onions
shredded cheese
I'm sure that I've missed some great toppings.
What would YOU add?