Cabbage can make a tasty, affordable salad, especially when purchased on sale. This cole slaw recipe bursts with sunshine flavors of lemon, carrot, and chive. Add this Simple Coleslaw to your meal plan tonight!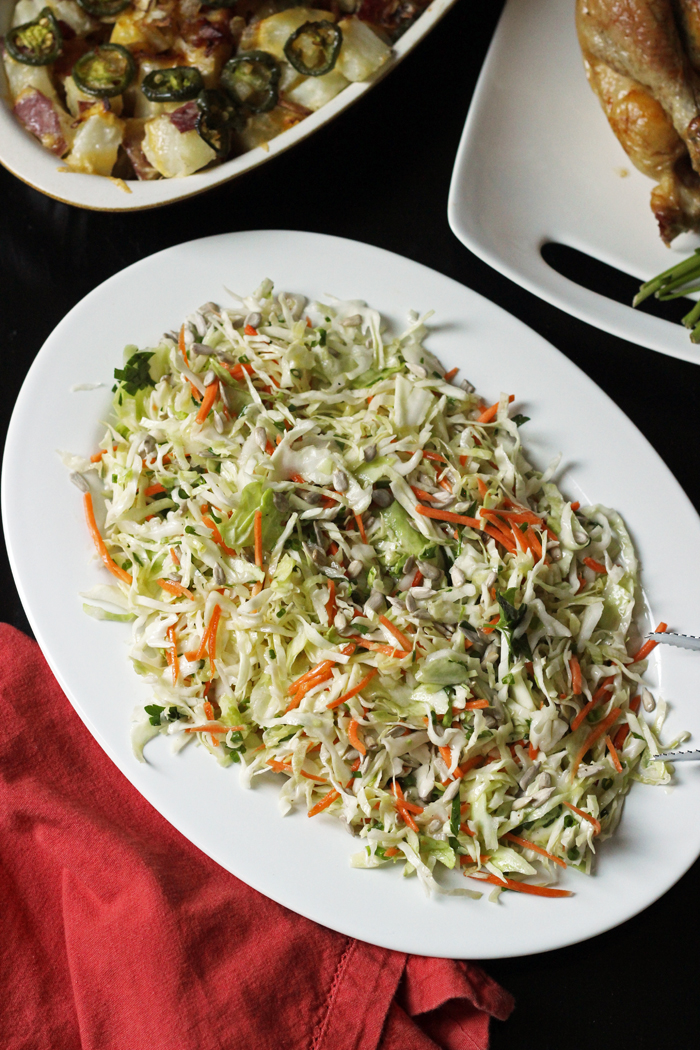 You may know coleslaw as that gloppy stuff you buy at the deli counter, a little overly sweet, the crunch almost nonexistent.
If that's the only coleslaw you know, then I'd like to change that.
Coleslaw can be sweet (but not in a bad way). It can be tangy, even a little spicy. And in my mind, it should always have a little bit of a crunch to it.
Simple Coleslaw
This Simple Coleslaw recipe is full of bright and crisp flavors and textures, perfect for those end-of-winter doldrums. And it makes use of seasonal produce as cabbage, carrots, and chives tend to do better in colder weather or are long keepers. The sunflower seeds add great crunch and texture.
It's also just as welcome at a spring baby shower, a summertime barbecue, or a fall picnic.
Cabbage is a particularly inexpensive cole crop, so it makes for good cheap eats all year round.
Add this coleslaw as a side dish or sandwich topping next time, and see if you aren't swayed to the fresh cabbage ways.
Why is it called coleslaw?
Koolsla is the dutch word for cabbage salad.
What is the difference between coleslaw and slaw?
A coleslaw is a salad made with shredded cabbage while a slaw can be made with other shredded vegetables like broccoli or carrots. Broccoli Slaw is yummy!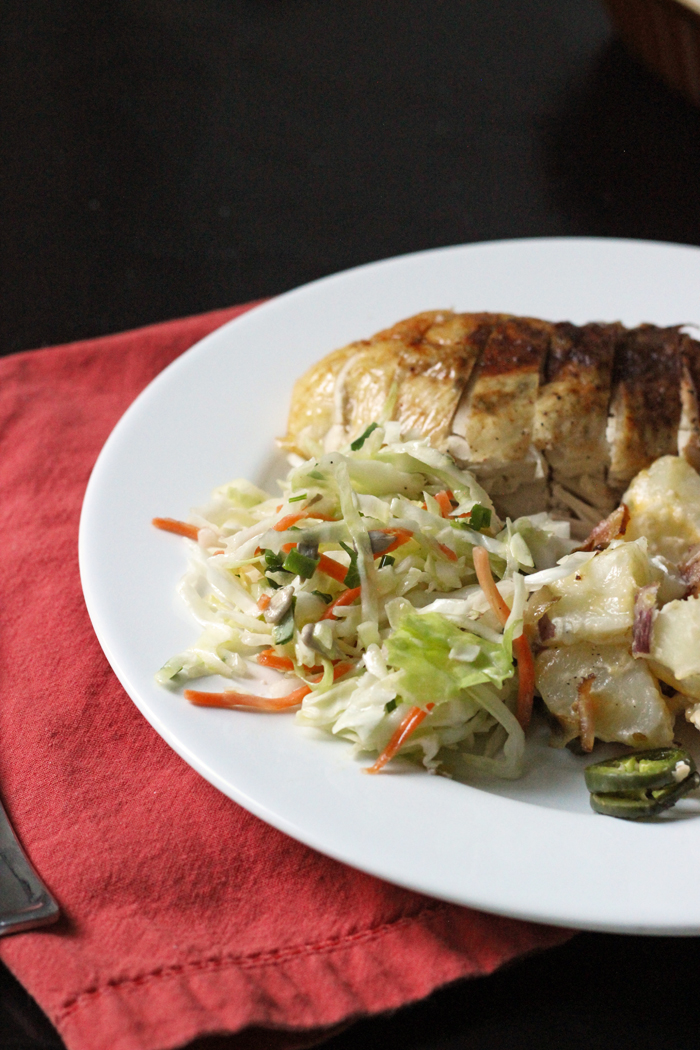 How do you make Coleslaw?
Coleslaw is incredibly easy to make, especially when you can buy a bag of coleslaw mix in the cooler of the produce section. The mix is just a combination of shredded cabbage (usually green but sometimes green and purple) and shredded carrot.
You can shred your own cabbage which is great for saving a few more pennies.
To the shredded cabbage mixture you add a vinaigrette or creamy mayo-based dressing. You can serve it right away or chill it for several hours to let the cabbage soften a bit and absorb some of the flavors.
How to make this good and cheap:
Here are some of the strategies you can use to make this recipe even ore economical:
Shop the stores that have the best prices. When I did my big grocery store showdown, I learned that ALDI has the best prices for a lot of the things I buy, including cabbage and coleslaw mix.
Shop the sales. I typically make cabbage recipes when I see cabbage on sale, but it's pretty economical at its regular price as well.
Pro tip: Usually cabbage goes on sale in March in anticipation of the shoppers who prepare boiled cabbage for Saint Patrick's Day. Watch for incredible sales on cabbage during the early weeks of March.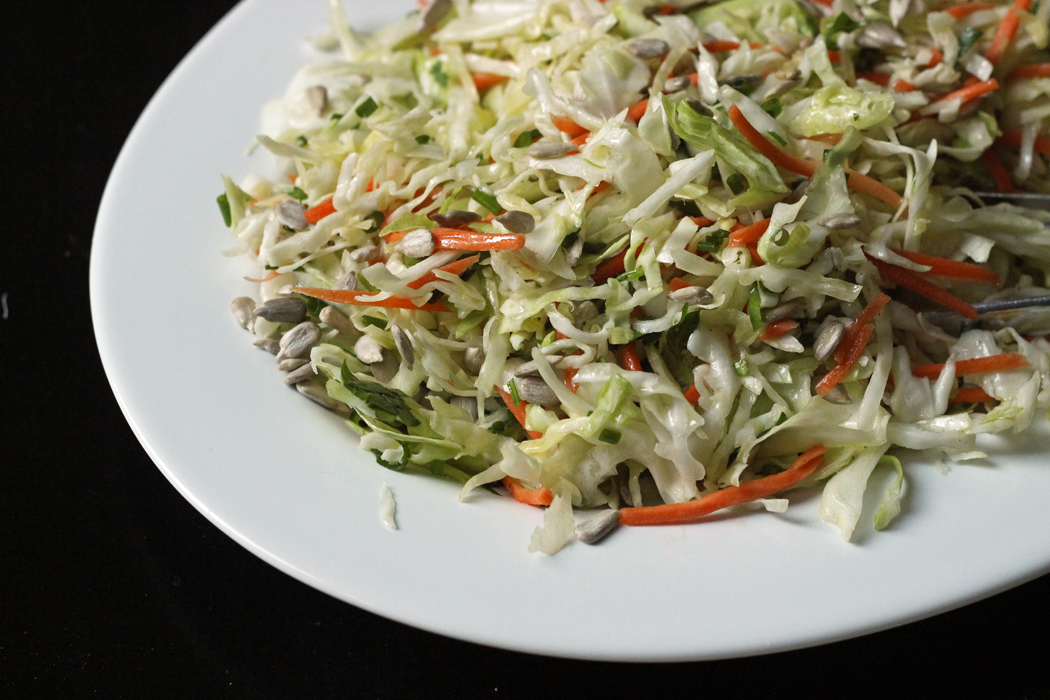 The beauty of seasonal sales is that you are in no way required to use said sale item for the reason that its price was lowered. Nope. You don't have to eat boiled cabbage!
And this Simple Cole Slaw is a great way to do that!
How I make this recipe easy:
This recipe really couldn't be easier than it is, but having the right kitchen tools can really make your time in the kitchen more enjoyable. Over time, I've honed my collection so that they are perfect for my needs.
Here are the tools that I use for this recipe:
Sunshine Cole Slaw
Cabbage can make a tasty, affordable salad, especially when purchased on sale. This cole slaw recipe bursts with sunshine flavors of lemon, carrot, and chive. Add Sunshine Cole Slaw to your meal plan tonight!
Ingredients
10

ounces

shredded cabbage

about 8 cups

1/2

cup

shredded carrot

about 1 large

1/4

cup

roasted and unsalted sunflower seeds

1

tablespoon

chopped chives

1

tablespoon

chopped parsley

1/3

cup

lemon juice

1

teaspoon

brown sugar

salt and freshly ground pepper

to taste

1/3

cup

olive oil
Instructions
In a large bowl combine the cabbage, carrot, sunflower seeds, chives, and parsley.

In a small bowl, whisk together the lemon juice and brown sugar. Season to taste with salt and pepper. Add the olive oil in a thin stream, whisking to blend.

Pour the dressing over the salad and toss to coat well. Chill before serving.